Hedging is a fantastic feature, for its attractive aesthetic as well as its value as a way to increase privacy and soundproofing for the residents. Not only is hedging useful to us but also to wildlife who can use hedges for shelter, nesting, and food.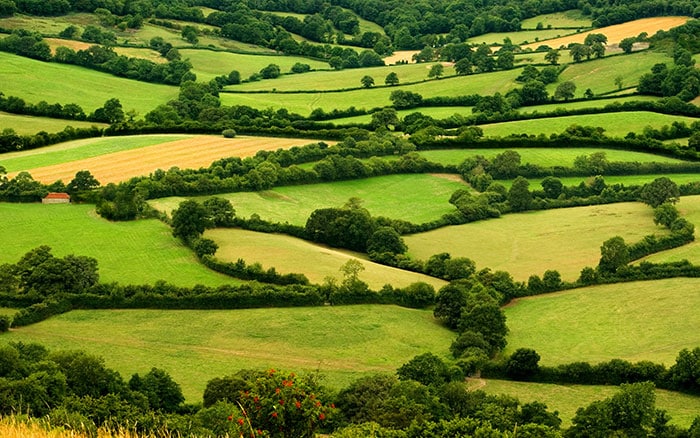 Back in the Bronze age, farmers had to clear woodland to make fields, and whilst doing this, strips of the woodland were kept in place to show the boundaries of the fields.
In some parts of the UK, around 50% of the hedgerows have gone. On the other hand, some that are left aren't maintained or managed which means they are not as valuable to wildlife. This is because since World War II, hedgerows began to be removed much quicker than the rate than they were being planted.
The removal of hedgerows has actually been identified as a contributing factor to the decline of plant and animal species, which really shows their importance.
So, let's look at some of the best plants for hedging you can use in your own garden.
Griselinia littoralis (New Zealand broadleaf)
First is a fast-growing hedge that grows about 20-40cm every year. As their name suggests, they are native to New Zealand, and are perfect for a sheltered spot because they are susceptible to frost and chilly winds. The leathery, glossy, light green leaves will add something different to your garden.
Evergreen foliage
Hardy
Grows to 8m tall and 4m wide
Chalk, clay, loam, sand
Full sun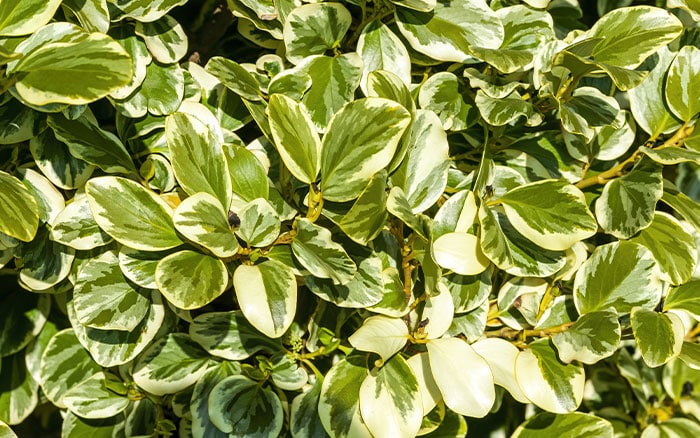 Box is native to the UK, as well as northern Morocco, Mediterranean and Turkey. In fact, Box Hill in Surrey is named after the ancient box that is found on the steep slopes there. They look neat with their small, glossy leaves.
Also, their dense growth makes them great for low growing hedges and privacy screens. In manufacturing, the wood is used to make musical instruments.
Evergreen
Fully hardy
Grows to 8m tall and 8m wide
Chalk, clay, loam, sand
Full shade or partial shade

Loniceria nitidia (boxleaf honeysuckle)
Although they can grow to 3.5m tall, they look fantastic as a dense, dwarf shrub. It's not just their foliage, but their flowers too. Small, tubular white flowers bloom in spring, then in autumn purple berries are borne on the hedge.
Also, they are great for wildlife. Insects are attracted to their flowers, birds love it for nesting and other wildlife such as dormice appreciate it as a place for shelter.
Evergreen foliage
Fully hardy
Grows to 3.5m tall and wide
Chalk, clay, sand, loam
Full sun or partial shade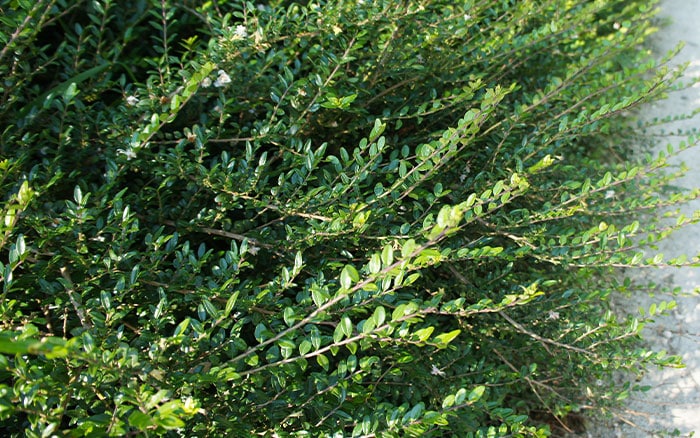 Osmanthus burkwoodii (Burkwood osmanthus)
This may be less well known in the hedging world, but it makes a great alternative to box. The dense growth, small green leaves, and slow-growing habit makes it great for hedging.
Another reason is because the lovely white flowers are fragrant. So, ensure it's situated in a place that is functional but also so you can make the most of its scent.
Evergreen
Hardy
Grows to 4m tall and wide
Chalk, clay, sand, loam
Full sun or partial shade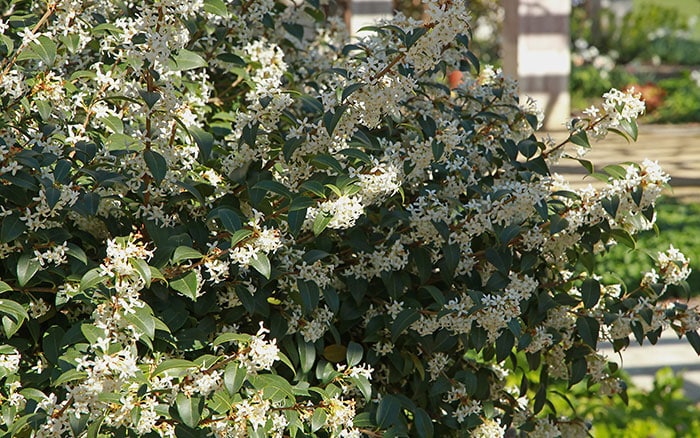 Next is a classic hedging plant that is perfect for a traditional English country garden. Beech is considered the queen of British trees – whilst the oak is thought of as the king. Beech is deciduous, but the plant hangs on to its old brown leaves until the new green growth grows in spring.
The new growth is a beautiful bright green. The dense screen is great for privacy as well as being a great habitat for birds.
Deciduous
Fully hardy
Grows taller than 12m and wider than 8m
Chalk, clay, loam, sand
Full sun or partial shade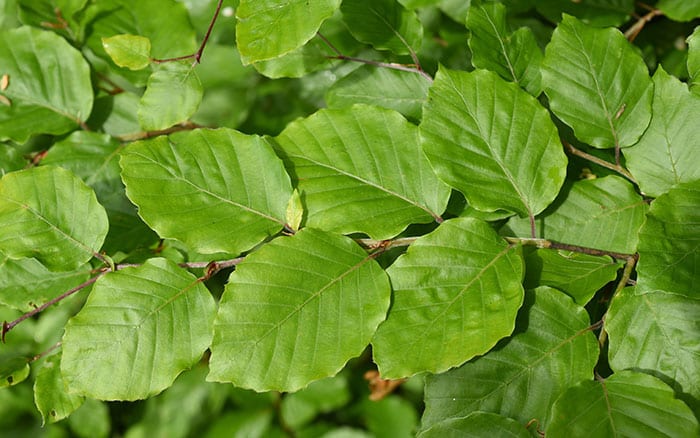 Prunus angustifolia (Portugal laurel)
Next is beautiful option for hedging as the narrow dark green leaves grow on reddish-purple stems, for beautiful colour all year round. The small white flowers bloom in summer, turn to red fruit in autumn – both are loved by wildlife!
Evergreen
Hardy
Grows taller than 12m and wider than 8m
Chalk, clay, loam, sand
Full sun or partial shade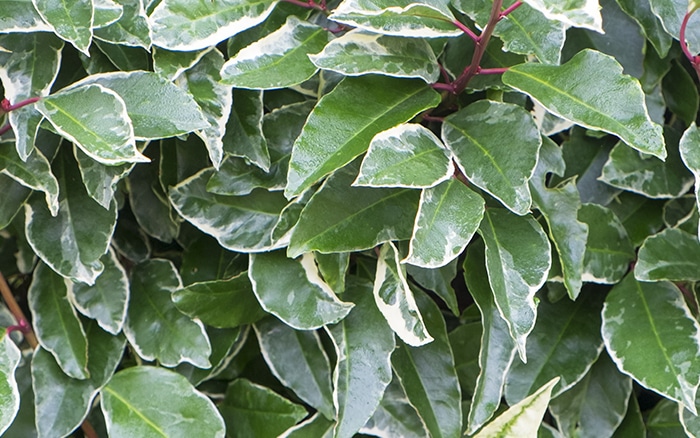 Finally, this is one of the longest-lived native species in Europe and can grow up to 20m tall. The narrow, leathery, dark leaves are joined by fruit in autumn that are known as arils. The seeds are enclosed in the arils.
Yews are great for wildlife, providing shelter for birds and blackbirds, mistle thrush, song thrush and fieldfare are known to enjoy the fruits too.
Evergreen
Fully hardy
Grows higher then 12m and wider than 8m
Chalk, clay, loam, sand
Full shade, full sun, or partial shade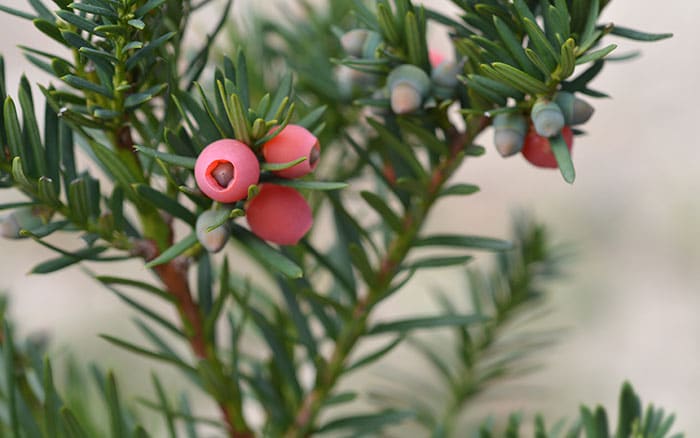 So, add some hedging to your garden. Whether you are looking for some extra privacy, soundproofing, structure or want to provide space for wildlife to enjoy.

David Domoney is a Chartered Horticulturalist, Broadcaster, and Author. David has worked with a number of the UK's leading garden retailers as a plant buyer and strategic consultant. With more than 30 years experience, in horticulture, David is as passionate about plants now as he was when he bought his first plant at a village fete.