Whether you're new to gardening or are a keen greenfingered guru, there are some important things to bear in mind when getting to work to keep you safe. Avoid injury and stay safe whilst gardening with these top tips.
Use tools correctly to avoid injury gardening
When weeding, digging, hoeing, and many other gardening tasks it's important to use the tools at hand in the best way to get the most from them, whilst not harming your body.
When digging with spades or forks, the pressure needed can depend on the soil type. For instance, it will be require more force to dig and lift stony and sticky clay soil compared to sandy and loamy soils.
Push the tool down into the soil, pressing down on the shoulder of the blade using your foot. Keep a firm hold of the tool with two hands on the handle, one hand further down to help guide the tool.
Be sensible and know your limits by lifting a comfortable weight in short bursts if necessary. Keep your body relaxed and try to minimise twisting and turning when digging too.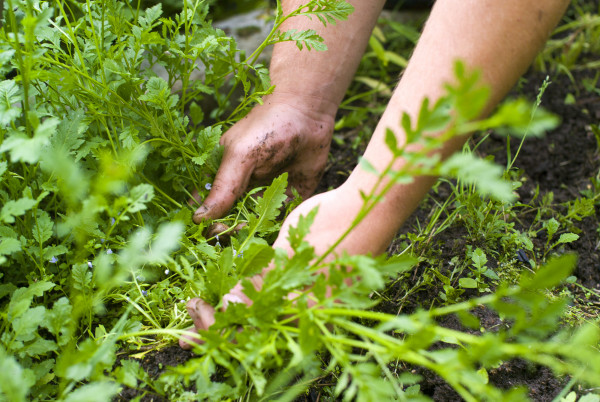 Today there are many gardening products available to suit all needs and make gardening accessible for all. Long handled tools or handle extensions are available to reduce the need to bend down and enable more strength to be applied because you can use your whole weight. Using long handled tools allow better leverage, putting less pressure on your back.
One other thing to consider when opting for long handled tools is the weight. The lighter the shovel or fork, the easier it will be to dig.

Raised beds have so much to offer for all gardeners. Not only do they allow you to grow a whole new range of plants due to being able to incorporate a different soil type to the rest of your garden, but they make gardening more accessible too. If you suffer from back pain, raised beds mean you can work at a more comfortable height to avoid unnecessary stretching, leaning, and kneeling.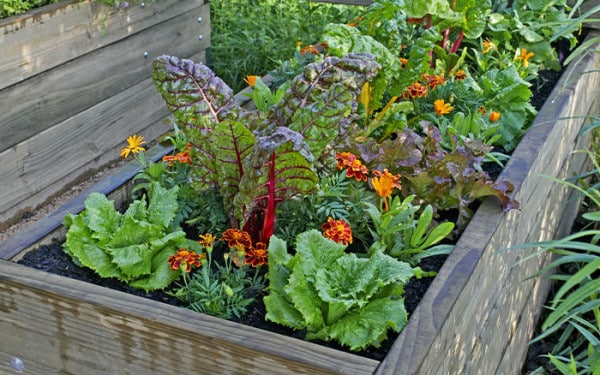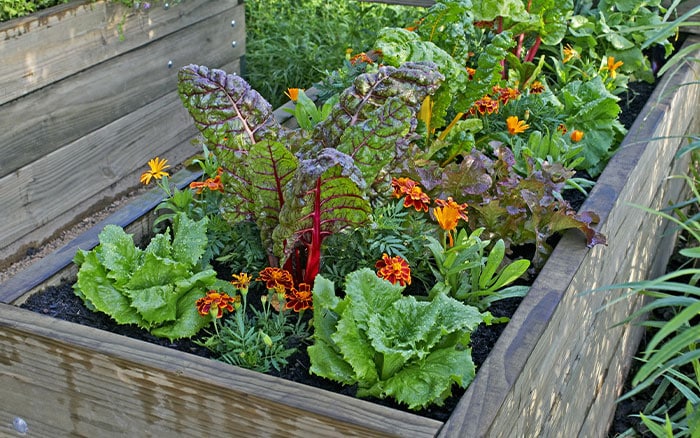 Certain tasks require power tools. Fitting together pallets to create a compost bin, cutting natural stone paving, or even transforming your garden shed into a bar will all need specialised equipment. When doing this, it's important to wear eye protection like glasses or goggles. This will prevent any materials ricocheting into your eyes.

Similarly to protecting your eyes, keeping your hands is incredibly important. When using hand tools, pruning spiked plants, or handling bulbs that can irritate human skin, a pair of gloves will come in very handy.
It's ideal to have a different pair of gloves depending on the task at hand. There are ones thick enough to keep hands warm during winter gardening, some that are waterproof for water gardening. Lightweight pairs are protective but allow you to feel what you're doing so you still keep dexterity and then a general 'all-rounder' pair that are good for everyday gardening jobs.

Gardening is great for physical health, a fantastic source of exercise. But, it's important to take a breather every once in a while. When you've been kneeling and squatting, take a few minutes to stand up and walk around to stretch out your neck and back. On the other hand, if you've been standing or doing repetitive actions, take a seat and relax for a few minutes to give your body a rest.

Whatever the weather, always have a drink on hand to freshen yourself up. Dehydration can happen very quickly, particularly through summer on a hot day. So having a refreshment close by for a quick break every now and then is vital.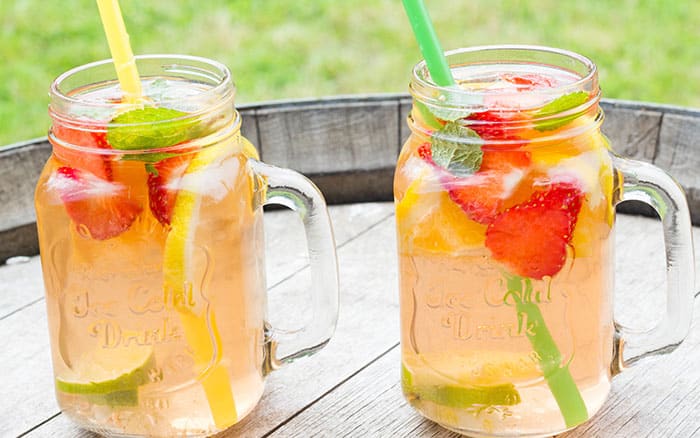 Wearing jewellery like rings, bracelets, necklaces, and earrings in the garden means there's always the risk of losing precious items. It's better to be safe by removing any jewellery to reduce the risk of this happening. As well, you don't want this jewellery to get caught on anything as it could damage the accessories, and can cause you pain too.
As we know, gardening is great exercise, but it's important to get into the swing of it by warming up properly to get your body ready. Going on a brisk walk will increase your heart rate whilst warming up your key muscle groups.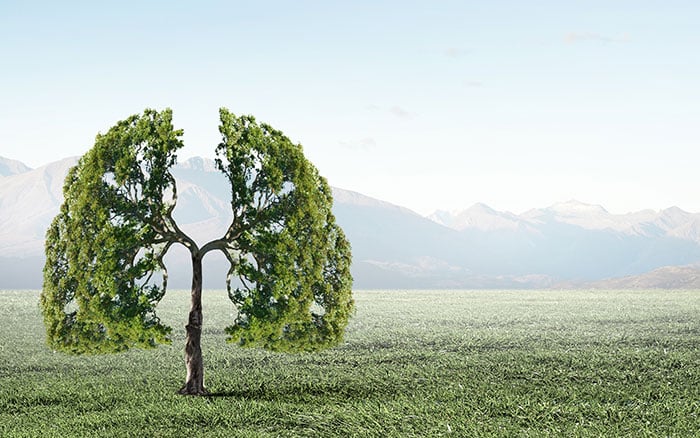 Rather than bending down, kneeling can be a more comfortable position when weeding or doing intricate tasks on the ground. When kneeling, knee pads or kneelers will make things far more comfortable whilst saving your knees from getting dirty.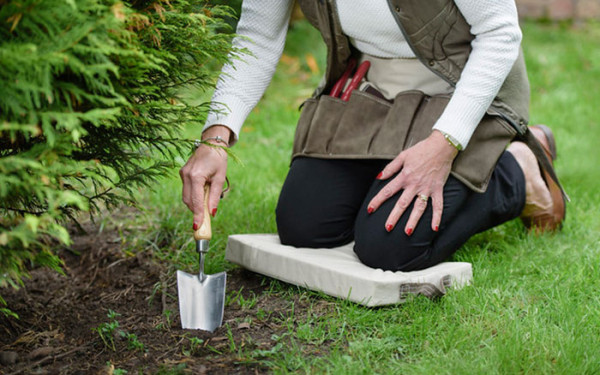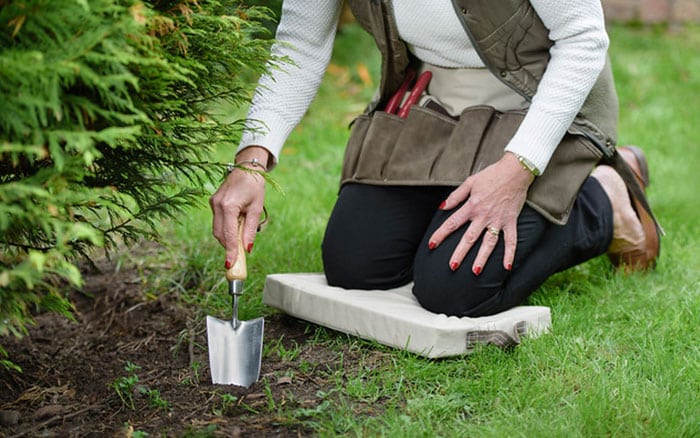 Store tools correctly to avoid injury gardening
Keeping tools stored correctly will keep them in good condition so they can operate their best for longer. It will also ensure they don't pose a risk of falling or being in the way as a trip hazard. Having specific storage or shelves in a shed or garage will keep your equipment organised and protected.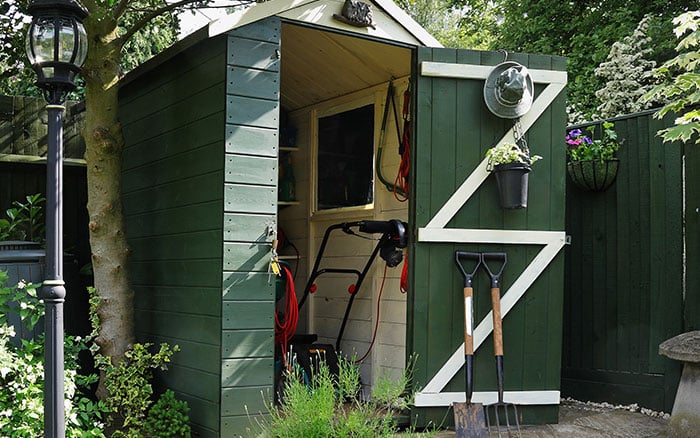 At any time of the year, it's wise to keep sun cream on hand to keep protected from the sun. Especially through summer, even when it's cloudy it doesn't mean UV rays can't get through.
For more tips on care, visit The Melanoma Fund's website for their Watch Your Back campaign.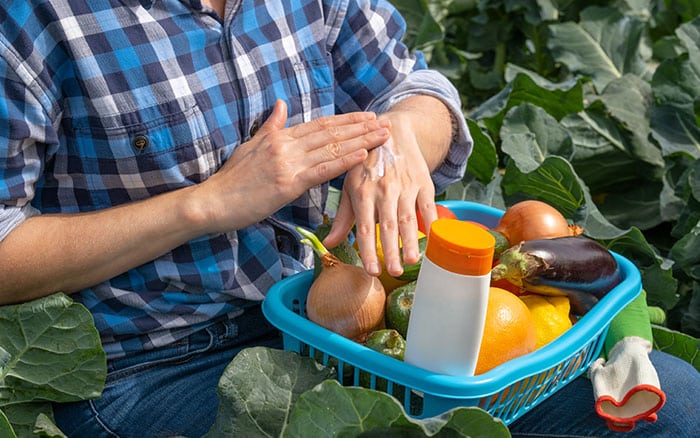 Though you may be reminded often, it's important to ensure when lifting materials and equipment in the garden that you are taking care to do it correctly. At the start of the lift, slightly bend the back, hips, and knees or squat. When lifting, take care to not flex the back backwards, which can happen if the legs begin to straighten before starting to raise the load.
There are many different sizes and styles of watering cans, from smaller designs for houseplants to large plastic or metal ones for watering the garden. Rather than overfilling the watering can, fill it to a level that is comfortable for you to lift. This is particularly important when watering hanging baskets because you have to reach up and stretch to pour the water.

In the garden, it's important to take care when carrying out tasks, whether you're a beginner gardener or an expert in the field. Use these top tips to avoid injury and stay safe whilst gardening.

David Domoney is a Chartered Horticulturalist, Broadcaster, and Author. David has worked with a number of the UK's leading garden retailers as a plant buyer and strategic consultant. With more than 30 years experience, in horticulture, David is as passionate about plants now as he was when he bought his first plant at a village fete.