Clematis are wonderful plants to have in the garden. They provide colour and can be cultivated into some great shapes… like a wigwam!
A social climber
But first the basics about this climbing perennial. Clematis are incredibly adaptable and will grow up walls, fences, pergolas and from containers or moist but well-drained soil. If you have an unsightly shed or garage wall you can soon cover it with masses of bright flowers. They can even be left to scramble through shrubs and trees to lend some amazing colour. But the plant will also thrive in containers, pots or planters on a patio or balcony – adding height, foliage and flowers.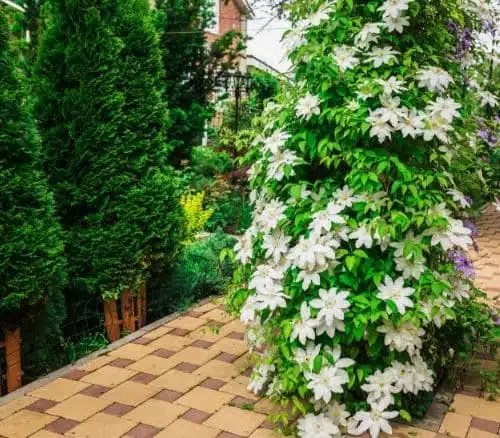 Potting the wigwam
If using a container, choose one that's at least 50cm deep with holes for drainage. The larger the better as it will contain more soil space for roots and moisture. As ever, fill after you've sited it or it'll be too heavy to lift. Most clematis varieties prefer full sun but they will be fine in partial shade.
Toil with the soil
Use good quality compost. If you are going to struggle to water regularly, add a handful of moisture-retaining crystals to stop it drying out. For a patio or balcony you will want a plant that doesn't grow too tall. Luckily, there are clematis varieties that stay under 6ft – including Cartmanii Joe, Haku Ookan and Marmori. Now get the clematis into the container and firm in the compost around it. Don't plant any deeper than it was in the pot it came in.
Give it some stick
Place four 6ft canes around the outside of the pot slanting inward so they meet at the top – using some string or raffia fronds to tie them together. You'll be astonished at how fast your clematis will grow up the poles. But a general liquid feed will help boost foliage and flowers. As it grows, the branches should be intertwined through the wigwam. Use twist ties to help shape the display and in no time you'll have an amazing wigwam of clematis.






David Domoney is a Chartered Horticulturalist, Broadcaster, and Author. David has worked with a number of the UK's leading garden retailers as a plant buyer and strategic consultant. With more than 30 years experience, in horticulture, David is as passionate about plants now as he was when he bought his first plant at a village fete.