Making the garden a fun and exciting space for the kids to explore and play doesn't mean you need to overhaul your garden. So, here are some tips on how to design a dynamic family garden.
Firstly, if you've got a smaller family garden, make the most of the space by bringing in versatile elements. These can enjoy either all year round. Or be smart and invest in items that double up with other purposes.
Storage
For storage that doesn't take up crucial playing areas, use storage seating which are ottomans or bench-like seats. This means there's plenty of storage underneath for games, equipment and gardening bits and bobs.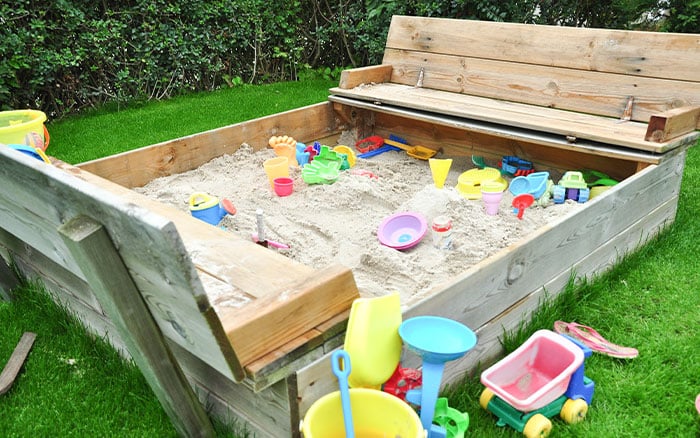 Grow up
Instead of having full borders using up valuable ground space, growing vertically is really on trend.
Create a green wall by fitting boxes or planters to your wall. Plant them full of colourful plants for interest all year round. Winter flowering pansies and winter cyclamen are great for interest in the winter months.
Herbs
Use this space to grow scented herbs and easy veg like salad leaves. Growing at low levels means the kids can enjoy the aromas and picking the crops.
Incorporate a kids corner that fits the theme of your garden. For example, have small sandbox with plenty of nautical props to bring the seaside to them. Or a small wooden house for shelter all year round. Fill this with crafty bits and pieces and the kids can have their own space to use their imaginations and create.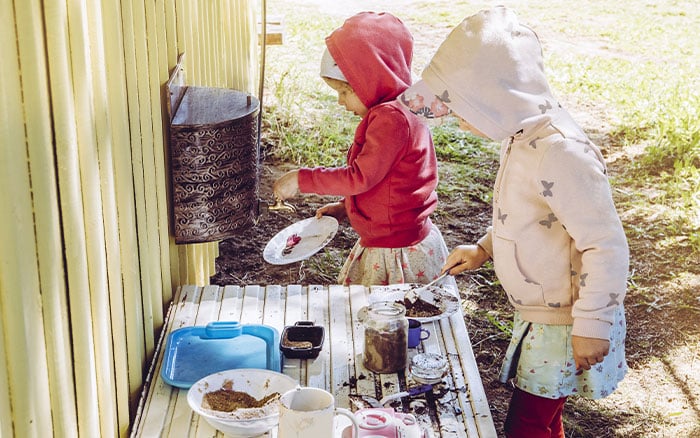 If you've got sporty kids, you can't go wrong with classic family garden games like swing-ball and football. Alternatively, ensure you have the props like bean bags, tyres, or pillow cases to organise a family sports day to get a competition going.
Fun
On the other hand, a section with a play area with a slide or swing is bound to be a win with the kids.
Undoubtedly, somewhere they can exert their energy will benefit everyone. They can use their imaginations to transform the play area into a pirate ship, enchanted castle, or a Jurassic jungle.
Mud kitchens are a fun way to get the kids outside. And they needn't be expensive. Instead, use old furniture like a sideboard or cupboards with pots, pans and cooking utensils. The children can create garden delights and get creative in the family garden.
Lastly, part of the joy of having a kid-friendly family garden is that you can leave them to play and explore without keeping an eye on them constantly. So, you'll want to make the space as safe as possible. With this in mind, there are a few things you can think about.
Safety first
If they are climbing up or running around, you'll want soft landings to save any bumps.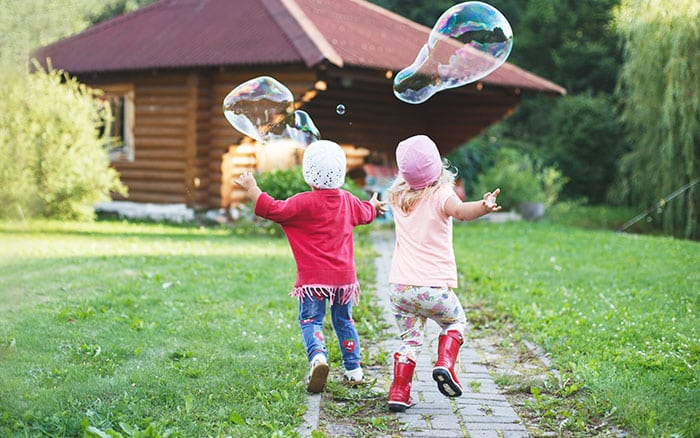 For instance, lawn is good as a soft landing compared to patio and paving stones. Alternatively, bark chippings are a good option which are soft to fall and crawl on.
Privacy
When you do want to keep an eye on the little ones in the family garden, planting pleached hornbeams are a great compromise. They provide privacy from neighbours and still allowing sight of the rest of the garden.
The structure of pleached hornbeams mean the children are free to roam whilst you can keep an eye on them from a cosy spot.
Overall, segmenting your garden is a great idea, no matter what size your plot is. When you have a set space with a purpose, it will give the garden structure and create the illusion of more room. A specific area for socialising and relaxing separated from the children's play set will undeniably keep everyone happy!

David Domoney is a Chartered Horticulturalist, Broadcaster, and Author. David has worked with a number of the UK's leading garden retailers as a plant buyer and strategic consultant. With more than 30 years experience, in horticulture, David is as passionate about plants now as he was when he bought his first plant at a village fete.