A narrow, sloping plot that was lacking in features was turned into a wonderland of adventures that satisfied all the senses. We needed to provide a safe space for the children to explore and exert energy and a relaxing spot for some time to escape.
You can get the look by going for coastal areas, sensory surprises and outdoor living.
Outdoor living areas act as an extension of the home, allowing you to make the most out of your space. A veranda offers shelter from the elements, so the space can be used come rain or shine. With a glass roof, the sun will warm up the spot, making it a warm place to escape to in the cooler and sunnier months.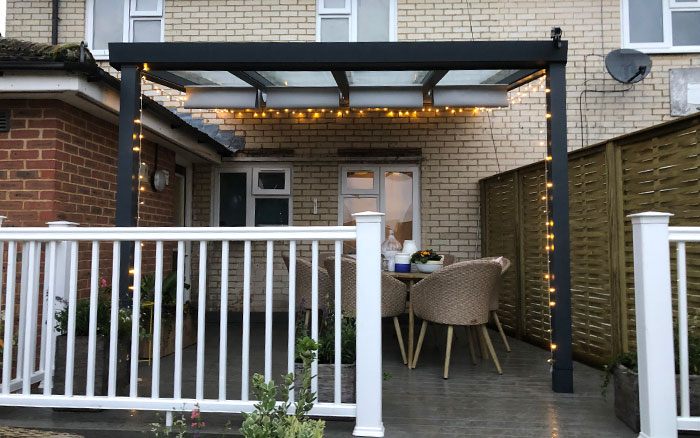 Gardens are a place for togetherness, and the veranda is the perfect hub for socialising. Fitted with an outdoor dining set, this sheltered space can be used all year round, either to host a summer BBQ or sit curled up in a blanket gazing at the night sky through the glass ceiling.
The flooring of the veranda was decked, which led down to a patio area, another spot for relaxation. The paving in this section was Pavestone's Sun Grande, adding a luxurious feel to the garden.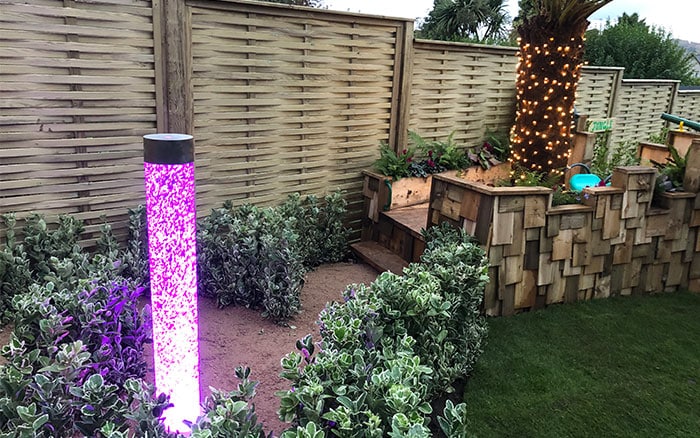 Stimulate all the senses and instil a feeling of adventure by having a place for the kids' imaginations to run wild.
The perfect spot for the kids to delve into enchanting worlds filled with adventure is a magical play-deck that can instantly become a castle, a pirate ship or a space station.
A tree fern was positioned in the middle of the play-deck, to add some architectural interest that will double up as an umbrella-like cover when the fronds open as it matures. The roots of this tree are in the trunk, so approximately twenty percent of the trunk needs to be buried. Not fully hardy, tree ferns will need protection from winter weather, so be sure to fleece it to keep it from getting cold and wet.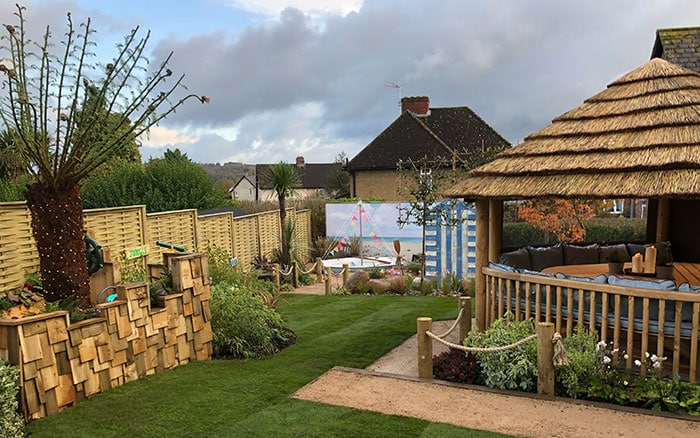 To escape from the play-deck, a slide brings you down to another level of the garden, whizzing past exotic plants so you feel transported to another land. Griselinia littoralis provide year-round colour, flowering in spring with purple fruits in autumn. Added texture from Fargesia nitida (fountain bamboo) is a brilliant option for smaller, exotic themed spaces.
Using bright, variegated shrubs such as Euonymus to build the maze was a great idea to provide structure and lead to sensory surprises along the way. These hardy, robust plants are easy to look after, making them the ideal shrub for a busy garden.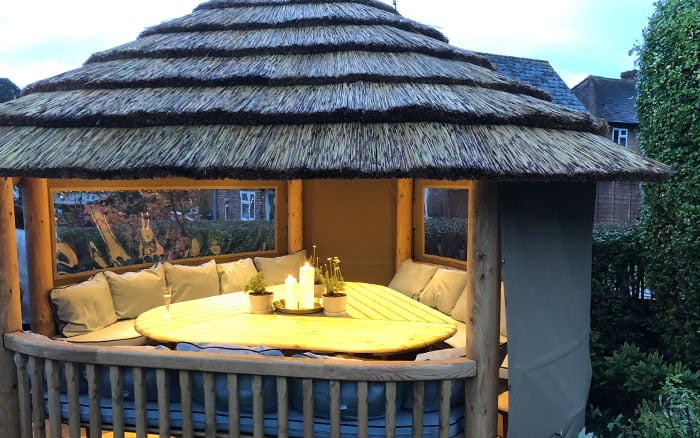 Having a sanctuary to escape to and unwind was key, so a garden building with plenty of seating was positioned in the middle of the garden, to be used in every season.
This space needed privacy, but also the convenience of being able to see the rest of the garden. This was achieved by inserting pleached hornbeam trees for elegant screening. The structure allowed privacy from neighbouring houses from above but doesn't block the vision of the rest of the garden, so the children are safe to roam and play.
Next to the seating area was a heart shaped arrangement of heather. This meaningful addition was to commemorate the work that the homeowner does for raising awareness of organ donations. The pink and purple flowers of these evergreens made quite the impact when organised in place, in ericaceous soil.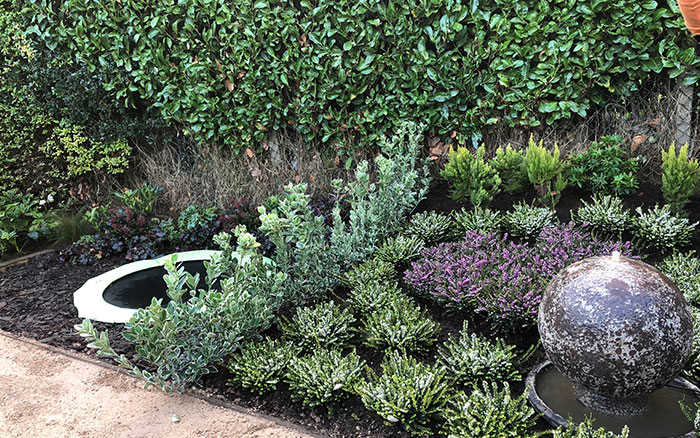 Another sentimental piece in the garden was a memorial tree. Japanese maple was chosen due to its colourful foliage that ranges from green, yellow and burgundy throughout the year. Best suited in a cool, lightly shaded spot, these compact plants are a beautiful addition to a small garden.
Retreat to the seaside in your own back garden by bringing coastal plants and nautical themes to the space.
A shed was transformed into a beach hut which became an indoor play area for the children. This can be done by roughly painting the shed to achieve a distressed and aged look.
Murals are wonderful for making a themed area feel authentic, so a beach scene was painted as a backdrop to the sandpit. To further enhance the seaside theme, an old boat was positioned in the sandpit, another perfect prop for playing.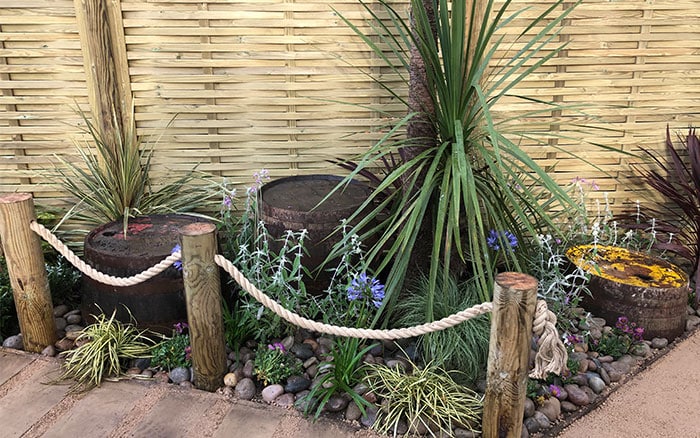 Cordyline australis (cabbage palm) is an evergreen which complemented the coastal scene, with its long, sword-shaped leaves. As well as trees, hardy plants such as Erigeron glaucus (fleabane) 'Sea Breeze' added bright colour accompanied by naturalistic grasses to add further texture.
Your plot can become a place for the children to let their imaginations run wild, with elements that will stimulate all the senses. You can transform your garden into a private and accessible space with room to relax whilst keeping an eye on the children.
See you here next week for episode four – 17th March at 8pm!

David Domoney is a Chartered Horticulturalist, Broadcaster, and Author. David has worked with a number of the UK's leading garden retailers as a plant buyer and strategic consultant. With more than 30 years experience, in horticulture, David is as passionate about plants now as he was when he bought his first plant at a village fete.