Watching these towering beauties emerge and to see their exotic-looking flowerheads overlook the rest of the border is magical. By growing red-hot pokers in your garden, and they are sure to bring some joy to your garden.
To demonstrate, see how my red-hot pokers are getting on in this video. From the day I planted them back in 2016 to now…
Kniphofia or red-hot pokers are a must-have for your garden and they'll stick around too. I guarantee you'll never grow tired of seeing their distinctive fiery blooms.
They will be in flower from spring to autumn, depending on the variety. And there are plenty to choose from. So you can have red-hot pokers adorning your borders for most of the year.
Surprisingly easy to grow, most varieties are hardy to half-hardy.
Take care and keep them healthy by tidying the plants in mid-spring. Once the weather has started to warm up after the winter chills, any dead or unsightly foliage can be removed.
If they are being grown in containers, ensure they are watered regularly to keep the soil moist over growing season. However they won't tolerate very wet soil over winter.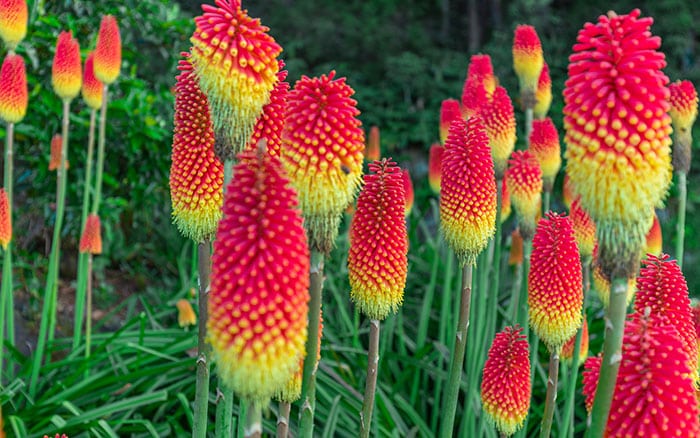 Firstly, for smaller gardens or urban spaces, red-hot pokers can be grown well in containers. Choose a smaller cultivar like 'Bees' Sunset' which can grow to 1m tall and have spikes of yellow flowers in summer.
Care
• Full sun
• Moist but well-drained
• South-facing
• Exposed
• Loam or sand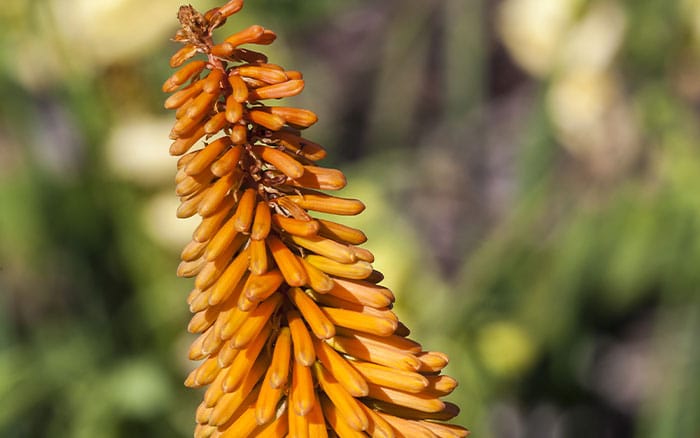 They're not all just about the flowers. Kniphofia northiae (giant red-hot poker) has smooth strap-shaped evergreen leaves that are joined by yellow-cream to red-orange flower spikes that provide the whole package.
Care
• Full sun
• Moist but well-drained
• South or West-facing
• Sheltered or exposed
• Sand or loam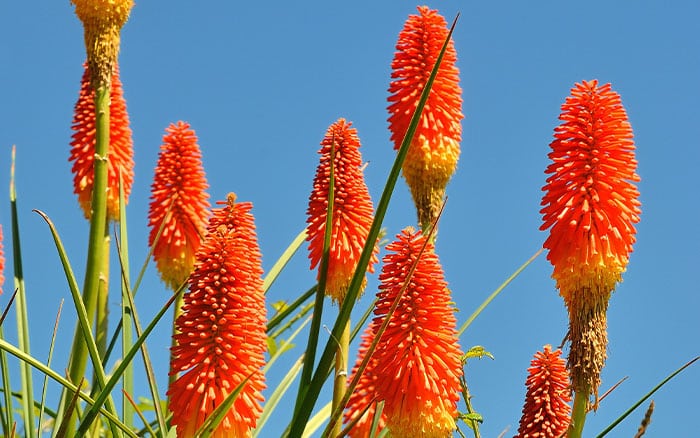 Lastly, for summer to autumn colour of orange, cream, and sandy shades. 'Tawny King' is a cultivar that will grow to 1.2m tall. Although it's not be as bright in its colouring, the texture and interest it'll bring to your borders is fascinating.
Care
• Full sun
• Moist but well-drained
• South-facing
• Exposed
• Loam or sand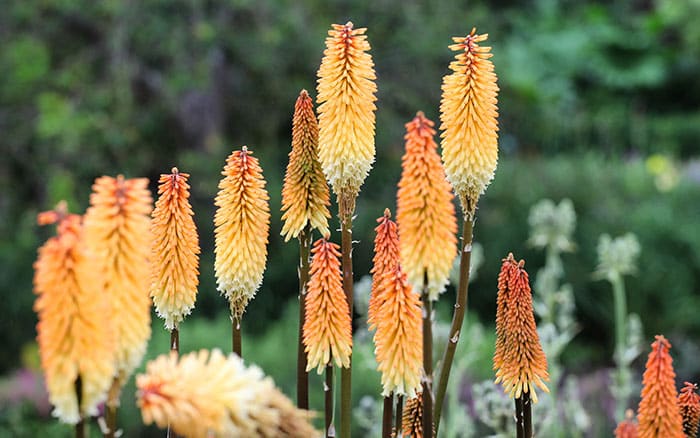 These plants will be sure to add an exotic twist on any garden style. From a classic cottage garden to a coastal themed plot. As they grow, they will add something magical and exotic to your garden. And are sure to be a talking point of any visitors as they tower in your borders.
David Domoney is a Chartered Horticulturalist, Broadcaster, and Author. David has worked with a number of the UK's leading garden retailers as a plant buyer and strategic consultant. With more than 30 years experience, in horticulture, David is as passionate about plants now as he was when he bought his first plant at a village fete.