When we think of poppies, we most likely think of Papaver rhoeas (field poppy) with their red, bowl-shaped flowers that is a symbol of remembrance. But there are many varieties, so find out how to grow poppies in your garden.
Firstly, poppies need good sunlight and loose, well-draining soil to grow well. So, prepare your soil by digging it over and raking it until it has a very fine texture.
Sow the seeds 1.5cm deep in rows 30cm apart. Alternatively, sow the seeds on the surface and cover with a thin layer of soil.
But,  don't bury them too deep otherwise they won't germinate.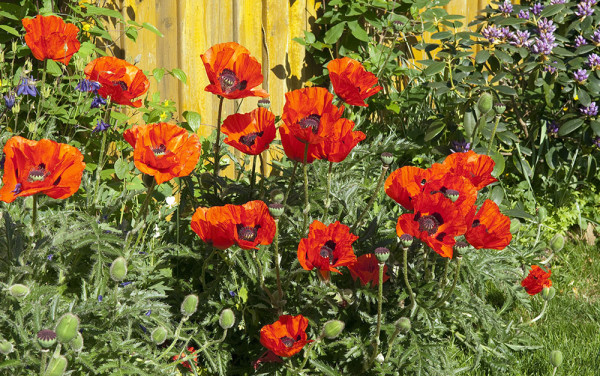 Poppy seeds are very small, so mix a couple of spoonfuls of sand in with the seeds to thin them out and help you see where you've sown them.
If you're sowing on a large area, mix the seed with moist sand and scatter the mixture like you're throwing a discus.
Sow anytime from March to May, staggering your sowing to get a continuous show of pretty poppies. When sown, water in your poppy seeds until the soil is very moist.
If your seedlings are too crowded, thin them out by pulling out the weakest seedlings when the plants reach 5cm tall. There should be 15-20cm between each plant, as they can grow to over a foot tall!
Also, it helps to fertilise the plants once a month during growing season and pull up any weeds that are competing for space, nutrients, and water.
To help suppress weeds, mulching the area around the plants in a border with bark chippings can help to keep them at bay.

Only water the poppies during dry spells and deadhead the spent flowers to encourage more blooms to grow.
Be aware that if you let the heads go to seed, the poppies will spread all over your garden. However, this can be useful if you have a wild corner or wildflower area, in this case let the plants self-seed and spread.
Popular poppies to grow are oriental poppies that are large-flowered types with hairy stems and foliage for added texture. They provide flamboyant flowers that will not only be pleasing to your eye, but pollinators love them too.
• 'Patty's Plum' is a contender for some dramatic colour in your borders. Growing to 80cm, these flowers have dusky pink silk-like petals with dark pink-purple centres.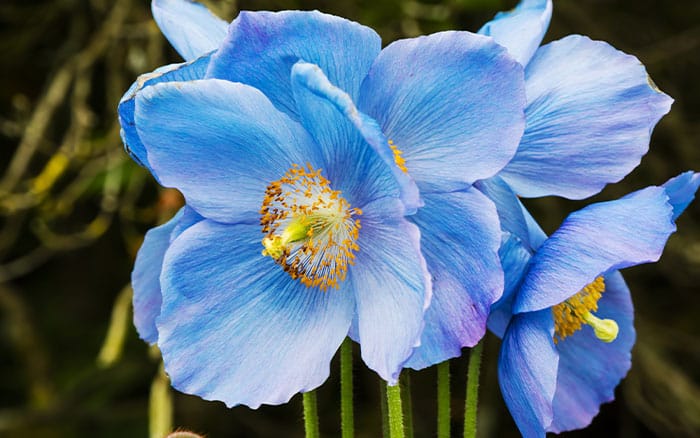 • Garden Glory' is a winner if you are looking for texture because the double-ruffled, pink flowers will bring some cheer to your garden where they can grow up to 75cm tall.
• Meconopsis (Himalayan blue poppy) are spectacular flowers that prefer a cool, damp soil in a partially shaded spot. The electric blue flowers bring something special to your garden to contrast with your other blooms.
Grow poppies in your garden for beautifully textured flowers. Sow a wildflower meadow in a corner of your garden that will look lovely through summer and will appeal to pollinators too.

David Domoney is a Chartered Horticulturalist, Broadcaster, and Author. David has worked with a number of the UK's leading garden retailers as a plant buyer and strategic consultant. With more than 30 years experience, in horticulture, David is as passionate about plants now as he was when he bought his first plant at a village fete.