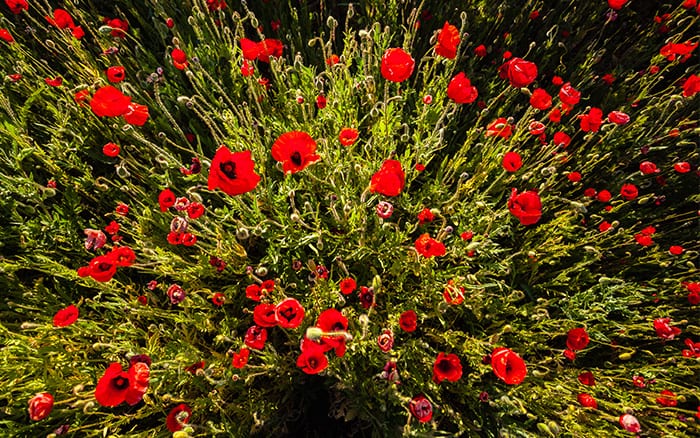 Poppies need good sunlight and loose, well-draining soil to grow well. To join the Real Poppy campaign, sow the  red Flanders or cornfield poppy (papaver rhoeas) which is the worldwide symbol of remembrance.
PLEASE DO NOT plant poppies near agricultural land or sites of scientific interest! Their seeds can spread rapidly and farmers will be forced to use herbicides to control them.
Sow
Prepare your soil by digging it over and raking it until it has a very fine texture.
Sow the seeds 1.5cm deep in rows 30cm apart. Or sow on the surface and cover with a thin layer of soil.
But don't bury them too deep or they won't germinate!
Poppy seeds are very small, so mix a couple of spoonfuls of sand in with the seeds to thin them out and help you see where you've sown them.
If you're sowing on a large area, mix the seed with moist sand and scatter the mixture like you're throwing a discus.
Sow anytime from April to mid-July. Stagger your sowing to get a more continuous crop.
Water in your poppy seeds until the soil is very moist.
Grow
If your seedlings are too crowded, thin them out by pulling out the weakest seedlings when the plants reach 5cm tall. There should be 15-20cm between each plant, as they can grow to over a foot tall!
It helps to fertilise the plants once a month during growing season, and pull up any weeds.
Or you can add a mulch such as bark chippings around the plants to keep weeds at bay.
Only water the poppies during dry spells, and deadhead the flowers to encourage more blooms to grow.
Warning – if you let the heads go to seed, the poppies will spread all over your garden. Deadhead them when the blooms begin to fade.