After sweet treats over the festive period, this flatbread is the perfect combination of sweet and savoury to satisfy your tastebuds. The mixture of flavours is delicious, so gather your ingredients for this lovely sharing dish.
Onions are a staple in so many meals, so growing your own is a great step to have a stock of onions at your fingertips. They're pretty easy to grow too, so a good vegetable for beginners. Choose an open, sunny site with plenty of space, or a big deep container.
Before planting the sets, work the soil and use a rake to smooth it out. Then, plant them 10cm apart, by pushing them into the soil so the tip is showing slightly.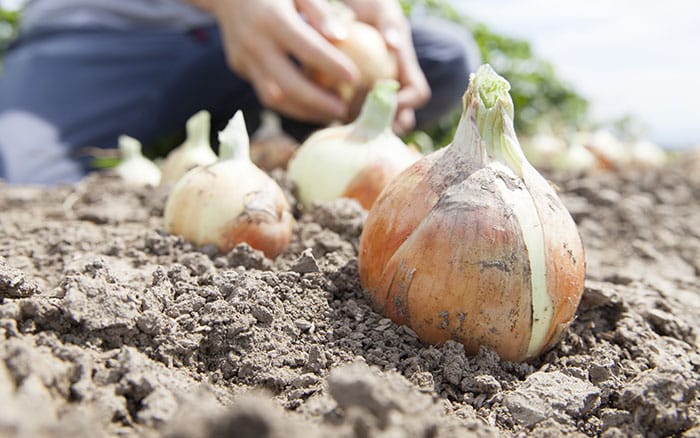 Protect them from birds by covering with netting. Keep the area clear of weeds too, because they will compete for water and nutrients. Water the onions if in dry conditions and mulch to conserve moisture if the soil is particularly dry. Also, feed with an all-purpose fertiliser and in June adding sulphate of potash will help the bulbs to ripen.
From August to September, the onions will be ready to harvest. The tell-tale signs are the foliage yellowing and falling. Once this has happened, wait for two weeks and on a dry day use a fork to lift the onions out.
With this handy recipe card, you can have a tasty fig, goat cheese and caramelised onion flatbread to use as a sharing starter, tasty snack, or filling meal. It's a colourful dish, full of flavour and nutrients, with a mix of textures that will make your mouth water.
You can grow your own rocket, onions and even figs in the UK as long as you choose a hardy cultivar and plant it in a sunny spot. With these ingredients home-grown in your garden, I'm sure this fantastic dish will taste even better.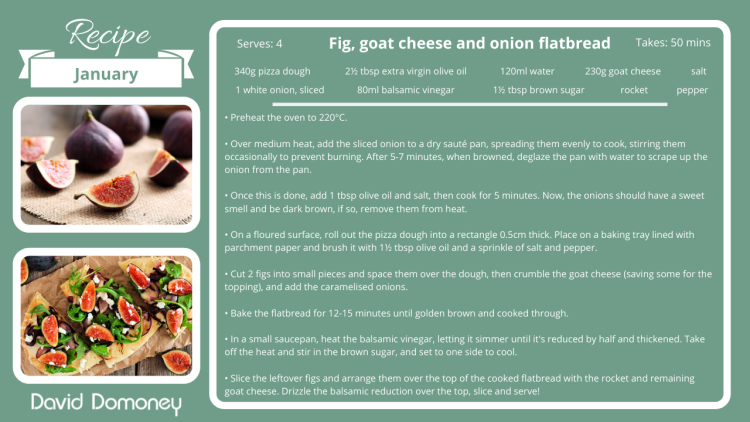 Try this flatbread and experience the sweet and savoury tastes that it has to offer. Give it a go and let me know over on Facebook, Twitter, and Instagram how it turns out.

David Domoney is a Chartered Horticulturalist, Broadcaster, and Author. David has worked with a number of the UK's leading garden retailers as a plant buyer and strategic consultant. With more than 30 years experience, in horticulture, David is as passionate about plants now as he was when he bought his first plant at a village fete.