Clean lines look tidy and save work and having a well-defined edge to a lawn is a great aesthetic. Choose lawn edging that suits your garden style, and it will make your garden easier to maintain.
A nice sharp edge can lend order to anything from a path to a border or patio – anywhere where two different ground surfaces meet. Most commonly, it's the border where your plants meet the lawn. By having an edge, it helps not only aesthetically, but also stops the grass growing into the borders.
Likewise on a patio – where it meets a border or lawn – having something that separates is key. There are many different ways of doing it. They don't cost a fortune and, when fitted, having an edging will dramatically reduce your maintenance in keeping surfaces from merging.
Relatively inexpensive plastic is an obvious choice. It can be bought in rigid half-metre spans that are hammered into the ground. Then, there is flexible edging – the same tough plastic as rigid, but you can bend it into sculptured shapes and curves.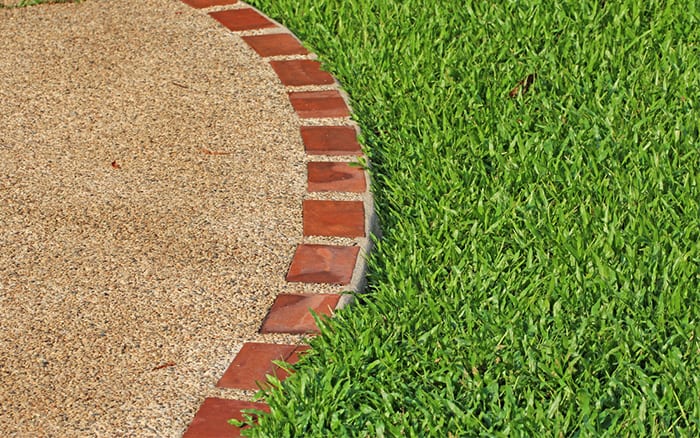 Corrugated edging, either plastic or metal, comes in a roll and you dig it in, taking an element of the soil out, pushing the edging in, then packing the soil back in behind it.
One of the most popular options is known as log-roll – a series of half-cut logs on wire that can be placed along the edge of a border. It's simple and effective. You can place edging slightly below the grass level, meaning you can't see it, but the grass can't grow over it.
This is ideal if you want to mow over it. Other people leave their edging proud – you can't mow over it, but a strimmer will keep it neat. Both techniques are practical.
Brick or stone is popular, either in traditional paving blocks or reused house brick. Clear a trench, place them in position then pack the soil back in behind them. Rope-top edging made of terracotta remains a good choice, especially in Mediterranean style gardens.

Also try edging around the base of trees using tiles. Use an ordinary hula hoop as a marker. Cut it, then wrap it around the base of a young tree, cutting out the soil and grass within it.
A piece of string or old hosepipe will work for marking the lines but doesn't give a template of a perfect circle. After laying the tiles around the edge (for more permanency, use a mix of three parts sharp sand and one part cement), top up with fresh compost and pack the soil back in around the outside.
Inside, replace the soil and earth with slate chippings or mulch to stop the grass growing up to the edge of the tree. Hey presto, not only will your tree benefit, but suddenly you've got a classy garden feature too.
Lawn edging is a great finishing touch in your garden for separating your spaces and creating a clean-cut appearance. Although they look great, they are also useful for keeping maintenance down too – so it's a win-win!

David Domoney is a Chartered Horticulturalist, Broadcaster, and Author. David has worked with a number of the UK's leading garden retailers as a plant buyer and strategic consultant. With more than 30 years experience, in horticulture, David is as passionate about plants now as he was when he bought his first plant at a village fete.