Get the Love Your Garden Look. Here's how you can get the modern architectural look in your own garden.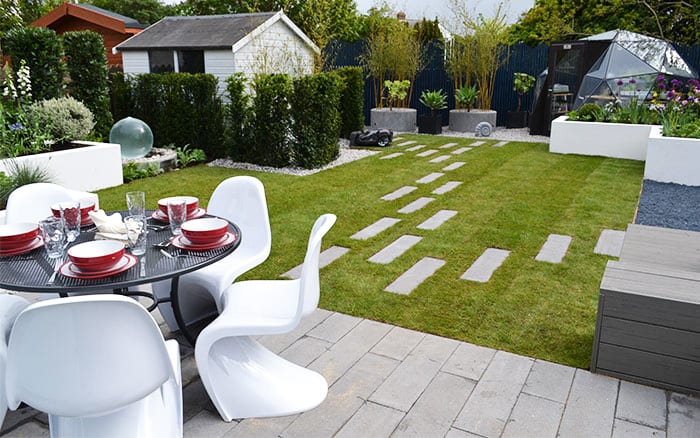 The 'space age' garden we created in episode three looked amazing. The modern style was sleek and bold but the planting had pretty, flowery elements too.
One of the most important things we have to consider on Love Your Garden is time. Many of our families just don't have time for a garden that needs lots of work and maintenance. So we choose the plants carefully, looking for high-impact shapes and long seasons of colour and structure.
Evergreen structure for an architectural garden

Evergreen plants are underrated in garden design. They provide form through the winter and create a green backdrop to highlight other plants. Plus they hide fences and boost privacy.
We used yew (taxus baccata) and bay trees (laurus nobilis) to line walls and fences with colour. We also planted box, lady fern, festuca glauca 'Elijah Blue' and black grass Ophiopogon planiscapus nigrescens in the borders for structure.
Bold planting

We took inspiration from the Eden project to put in some bold, striking plants. These varieties have strong shapes that create real impact in a garden border.
The garden was in Cornwall so we added coastal plants like sedum, echiums, cardoon (cynara cardunculus) and coast rosemary (Westringia fruticosa).
We also used two types of euphorbia (E. pasteurii and E. amygdaloides var. Robbiae).
Alan added containers planted with bamboo (Phyllostachys aurea spectabilis), agave and aeonium arboretum.
Flower colour in modern gardens

Finally, we wanted to put some pretty flower colour into the garden. We chose flowers for each of the girls' middle names: Rose Olivia, Violet sorovia Freckles and Iris raja and Iris Langport Minstrel.
We also planted flowers for height. We used bronze fennel, Agapanthus Charlotte, Gladiolus italicus, Allium Purple Sensation and Digitalis Dalmation White (foxglove). All of these plants have tall stems, meaning they complement the existing bold planting.
We finished off the flowers with a peony (paeonia Yackiyo Tsubaki) and honeywort (Cerinthe major Purpurascens).
This is a great low-maintenance garden for someone who doesn't have much time but wants a growing challenge. Some of the more tropical plants will need moving to a greenhouse over winter.
I also loved the varieties of tillandsia in the greenhouse. These are called 'air plants' because they have no roots – the take their water and nutrients from the air. Find out more about tillandsia here.
With these tips you can transform your space into an architectural garden for a modern aesthetic.

David Domoney is a Chartered Horticulturalist, Broadcaster, and Author. David has worked with a number of the UK's leading garden retailers as a plant buyer and strategic consultant. With more than 30 years experience, in horticulture, David is as passionate about plants now as he was when he bought his first plant at a village fete.