This episode saw us visit a garden in the heart of the Derbyshire Dales. The team aimed to breathe the beauty and life of the rolling hills and really encapture the stunning sea views within the garden itself. We were set with the task to create something that enabled there to be enough space to allow manoeuvrability and still include spectacular planting aswell.
You too can get the look by going for sweeping pathways and subtle shapes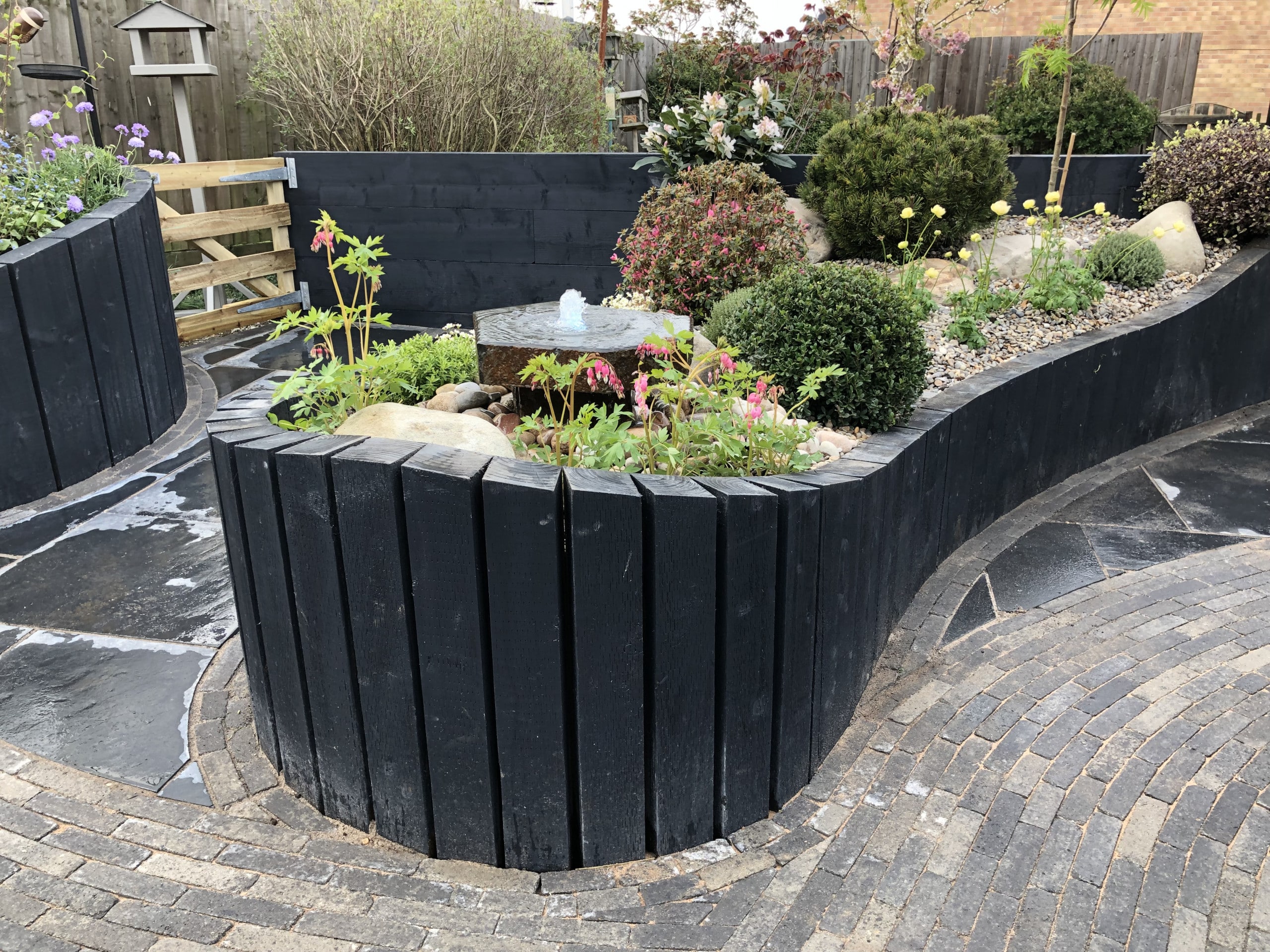 The garden has a mixture of hard landscaping and raised flower beds all rolling into one.
Traditionally when people make raised beds, they are usually rectangular, but here they're made into curvaceous shapes to give a nice fluid movement akin to rolling sea waves.
To create a spacious and open feel, it wavers not only in shape but also in height.
We enveloped the beds with wooden panels painted in a dark coat to give a chic and subtle look, which was all finished off by interlaced pathways of Brazilian slate paving sets from Pavestone.
Interspersed with the varying colours of 'Anthracite' SlimSett paving which can be easily manipulated into swirling pathways, we were able to provide a great deal of texture and motion to the space with the linear bricks drawing you down the path into sections laid with big pavers. These sections urge you to stop and take stock of each nook.
Through its intricacy, the garden gave an optical illusion, making it larger than it was. With a combination of the segregated hard landscaping, highs and lows of the raised beds and sloping pathways we were able to create something quite sublime.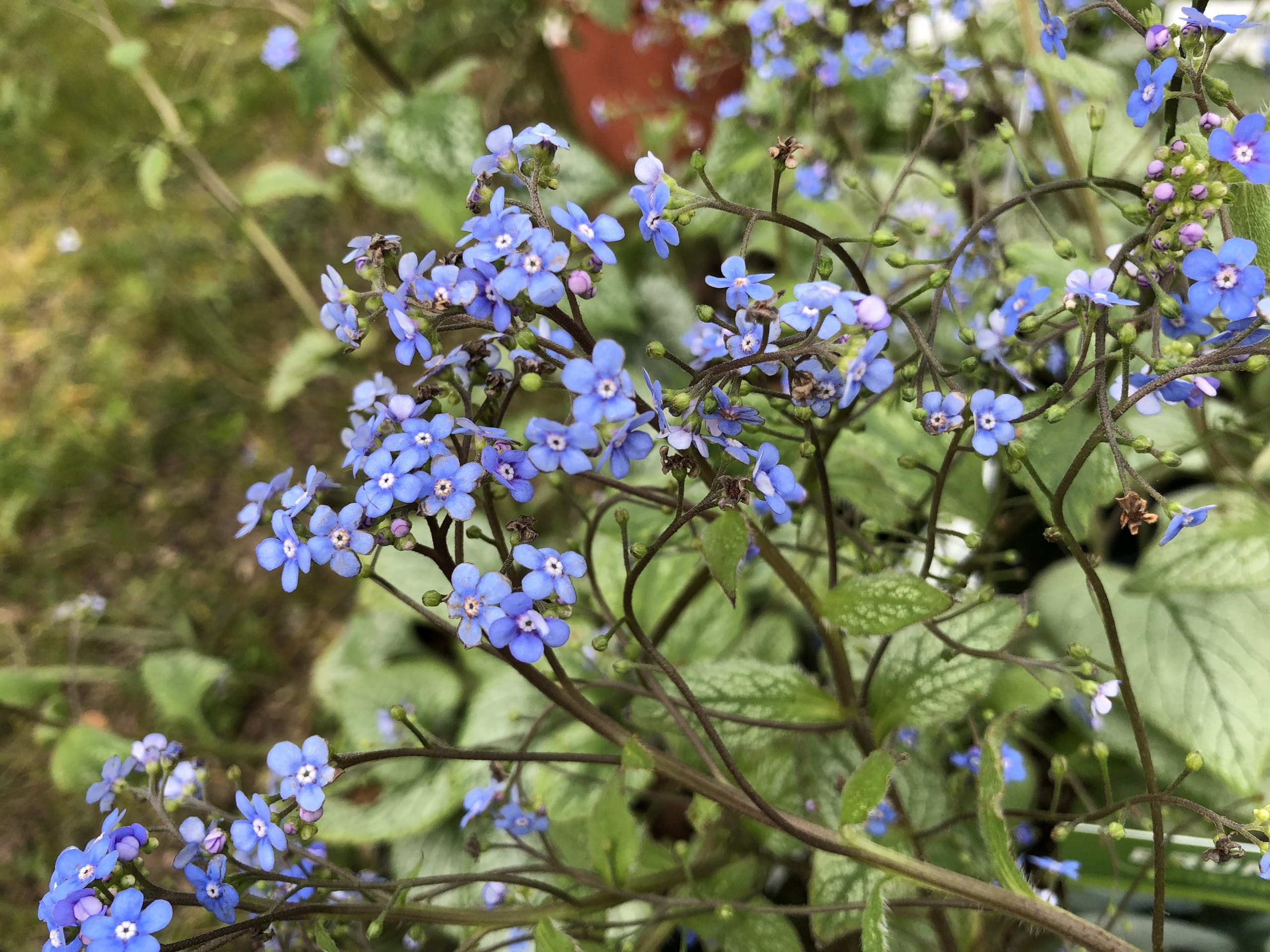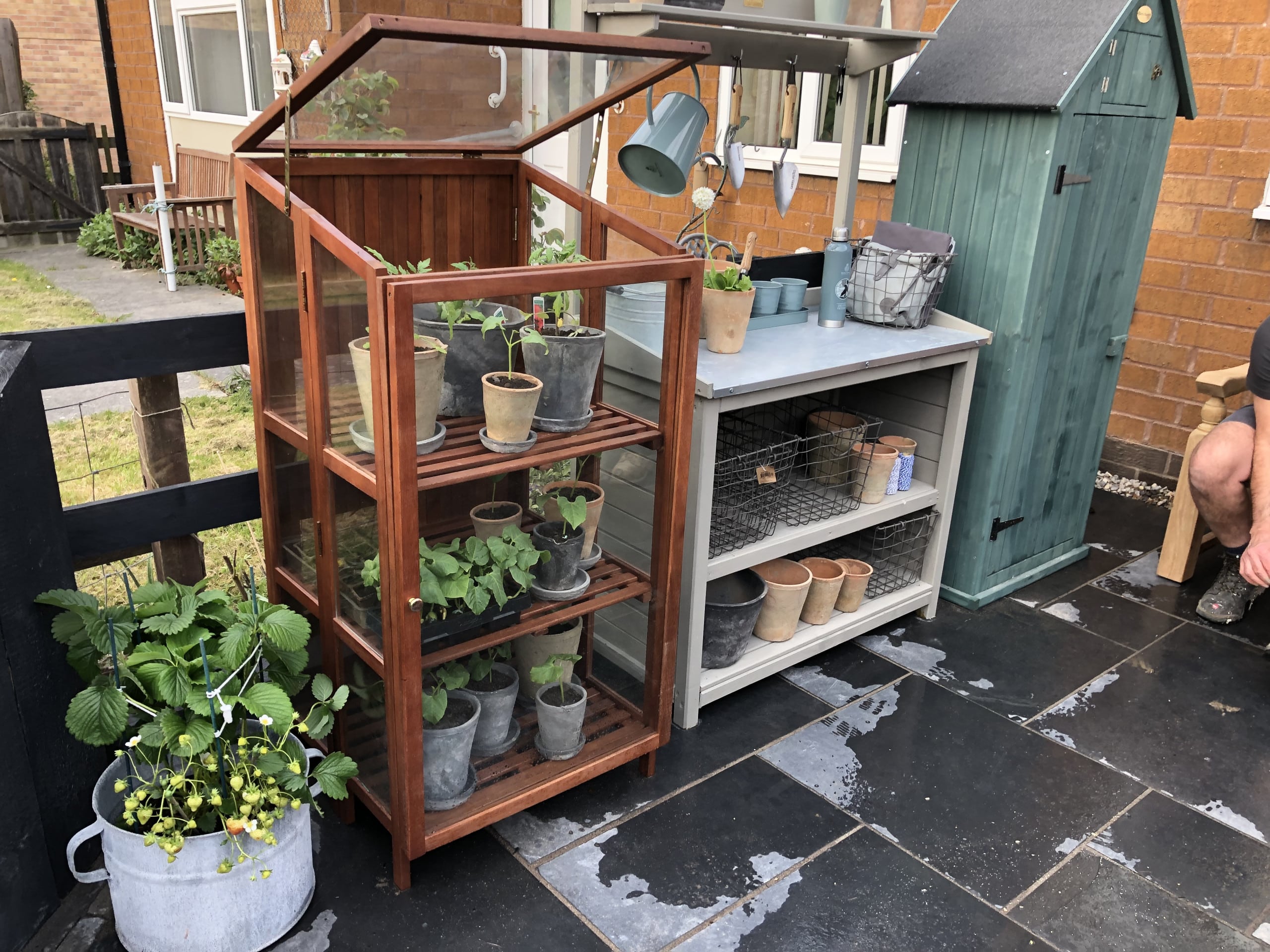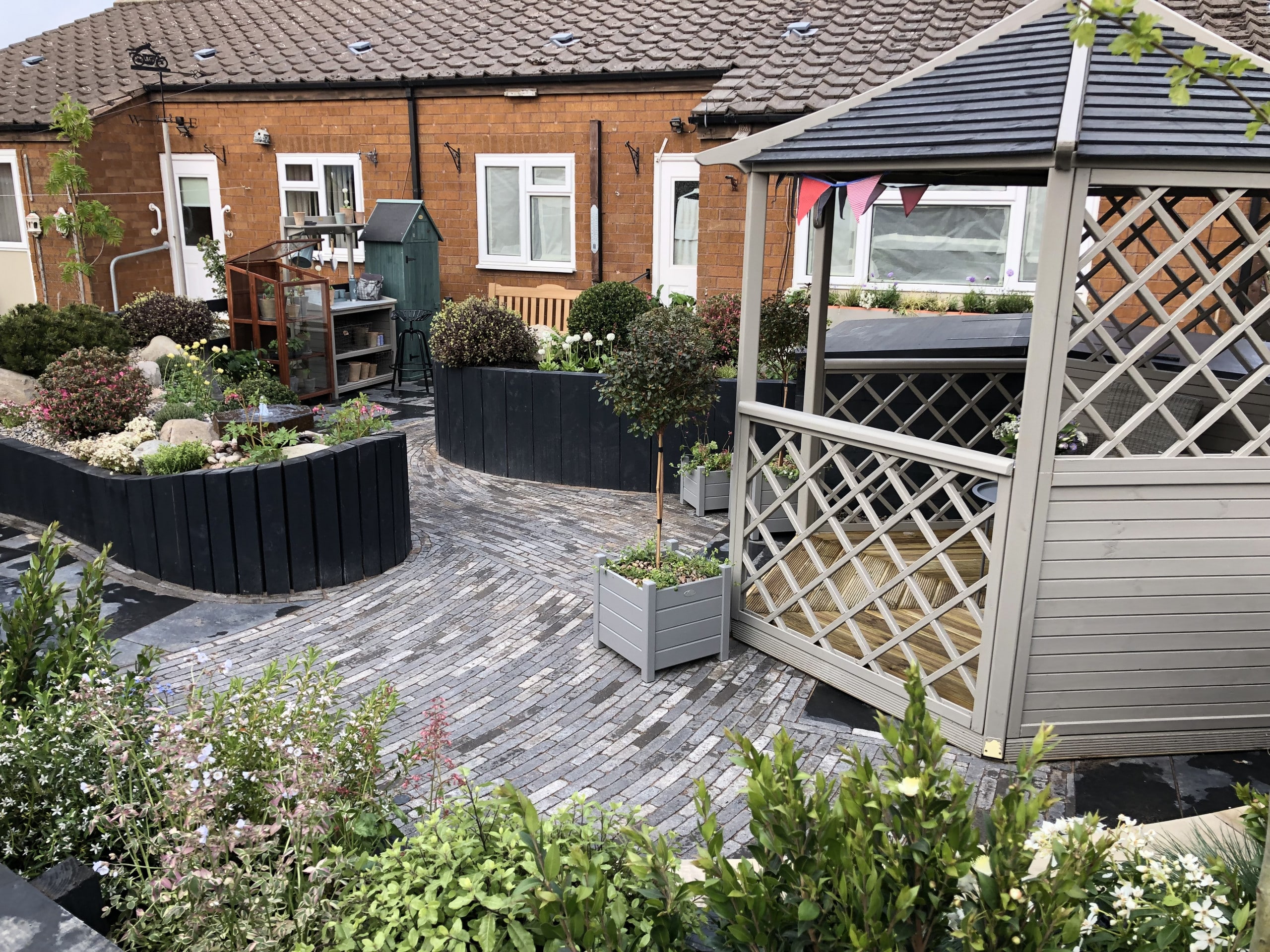 The colour combinations and contrast between the lighter paving and the darker walling of these raised beds looked absolutely amazing.
Francis' little grow-your-own section pulled together a workspace with plenty of room to store garden tools. There was also the fantastic workbench, mini greenhouse and galvanised container full of strawberries all making for a nice touch.
Within the raised beds we positioned large Derbyshire stone, which really combined the hard landscaping of the rocks with the soft surface of the plants. One of the complimenting plants used was white Saxifraga, or 'mossy' as it is sometimes known, which interweaved within the stone stunningly.
This was complemented by the whole area having Aquilegia caerulea carpet the stone flooring aswell to beautifully offset a lot of the plants.
A large open gazebo was constructed similar to a traditional style beach hut. Its open sides keep it from feeling too enclosed, as if you're part of the garden itself. It also provided shelter for socialising in the stunning scenery.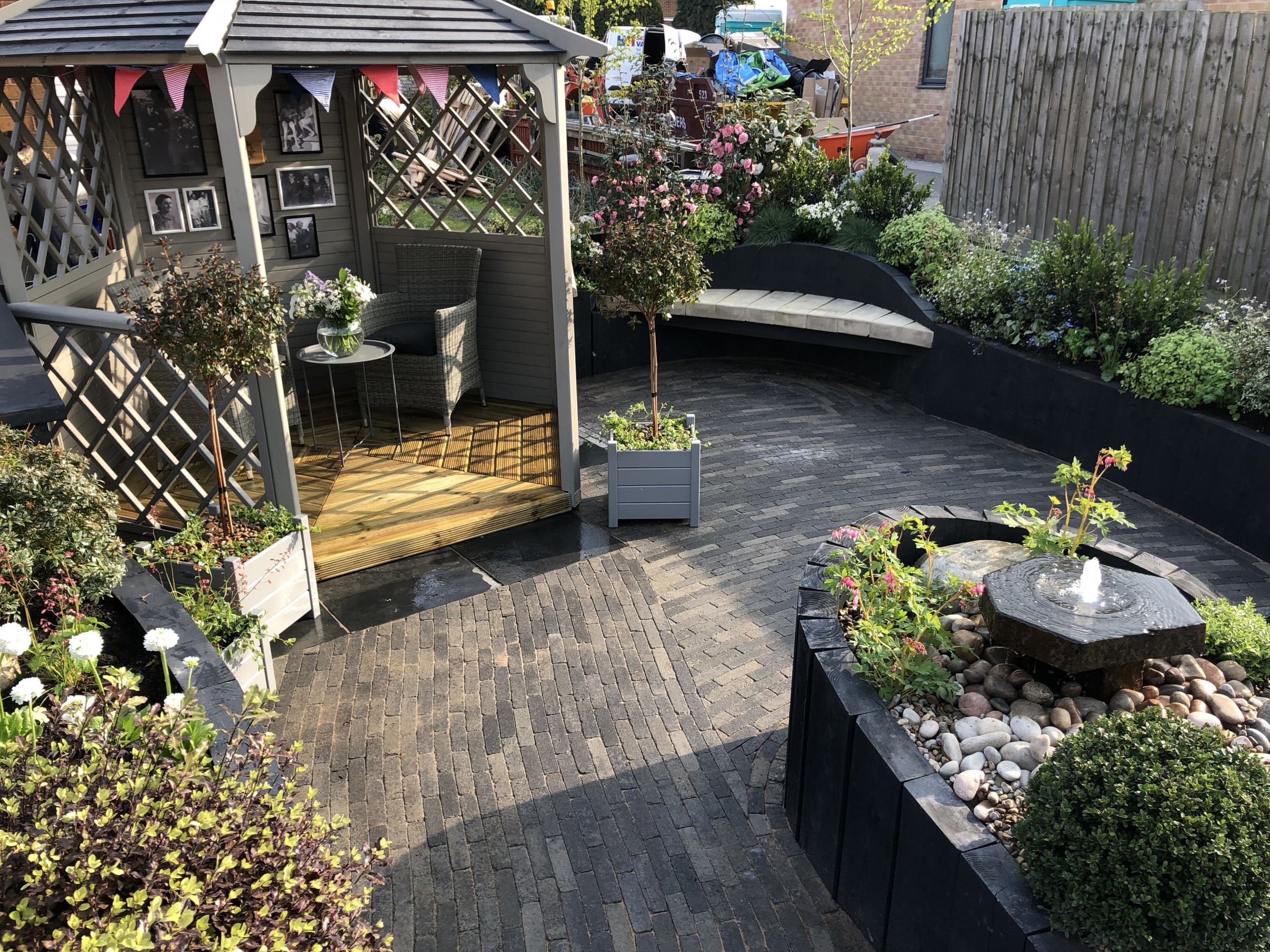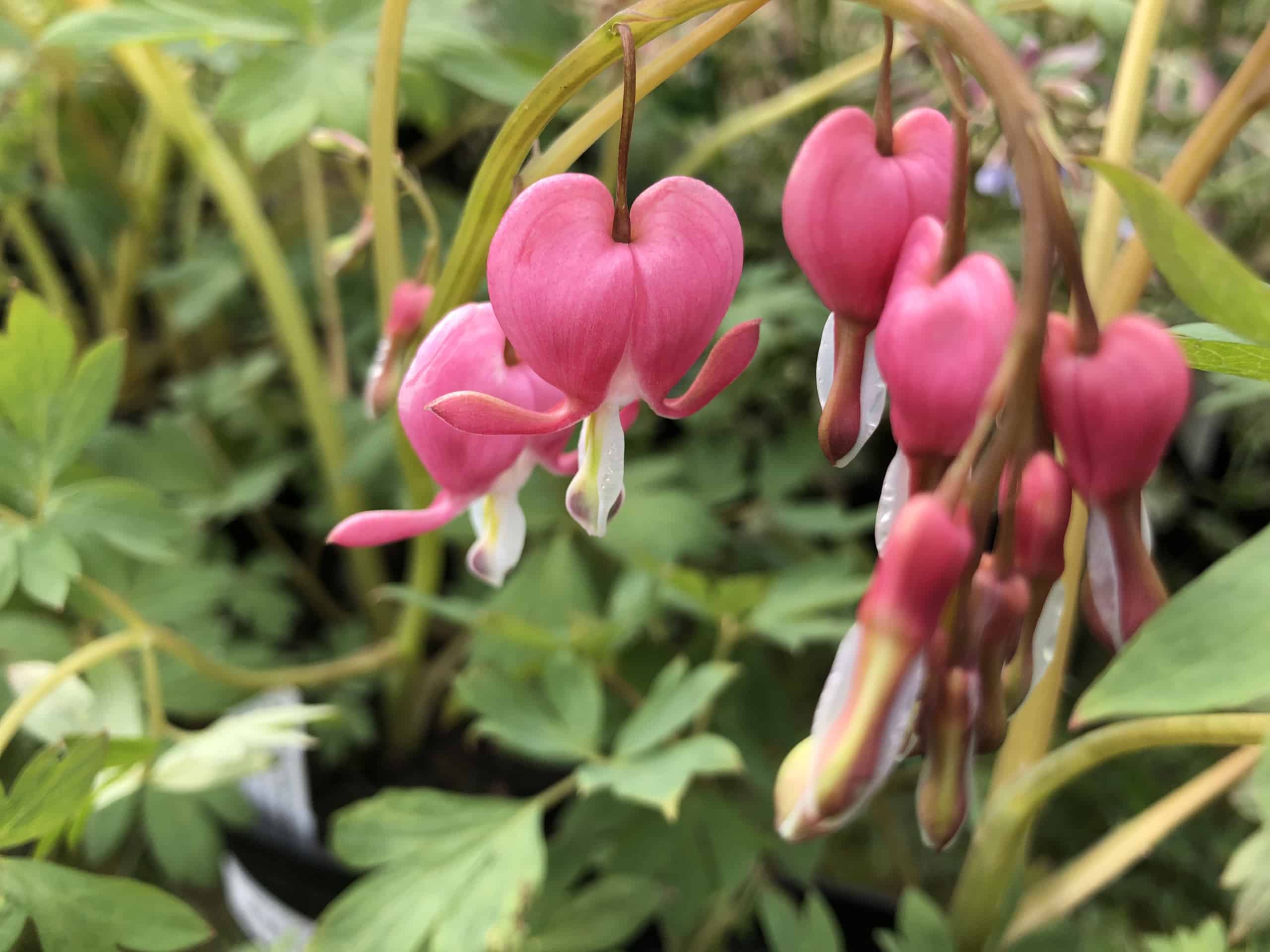 The team and I went for a very vibrant selection of coastal plants, imbedding a lot of globe-shaped plants, such as Pittosporum, but also Ilex crenata (similar to dwarf holly) to create some of those magnificent mound effects.
The planting of Myrtus communis and Japanese Azaleas gave a bright pop of colour.
Whilst flowering Lamprocapnos spectabilis, otherwise known as bleeding heart, added some bright pink and white colouration with heart-shaped flowers that almost seem to be dripping in the middle.
Brunnera 'Looking Glass' has beautiful blue flowers that look to be floating and in certain light shifts from silver to lime green foliage.
That contrast of the planting in this whole section works especially well.
For additional ground cover, we used the pristine white coloured Vinca minor 'Alba' harbouring a smaller leaf. Just shy of a pound coin in size, here it's used as a striking skirting along the base.
To trail over the sides of the raised beds we opted for a variegated Aubrieta 'Doctor Mules.'
You get the contrast of the light and cream foliage before a flower of vibrant violet colour pops through on top to trail over the side.
The whole look was brought together by the artwork which was like a giant postcard setting the scene at the back of the garden. Effectively it gives an artist's impressions view through to the Derbyshire Dales themselves.
All in all, it created a truly special garden; one we have never before achieved on any episode of Love Your Garden.
See you here next week for episode four – 1st October at 8pm!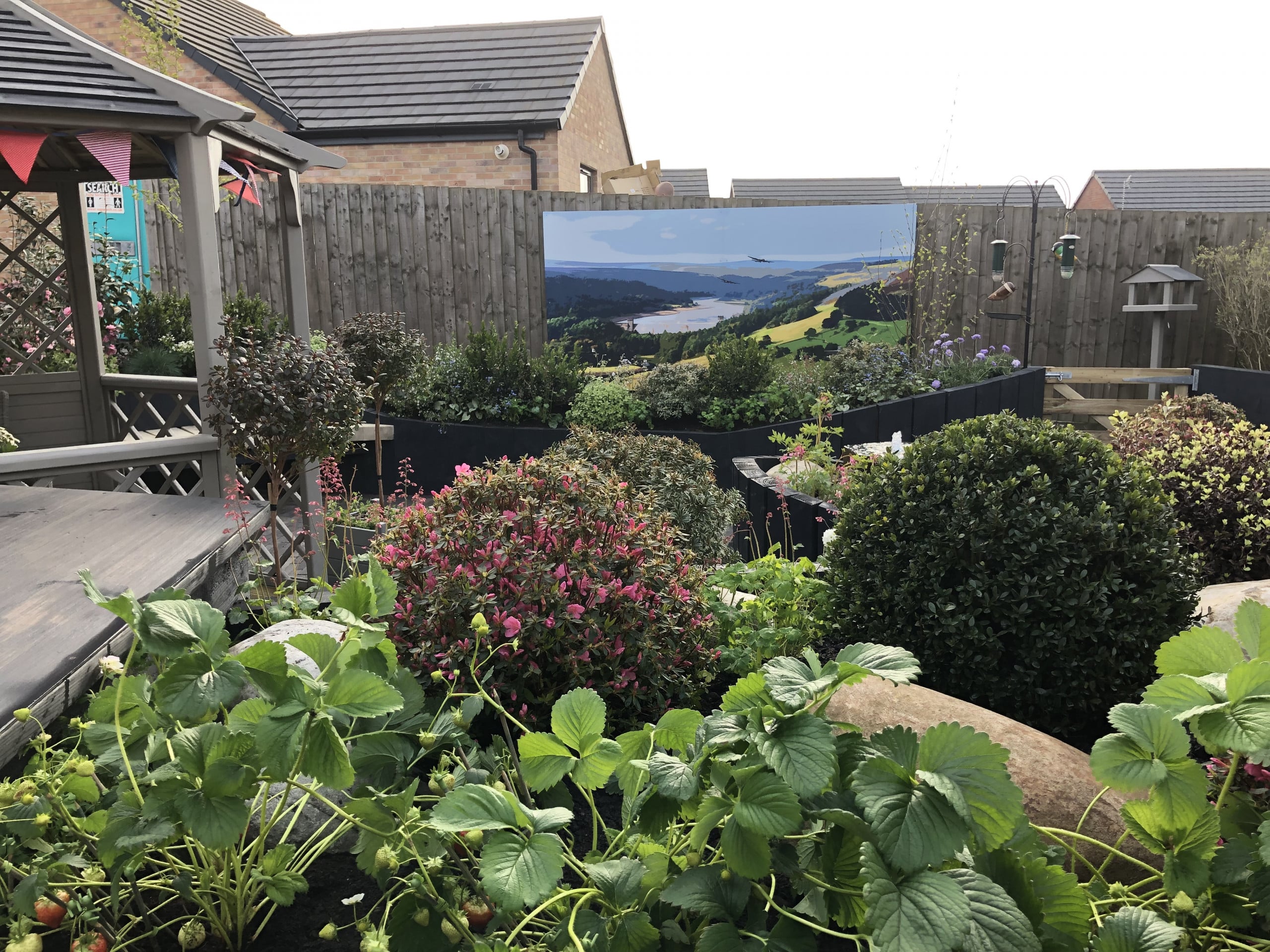 David Domoney is a Chartered Horticulturalist, Broadcaster, and Author. David has worked with a number of the UK's leading garden retailers as a plant buyer and strategic consultant. With more than 30 years experience, in horticulture, David is as passionate about plants now as he was when he bought his first plant at a village fete.