This spectacular build boasts some of the largest trees we have ever put into any of the Love Your Garden designs. There were an incredible six of them to go into this garden, with a marvellous finish. Using both trees and textured plants not only adds height and structure to your garden, but amazing colour and foliage too.
You can get the look by going for garden greenery and this range of decorative designs.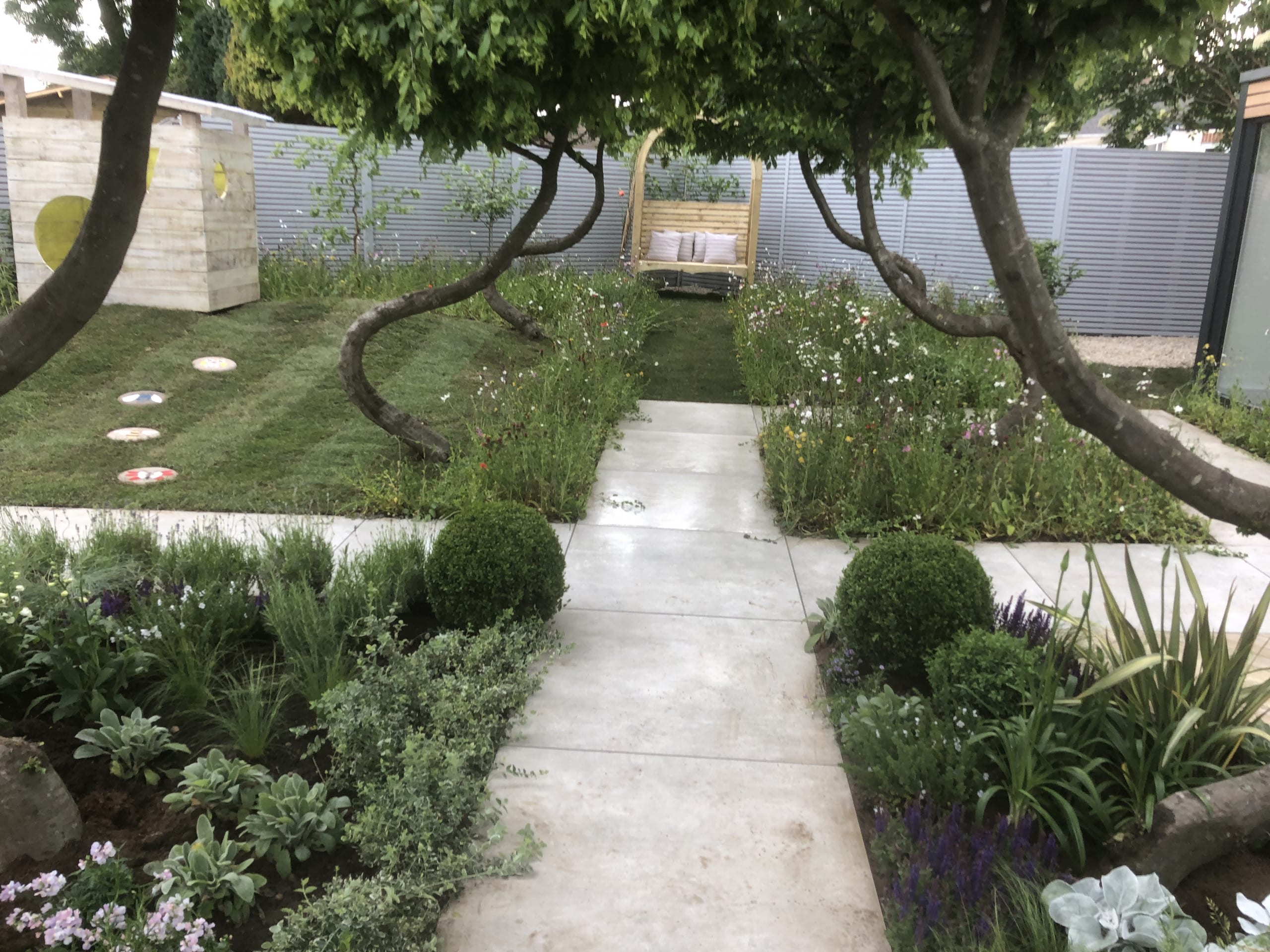 Bold foliaged plants offer a range of texture to the garden, that can really give it that extra dimension.
Using a mixture of these creates a dynamic design that has the ability to bring your garden to life. For something to add a little bit of height within the garden areas, Phormium tenax 'Variegatum' harbours a sword-like foliage of green to gold vertical stripes to add a great deal of architectural shape to the garden as well.
A companion plant that adds great greenery to this garden is the Alchemilla mollis.
This flower possesses a green-golden hue, appearing as much like foliage as the plant itself.
The real magic with this herbaceous perennial spreader is the way in which the surface tension on the leaf has the ability to hold water globules, like little pearls that don't just roll off, but sit on the leaf and reflect beautifully in the sunlight–a marvellous plant for visual impact.
Creating avenues in your garden using trees is something that landscapers have been doing for years and makes a real statement. Here, it gives the feeling as if you're actually walking through the garden rather than a simple path.
Those bowed Carpinus (hornbeam trees) really did the business. For me, it felt as if it was similar to the Truffula trees you expect to read in 'The Lorax' by Dr. Suess. They were remarkable and added a great feel to the garden itself.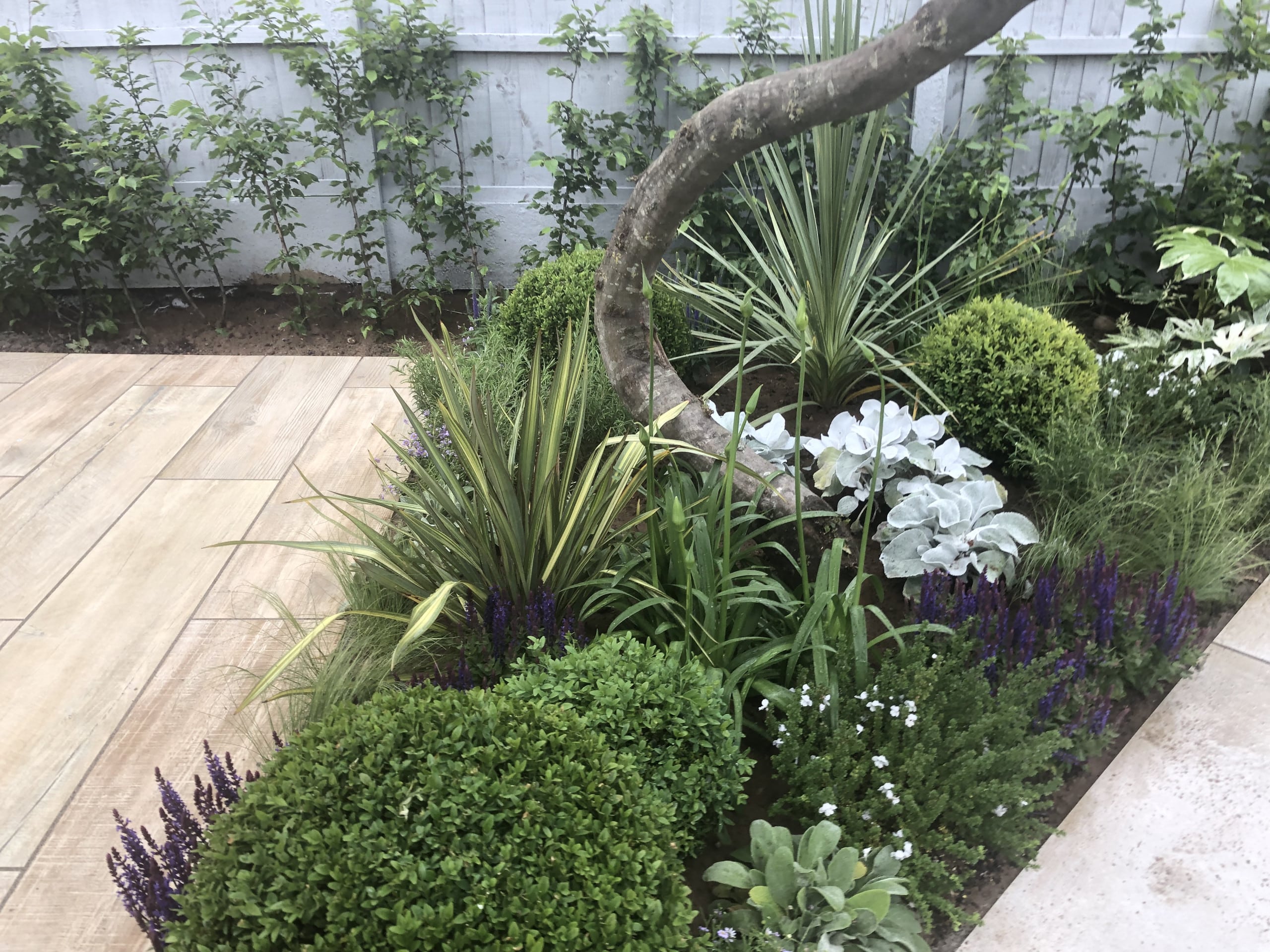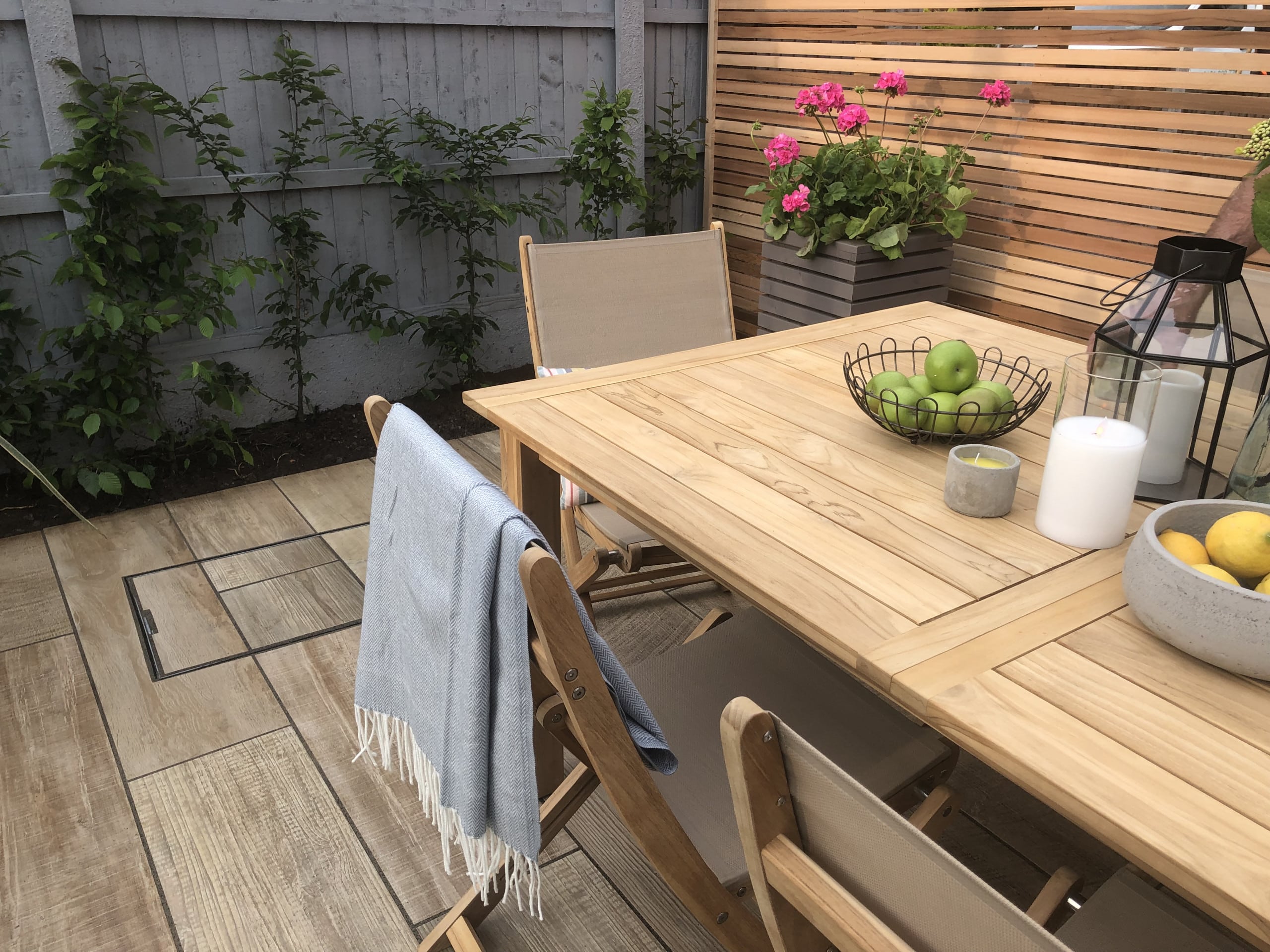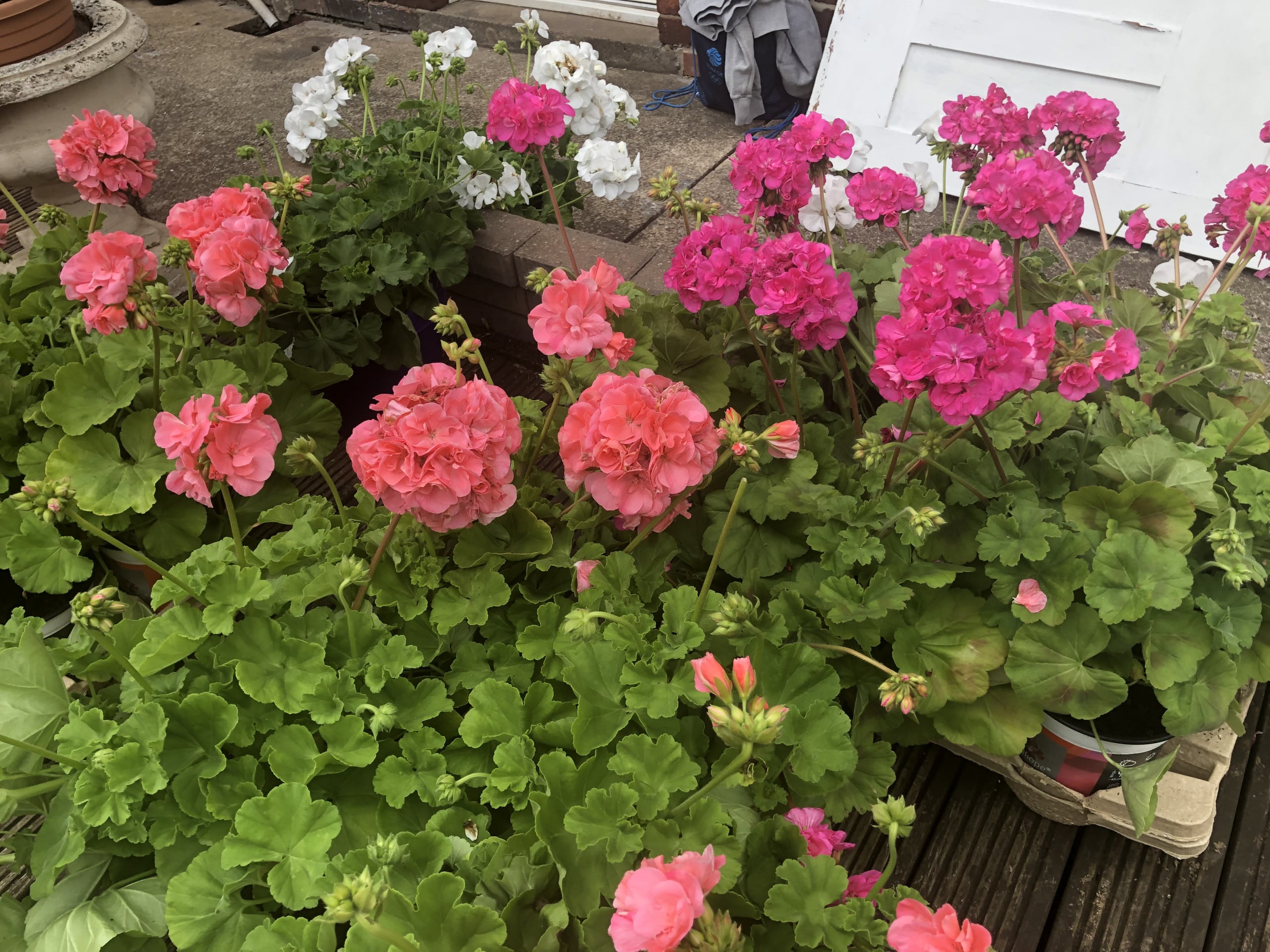 I really enjoyed planting up quite a simple colour palette in the garden itself. Many people have a tendency to underestimate foliage as an essential part of the garden–generally opting for flowers over foliage.
Here we used several plant varieties that add texture, depth and effect in the garden without needing to produce a whole lot of flowers or competing colours.
The tones we ended up with breathe a breath of fresh air to the overall look.
Variety Euonymus fortunei 'Emerald Gaiety' possesses a lovely dark green centre to the leaf with splashes of white around the outer part of the foliage.
It works really well as a low shrub in the garden, but if it grows towards a wall and hits the wall it will grow up and become a climber itself.
Combine this with some stunning silver foliage plants that offer sensory embellishment too, such as Stachys byzantina, commonly known as lambs' ear. I remember as a kid stroking the leaf with my thumb, feeling soft and hairy like that of the animal.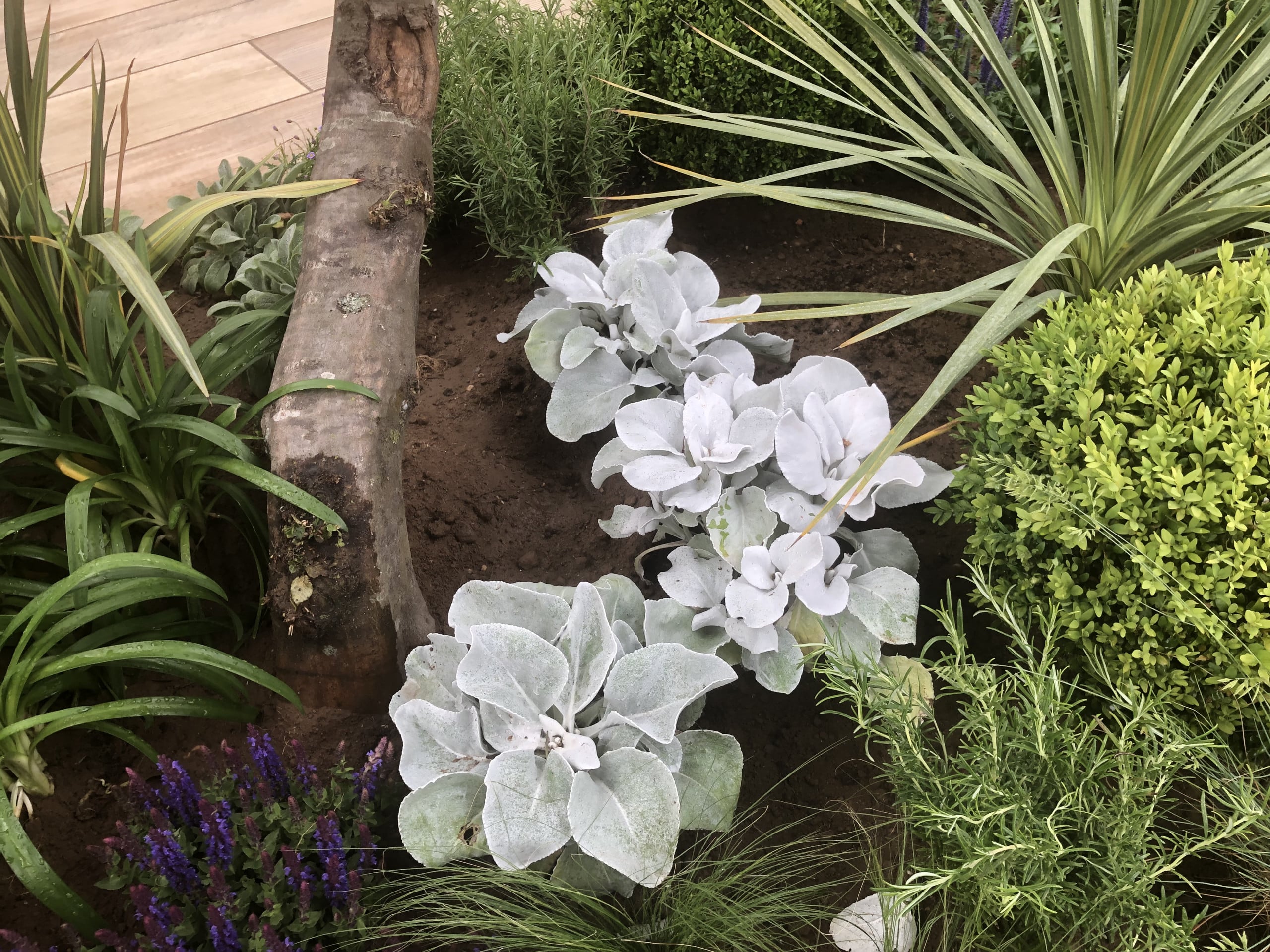 Contrast this in with Senecio 'Angel Wings' which has a beautiful bright silver vegetation. With quite a lot of white flower planting in there, the combination of foliage textures in silvers, whites and greens makes for a stunning effect.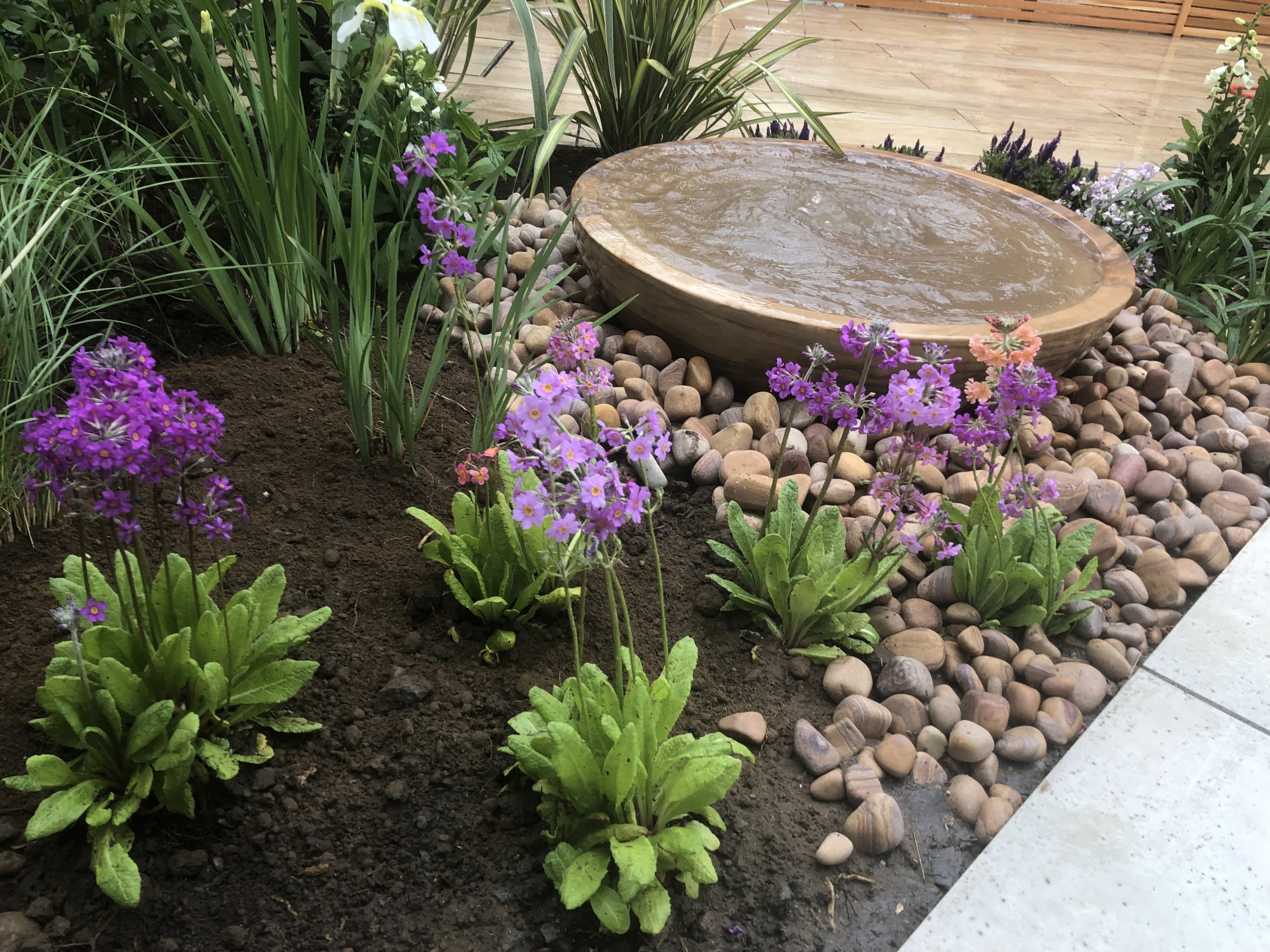 Of course, on the patio, we gave a real pop of colour using geranium 'Calliope', a marvellous plant that keeps flowering from the moment it starts in spring right the way through, almost to November and the first frost.
I planted these in containers, just over by the outdoor dining area which was a welcome addition.
Other planting in the garden comprised of meadow plants, which arrived in large turf rolls of delicate wildflowers, which when established look superb and are great for our pollinators because there's a large variety of nectar sources concentrated in one spot.
You can buy these in strips, like you would buy rolls of turf, but are in fact wildflowers and when they establish look superb and are great for the butterflies, birds and bees.
We also included Primulas around the base of Alan's water feature.
Water is a brilliant addition to the garden, giving momentum and sound. We finished it off around the outside with pebbles which worked really well.
One of the structural effects to get the look in the garden was the panelled fence which we put up along the back with the outdoor kitchen.
This gave a smart and sophisticated finish and with its light grey colour, brightened up the garden rather than that of traditional wood fencing.
Finished off with the beautiful paving from Pavestone. The strength and durability of porcelain paving replicating the natural beauty and warmth of timber without all the inherent problems associated with a wooden deck.
The garden itself had this real sense of being full of ornamental features, without feeling claustrophobic and cluttered with colour.
Lovely pops of greens and silvers with the additional colour of the patio gave it a great sense of depth adding to the overall effect of the garden–delightful.
See you here next week for episode two – 3rd September at 8pm!