This garden was a dramatic challenge. Creating it not only for the owners but for their canine friends as well. It's one of the most contemporary gardens we've done on the show; which included loads of different surfaces on the ground.
We had decking, we had paving, sunken ponds, sunken seating all built to give a variety of textures and colours. It was a marvellous garden but difficult to build in a confined area, whilst keeping it a safe and practical working space and safeguarding the beautiful ornate surfaces that would serve as striking interest in the finished garden.
You can get the look by going for clean and simple areas for relaxation, wonderful water features and textural planting.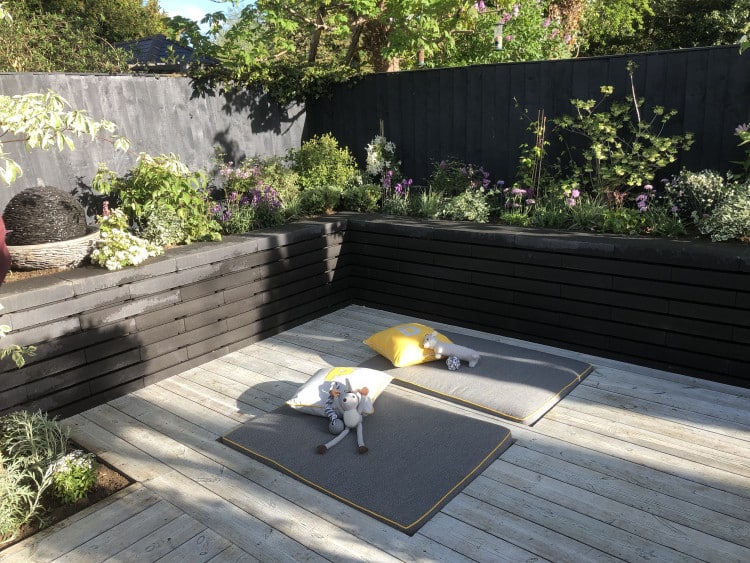 One of the features that I particularly liked was the walling.
This walling from Pavestone was almost like Lego blocks that interlocked with each other.
As a material that was heavy and robust, it was a lovely material to design with, and it made a major difference to make borders all the way around the outside which were then raised up.
This meant that the dogs wouldn't walk within the beds and it also meant it would be easier to maintain these areas, as they're at waist height.
The dark colour of Pavestone's Moodul walling was ideal. Not only was it easy to lay, but the beautiful charcoal colour gave it quite a rich effect in style and elegance.
Once we filled it up with fresh soil it was easy to plant and for tree and shrubs to get established in it pretty quickly, which is important because eye-level planting really needs to be eye-catching.
Other captivating features of this garden include the dark-stained fencing. This brings some diversity to the overall look to contrast the light sandstone pavers, the natural tones of the boardwalk, and bold architectural planting.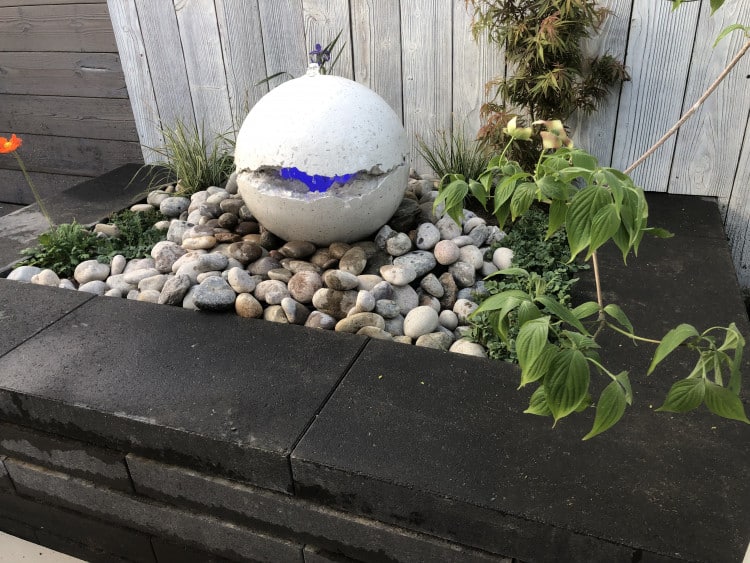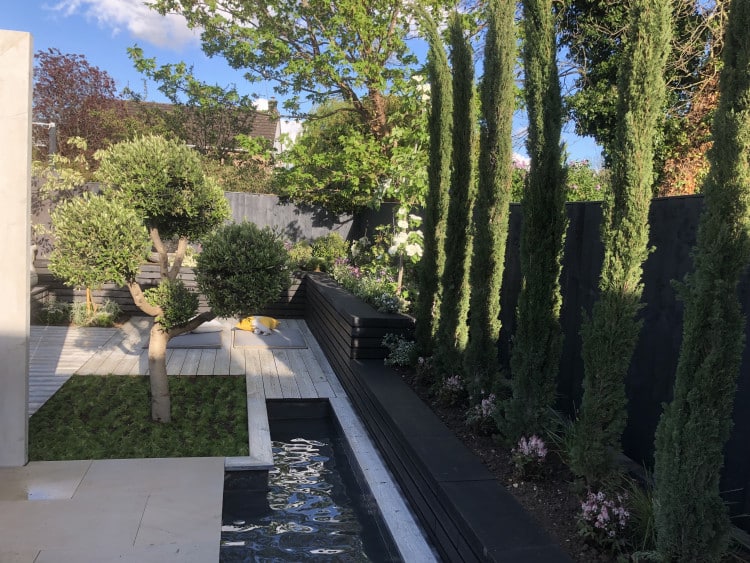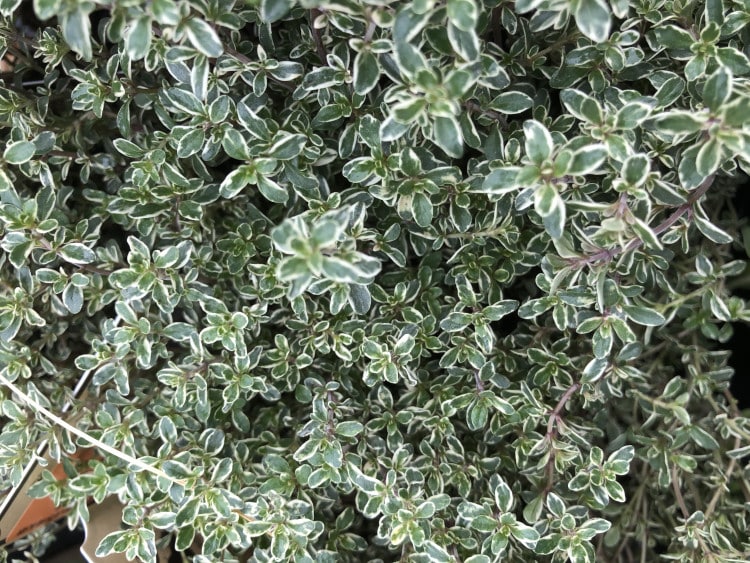 Alan's upright planting of those Italian cypress trees went a long way to create that lush and dynamic feeling. Plus, there's the multi-headed, cloud-pruned olive tree that was positioned.
When the tree was added, it suddenly added an air of class and design. Offering different textures to the garden, from the upright columnar habit of the cypress trees, to the low planting of the chamomile lawn, really added something special to this space.
The complexity of the floor levels and structural planting made, what was once a small garden, look much bigger—with lots to offer and look at.
Matched in that, with the table that Frances created using off-cuts of timber, along with the delightful in-built seating area, it struck the balance perfectly between chic garden design and low-key comfort.
For the dogs, of course, sensory planting was key. I put together a little scented herb patch for them to enjoy as it was just at head height; adding in variegated thyme, chives, oregano, rosemary and golden sage for a beautifully-scented experience. Not to mention that it may serve a little perfumed spritz and they wander through the vegetation.
Simple planting like this is really effective and underpins the idea that less is more.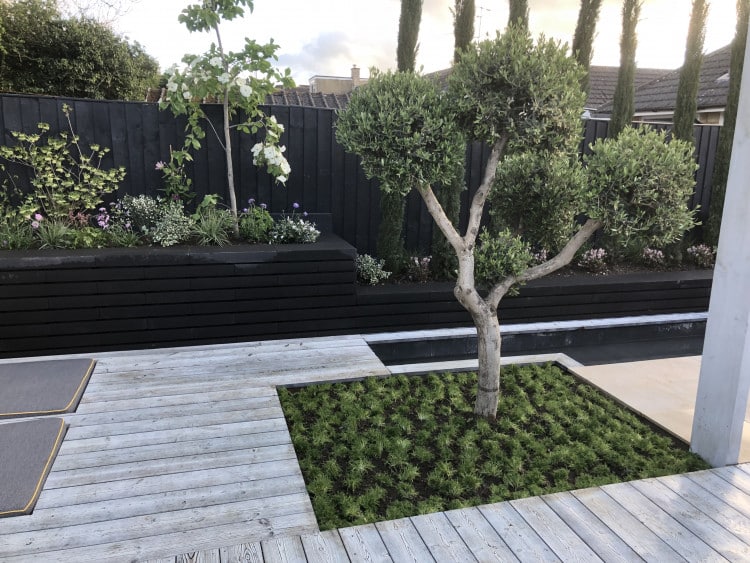 It was a fuss-free approach to garden greenery and kept the area free of clutter for the ultimate relaxation space.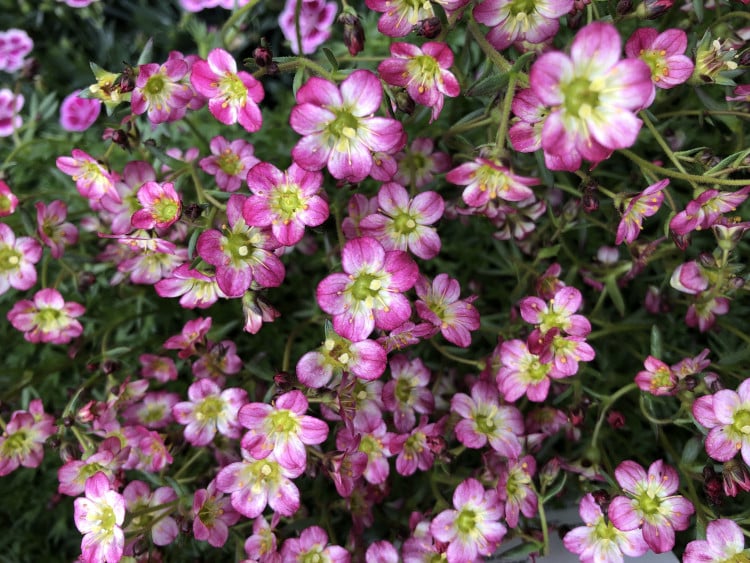 Alan's water feature, with blue lighting and globe-shaped fluidity, added movement to the garden. In a relaxation space, the sound and movement of water, especially in the form of still dark waters and trickling streams, serve as a soothing soundtrack to your time outside as well as a focal point.
Of course, the dogs loved this watery haven too. I hope it will be much-loved by them for many years to come, they now have a plunge pool in the summer and their bedding will keep them cosy during autumn days outside too.
The planting mirrored the relaxation theme too, with billowing grasses to blow in the wind, uplifting Acers to brighten corners and simple and subtle colour schemes. Gardens are great for winding down, but to truly switch off from external stressors, garden tones should be kept soft—limiting vivid and gaudy hues, like bright yellows.
Ornamental planting, like the pale powdery-blue of Scabiosa 'Butterfly Blue' and the delicate mottled Saxifraga 'Pixie Rose' found a happy medium of cheery colourful growth and decorative simplicity so as to lift the planted areas without overcrowding the look.
I also loved the memorial poppies which we added to the garden for commemoration and, a personal favourite of mine, was the irises 'Caesar's Brother' with its lovely blue and deep throat of white and gold looked beautiful.
See you here next week for episode seven – 22nd October at 8pm!
David Domoney is a Chartered Horticulturalist, Broadcaster, and Author. David has worked with a number of the UK's leading garden retailers as a plant buyer and strategic consultant. With more than 30 years experience, in horticulture, David is as passionate about plants now as he was when he bought his first plant at a village fete.