Garden lighting leads to lovely evenings illuminated in garden wonder and opens up the space for socialising, so these are the best ways to bring a little light to your life and brighten your garden at night.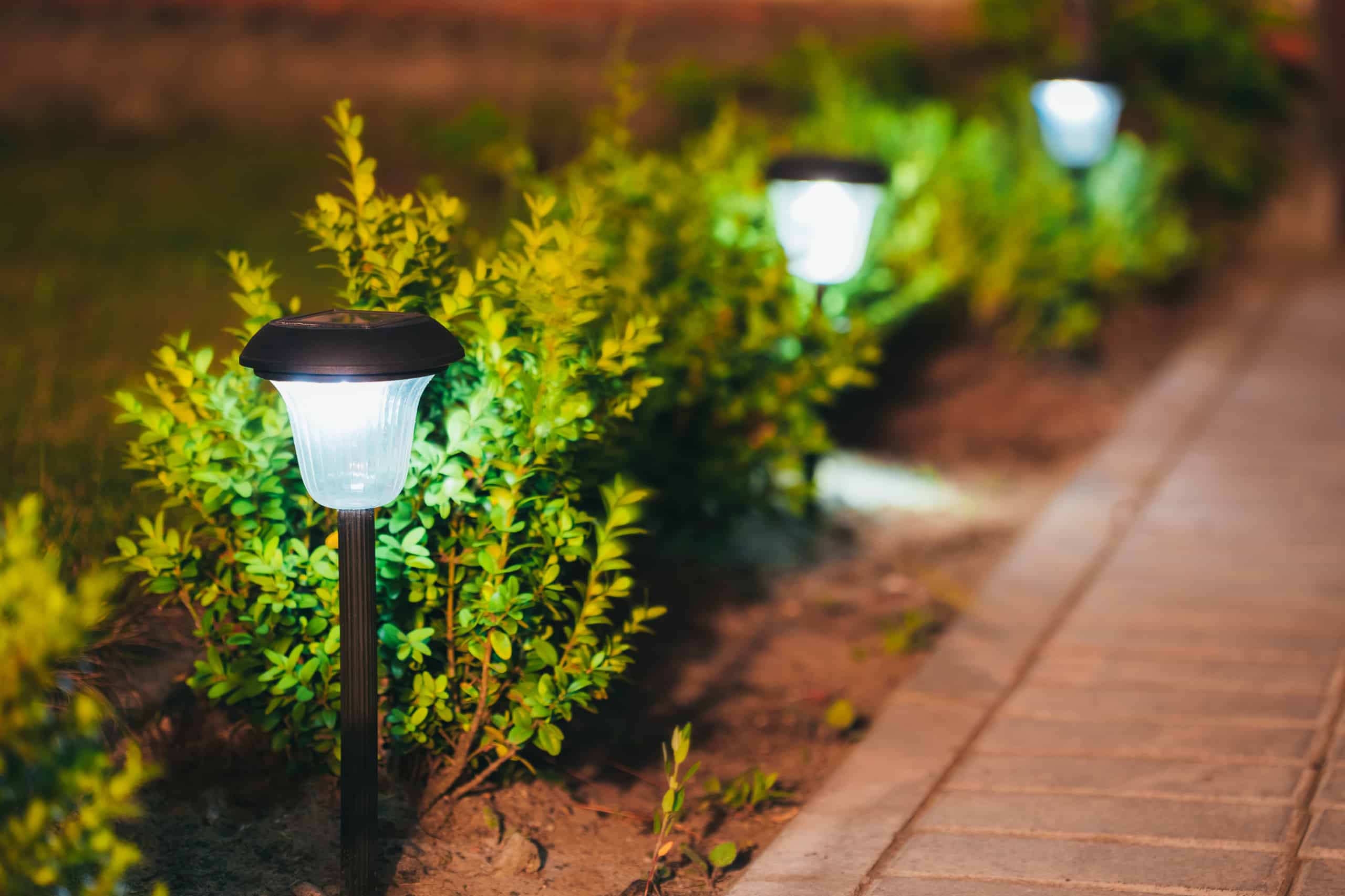 There are three main approaches for external lighting. First, you can put up permanent lights and these need to be fitted by an electrician.
Second, you can go for low voltage lighting that you can install yourself. Or finally, with most ease, there's solar lighting.
Practical lighting, that's installed to grant you round the clock access to the garage or to help you see down the garden path, is best purchased from your local home / DIY store to ensure it is fit for purpose and built to last.
At the click of a switch this will give you electric outside and can be a life saver—especially in the winter to prevent stumbling around in the dark.
These permanent additions are wired into the mains, so that's why you need a professional to get them going—but they tend to be brighter and so better suited for practical use. If there's a patch of your plot that you struggle to navigate in the dark, invest in some free-standing lamps or wall fixture lighting wired to the mains.
You can soon shine a spotlight on security concerns with outdoor lighting. Again, these lights are best when properly installed to your mains.
At the back of the house, flood lighting works well and can come with movement sensors to save energy. Research suggests that burglars are put off from evidence of occupancy, such as lighting, so it can function as a deterrent too.
As these are designed to activate when movement occurs, it's an idea to position any feeding stations for visiting wildlife away from this area.
Abrupt lighting can confuse them and put them at threat, but it also means that lights will be set off frequently, which can become a nuisance.
Wherever possible, pop security lighting where it's going to be most useful—around your entrances, to keep side entry points lit, or to highlight any potential trip hazards.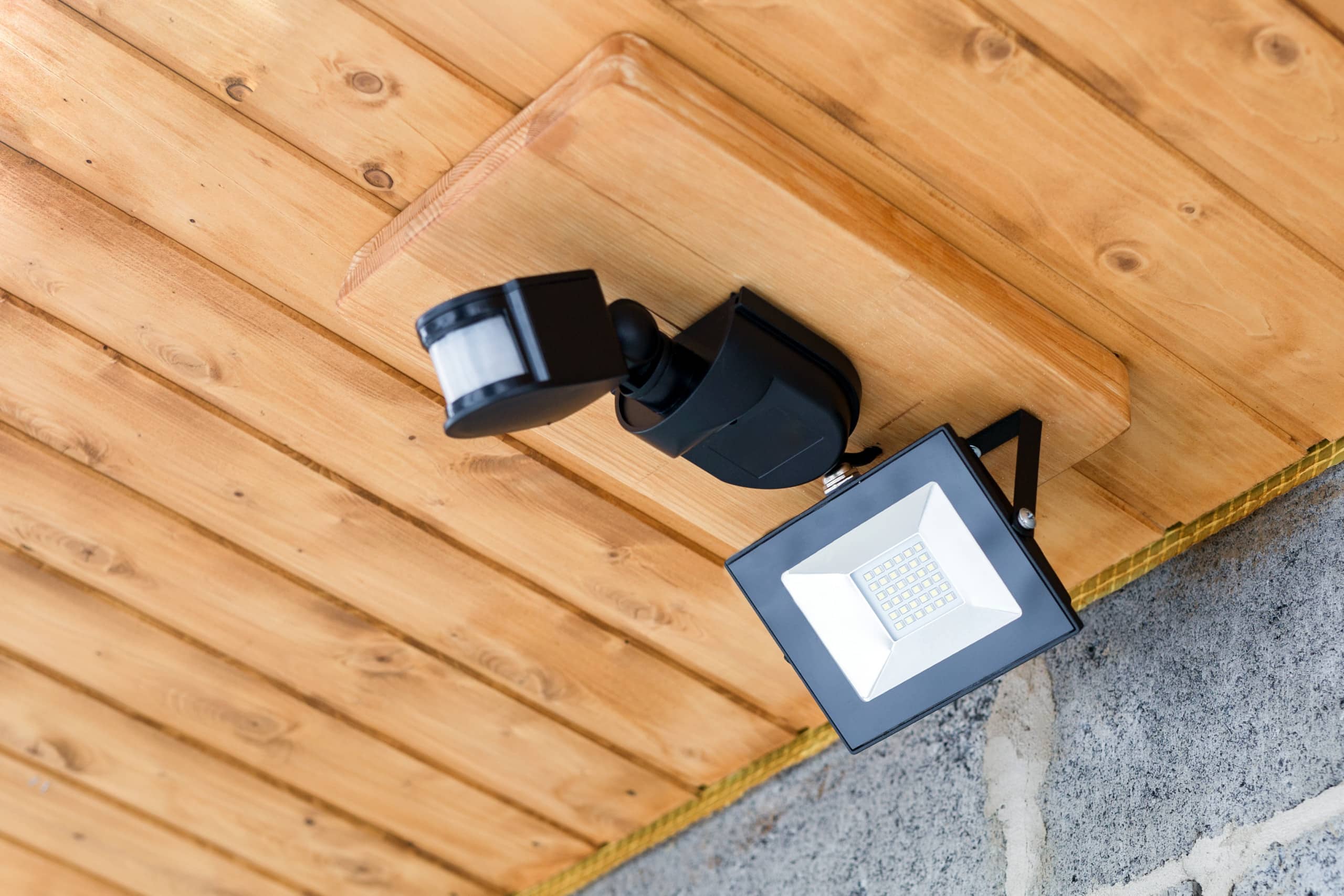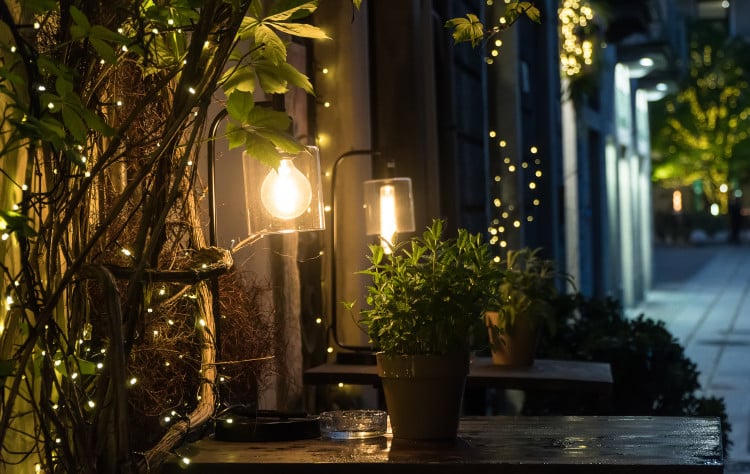 Lighting for ambience is so worth your while. Even some subtle spotlights around the garden paves the way for social activity. Select some low voltage lighting solutions from your local garden centre and, to ensure these can be kept out in all-weather, check it comes with waterproof sockets.
These lights aren't as bright as those you can turn on with a flick of the switch but are definitely brighter and last longer than solar powered products.
Ambient lighting is also a very cost-effective way of granting yearlong garden access.
Get creative with small lights placed into planted borders or position uplighters on the ground so that beams of light are thrown upwards—couple with decorative trees for a dramatic effect.
It's also an idea to play around with coloured bulbs or filters; haunting blues, warming reds and oranges as a burst of colour on darker days. Not only are these lighting choices serving an ornamental purpose, warmer hues are better for wildlife too.
Bright lighting is more likely to disturb nocturnal pollinators, birds and frogs, so keep this to a minimum and be smart about where you position any sensors.
Of course the most available light source to us is the sun and storing its energy for use later is extremely effective.
Nowadays you can buy security spotlights that run on solar.
You can pick up very cheaply to give a burst of light for 10-20 seconds at a time before resetting. As these aren't powered by electricity, they're great for remote locations.
I have these on the garden path leading to the house, but there's a whole host of places that benefit from having lighting at your fingertips.
Set these up on the summer house, shed or garden fencing in a place that gets lots of sun but bear in mind that they may struggle to store enough solar during winter months.
Generally, the light is never going to be as bright as lighting that's wired in, but they do work well as a temporary or portable solution during summer.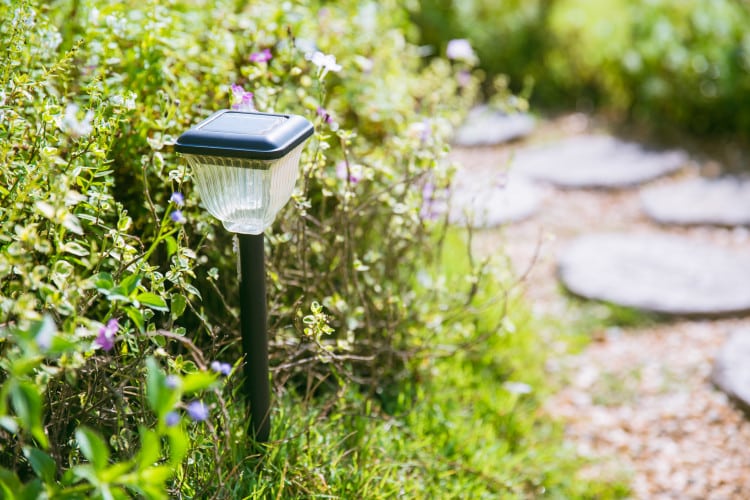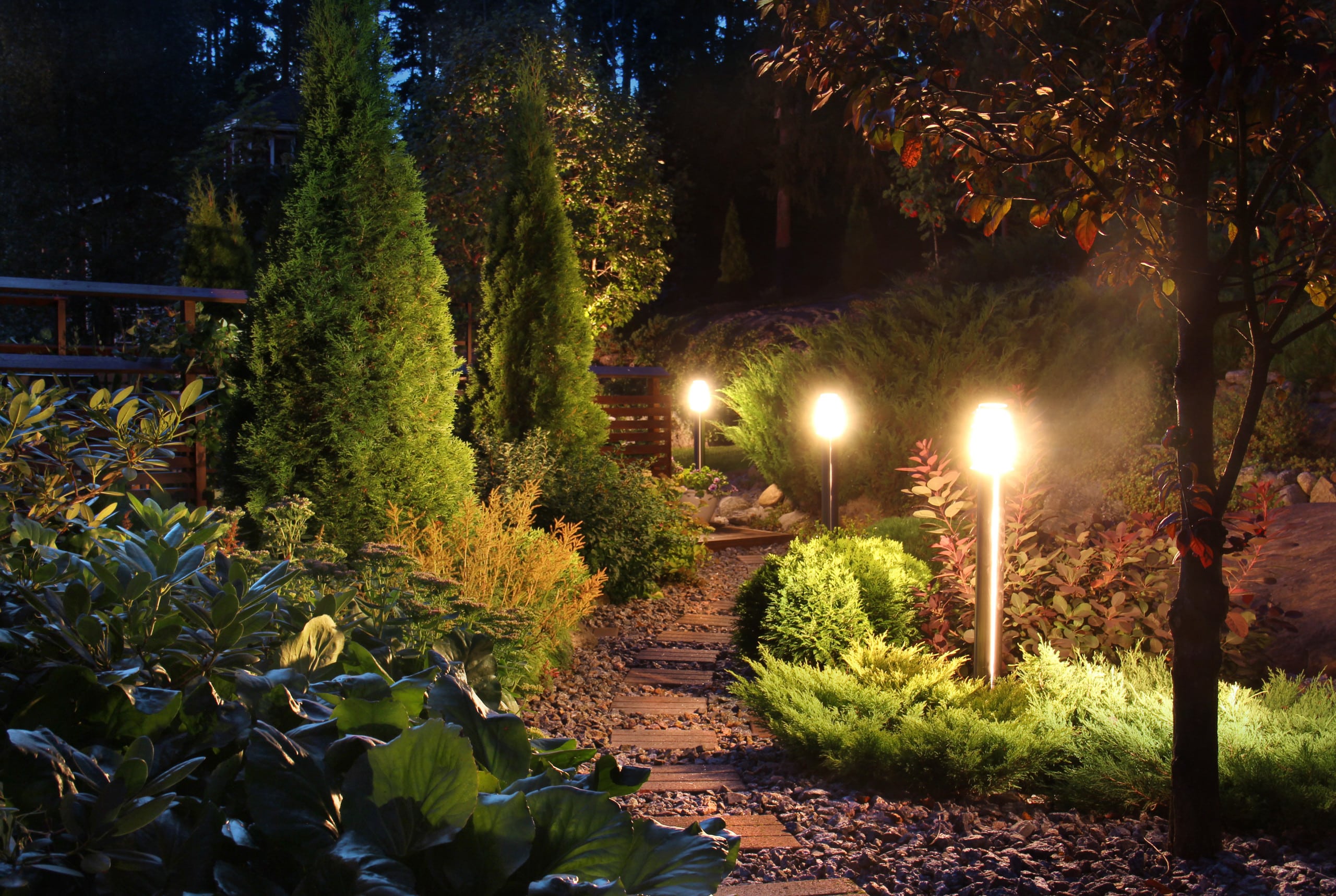 For anyone struggling to get enough time out in the garden due to a busy schedule, ample lighting will free you up to carry on gardening into the evening and even night.
Some tasks are best done when out of the heat of the day and I've found that removing slugs and snails is a job I can do when the sun's gone down.
So, identify the areas of the patio or garden you need access to at all hours and focus first on lighting those areas.
That's all you need to know to keep you aglow in the garden this summer.
Tip:
Start saving seeds from trees, shrubs, perennials
annuals, vegetables and herbs-they'll germinate best if harvested
when ripe and sown straight away. Use your
old tic tac boxes to store them!
When is it safe to clean the pond without disturbing frogs?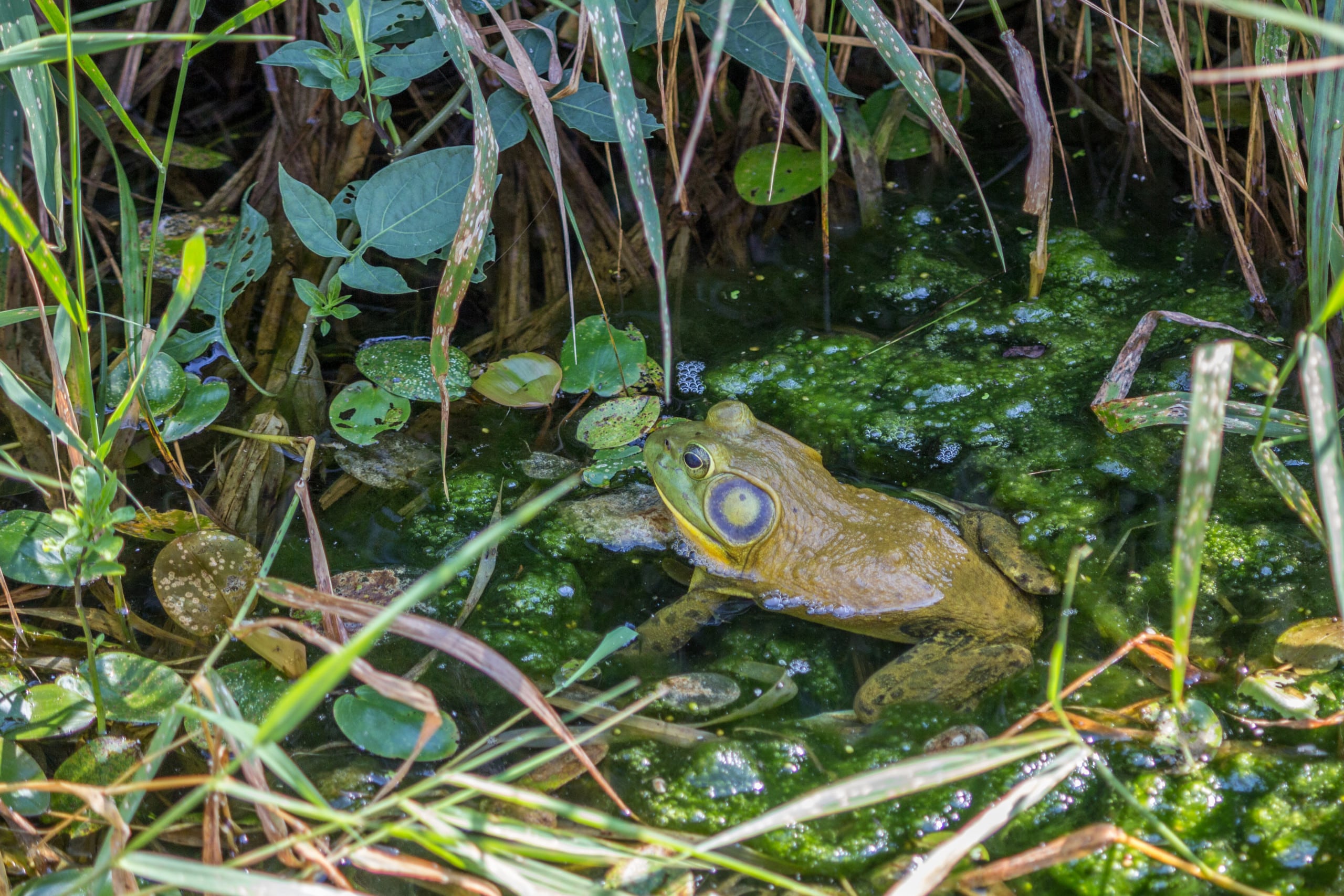 It's best to wait until the end of September (Autumn) before cleaning out ponds with resident frogs so that the height of breeding season has past and they haven't begun hibernating yet.
My lawn is sparse even with regular mowing; whats wrong?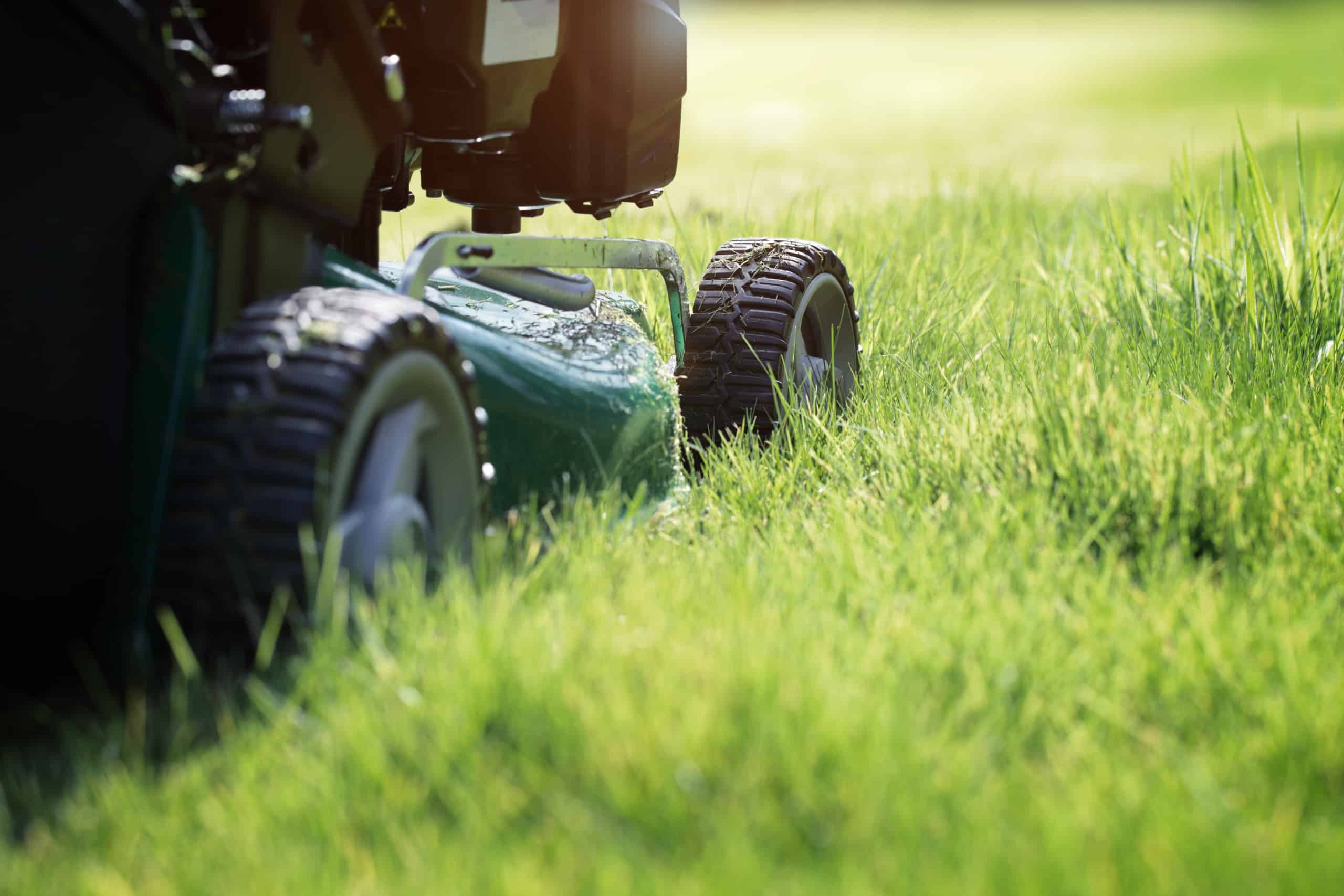 Your lawn may be feeling the full force of summer sun. As your lawn growth slows down in late summer, it's best to raise the cutting height slightly to help the grass resist the wear and lack of moisture from summer months.
David Domoney is a Chartered Horticulturalist, Broadcaster, and Author. David has worked with a number of the UK's leading garden retailers as a plant buyer and strategic consultant. With more than 30 years experience, in horticulture, David is as passionate about plants now as he was when he bought his first plant at a village fete.