Mulled wine fills the house with the scent of Christmas, and it is so easy to make! Warm up this spicy Christmas drink when you have guests visiting. If you want to try an alternative then you can make Mulled cider too.
Makes about 12 servings of mulled wine
Ingredients
2 bottles of fruity red wine
2 oranges or clematines
1 lemon
160g of caster sugar
5 whole cloves
1 cinnamon stick, crushed into four
1 pinch of freshly grated nutmeg
2 star anise
1 dried bay leaf
2 tablespoons of Cointreau (optional)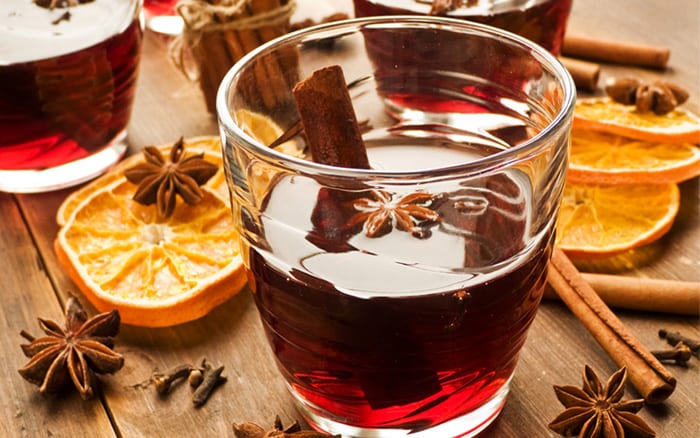 Mulled wine method
Peel the oranges and lemon, and juice the oranges. Add this to a large saucepan with the sugar and spices. Add just enough wine to cover and put the pan over a low-medium heat.
Cook until the sugar has dissolved, stirring occasionally. Bring to the boil and cook for five more minutes until the mixture forms a syrup. By preparing the syrup first, you can use high heat to dissolve the sugar without burning off all the alcohol in the wine.
Add the rest of the wine and the Cointreau, if using. Turn the heat down and cook through gently for at least five minutes. Serve warm with extra orange segments. You can also strain it into the glasses if you prefer.
Remember to save your wine corks too, as they make great magnet planters for you succulent plants.
This mulled wine recipe is easy to follow and in no time you'll have a delicious festive beverage to warm you up on a cosy evening!