Wherever we are in the world it's easy to feel that the grass is always greener on the other side. But bringing Mediterranean plants into your garden design might just bring that taste of the tropics you need.
Many people in the UK have nostalgia for memories of the plants that they've seen on holiday. Whether it's palm trees against pure blue skies or the site of terracotta pots overflowing with foliage, flowers and fruit – the popularity of Mediterranean plants in the UK is ever growing stronger.
Gardens up and down the country are adding more and more subtropical species. With patios, beds and borders being filled with Mediterranean plants to bring the sense of holiday home.
Firstly, for foliage to frame the space and bring a touch of the Med, palms are a great choice. The beautiful architectural foliage of Cordyline australis is a real winner.
This evergreen tree is a great addition to a border. In a sheltered spot in full sun or partial shade it can grow up to 8 metres tall. Although, it's not fully hardy, not tolerating prolonged cold spells, so it does well in inner cities in the UK.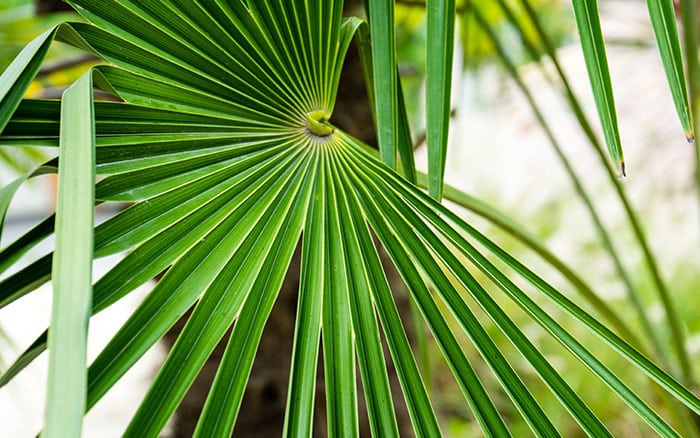 Another popular palm that's pretty tolerant of the UK climate is Trachycarpus fortunei (Chusan palm). This has a sturdy, hairy trunk with long fan-like fronds at the top.
If you want to bring the tropics indoors, they can also be grown as a conservatory specimen. However, if they are grown outdoors, be sure to knock of any snow off the foliage with a broom because the weight of it can snap the branches.
Sitting in your garden, looking up at the sky through palm fronds will instantly transport you away to your dream holiday.
Yucca gloriosa (Spanish dagger) has beautiful leaves that are stiff and spiky that grow to 60cm long. Happiest in a sunny but sheltered spot, they can grow to 2.5 metres tall and wide. Their spikes can be vicious, so be sure they are away from children. However if that's not a risk, they are great to plant along walls or fences as a deterrent to intruders.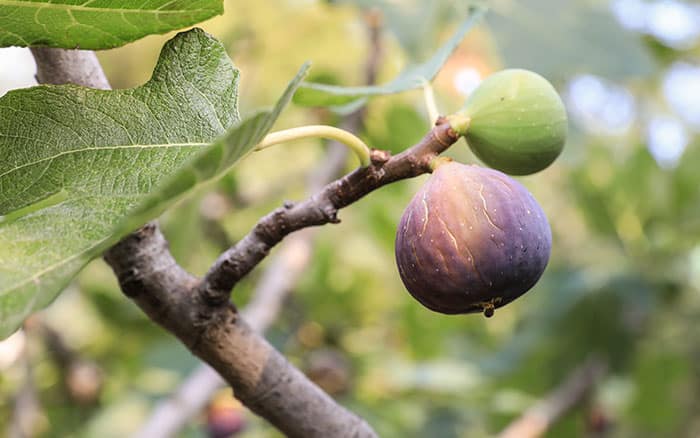 Citrus trees aren't particularly hardy in the UK, however it's popular to grow olive trees in gardens in Britain. So long as they are in a sunny position with well-drained soil.
Another bonus is that they can be grown in containers, making them a great choice for city or courtyard gardens. In the UK they are grown as an ornamental plant with their silvery foliage and rugged branches, rather than for their fruit.
Another example of a fruiting favourite for a Mediterranean look are fig trees. For a successfully fruiting tree, you'll need to choose a hardy cultivar planted against a sunny wall.
They can also be grown in containers, and restricting root growth encourages fruiting. Therefore, if they are planted in the ground, lining a planting pit with slabs to prevent the roots from spreading is ideal.
Bold and beautiful, Agapanthus africanus (African lily) will provide evergreen colour with their strap-shaped leaves. In summer they will bloom deep purple-blue flowers to add some vibrancy to your border or container.
Origanum (oregano) 'Rosenhuppel' is a beautiful compact ornamental with purple-tinged foliage. As well as this, there are tiny clusters of purple flowers and burgundy bracts in summer.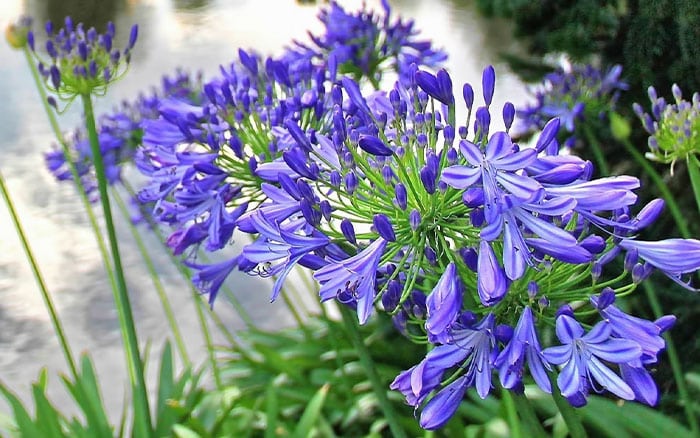 Fully hardy, they will grow in any well-drained soil in full sun or partial shade and keep them looking their best by cutting back old, flowered stems in early spring.
Great for Mediterranean style gardens and popular with pollinators, Salvia x sylvestris 'Rose Marvel' is a compact perennial growing to 30cm tall. Adorned with aromatic grey-green leaves and spikes of pink-purple flowers from early summer through autumn. Removing any fading flower spikes will prolong flowering.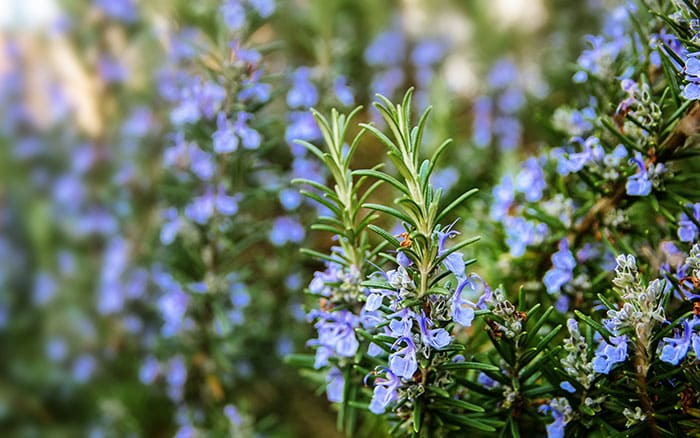 Lastyly, sage, lavender, thyme, and rosemary are all very strong Mediterranean plants that grow very happily in the UK. They bring incredible fragrance to the garden.
Without a doubt, rosemary is a very popular choice because of its beautiful purple flowers. What's more, the leaves can be picked all year round to use in the kitchen.
Lavender is well-known for the rich fragrance of its flowers and foliage and it's easy to grow too. All it needs is a sunny spot either in free-draining soil or a container. Also, it's a perfect plant for pollinators, so it will encourage bees to visit your garden.
In addition, strongly scented sage will grow well in a warm, sunny, sheltered position where it's green, gold, or purple foliage can be enjoyed. Bear in mind, they like to be watered well but sage cannot tolerate wet roots to be careful not to overwater.
Therefore, growing in a container on pot feet will allow excess moisture to effectively drain away.
So, with more people wanting a Mediterranean style garden in small and large spaces rather than opting for the traditional British cottage look, there's plenty of plants to choose from. Architectural foliage, fruit and flowers with fragrance all complement each other resulting in a marvellous Mediterranean style space.
In no time, stepping into your garden will feel like you've teleported to your top holiday spot.

David Domoney is a Chartered Horticulturalist, Broadcaster, and Author. David has worked with a number of the UK's leading garden retailers as a plant buyer and strategic consultant. With more than 30 years experience, in horticulture, David is as passionate about plants now as he was when he bought his first plant at a village fete.