It's wonderful to have plants inside the home, especially at this time of the year when things are quietening down in the garden. Greenery around the house can be both mood enhancing and calming. Many people position houseplants in the living room and bedroom, but don't forget the kitchen. Here are some of the top houseplants for the kitchen.
Don't worry if your kitchen is dark or flooded with light, or small. There's such a wide choice of easy to care for evergreen plants to grow in all these different situations. So, here are a few to start you off on your houseplant kitchen odyssey.
Easy to grow in small spaces
Senecio rowleyanus (string of pearls)
This is such an easy plant to grow. It has round, fleshy, bead-like leaves that cascade down in long trails. It can even be placed out of the way, on top of a kitchen cabinet, as long as it gets some indirect light. Like most easy to grow houseplants, they don't like being over-watered, especially during the winter months.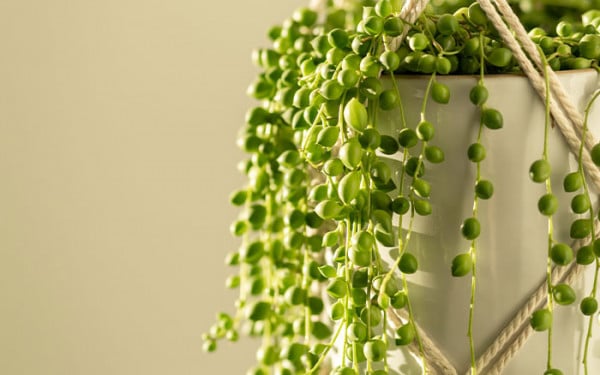 Chlorophytum comosum (spider plant)
Next is a very long-lived, easy to care for favourite. Hanging in a container, it produces lots of small plantlets on long arching stems for a wonderful impact. Grow out of direct sunlight for the best growth. It's the perfect choice for a small kitchen, as it can be hung in containers which frees up worktop space.

Easy to grow in larger spaces
Dracaena trifasciata (snake plant)
Snake plants are a great choice for a modern, minimally styled kitchen. With its strongly architectural, rigid, upward-growing leaves, it can make quite the statement. A row of identical size snake plants looks stylish placed on a worktop or indirect light windowsill. They'll grow happily in sunny or shady areas with a fortnightly watering.

Aloe vera (Barbados aloe)
Dual purpose houseplants in the kitchen are always winners, especially if space is limited.
Break off a section of the fleshy leaf and you'll discover a gel-like substance. Said to have anti-inflammatory properties to help heal skin tissue and moisturise dry hands, it's definitely one to keep near the cooker and sink.
It likes bright but indirect light but doesn't like growing in wet a compost. So, be sure to let it dry out between waterings and reduce watering during the winter months.

Herbs are an obvious but sometimes overlooked choice, especially during winter months. The good news is you should be able to find pot herbs for sale in garden centres and plant nurseries.
A sunny windowsill is a great place to display pots of basil, rosemary, and mint. Whereas herbs such as parsley, lemon balm and chives will all cope growing in lower light levels.
If you love the taste of garlic look out for garlic chives. They're evergreen, with broader leaves than ordinary chives and the leaves taste of garlic. Another bonus is that garlic chives flower in September and October, with white flowers that are also edible.
If you have no windowsills or space is at a premium, space saving hanging shelf systems might just be the solution.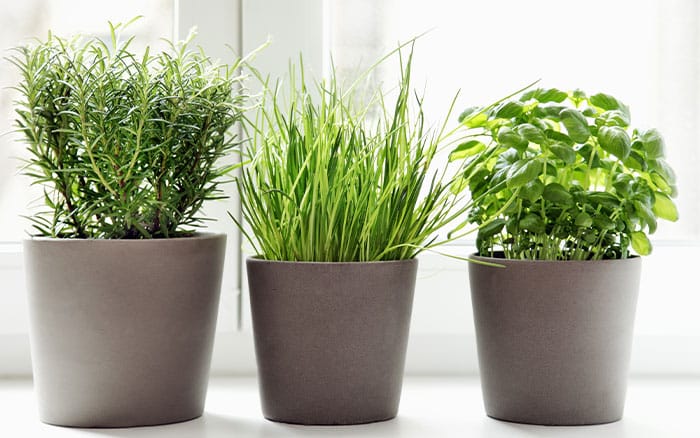 There's a houseplant for every room within your home, and these houseplants for the kitchen are a great place to start. For visual beauty or edible purposes, choose houseplants that will suit the space you've got.

David Domoney is a Chartered Horticulturalist, Broadcaster, and Author. David has worked with a number of the UK's leading garden retailers as a plant buyer and strategic consultant. With more than 30 years experience, in horticulture, David is as passionate about plants now as he was when he bought his first plant at a village fete.