Soon, we welcome spring and the bright blooms and floral displays that come with it. As our gardens wakes back up, we can add another boost of vibrancy that is sure to put a spring in your step. Here are some of my top plants for spring colour in your garden.
Ensure your plants get the right levels of moisture to make the most of your blooms. Use this handy trick using a water bottle to help them along.
First up are primroses, which are an incredibly popular pick for spring colour. As one of the first flowering primulas, they will let you welcome spring sooner. Their versatility makes them a great choice; suiting window boxes, containers, rock gardens, or woodland gardens.
Growing up to 30cm tall, they look fantastic planted in groups too.
Plant them in full shade in a spot with fertile, moist but well-drained soil. A spot that's sheltered from the strong summer sun is best to ensure they don't dry out.
These plants are edible too. Use the leaves in salads as an extra leafy green, and use the flowers for a refreshingly sweet taste.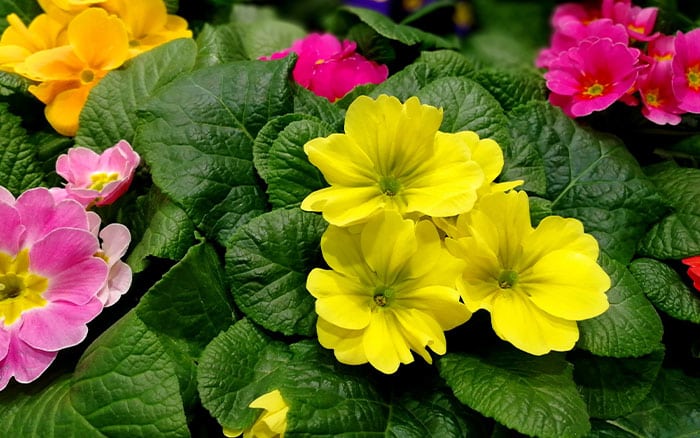 Daphne odora (winter daphne) 'Perfume Princess'
As their name suggests, these plants have a delightful fragrance. This hybrid has larger flowers than other types, so they make great cut flowers. When you bring the flowers indoors the scent will fill the room.
Not only do you have flowers from January to March but their evergreen structure is useful for ornamental structure all year round.

Their slow-growing habit means they don't need much pruning. Instead, they naturally mature into a nice, rounded shape.
Plant in a moist, but well-drained soil with full sun or partial shade. It can be useful to give some winter protection.
Next is a plant with evergreen foliage and a mat-forming habit that grows up to 10cm tall. Therefore, they are perfect for rockeries, garden edging, alpine gardens, and wall crevices. The pink flowers will add softness and a burst of colour to the stone surroundings.
A position with plenty of sun or partial shade is best, with well-drained loam or sandy soil.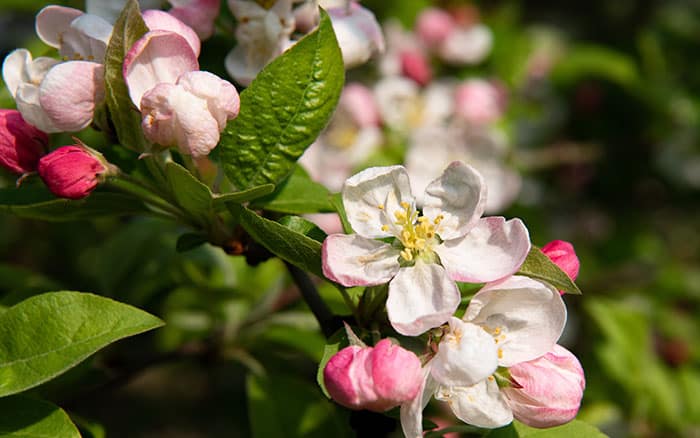 Camellia x vernalis 'Yuletide'
The next plant for spring colour in the garden is a bushy evergreen shrub that has wonderful dark, glossy leaves.
When the flowers bloom in late winter and early spring, single red flowers appear that have very prominent yellow stamens in the centre.

These are ideal for hedging and screening in any garden type, and if left to grow naturally grow quite compact to 4m tall and 2.5m wide. However, with training, they can look striking against a wall.
Hardy in the UK, they prefer a space in full shade or partial shade. Any moist but well-drained soil is suitable; however they prefer acidic or neutral conditions.
Iberis sempervirens 'Snowsurfer Forte'
A heat loving, frost-hardy species, they grow best in full sun or partial shade.
They look at home in rock gardens and alpine gardens, as well as edging, borders, and ground cover.
'Snowsurfer Forte' grows to 15-30cm tall, with a spread of 30-45cm.
White flowers bloom in spring, with many flowers covering the foliage. It is useful to trim lightly once flowering is done to keep the shape compact.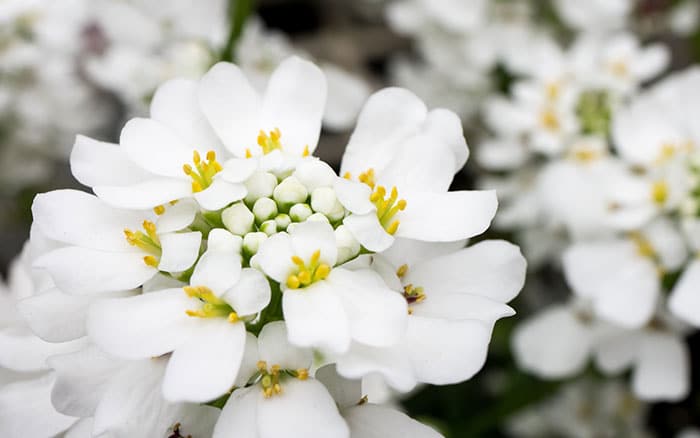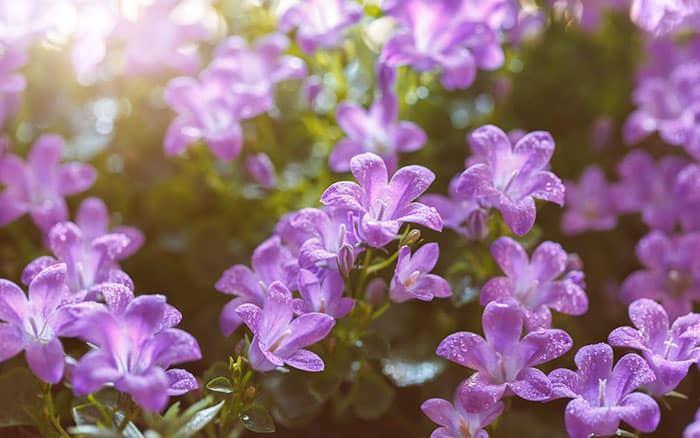 These are a classic and sophisticated pick for spring colour, with bell-shaped flowers. Their rounded, compact habit brings elegance that can be used indoors or outdoors.
If you bring them indoors, once they finish flowering plant them in the border for blooms again the following year.
Plant in a spot with full sun or partial shade in moist but well-drained soil. Here they will grow to 30-40cm tall.
Ribes sanguineum (flowering currant) 'Amore'
The bright pink flowers of 'Amore' are spectacular, gracing your garden from February to May. Not only can you enjoy the flowers, but pollinators love them too.
They grow best in full sun with moist but well-drained soil.
They have an average to fast growth rate, so in summer, remove any dead, damaged, or diseased branches to keep the framework open, and healthy.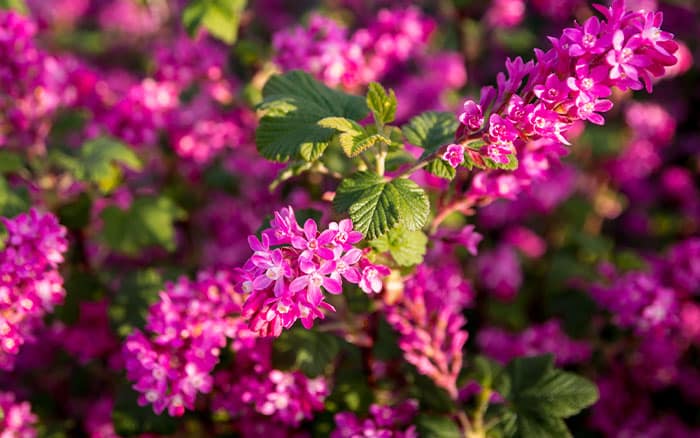 Forsythia intermedia 'Spectabilis'

Who wouldn't want this cheery yellow flower in their garden? This vigorous variety bears masses of yellow flowers through spring.
They are fast growing, with an average growth per year of 40cm – this can make them a great choice for hedging or screening.
Pick a sunny or partially shaded spot with any moist but well-drained soil and they will grow to 3m tall and 1.8 wide, with plenty of bright blooms.
Erica is commonly known as winter or spring heather, which differentiates it from Calluna which is summer or autumn heather.
There are a huge variety of colours available from soft whites, to deep shades of pink and red.
What's more, they look great without much maintenance, making them great if you want spring colour in your low maintenance garden.
Plant in full sun or partial shade in acidic soil and they will happily grow to 30-60cm tall. Cut back by trimming all the flower spikes down once flowering is done.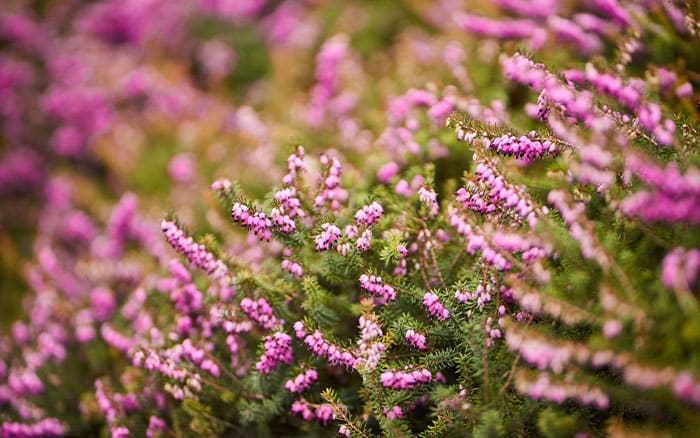 Helleborus niger (Christmas rose)
This leathery, dark green leaves are semi-evergreen, and are joined by beautiful white flowers that are known to be attractive to bees.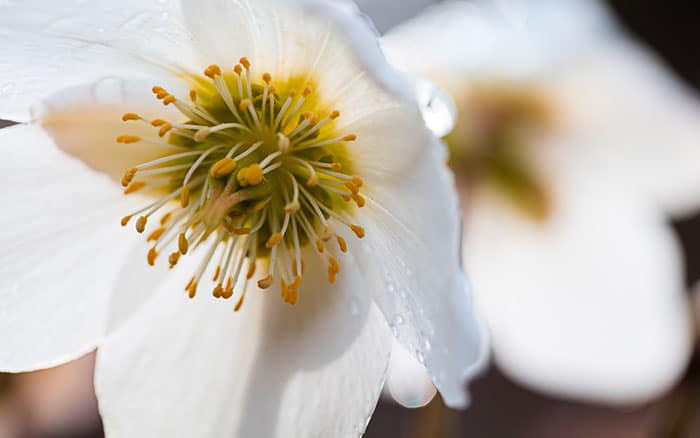 Its name may be deceiving, because although they are known as Christmas roses, they are not closely related to the rose family.
In partial shade with moist but well-drained soil these hardy plants can grow to 50cm tall. Also, they make great cut flowers.
Simply cut the blooms off and float them in a bowl of water for a stunning display.
Salix 'Kilmarnock' (weeping willow)
It is thought that the word Salix comes from Celtic language of 'sal' meaning near and 'lis' meaning water, referring to their common habitat of being near water.
Willows need plenty of water until they are well established.
This is a beautiful dwarf tree that can make a wonderful focal point in a garden with its dome shaped waterfall foliage. Its foliage and habit makes it perfect for adding softness to a space in full or partial shade.
They grow to 1.5m tall, and can be planted in containers, so are suitable for smaller gardens, patio gardens, and even balconies.
For low, grassy blue-green foliage with stems of vibrant pink double flowers that bloom through spring to summer, look no further.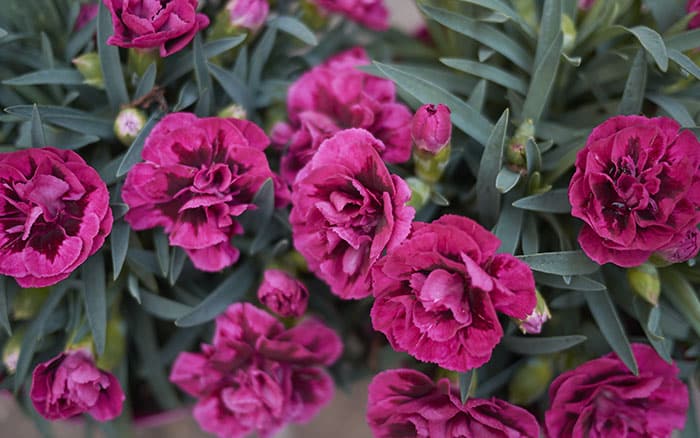 They are early flowering and have a long-flowering period, so are a great pick for spring colour.
What's more, the flowers have a spicy clove fragrance, making them great for a window box or container situated somewhere where you can make the most of their aroma.
Plant in full sun with well-drained soil and the plant will grow to 15-20cm tall.
Salix gracilistyla 'Mount Aso' (Japanese pink pussy willow)
This deciduous plant has bushy habit, with fuzzy pink-silver catkins that are eye-catching.
A great plant to add to a garden for some textural interest, and they can make great cut flowers too to add to an indoor floral display.
Native to Japan, Korea, and China, these plants prefer a spot with full sun, in any moist but well-drained soil.

Viburnum x bodnantense 'Charles Lamont'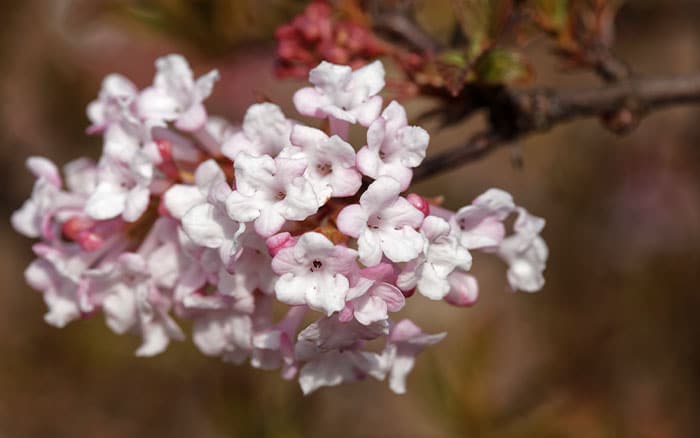 The bright pink buds, open to clusters of white-pink tubular flowers that have a really dainty appearance. They are hardy plants, but prefer a spot with partial shade or full sun where they can grow up to 2.5m tall and 1.5m wide. So, they are a great choice for a mixed border.
The flowers are fragrant too, so be sure to plant somewhere where you can enjoy their fragrance – next to a garden path perhaps.
Now spring has nearly arrived, give your space a boost of colour and fragrance, with plants that you and pollinators can enjoy. In no time, your garden will be full of spring colour and texture.

David Domoney is a Chartered Horticulturalist, Broadcaster, and Author. David has worked with a number of the UK's leading garden retailers as a plant buyer and strategic consultant. With more than 30 years experience, in horticulture, David is as passionate about plants now as he was when he bought his first plant at a village fete.