This Christmas spread a little good with gifts for gardeners that nurture green spaces and help our British wildlife.
These spectacular stocking fillers won't stretch your purse strings and are my top ten Christmas gifts for gardeners.
Gardeners just love hedgehogs and you can see why; they're the gardener's friend, helping to keep pests at bay.
Visit the British Hedgehog Preservation Society's online shop for hedgehog enthusiast gifts like soft plush huggable toys, hedgehog garden signs, hedgehog-themed books, stationery and books!
And, the best bit is, you know it's all going toward supporting our British hedgehogs too.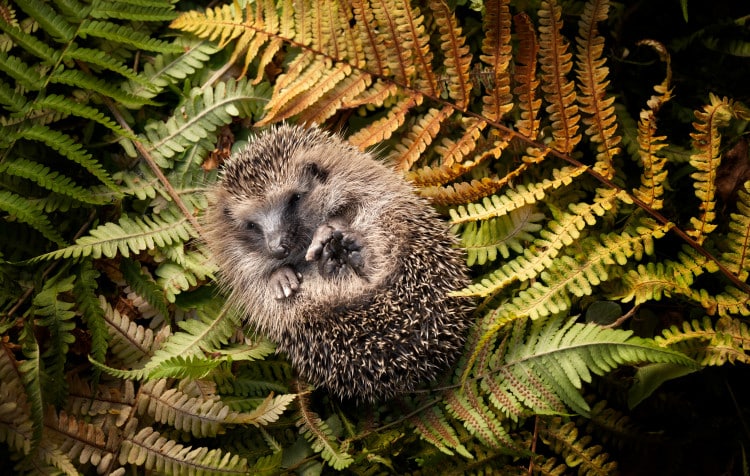 As the garden ambassador for the RSPB, I'm an advocate for the great work they do for nature conservation and in support of our brilliant British wild birds.
Membership will not only buy free entry to 170 fantastic reserves across the country, but you also receive the nature calendar and magazine.
Money goes towards protecting our British wildlife and countryside as well as educating the next generation. Order by the 15th December for delivery before Christmas.
Mr Fothergill's mixed herb seeds
This mixed herb collection contains Basil Minette, Coriander Cilantro, Chives, Mint & Parsley Moss Curled and you can grow these indoors or outside to have access to fresh homegrown food.
The seeds are pre-spaced along a fully biodegradable mat to make sowing really quick, easy and neat. So before you know it, you'll be growing herbs to sensationalise dishes.
Basil is great for adding into soups, coriander can be peppered into your Boxing Day curry, and chives can be sprinkled over a potato salad.
There are so many ways in which these herbs can lift your cooking over the season.


For any gardener wanting to get more of their garden, invite in more pollinating insects and you'll soon see the results in your plants.
This insect hotel is both decorative and functional, able to be hung or sat on a surface.
It provides a safe spot for beneficial garden insects to hibernate and for solitary bees to lay eggs—a gardening gift win!
Pop this gardening hose under the tree this Christmas and it'll be a real game-changer for the year ahead.
New gardeners find these so easy to use and old hats who make the switch to the YOYO hose by FITT will find their New Year's resolutions a doddle.
In the pack, you get the multi-spray gun, the extendable hose, Aquastop fittings and the tap connector, plus the YOYO GO version comes with the backpack—perfect for camping holidays or gardening on the go next year.

Grow Your Own magazine subscription

The next gift for gardeners to start your green-fingered friends off is a subscription to Grow Your Own magazine.
This way they'll have helpful advice and growing ideas delivered right to their doorstep.
A whole year's subscription can be gifted for around £50 and, if 2020 is earmarked as a year for healthy eating, what could be better than the ability and confidence to grow your own fresh produce at home.
With this inspiration you can gift your loved ones something they'll love. For the gardeners in your life, these gifts will bring them joy.
Now that you know my top gardening gifts, you're set for a sensational stocking-filled Christmas Day and a thriving garden in the New Year too!
Happy gardening!
Tip:
Use an old wooden stepladder
to create more space in the greenhouse by
positioning pots & trays on the steps.
Can you recommend a good indoor plant for a low-light area?

Dark green leaves generally survive well in low-light areas. Try Monstera (Swiss cheese plant), which is an evergreen shrub with ornately-shaped leaves and cone-like fruit in summer and autumn, or the small evergreen tree Fiscus elastica (rubber plant)—which has striking broad glossy leaves.
Will the algae and moss damage my driveway?

Moss and algae don't cause damage to the surface they're growing on, but they do become very slippery in wet weather. Where possible, use a pressure washer, stiff brush or garden knife to dislodge the growth and spray with an algicide. Improving the drainage will help deter regrowth in the future.
David Domoney is a Chartered Horticulturalist, Broadcaster, and Author. David has worked with a number of the UK's leading garden retailers as a plant buyer and strategic consultant. With more than 30 years experience, in horticulture, David is as passionate about plants now as he was when he bought his first plant at a village fete.