There are many marvellous scented plants that we can enjoy in our gardens or on patios and balconies – be they aromatic roses, the heady scent of the shrub Philadelphus (mock orange) or even the winter fragrance of daphne.
Now that garden centres have reopened, you can pick out plants that are a feast for all the senses.
As a kid, I always remember certain plants that grew in my gran's garden that smelled of sweets.
They looked like boring foliage to a small child, but once lightly crushed and put near my nose, the zesty, dramatic fragrances took my breath away.
Now I realise it was garden mint, but, boy, what an impact it had.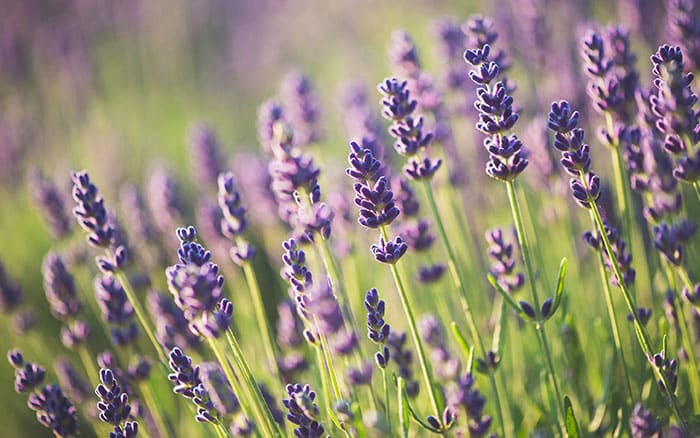 Lavender also reminds me of her house – like many people, she used bunches to freshen her drawers. And the smell of viburnum – a fabulous deciduous shrub with glossy dark leaves and small white flowers in spring – takes me back to the garden in my first home.
But there are many different plants that will add fragrance to your garden, and help children interact with plants through smell. It can be such a powerful force that some care homes and hospitals are now using scent – including that from plants – to help dementia patients.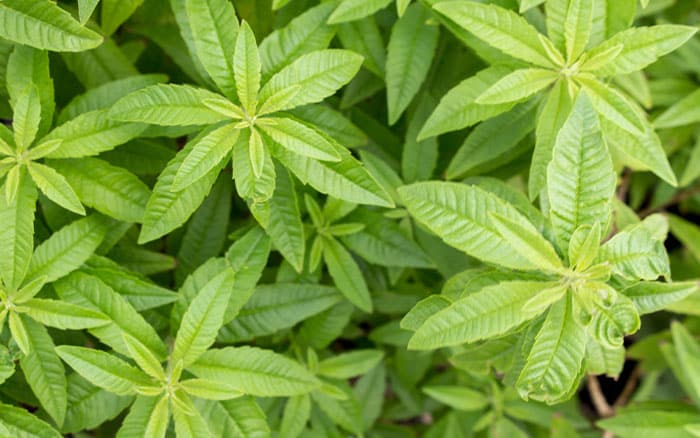 I have a whole host of plant varieties growing at home to welcome and invigorate visitors – and many can be introduced easily into your garden so you can instantly benefit from the heavenly aromas.
One of the most beautiful fragrant plants is Lippia citriodora (lemon verbena) which has thin leaves and grows to about 2.5 metres in height in well-drained soil with full sun. Mulch it in autumn to protect the roots – it may also need winter covering in northern Britain.
It gives off a very strong lemon sherbet scent from its leaf. Some people use the leaves in summer drinks to add a refreshing tang, or even in tea.
Lemon verbena has to be on the top of my list when it comes to plants that smell like sweets, but another firm favourite is a plant whose flowers smell like chocolate!
It's called chocolate cosmos, a herbaceous shrub producing flowers about the size of a 10p piece which are a charming burgundy colour. Again it likes moist but well-drained soil and full sunlight for best results.
Mint is another winner – the fragrances of peppermint, spearmint, apple mint and chocolate mint are simply unmissable. Crush the foliage of chocolate mint and take a whiff – it's like smelling an After Eight mint.
Mint is so easy to grow, perhaps too easy because if they are planted in a border, they quickly take over.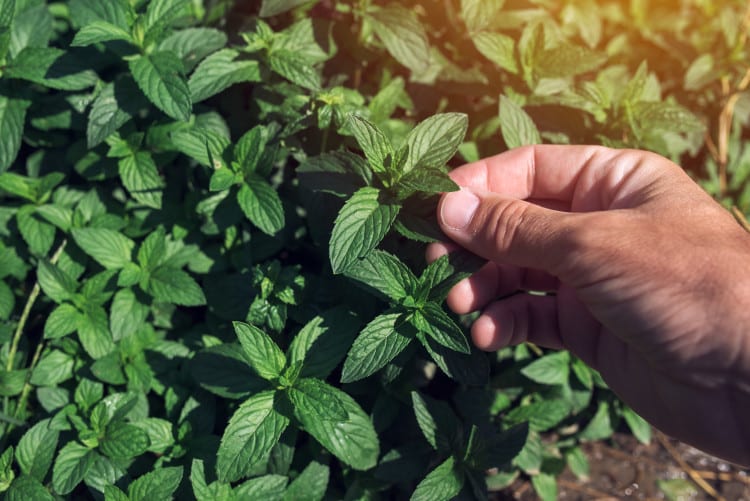 You can control them by planting in pots, containers or a window box.
Salvia elegans (sage) 'Scarlet Pineapple' really does smell like chunks of fresh pineapple or the pineapple cube sweets I used to buy as a child.
It tolerates a very dry border or a warm, sheltered spot on your patio. You can also make herbal tea from it, which is said to help with ailments such as heartburn and insomnia.

Heliotropium arborescens is also known as the cherry pie flower because some people describe the scent as "cooked cherries". I've always thought it smells more like vanilla ice-cream! The plant has beautiful purple cluster flowers with white and green centres.
Compact varieties will be happy in a container, so place them somewhere where you can sit and relish the smell of freshly baked dessert.
They will thrive in full sun or partial shade and like a sheltered spot. Other varieties include Senna didymobotrya (popcorn plant), which originates from an African legume.
It is said to have a strong popcorn perfume. It's never been quite that strong for me, but many gardeners swear by it – being something a little different and a highly fragrant addition to the garden.
As you can see, there is a huge variety of fragrant plants that can spruce up your borders and containers, which will in turn zest up that engagement with children.
If you go to a garden centre, let the kids help to pick out the plants and then plant them themselves so that they engage with the ownership and nurturing.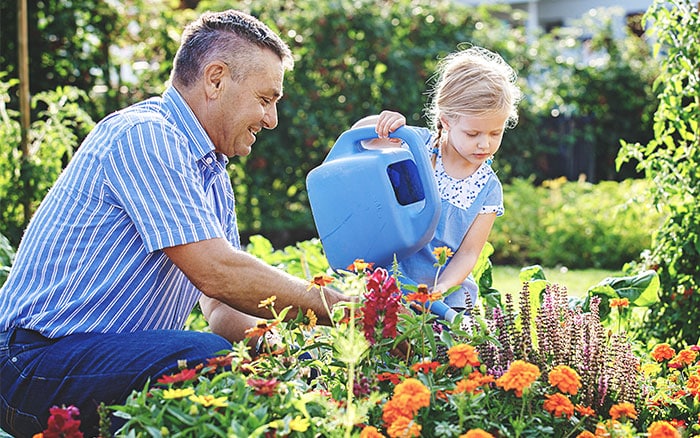 Tip:
Nasturtiums give great garden colour, but,
as they are edible, they also add a bit of vibrancy
to your spring and summer salads.
By positioning the plants in different places around the garden, you'll have delightful fragrances filling your space while encouraging the kids to explore, adding another element of interest, and helping your space become a sensory spectacle.
Happy gardening everyone!
Can I move my cheese plant outside in the summer?

Yes, on warm days and mild nights you can give them some fresh air and sunlight, but be sure to feed them too. And be careful not to leave them outside in strong winds, heavy rain or the cold.
I seem to have bees living in my house bricks. Why is that – and will they cause any damage?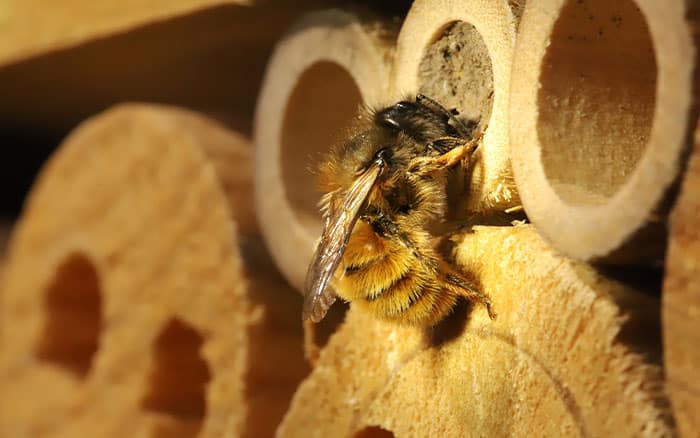 Don't worry, these are masonry bees. They will not cause harm to your home and they will benefit your garden. They live in cracks in walls quite happily and without causing any damage. They're solitary bees, so you don't have to worry about large nests.
David Domoney is a Chartered Horticulturalist, Broadcaster, and Author. David has worked with a number of the UK's leading garden retailers as a plant buyer and strategic consultant. With more than 30 years experience, in horticulture, David is as passionate about plants now as he was when he bought his first plant at a village fete.