This month, we see the crossover from winter into spring and, with this change, we welcome in warmer temperatures, longer days and, of course, beautiful spring flowers. With colourful foliage, comes the amazing wildlife that help keep our planet in balance. Bees will begin pollinating flowers and birds start returning from southernly migrations to populate our outdoor spaces once again—something no gardener wants to miss out on!
Make the most of your March garden and discover the spectacular plants for exciting spring colour this month.
This delightful bulbous perennial is perfect for bringing spring colour into the garden and its small blue flowers provide a similar aesthetic to bluebells, which appear on woodland floors later in April. The erect stems, racemes and bowl-shaped flowers are more unique and are instantly recognisable as a plant that oozes its own remarkable character.
The name 'Scilla siberica' suggests that the plant hails from Siberia but it is actually native to the warmer climates found in Crimea (near Ukraine) and Northwest Iran. It is hardy to most weather conditions across the UK.
Scilla siberica bulbs should be planted in early autumn in a fertile soil of loam, sand or chalk. Ensure the soil is well drained and place it in a position of full sun or partial shade.
It is the perfect plant to add spring colour to borders, cottage and rock gardens and will also thrive when planted in grass.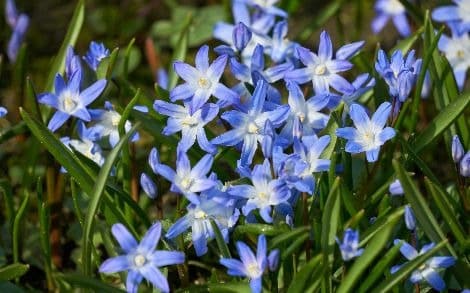 Forsythia is an interesting plant that becomes a visual masterpiece in spring. It has slender branches that explode with simple, but powerful flowers, in rich shades of yellow and gold. One species, the Forsythia suspensa, is a great example of the colourful beauty exhibited and has the appropriate nickname 'golden bells'. It is native to eastern Asia, but widely grown throughout the world.
For a long time, it was thought that Forsythia was the only plant that could produce lactose, a sugar that is found in milk. However, more recent tests failed to find any trace and the existence of lactose in the plant is still disputed.
The genus was actually renamed after Scottish botanist William Forsyth, who was a founding member of the RHS and a relative of the popular entertainer Bruce Forsyth.
Forsythia should be grown in a moist but well-drained soil that is in a full-sun position.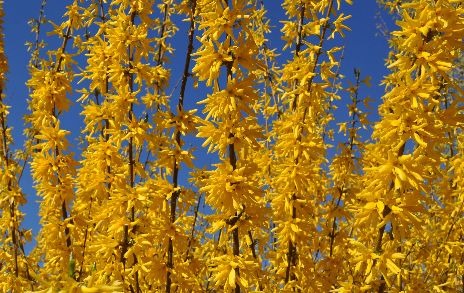 It is hardy to most places in the UK and is perfect as a low maintenance screen or border. Keep an eye out for hungry birds as they may eat the flower buds.
Popularly known as Common Lungwort, this perennial can be semi-evergreen or herbaceous has several peculiar and fun features. The green foliage consists of broad green leaves spattered with dainty white spots and the small clusters of pink flowers change miraculously into blue as the spring season advances. Like the other two in this list, Pulmonaria officinalis is hardy to most weather conditions in the UK.
Through the ages, Lungwort has been used to treat a number of ailments, including respiratory infections, reducing irritation and as a digestive aid.
Historically, doctors and botanists in the middle-ages believed that plants that resembled certain body parts were good for treating problems with them and since lungwort was thought to look like the lungs, it was widely used to treat coughs and other pulmonary or chest-related illnesses.
Modern medicine tends to avoid the direct use of lungwort, as there is little scientific research into the benefits it has.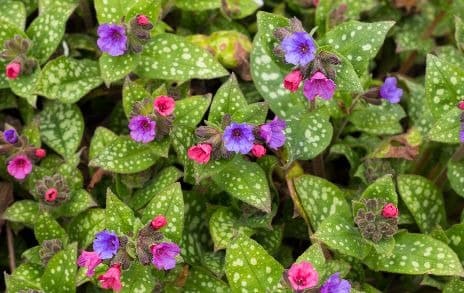 Lungwort is a great beginner plant and is easy to grow. Plant in a sheltered position in hummus-rich soil that is fertile and moist but not waterlogged. It needs either full or partial-shade in order to thrive and is perfect for bushy ground cover.

David Domoney is a Chartered Horticulturalist, Broadcaster, and Author. David has worked with a number of the UK's leading garden retailers as a plant buyer and strategic consultant. With more than 30 years experience, in horticulture, David is as passionate about plants now as he was when he bought his first plant at a village fete.