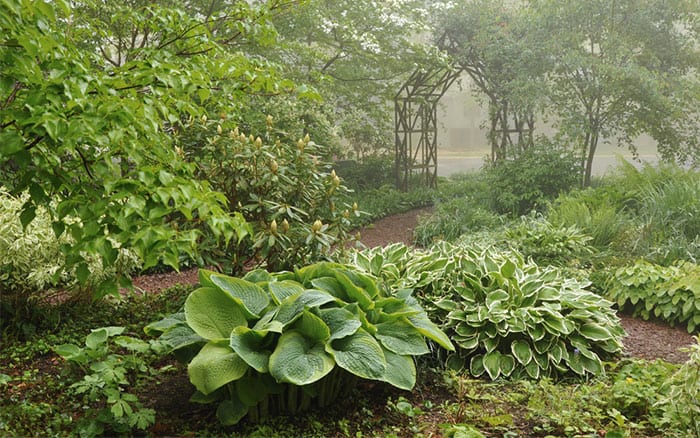 Shady areas of the garden can seem unwelcoming to plants, but there is a huge range that will thrive there and brighten up any dark corners of your garden.
A lot of shade-loving plants have fewer flowers with less colour, but they make up for this with interesting and attractive foliage. Using a range of different plants in your bed will create a striking display.
Shaded areas beneath large trees may have poor soil and lack moisture, so it's important to add good compost and mulch for plants to grow.
If you wish to plant spring bulbs, get them in the ground in autumn to give them time to establish over winter. Snowdrops, bluebells, lily of the valley and hardy cyclamen are good choices.
Some open shady areas can be prone to water retention, so choose moisture-loving plants that will thrive in this environment. Astilbe, sedge, hostas, lady fern, ligularia and polygonatum will happily grow in damp soil.
Check out the following lists of general plants for shady areas.
Plants for full shade:
Arum Lily
Bergenia (Elephant's Ears)
Bamboo
Epimedium
Euonymous
Fatsia Japonica
Ferns
Galanthus (Snowdrops)
Hedera (Ivy)
Helleborus niger
Hostas
Hydrangea
Lamium
Ligustrum japonicum
Mahonia
Polygonatum (Solomon's Seal)
Ramonda myconi
Sarcococca humilis
Skimmia japonica
Taxus baccata (Yew)
Trillium
Vinca minor
Plants for partial shade:
Acer (Japanese Maple)
Aucuba (Japanese Laurel)
Anemone nemorosa
Aqueligia (Columbine)
Astrantia
Bamboo
Bergenia
Buxus (Box)
Camellia
Campanula
Clematis
Cyclamen
Daphne
Dicentra Spectabilis (Bleeding Heart)
Digitalis (Foxglove)
Epimedium
Euphorbia
Ferns
Flowering Quince
Hellebores
Heuchera
Hostas
Hydrangea
Ilex aquifolium (Holly)
Iris
Lamium
Lillies
Liriope muscari
Lonicera (Honeysuckle)
Lunaria annua (Honesty)
Lupins
Magnolia
Mondara (Bergamot)
Peony
Perennial geranium (Cranesbill)
Penstemon
Phlox
Pyracantha
Ribes sanguineum
Rhododendron
Sedum
Viburnum
Vinca major
Vinca minor