Topiary is a terrific choice for adding ornamental and architectural interest to the garden. Though they are popular in formal garden designs, they suit many different garden styles to add structure. Here are some of the top plants for topiary.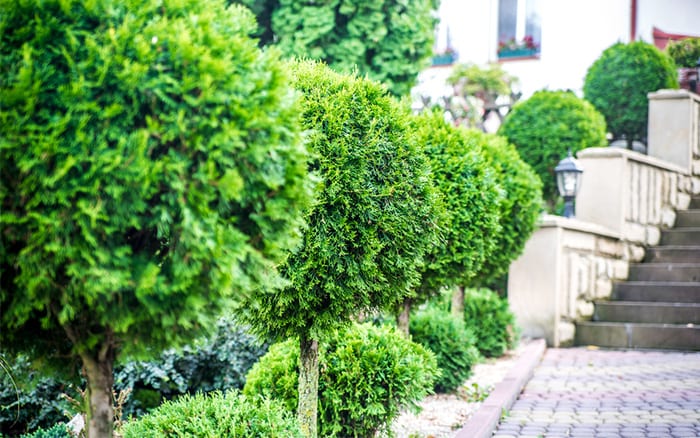 Top picks for topiary tend to be evergreens because they will provide form all year round as a permanent fixture. There are a couple of ways of introducing topiary to your garden. You can purchase plants that are already trained, although this can work out as an expensive option.
Alternatively, you can buy plants with topiary frames on them to give you a helping hand and guidance.
First, box is a classic choice for topiary, it's versatile and doesn't grow too fast or slow, making it a great choice for trimming into shapes such as spirals, spheres, cones and even lollipop shapes.
Trim in late spring to encourage new growth of side shoots. Then, these new shoots can be trimmed in summer to establish the desired shape. Further trimming will encourage more growth, so in autumn the box can be tidied again if necessary. But don't leave it too late in the season to do this as early frosts may damage the young growth.
Evergreen
Fully hardy
Can grow up to 8m tall and wide
Moist but well-drained or well-drained soil
Full shade or partial shade
Exposed or sheltered

Yew is tolerant of most conditions, apart from waterlogged soil. Growing 15-30cm a year, it is another popular pick for evergreen hedges and topiary for dark green conifer-like foliage.
The growing habit is looser and less dense compared to box, so it's a great choice for topiary in more informal gardens. Trim little and often to keep the plant in shape, once or twice a year should be sufficient.
Evergreen
Fully hardy
Can grow taller than 12m and wider than 8m
Well-drained soil
Full shade, full sun, or partial shade
Exposed or sheltered

Lingustrum japonicum (Japanese privet)
Next is a plant often used to create lollipop structures.
These dense, fast growing glossy leaves evergreen plants are a good substitute for Buxus as they have a similar appearance, are easy to maintain and relatively pest and disease free.
Evergreen
Hardy
Grows up to 4m tall
Moist but well-drained soil
Full sun or partial shade
Sheltered

Ilex crenata (Japanese holly)
Box plants can be affected by serious pests and disease such as box bloght and box tree caterpillars. Ilex crenata is a good alternative to growing box. Although they have a slightly less dense growth habit compared to box, their small glossy leaves will provide structure all year round.
In addition, they are slow growing so will keep their shape well and can be trained into many shapes such as spheres to enhance your porch or doorway. To keep plants looking tidy, trimming little and often is key. However, if you want an informal appearance, trimming in mid-spring and early autumn is the best time to encourage new growth.
Evergreen
Fully hardy
Grows up to 8m tall
Moist but well-drained or well-drained soil
Full sun or partial shade
Exposed or sheltered

Lonicera nitida (boxleaf honeysuckle)
Last is fast-growing boxleaf honeysuckle which is perfect for low hedges, spheres, and cones in the garden. The forest green foliage is very hardy and looks fantastic when shaped. The dense growth can be trimmed at any point between spring and autumn to keep it ship-shape.
Evergreen
Fully hardy
Grows to 4m tall
Moist but well-drained or well-drained soil
Full sun or partial shade
Exposed or sheltered

So, give topiary a try to add some architectural interest to your garden with these top plants. By choosing the right plants, you can have structured shapes and features to add year-round form to your garden.

David Domoney is a Chartered Horticulturalist, Broadcaster, and Author. David has worked with a number of the UK's leading garden retailers as a plant buyer and strategic consultant. With more than 30 years experience, in horticulture, David is as passionate about plants now as he was when he bought his first plant at a village fete.