Aloes are a fascinating group of succulent plants. They are grown in this country mainly as houseplants, although one or two are hardy in warmer parts of the UK.  So here are 10 aloe plants to grow in your home.
All aloes do well when grown in a free-draining, nutrient-poor compost or soil. Peat-free cactus compost is a good choice, and add some sand, perlite, or grit to help improve the drainage.
It's better to grow aloes in terracotta pots rather than plastic ones. Terracotta is porous, which means the compost will dry out quickly and provide ideal conditions for the plant's roots.
Try not to water them at all between autumn and spring and only a little during the summer months.
There are more than 500 different species of Aloe giving plenty of choice of ones to grow. So, here's ten that you might like to add to your collection…
This healing plant is probably the best known of the aloes. Not only does it look great grown as an architectural plant on a sunny windowsill inside the house, but also has medicinal properties too. In fact, Cleopatra is said to have used aloe for her skincare. The gel from inside the leaves can be used as a skin moisturiser and helps relieve pain from minor scalds and sunburn.
The leaves are a great indicator as to whether or not you're giving the plant the right amount of water. With too little water, the leaves become very thin. Alternatively, with too much they can develop soft, soggy spots. Ideally the leaves should be plump and firm. Aloe vera plants grow to 45cm tall and 30cm wide.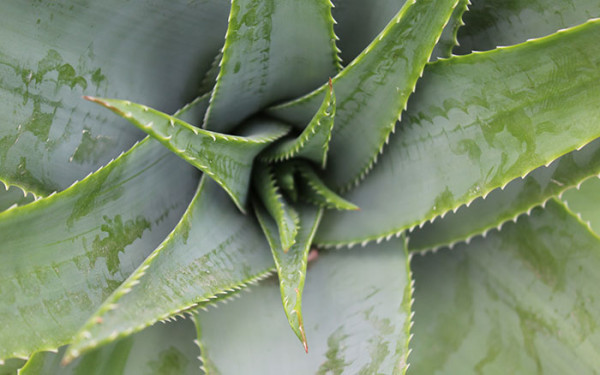 Next is an aloe that looks great growing in containers on a patio. Although hardy, is best over-wintered in a frost-free, dry location such as a conservatory or greenhouse. This is because it can get damaged by cold, wet, winter weather.
It forms a rounded, evergreen clump and is covered in pink-orange and cream flowers that look like glowing candles all summer long. It will grow to a height and spread of 90cm.
The leaves on this compact plant are one of its most striking features. They're pale green and covered in rusty-orange colour, raised markings with golden-orange edges. It will grow to just 15cm tall and a width of 30cm.
Aloe x Gasteraloe 'Green Ice' 
This beautiful, slow growing, plant is a hybrid crossed between Gasteria and Aloe variegata. Its handsome leaves are a combination of plain light grey-green on one side and variegated dark and light green shades on the other side.
When the plant reaches maturity, it can produce tall spikes of red-green tubular flowers during the summer months. It will eventually reach a height and spread of 30cm.

Aloe striatula (stripe-stemmed aloe)
If you're longing to grow an aloe outside in your garden or on your balcony, then this is probably the one for you. It has fleshy leaves striped with different shades of green. During the summer this aloe produces tall, yellow flower spikes that look like red-hot poker flowers.
It grows 1m tall and 1m wide and tends to sprawl and scramble making it perfect for a dry, gravel garden.

Next up of the aloe plants is a large one with handsome, blue-green toothed leaves. Often tinged with red, producing dramatic, candelabra looking red flowers during the summer months. It grows 3m tall and 1.5m wide.

This aloe has leaves of a bronze-green colour covered in white spots and small white teeth along their edges. It will produce tall, narrow, white-tipped pink flowers and grows to a neat height and width of 30cm.
Aloe arborescens (candelabra aloe)
The candelabra aloe is native to South Africa, Zimbabwe, Malawi and Mozambique and its sword-shaped, toothed leaves grow in dense rosette formation. Older plants produce torch-like, tall, red flowers during the summer months. It is a large aloe that can grow up to 4m tall and 2m wide.

Aloe x pachyveria 'Bill Baker'
This aloe is the perfect choice for growing in containers on a sun-filled patio. It will survive mild frosts but, to be safe, it's best to bring it indoors between autumn and spring. It produces huge rosettes of silver-green, short, fat leaves covered with a coating of soft down. It'll grow to heights and widths of 30cm.
This small plant grows to a height and width of 20cm, producing rosettes of lance, shaped, fleshy, softly spined, green leaves. The foliage has white spots and tubular orange-red flowers in the autumn. Although it is hardier than most other aloes, it's best grown in a greenhouse or as a houseplant.

With these top ten aloe plants to choose from, you can have a versatile indoor garden made up of stunning houseplants. For more indoor garden inspiration, check out my book My Houseplant Changed My Life.
David Domoney is a Chartered Horticulturalist, Broadcaster, and Author. David has worked with a number of the UK's leading garden retailers as a plant buyer and strategic consultant. With more than 30 years experience, in horticulture, David is as passionate about plants now as he was when he bought his first plant at a village fete.