The days may be getting a tiny bit longer as winter slowly fades into spring, but there may still be a few vacant spots in your garden that need filling. But you don't need to wait until spring, add some fabulous features to plug  gaps and keep your garden looking brilliant throughout the winter months and beyond.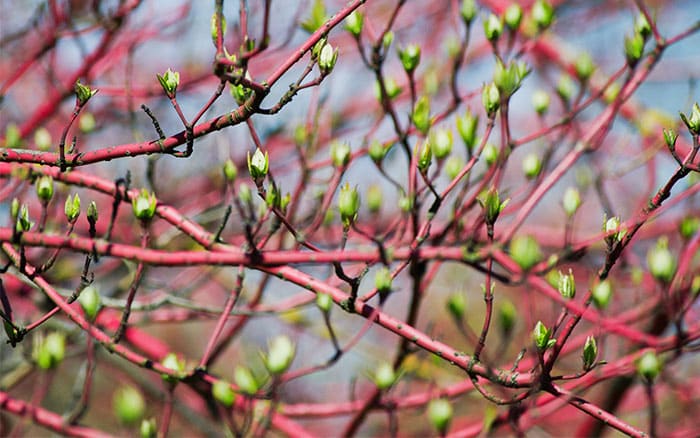 Shrubby dogwoods form thickets of elegant, brightly coloured stems that are great for injecting a bit of zip into your garden year-round. Try Cornus sericea 'Flaviramea' (golden-twig dogwood) for its continuously vibrant sunshine yellow stems, which are graced with white flowers and fruits from spring to autumn and foliage which changes with the seasons.
Alternatively, choose Cornus alba 'Siberica' (Siberian dogwood) for year-round lively red stems or Cornus sanguinea (common dogwood) for a true kaleidoscope of colours changing from green and white in summer to red and black throughout the autumn and winter.
Unfussy and very hardy, dogwoods do well in most spots in the garden and will thrive in damp conditions.
Looking to fill a small space at the front of a sunny border? Look no further than Nandina domestica (heavenly bamboo) 'Fire Power.'
This compact, evergreen shrub's seasonal colour-changes ensure that your garden always looks brilliant rather than bleak.
Lime green summer leaves tumble through fiery reds and burnt oranges throughout autumn and winter. The vibrant red berries are a feast for birds in the chillier months. These shrubs will thrive in a sheltered position in full sun.

Keep them moist and give them half a metres worth of space to grow and spread and they'll keep your borders bright all year long.

Vacant vertical spaces? Trachelospermum jasminoides (Confederate jasmine) is a beautiful climbing evergreen that can be grown over a sheltered wall or fence. In the winter months, its leaves turn a moody red, making it a fantastic addition to the garden palette.
Changing with the seasons, the glossy dark green foliage in spring are joined by jasmine-like, fragrant flowers in spring. Grow this elegant evergreen in a sunny or slightly shaded sheltered spot where it has plenty of room to grow as tall and as wide as eight metres in under a decade.
There's nothing quite like the delicate floral perfumes wafting about the garden, but don't feel you have to go without this simple pleasure in winter.
An option for winter aroma in a sheltered, sunny spot is Chimonanthus praecox (wintersweet). Although deciduous – meaning it drops its leaves for winter – this large woody shrub produces highly-fragrant Clematis-like flowers in winter and spring.

Spreading to as much as two and a half metres wide and growing to almost twice that in height, this is a shrub that will elevate your garden. Plant these fragrant shrubs close to a doorway if possible, so that passers-by can appreciate the height and the heavenly aroma.

If you have a large bare spot in full shade, Sarcococca confusa (sweet box) could be the perfect fit which will elevate all the senses.
A bushy evergreen with year-round glossy green foliage, its real season of interest is winter when it produces deliciously fragranced flowers followed by lustrous black berries. Situate the sweet shrub in a sheltered shady spot with space to grow to one and a halt metres in width and two and a half in height.
If you have room for a tree, you can't go wrong with Acer griseum (paperbark maple) for providing year-round intrigue in your garden. Its trunk is covered in chestnut-brown bark, which peels and curls to create fantastic texture and attraction all year round.
Its velvety pale green leaves turn fantastic reds and oranges in celebration of autumn before dropping to reveal the gnarly copper bark in winter. Give it room to spread up to eight metres wide and 12 metres tall in a sheltered, sunny spot.

Another beautiful tree that provides year-round interest is Eucalyptus niphophila (snow gum). Not only does it retain the classic grey-green leaves of Eucalyptus throughout all four seasons, it also features a patchwork quilt of bark laced with silver, cream and green. Eucalyptus trees enjoy lots of water, plenty of sun and a sheltered position.
A fantastic addition to smaller gardens, the Acer griseum grows to four metres wide and eight metres high.
Adding height, texture and fragrance to your garden in winter doesn't need to be difficult. These fabulous varieties will ensure your garden is brimming with brilliant colours and interest for years to come.

David Domoney is a Chartered Horticulturalist, Broadcaster, and Author. David has worked with a number of the UK's leading garden retailers as a plant buyer and strategic consultant. With more than 30 years experience, in horticulture, David is as passionate about plants now as he was when he bought his first plant at a village fete.