Wisteria is synonymous with country cottage gardens. And Wisteria sinensis is a delightful deciduous climber. It adds a shower of flower coverage over a wall, fence or even mature trees where they cascade down.
They grow well in well-drained soil in full sun. So a South or West-facing wall is perfect. Should you plant them in a position that is a little shaded, they will still grow happily, but may produce fewer flowers. You can admire their beautifully fragrant flowers when they bloom in spring and summer, and bees will love them too.
General planting advice
Sun – Full sun or partial shade
Position – South or West facing
Exposure – Sheltered
Moisture – Moist but well-drained
Soil – Chalk, sand, clay, or loam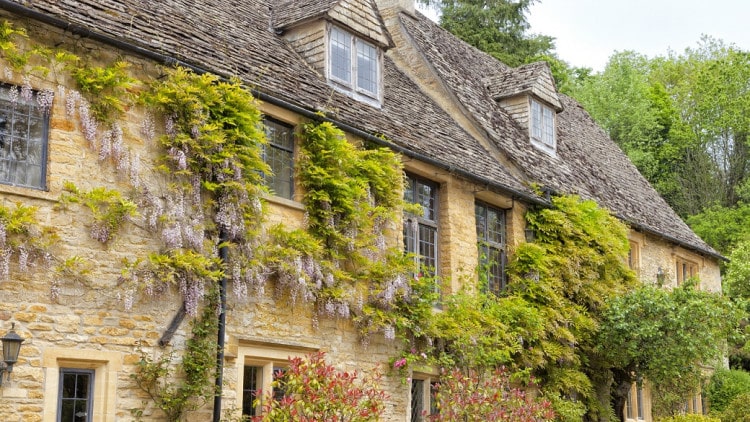 Wisteria sinensis (Chinese wisteria)
Growing taller than 12m tall and 8m wide, this deciduous climber has dark green leaves with lilac-coloured flowers in spring and summer. These are long living and will add some charm to your wall-side border.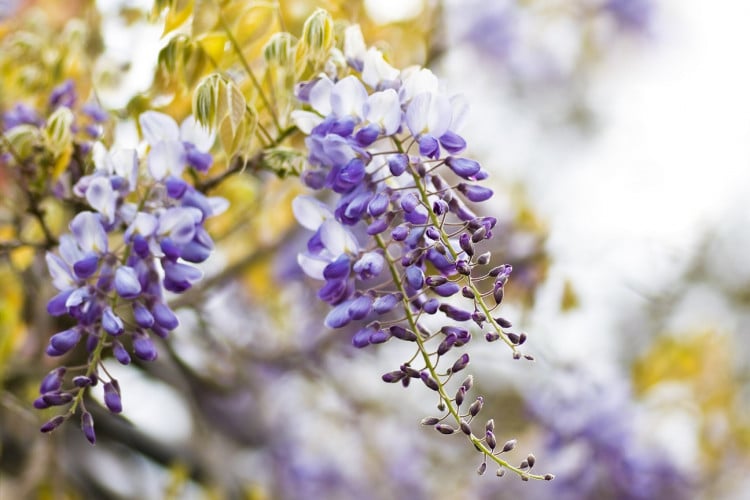 Wisteria floribunda (Japanese wisteria)
Having many of the same characteristics of the Wisteria sinensis, the Wisteria floribunda cultivar will flower longer through summer. And its varieties are known for their long, dramatic clusters of flowers.
Time
Another difference to Wisteria sinensis is that the Japanese variety requires more of your time in caring for it. You need to train and prune it to get the best results.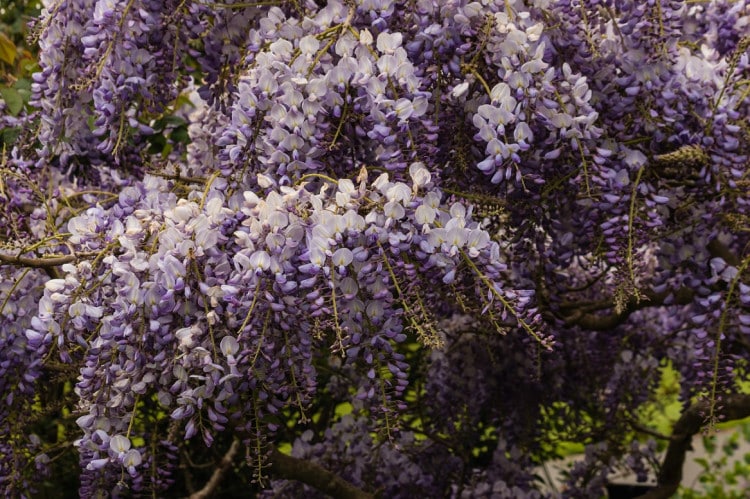 Wisteria brachybotrys (silky wisteria)
Also coming from Japan, this slightly smaller plant is a keen climber. Like its fellow family members, it loves the sunshine and will display its flowers in summer.
Scent
Flower sprays hang at 10cm long and are beautifully scented, displaying in pale lilac and rich violet buds. In winter, the flowers are followed by velvet textured seed pods.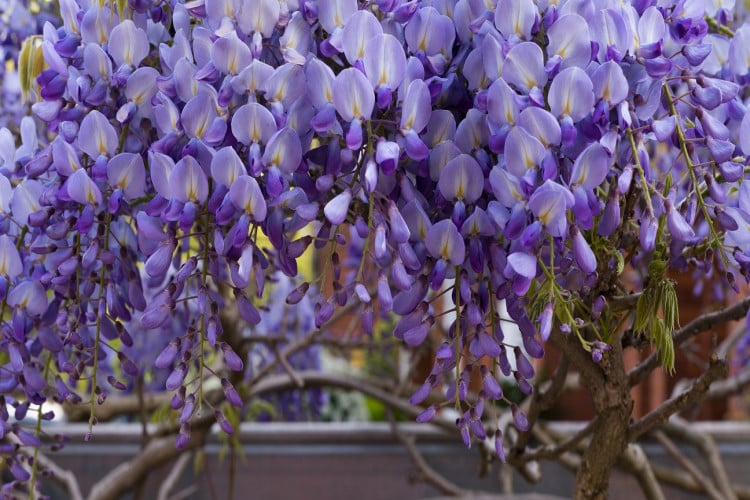 Wisteria frutescens 'Amethyst Falls' (shrubby wisteria)
More modest in its displays of colour than the other cultivars. This delicate flower displays are reminiscent of grapes on a vine.
Though not quite as hardy as the others, it will happily grow in a container. And flowers throughout summer. The fragrant flowers of variety 'Amethyst Falls' is picture perfect light purple but with a unique spot of yellow.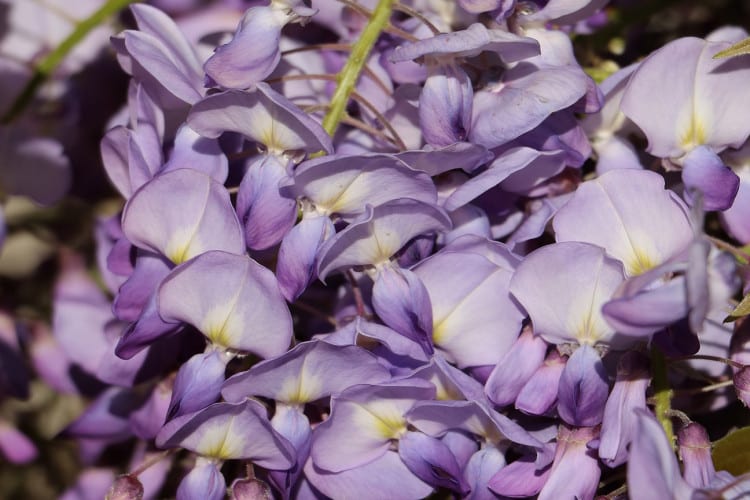 Get yourself into a good pruning routine with wisterias. Pruning twice a year, will ensure the flowers will continue to bloom year after year.
Summer
In summer, prune the excessive growth back to let the wood ripen. This increases the likelihood of flowers forming for the following year. In February, shorten the shoots again, tidying the plant up before growing season begins in spring.
Regular
Begin regular pruning to encourage flowers to appear. Ideally, once it has covered the wall, garden, or pergola.
If you are looking to pair climbers with another plant, then Clematis has you covered. Clematis and wisteria grow well together. In fact the way that the plants develop together can create some stunning displays of colour, shapes, and textures, adding variety to your garden.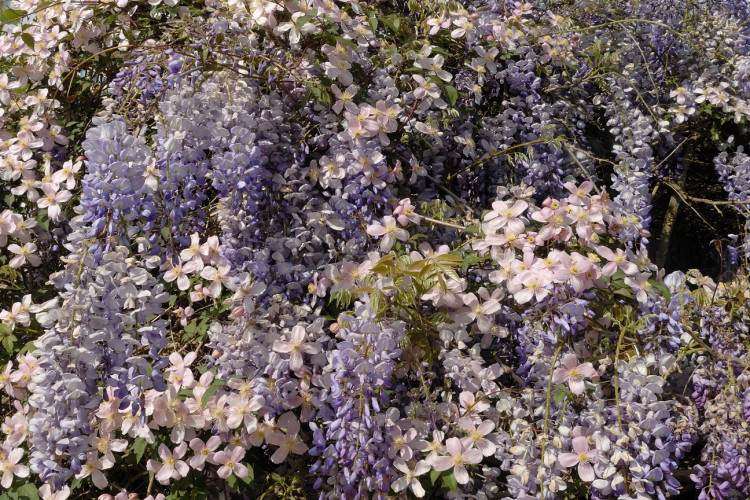 Clematis armandi (Armand clematis) is perfect for a South or West-facing wall. Here it will grow up to 8 metres tall and 2.5 metres wide in an alkaline or neutral pH soil.
General Advice
Sun – Full sun
Position – South or West facing
Exposure – Sheltered
Moisture – Moist but well-drained
Soil – Chalk, sand, clay, or loam
Try growing them together over an arch or trellis to add impact that draws the eye upwards.
Brightly coloured flowers make fantastic feature plants and wisteria will also awaken the senses with its aromatic summer blooms.

David Domoney is a Chartered Horticulturalist, Broadcaster, and Author. David has worked with a number of the UK's leading garden retailers as a plant buyer and strategic consultant. With more than 30 years experience, in horticulture, David is as passionate about plants now as he was when he bought his first plant at a village fete.