Christmas dinner is perhaps one of the most looked-forward to meals of the year. It's not just the food that makes this meal special, but the fun atmosphere of the day with loved ones. When eating your dinner, add something special to the display by creating a festive centrepiece for your Christmas table.
Deciding what will serve as the base or container for your centrepiece is just as important as what's going in it. Choose from a shallow bowl if you want part of your feature to incorporate floating flowers in water. A glass or patterned vase is great for flower bouquets or dried flower arrangements.
However, it's important to consider where it will be positioned in relation to your seating plan. The last thing you want is for it to obscure views of your loved ones.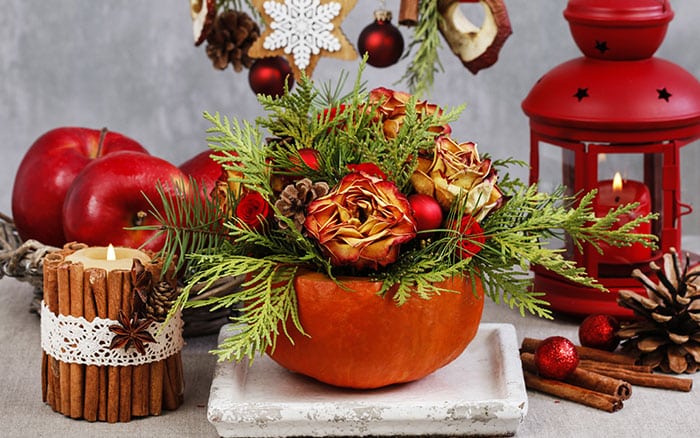 Instead of using a classic container, utilise a piece of cut wood or driftwood as the base to dress with foliage and materials.

Take a woodland walk and gather twigs, pinecones, leaves and foliage. Although, it's best to leave berries on plants for sustenance for birds through winter.
Gathering these resources will help to bulk up the display. You could get old jars and surround them with twigs, tying them into place with string. Then, fill the jars with flowers and foliage to add some height and an extra pop of colour.
Using dried fruit is a festive addition, that adds colour and also fragrance too. The scent of dried oranges is reminiscent of Christmas times, and when paired with cinnamon creates a completely festive aroma.
Dried flower arrangements are continuing to increase in popularity, and you can create your own using flowers cut straight from your garden. You don't need any special equipment or tools to do it either.
Simply cut the flowers that you want to dry, ensuring they have good quality stems intact, then tie them in bundles using twine or an elastic band. Hang them upside down in a spot with good air circulation and then after 1-2 weeks, the flowers will be dried and ready for your flower display.

When making the arrangement, stagger the flowers of different heights and add in a small amount of foliage to start with so it doesn't dominate the display. The foliage will also help to support the flowers at the same time.

Add light and some magical sparkle by adding candles to the mix. Of course, you need to be careful that they're positioned where they are not at risk of setting any of the other materials alight.
There are many types of candles to choose from. Pick a festive fragrance such as gingerbread, cinnamon or pine to add another dimension to your centrepiece. You can get Christmas shaped candles such as trees, reindeers, and Christmas cottages too.
If you want to opt for a simple design, straight dinner candles add height and can be found in white, green, and red for classic Christmas colours.
Just like decorating your home and Christmas tree, there are many styles to choose from. Whether you want a minimalist, Scandinavian style décor or would rather a maximalist Kitsch design.
For a simple and subtle look, use white and grey placemats, surrounding your effortless centrepiece made up from a white tray or plate, with white candles and cuttings of eucalyptus.

To achieve a full festive look, don't leave any space empty. Fill each nook and cranny with foliage, flowers, and pinecones for a truly spectacular show.
Depending on your Christmas décor choices, your Christmas table centrepiece needs to match your theme. Opt for a minimalist tablescape with candles and minimal foliage or put on a show with all the natural resources that your garden and a woodland walk have to offer. I'd love to see pictures of your Christmas table, so send me picture over Twitter, Instagram, or Facebook.

David Domoney is a Chartered Horticulturalist, Broadcaster, and Author. David has worked with a number of the UK's leading garden retailers as a plant buyer and strategic consultant. With more than 30 years experience, in horticulture, David is as passionate about plants now as he was when he bought his first plant at a village fete.