The final week is upon us, which means you've tackled a huge variety of veg. It's been a productive few weeks for ITV's Eat Them to Defeat Them campaign, and we couldn't have taken down the veg without your help.
To round-up our superpowers we'll be seeing how to get super sight to make it easy to keep track of the opposition.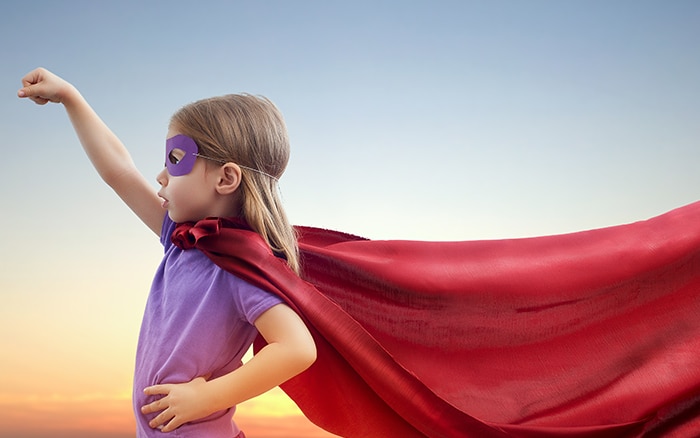 Vitamin C is a powerful antioxidant that helps to protect your immune system. Getting regular amounts of this vitamin means you will be helping your body to defend itself from the inside.
HD vision is also within reach if you get your fix of essential vitamin C. This vital vitamin forms collagen, which is a protein that helps shape the formation of your eyes. It's also been linked to reducing the risk of cataracts which is a condition affecting vision, making it cloudy. 
As a water-soluble nutrient, vitamin C can't be stored in the body – so you'll need to get the right amount every day to keep your powers up.
Bell peppers are found in red, yellow, orange and green, all at different stages of their ripening. Green peppers are unripe and have a more bitter taste and aren't as sweet as the other colours.
Vibrant and delicious, one medium red pepper provides a whopping 169% of the reference daily intake of vitamin C, making it one of the best dietary sources of this crucial nutrient. 

By getting peppers in your diet, you'll be well on your way to harnessing super-sight as they include carotenoids called lutein and zeaxanthin which have a positive impact on eye health. They do this by protecting your retina, which is the thin layer of tissue at the back inside your eye. This then communicates to the brain to help translate what we see. So, it's got a hugely important job. You can protect it by ensuring you eat plenty of veg containing vitamins A and C.
Did you know?
In terms of nutritional content red peppers blow green peppers out of the water. Red peppers have 11 times more beta-carotene, 10 times more vitamin A and twice as much vitamin C than green peppers. So, you're sure to get your fix of vitamins from these sweet treats.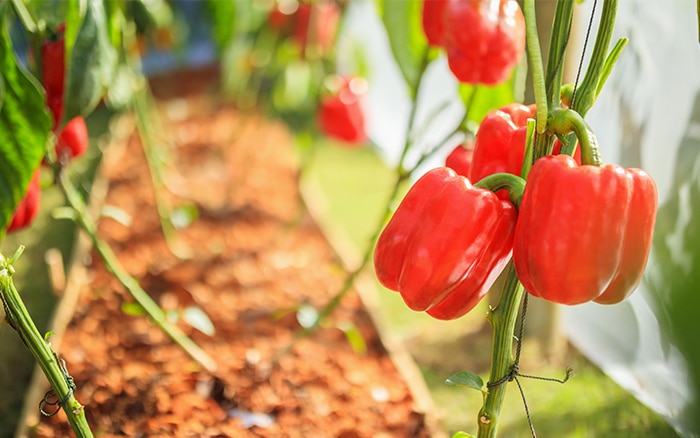 You can have access to your own harvest of bell peppers. They will grow well in a greenhouse or outside they will need a sunny spot. Here's how to grow your own:
1. From mid-February to early April, you can sow seeds indoors in trays, you'll need to have them in a sunny spot where the temperature is about 18-21˚C.
2. Containers or growbags can be used to grow peppers, or the open ground if it's sunny and sheltered enough.
3. When two leaves have formed, plants can be transplanted into pots.
4. Once the roots are outgrowing this pot, they can be transferred to a bigger pot in April or May.
5. If lots of heavy fruit is being produced, you may want to tie to plants to a stake to keep them upright.
6. Pick the fruit when it's green and swollen which will encourage more to grow. You can leave it on the plant until it turns red, but it will reduce produce.
Peppers can be eaten raw as a snack or cooked into stir-fries. Incorporating veg into your meals doesn't have to be tricky.
To inspire you, for the final week we've got a recipe card for red pepper and sweet potato frittatas. It can be eaten warm once cooked or left to cool and taken for lunch the following day. Win-win!
It's the final week of ITV's Eat Them to Defeat Them campaign, you've done a great job of helping to take down the veg. But to keep them at bay, we'll need to carry on the fight for as long as possible. So, make sure you keep up the fight and feel free to keep downloading your veg tracker to tally up huge numbers.
For now, here's your badge that you have earned. You're now a Veg Vanquisher and ready to take on the world.
Let me know what your grand total was on Facebook, Twitter and Instagram using #vegpower #eaththemtodefeatthem. 

David Domoney is a Chartered Horticulturalist, Broadcaster, and Author. David has worked with a number of the UK's leading garden retailers as a plant buyer and strategic consultant. With more than 30 years experience, in horticulture, David is as passionate about plants now as he was when he bought his first plant at a village fete.