If you've got the right gear, nothing is more refreshing than being in the garden in the cooler months. So, don't let the crisp, chilly days stop you. Adding the following essentials to your wardrobe will get you through the bitter season in style.
The inevitable seasonal rain will result in muddy borders, and if you're out in the garden you will need some sturdy Wellington boots to keep your feet feeling dry and toasty. You just need to make sure you're getting yourself the most suitable pair.
Heights of wellies differ. Some rise to the ankle, some to the knee and others to the thigh. For lighter garden tasks such as planting winter containers, ankle wellies may be your best bet as they have greater mobility.
On the other hand, if you are doing heavier work such as mulching beds or planting shrubs, knee high boots are more likely to offer the protection you need. The taller boots will stop unwanted compost from finding its way into your socks and protect your ankles from any scrapes.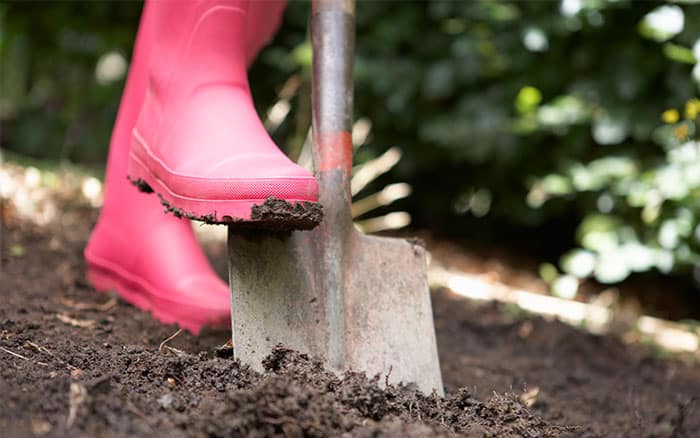 Thigh high wellies will only really be needed if you are wading into a garden pond to clean it, apart from that they will be perfect if you need thorough waterproofing and don't require high flexibility.
With a recent flood of fashion wellies hitting the shops due to muddy music festivals becoming increasingly popular, it's important for you to make certain that the material of your wellies is appropriate for your needs. Good, old-fashioned rubber is your best bet as they will be tough, supportive and durable enough to withstand the wear.
Grip-wise, if you are going to be knee-deep in mud down at the allotment, choosing wellies with an extra tread and an anti-split reinforced sole is highly recommended. That way you won't be sliding around in the veggie patch.
And when you've worn out your wellies or want an upgrade, you can make your old ones into containers for your garden.

Keeping your hands warm and protected in the garden is vital. Whether acting as a barrier between mud, preventing blisters or keeping your fingers nimble in the cool weather, a decent pair of gloves is essential. The weather isn't always predictable so getting protection that can withstand rain, wind and sunny conditions is a great start.
If you are using blister-inducing garden tools, choose a pair with generous padding so they are comfortable and workable. If your landscaping involves moving a lot of thorny or spiky materials, opt for gloves with puncture protection so your hands remain unscathed.
As with wellies, gloves come in varying lengths, so if you need more protection for your arms just go for a pair that offer more defence from thorns and brambles.
Depending on the weather and the job, I switch which coat or jacket I wear out in the garden.
I have a trusty body warmer which keeps my core cosy at the same time allowing my arms freedom of movement. I recommend this for jobs using a spade, such as planting fruit trees.
A full waterproof jacket is a necessity for when it is raining torrentially. Choose a jacket with no gaps for rain or wind to force themselves in – elasticated hoods and wrists that cling to your body are perfect for this.


To add some comfort and style, get some cosy welly socks, they are available in a huge variety of colours and patterns and it'll feel like you're wearing slippers whilst gardening. Alternatively, opt for waterproof welly socks that will add that extra layer of protection from the rain, saving your toes from getting soggy.
A good quality kneeler will be your saving grace in the cold, wet months to spare that sinking feeling you get from kneeling on the wet, muddy ground.
By updating your gardening gear to have these essentials, you will be ready to garden all year round, with warm toes, protected hands and dry knees.

David Domoney is a Chartered Horticulturalist, Broadcaster, and Author. David has worked with a number of the UK's leading garden retailers as a plant buyer and strategic consultant. With more than 30 years experience, in horticulture, David is as passionate about plants now as he was when he bought his first plant at a village fete.