Space-saving while growing is all the rage right now. After all, why waste valuable floor space when you can grow in hanging baskets? Ground growing is great but fruit n' veg can be container-grown for your plate.
Having productive plants at nose height offers another dimension to your growing space. Veg varieties that work well include lettuce, peas and even dwarf tomatoes.
Typically a lover of lots of space, dwarf tomato varieties like 'Tumbler F1' will thrive as long as they can access plenty of sun.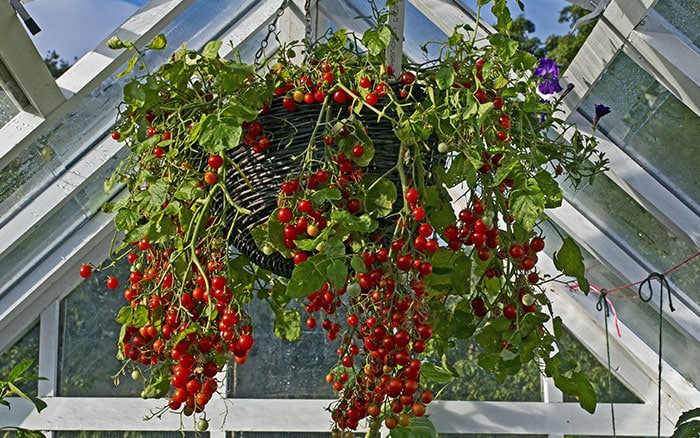 For a shady garden, hanging baskets can actually help sun-loving veg, like cucumbers, to catch some rays. Leaf lettuce will also do well in baskets if you're struggling with sun.
My favourite use for hanging baskets, is for my most frequently used herbs. I hang mine outside the kitchen window so it's really easy to grab a handful and add to dishes when cooking.
Go for a marvellous mix of parsley, thyme, mint and other compact herbs and you'll catch a whiff when the wind blows past them too.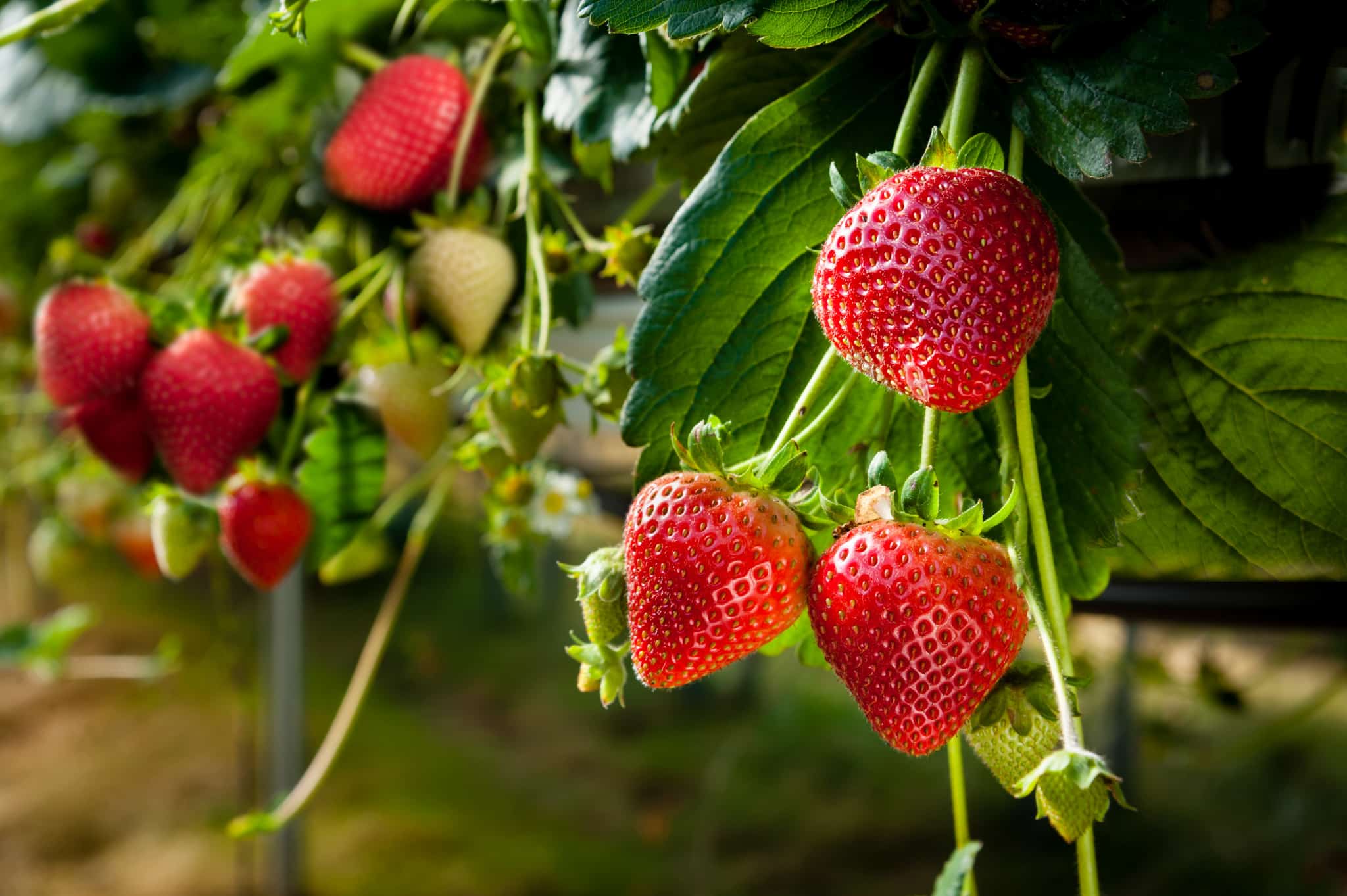 Fruit in hanging baskets can be glorious. They are just at the right height to pick fresh of the plant as you walk past. Try planting up strawberries this way and you'll soon see these red berries flourish.
Strawberry plants will produce runners after they have fruited, so you can snip them off and pot them on to create new plants completely free of charge!
Other berries that love a basket include gooseberries and raspberries as well.
Gooseberries are really easy to grow and are one of the first to be ready to harvest, so it is well worth your while.
Netting may be necessary if the birds begin to show an interest. Because they're off the ground, netting shouldn't pose a threat to small garden mammals like hedgehogs who can become tangled in them, so long as they're properly secured.
The needs of plants growing in containers are the same as those growing in the ground but here are some top tips to solidify success:
Crops growing in containers will need more frequent attention because roots are more prone to drying out. The less soil there is in the container, the quicker the moisture levels will evaporate.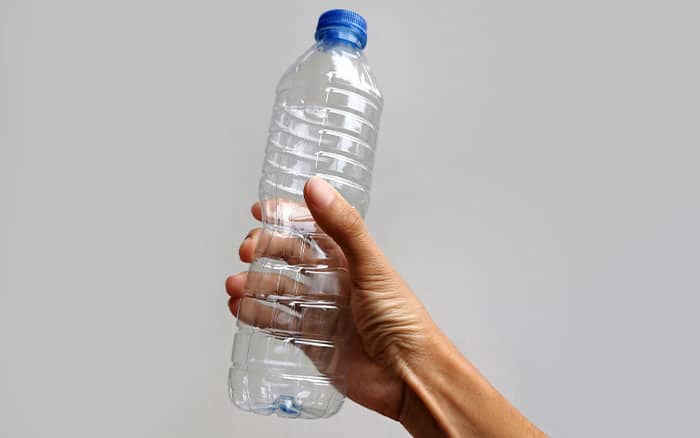 My top tip to keep a continuous level of moisture going in throughout the day, is to sink an upside down plastic bottle into the centre of the basket. Simply poke holes into the lid and it will drip feed water throughout the day.
As the container's limited resources are not capable of replenishing the plant, fruiting crops needs to be given a little help. This is particularly where fertilisers are so important.
A soil-based compost, like John Innes No 3, will offer an ideal growing medium as it gives the roots sufficient room to grow whilst being nutrient-rich for fruiting plants. This soil will also help to add stability to the pot.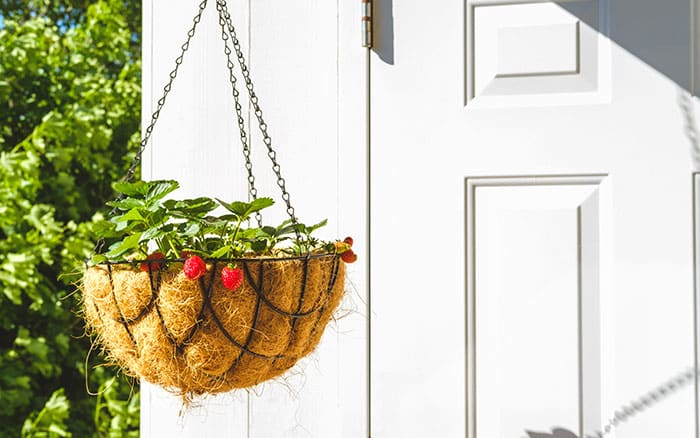 As your basket is not fixed in place, they can swing around during high winds. Make sure to position them in a sheltered position and remember that it will be heavy once it planted up, so ensure the chains are up for the task.
Most importantly, if you need a second pair of hands to get them hung evenly, it's better to have a job well done in this case rather than a pile on the floor.
Hanging baskets are a fun and fantastic way to grow fruit and veg. So, give it a go this summer for a glut of goodies that haven't set foot on the ground.

David Domoney is a Chartered Horticulturalist, Broadcaster, and Author. David has worked with a number of the UK's leading garden retailers as a plant buyer and strategic consultant. With more than 30 years experience, in horticulture, David is as passionate about plants now as he was when he bought his first plant at a village fete.