Heuchera are perfect for adding colour between taller plants as low foliage that puts on a show nearly all year. For bold impact, planting heuchera in groups has a great effect, especially as they are slow to spread. Also known as alum root or coral bells, they are a fantastic foliage addition to your garden.
To grow heucheras, they tend to prefer a sunny or partially shaded spot. However, they need ample light to bring out the colour of the leaves which can be found in green, grey, purple, bronze, and orange. A moist, but well-drained soil is perfect too.
They can be planted from May all the way to September, therefore giving you plenty of time to get these wonderful plants in your garden. When planting, position them at the same depth as they were in their original pot, with a peat-free loam-based compost.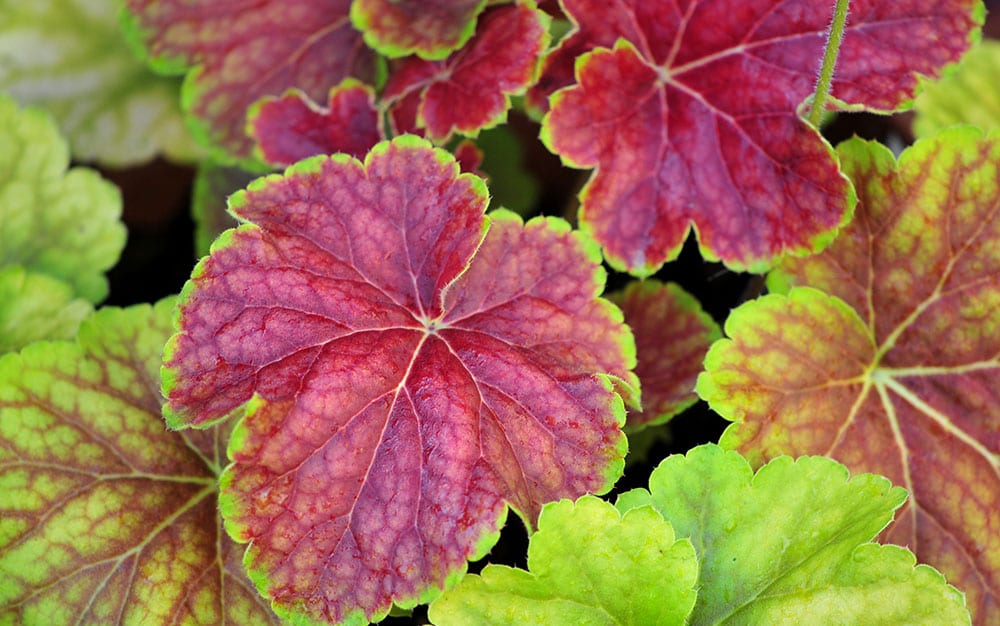 Even if you are short on ground space or want to pot up containers on your patio, heucheras grow well in planters too. Plant them up with a variety of plants for a fantastic display. Combine heucheras with phormium, violas, pansies, or skimmia, depending on the theme of your garden.
Keep your heucheras happy by watering container plants regularly to ensure they get the necessary moisture. Then, feed the plants every two weeks with a tomato feed to give a nutrient boost. In autumn, giving the foliage a tidy up and removing any dead, damaged, or diseased foliage is ideal.
Although most heucheras thrive in an area of partial shade, this will differ on the specific variety. Therefore, it's important to check the label to see the position where it will flourish best.
Heuchera 'Sugar Frosting'
The dark red-purple leaves have a frosted appearance for a magical and enchanting effect. In spring, the leaves are joined by spikes of cream flowers. The compact semi-evergreen growth of this plant is great for growing in containers such as hanging baskets too as well as ground cover or underplanting.
Semi-evergreen foliage
Hardy
Grows up to 20cm tall
Moist but well-drained soil
Partial shade or full sun
Exposed or sheltered

Heuchera 'Green Spice'
The leaves of this cultivar are incredibly decorative, with green edges and purple veins that have a really striking impact. The evergreen foliage is the real star of the show, but it is joined by pale pinks flowers in spring.
Evergreen foliage
Fully hardy
Grows up to 50cm tall
Moist but well-drained soil
Full sun or partial shade
Exposed or sheltered

Heuchera 'Delta Dawn'
Another pick for perfect foliage is this variety that has large, rounded leaves that have lime green margins and red centres. The bright colouring makes it ideal for underplanting to add interest to a bare area.
Evergreen foliage
Fully hardy
Grows up to 50cm tall
Moist but well-drained or well-drained soil
Full sun or partial shade
Exposed or sheltered

Heuchera 'Chocolate Ruffles'
As the name suggests, the chocolate-coloured leaves have a ruffled, frilly texture to add an interesting appearance beds, borders, and containers is many different garden styles. They grow best in a moist but well-drained soil but are more drought tolerant compared to other types, making them a great option for rock gardens or dry shade if needed.
Evergreen foliage
Fully hardy
Grows up to 1m tall
Moist but well-drained soil
Full sun or partial shade
Exposed or sheltered

These versatile plants will do well as ground cover and underplanting to help fill space with their year-round colour. However, they are fantastic in beds, borders, and containers where you can appreciate their textured and coloured foliage.

David Domoney is a Chartered Horticulturalist, Broadcaster, and Author. David has worked with a number of the UK's leading garden retailers as a plant buyer and strategic consultant. With more than 30 years experience, in horticulture, David is as passionate about plants now as he was when he bought his first plant at a village fete.