A previously neglected spot can be turned into an accessible, cosy and inviting space to socialise and relax. We wanted to give this inspiring garden owner a perfect place for a cuppa and slice of cake.
You can get the look by going for pretty pergolas, living walls and edible gardens.
A small space can still have big impact. Utilising the most of balcony space can be accomplished by giving pieces dual function. Storage can double up as seating, as shown in the episode. The window box had an attached piece of wood on hinges that acted as a small table, handy for popping up and down when you need it.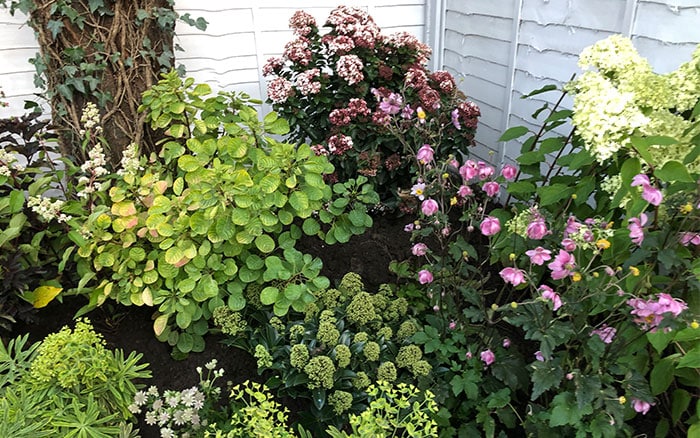 Window boxes on a balcony provide excellent visuals at eye level. Lavender is a richly fragranced shrub that has long-lasting flowers, supplying soft purple colour from late spring. The fresh aroma of lavender will keep you wanting to sit out on your balcony to appreciate the extra room you have.
Your balcony serves as an extension to your indoor living areas, so using a strong design outside as well as inside will add to the impression of having more space.

Having a small, urban garden might mean you are over-looked, but for some shade and privacy, a pergola is the perfect solution. Covering it with climbers will accentuate the structure and the sun will shine through to create a warm but sheltered spot in your garden.
Not only will it be a structural sensation but encompassing fragrant climbers will ensure you are greeted with a pleasant aroma whenever you walk by. The creamy-white flowers of climbing honeysuckle have a heavenly scent and are followed by red berries which will attract birds to your garden.
Clematis montana has attractive bronze or purple foliage before turning green, then small white flowers which emerge in late spring. Coupled with Passiflora (passion flower) which is an evergreen climber with textured, exotic-looking flowers, there will always be colour on the pergola.
Growing vertically means you can make the most of every inch of your garden. Alan's area for rest and recuperation featured a living wall, which is a fantastic option for adding height to a small space.
Dozens of small planters were arranged vertically to be filled with vibrant, textured plants. Position the plants that prefer sun towards the top of the wall, and those that are shade-lovers a bit lower. Combining hardy ferns, delightful Cyclamen, tolerant ivy and winter-flowering pansies will offer a stunning blanket of colour and texture.


A wonderful water fountain was placed in position so when you want an escape, the soothing soundtrack of flowing water will provide a sensory experience. Having a circular fountain added some great soft, rounded form to the garden, and was surrounded by a selection of plants that can tolerate splashes of water and a bit of shade. Asplenium (hart's tongue fern) was a perfect choice for this as the like full or partial shade in moist but well-drained soil.
The homeowner was a brilliant baker, so bringing elements surrounding her interests to the garden was great opportunity to have a raised bed filled with edible crops which double up as a beautiful green area, as well as a spot for fruits, vegetables and herbs to be harvested for use in cooking – a win-win!


A dwarf variety of apple tree, 'Bramley's Seedling' was included, which fruits a culinary apple at perfect harvesting height. Acid-loving blueberries produce delicious fruits for baking, but also ornamental bell-like flowers in spring.
What better place to use these ingredients than in a garden kitchen? A cosy, sheltered place to escape into the garden whatever the weather.
Living in an urban area doesn't mean you have to compromise on privacy. You can turn your plot into an accessible space filled with plants to satisfy the senses and providing a soothing space to socialise with a cuppa and some cake.
See you here next week for episode three – 10th March at 8pm!

David Domoney is a Chartered Horticulturalist, Broadcaster, and Author. David has worked with a number of the UK's leading garden retailers as a plant buyer and strategic consultant. With more than 30 years experience, in horticulture, David is as passionate about plants now as he was when he bought his first plant at a village fete.