For this episode, the team created a series of diverse sections within one garden area by using a mixture of new and stressed products to give a real sense of age, as if they had been worn from time.
That, with a clever bit of planting, combined the whole garden into something that was constructed over a matter of days but looked as if it's been there for twenty years or more.
YOU CAN GET THE LOOK BY PLANTING ENCHANTING CULTIVARS AND PAVING THE WAY WITH AGED PAVING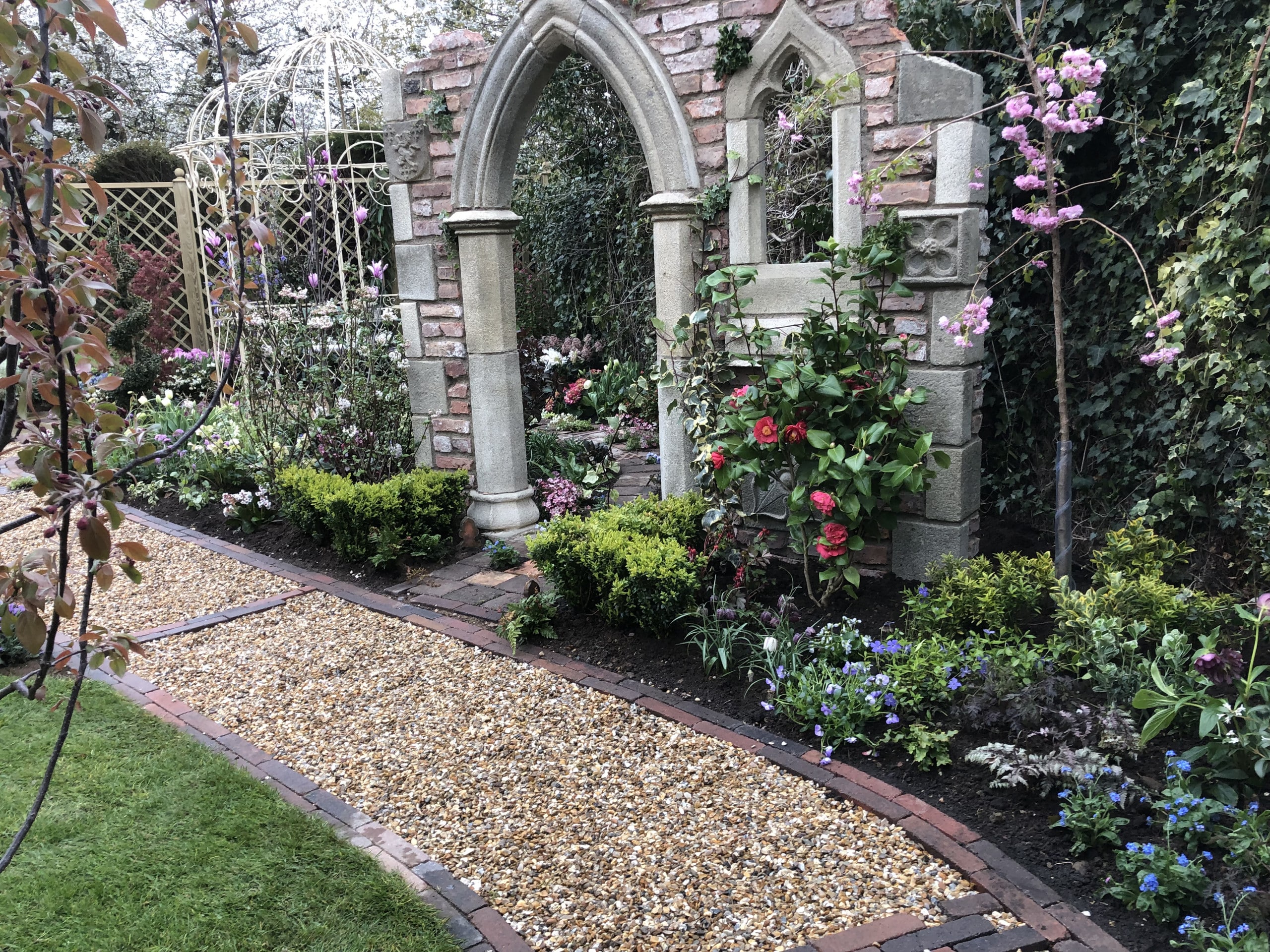 One of the big central features was the archway made of aged Redwood stone. This decorative folly looks as if it was once part of an ancient castle wall that has been left to ruin.
Planting around the structure, like that of a tall and mature camellia, gave it the appearance as if it has been bedded into the garden for many years rather than a new garden addition. Ivy plants were divided into perfectly-sized plantlets to fill the cracks and encourage this climber to continue to grow along the brickwork in years to come.
When creating the winding path that runs through the arch, one of the great features was using many different types of stone into a mosaic underfoot and included block stone and different coloured paving sets. In addition to that, we used terracotta and even some reclaimed bricks that had patterns and Fleur-de-lis in. Putting that pathway together using a bit of mud and low-lying green growth, like forget-me-nots, gave it a real feeling of heritage and antiquity—as if it had been reclaimed by a forest.
This mixed planting in-between each paver aged the pathway beautifully, making for a pretty entrance-way that also served as ornamental interest. Opting for plant varieties such as Iberis sempervirens 'Fischbeck' added to this effect because of its ability to naturally spread.
Plus, being small means it can be planted within the path—you can almost hopscotch around the other plants!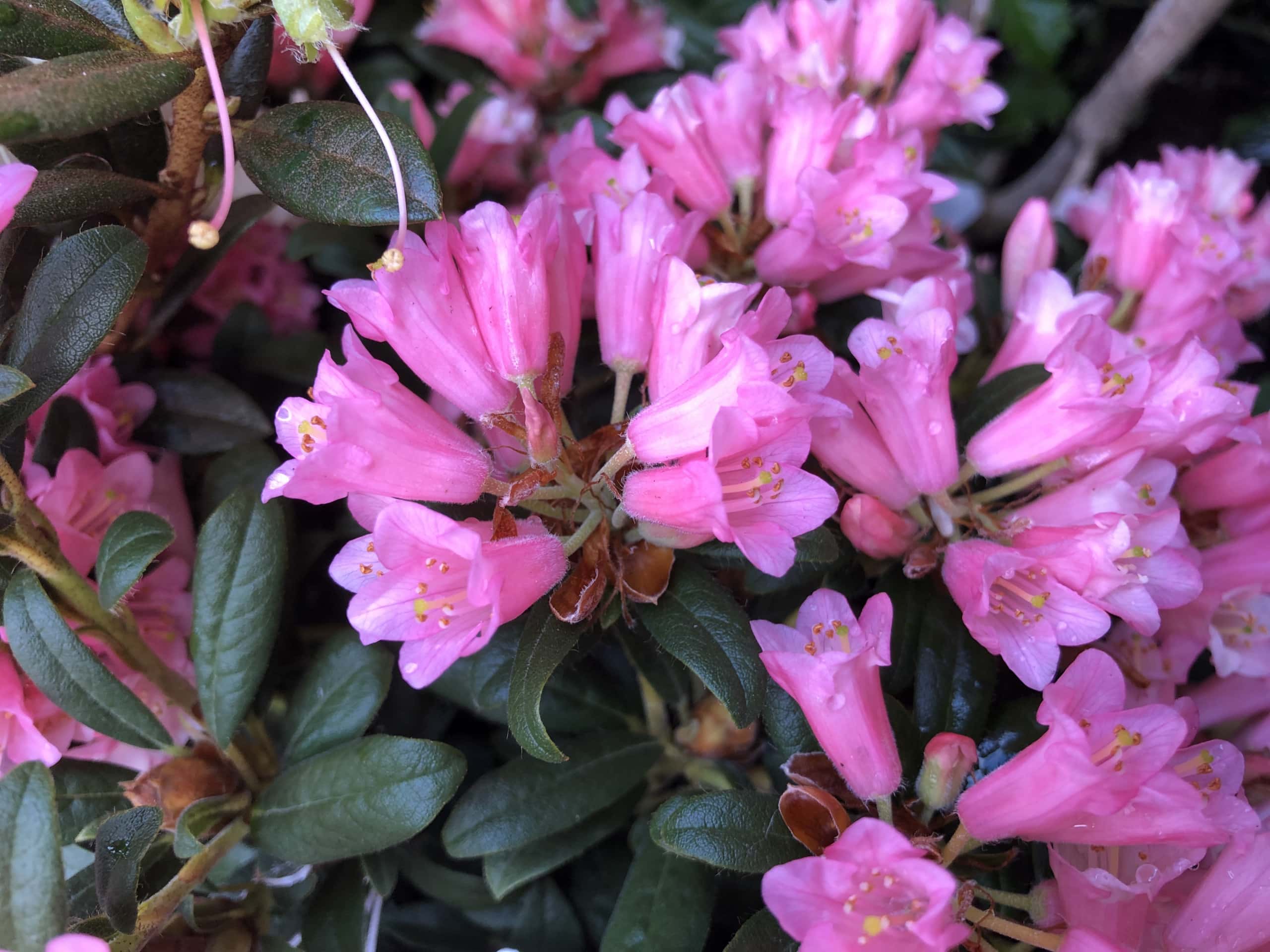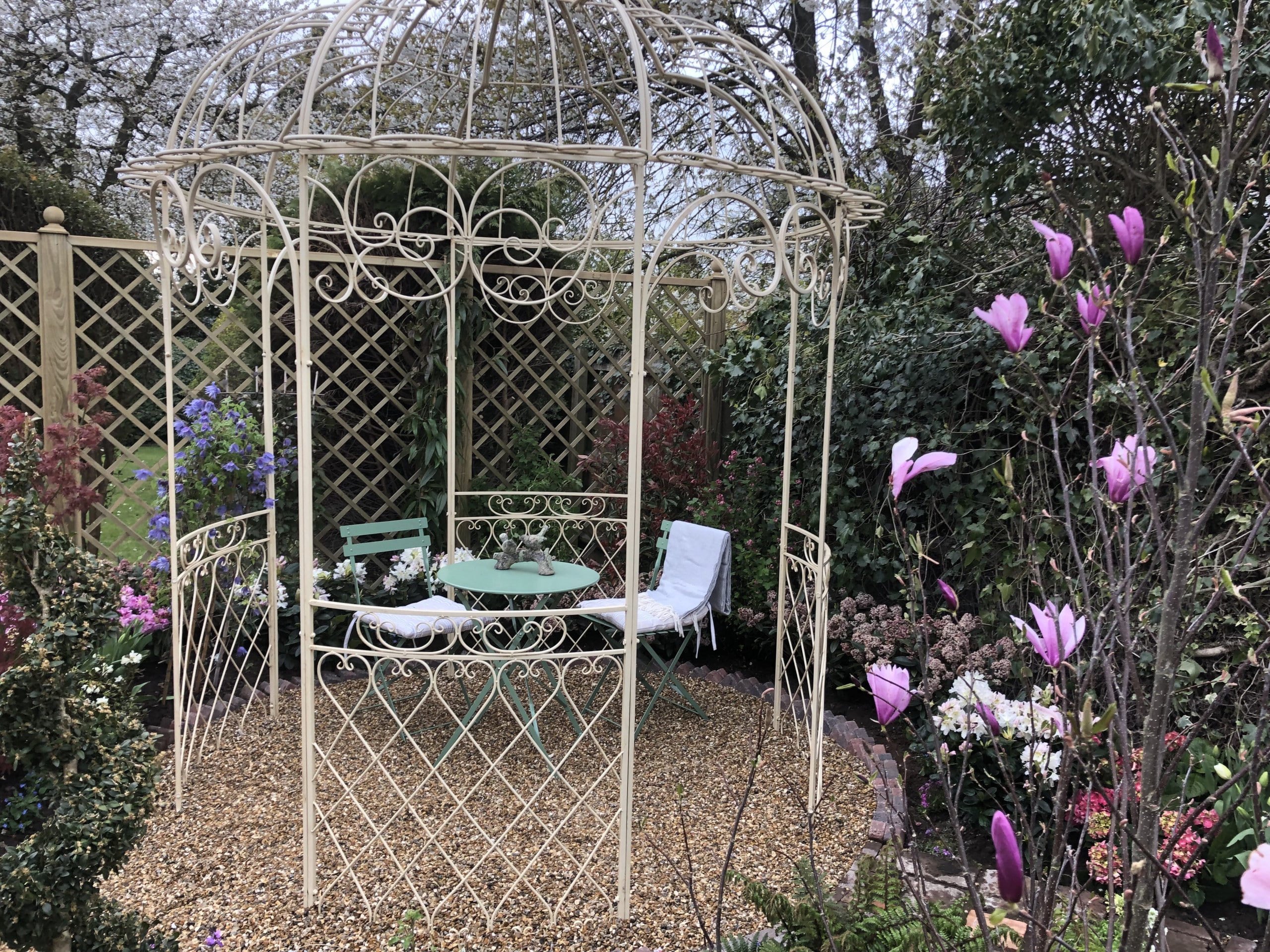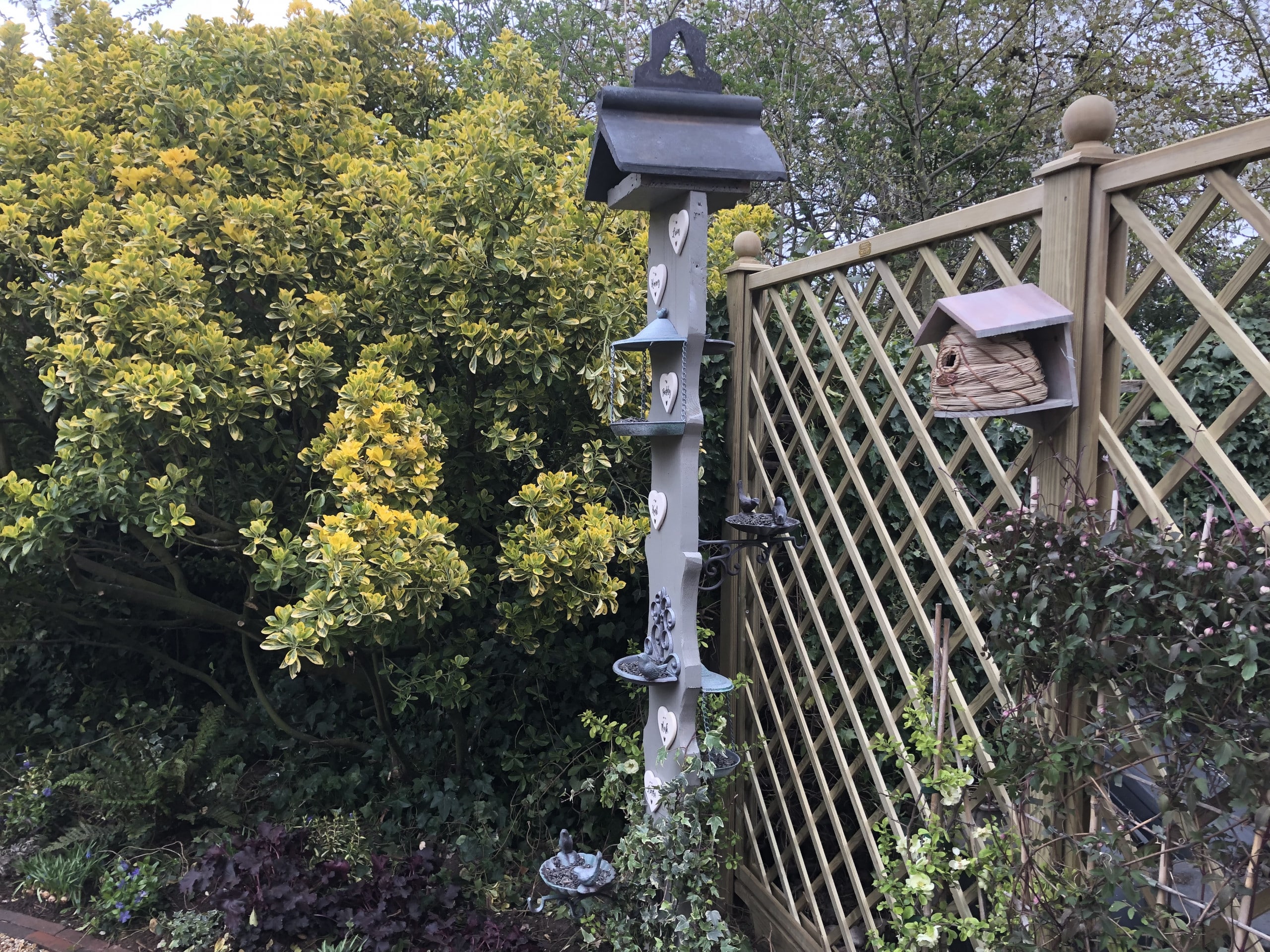 To give the whole garden a mysterious feel, plants were chosen to make it look like a magical woodland with fairy-tale features. We added texture with planted ferns. The variety Polystichum polyblepharum, which is a beautiful lush green fern, was planted either side of the archway to draw the eye towards this mythical marvel.
Positioning dainty flowers around this the ruin, offset the impact of the structure to give an ethereal and secret garden feel.
Victorian primroses, Primula veris 'Victorian chocolate', were planted and these lovely little plants display flowers where each petal possesses an outer margin of gold with a deep burgundy colour to a stunning effect.
Else, the serrated foliage of Scabious 'pink mist' are two-pound coin size blooms that offer a burst of bright pink. They also come in a butterfly blue variety and these go down well with pollinators, who can't get enough of them.
Flower varieties were chosen to enhance the look of this traditional and time-old aesthetic, like the snakeskin Fritillaria Meleagris; its chequerboard effect on the foliage is quite unusual and works tremendously well in creating that wild garden look.
Alongside that is the Saxifrage, a mossy shrub with bright pink flowers coated over the top. All working especially well around this ragged ruined area.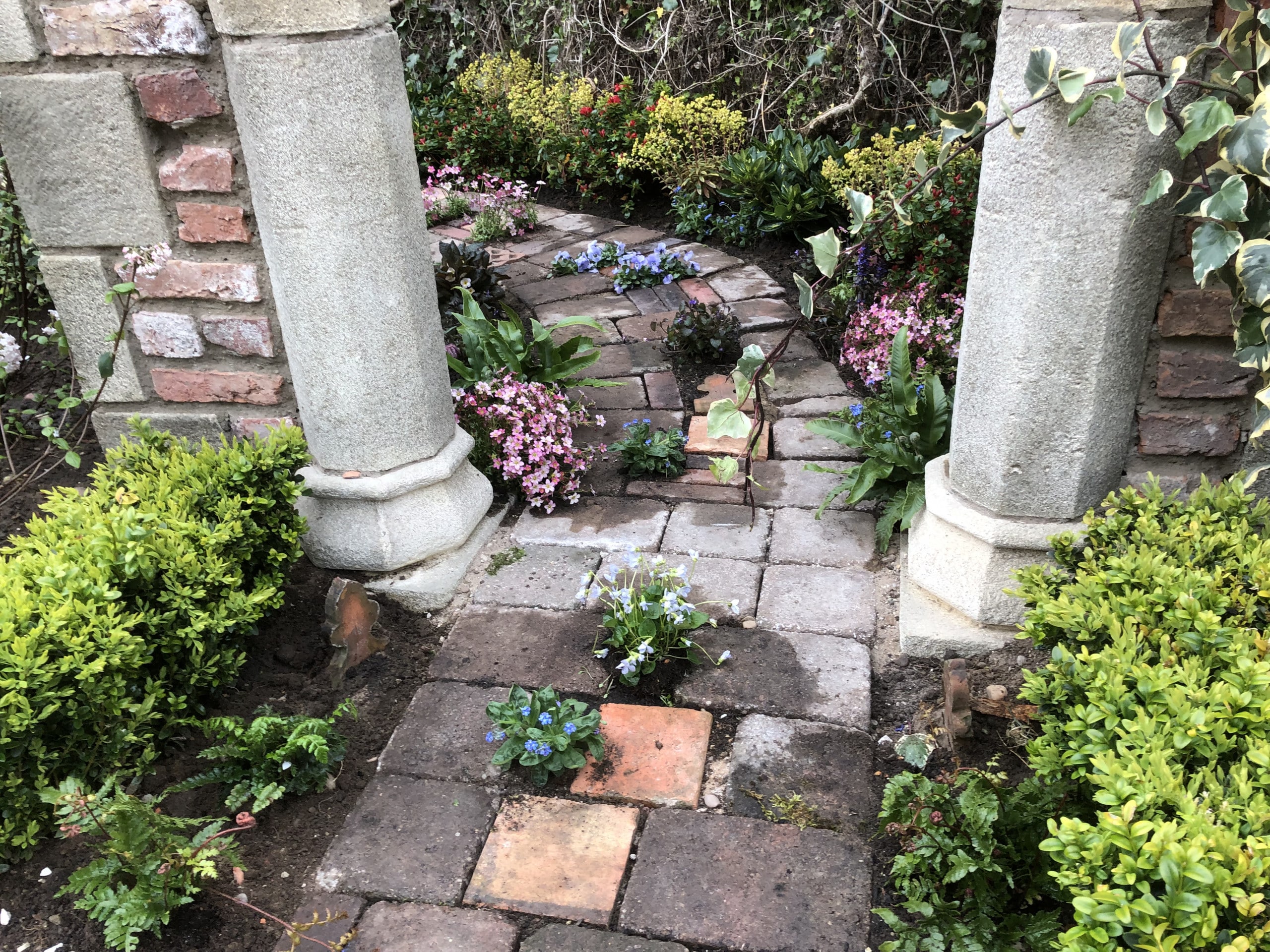 Other parts of the garden had more traditional shrubs. One of my personal favourites being Pieris 'Flaming silver'—a variegated cultivar that has a lovely outer border of cream with a gorgeous green centre. In addition to that, it also has a large number of white flowers speckled on top. The planting itself within these borders really lent itself to get the look. They are both low lying, characteristic flowering varieties that possess a lot of detail and have been beautifully balanced out by foliage-full ferns.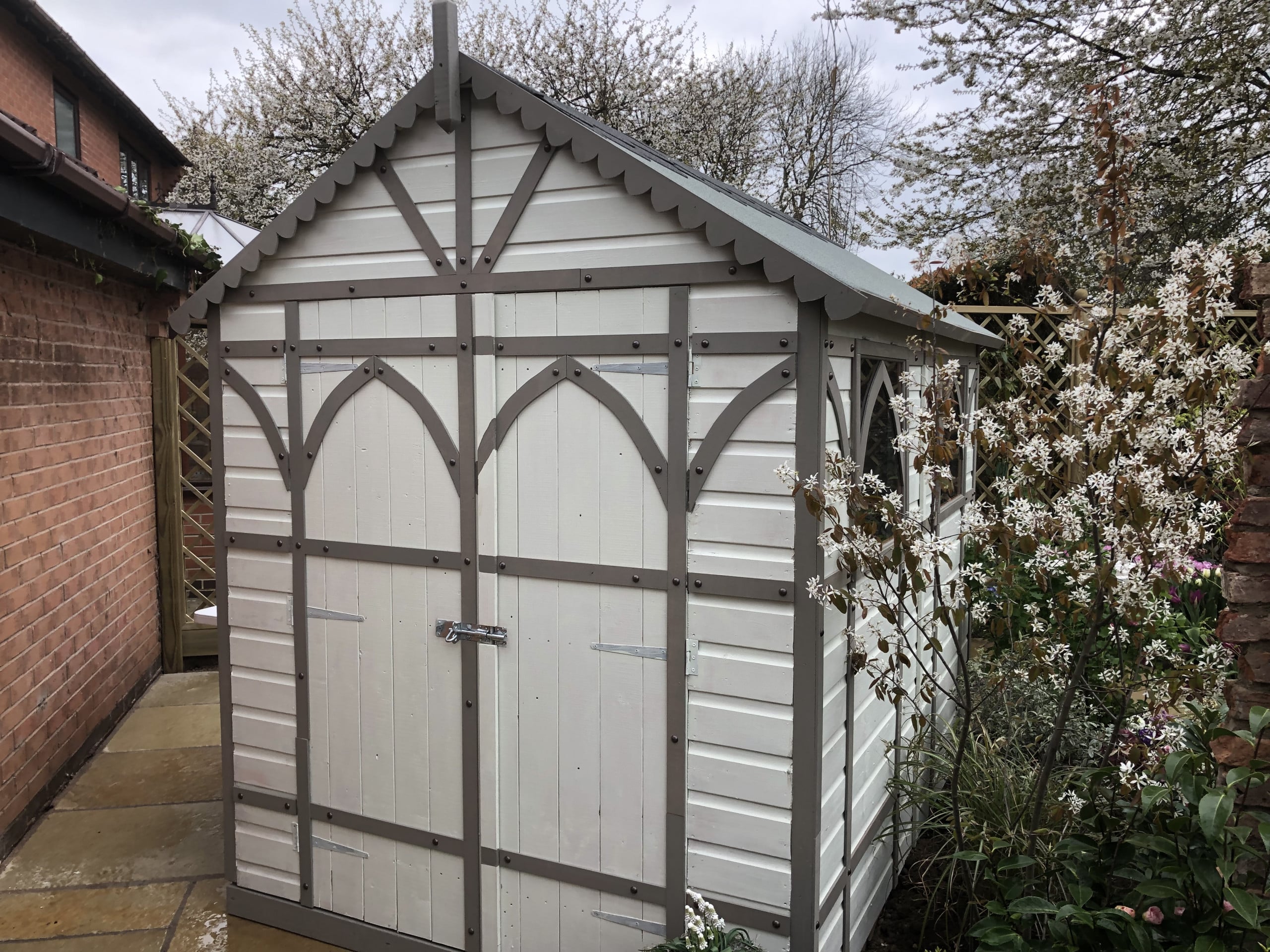 Homemade design effects included battening on wood segments to an old-fashioned shed all painted slightly different colours, giving it more of a medieval feel to the building.
We tacked in some upholstery pins resembling large half cut globes onto the sections to make it appear as if it's been there for years and years.
This turned a modern everyday garden item into an archaic feature of that area.
In addition to these structures, Francis attracted the birds in with her homemade totem pole with attached bird feeders and water stations at the top.
With other little roosting pouches and bird houses around, these really made the garden feel rustic.
There was also the patio with lace gazebo that myself and the team created to provide a nice space for socialising and sitting back to admire the plentiful space.
So, all in all, a marvellous traditional garden; filled with present-day plants and fashioned in days to make it look as if it has been there for years and years.   
SEE YOU HERE NEXT WEEK FOR EPISODE THREE – 17TH SEPTEMBER AT 8PM!
David Domoney is a Chartered Horticulturalist, Broadcaster, and Author. David has worked with a number of the UK's leading garden retailers as a plant buyer and strategic consultant. With more than 30 years experience, in horticulture, David is as passionate about plants now as he was when he bought his first plant at a village fete.