There's nothing more eye catching than the sight of seed heads in late autumn and winter, covered with a light dusting of frost. Now is a good time to allow flowering plants to develop those seed heads rather than 'deadheading' as they come to the end of their normal flowering time.
Many seed heads also provide a source of food for birds, and it's wonderful to watch the birds feeding from them during the colder months.
Most long-lasting seed heads in gardens are found on perennials and shrubs. Although, annuals and biennials can also be a good source. Seed heads appear in a range of different shapes and sizes, so it's a good idea to include a variety to maximise winter interest in your garden. So, here's a selection of some of the best…
Perennials are plants that flower, set seed and repeat this process for several years. They can be either herbaceous or evergreen. Herbaceous perennials have stems and leaves that die back and grow again the following year, such as echinacea and delphiniums.
On the other hand, evergreen perennials keep the majority of their leaves over winter, such as hellebores and red hot pokers.
1. Rudbeckia fulgida var. sullivantii (black-eyed Susan) 'Goldsturm'
These bright yellow flowers are easy to grow, with cheery colour that lights up the late summer garden. They leave striking black central cones of seed heads once they have finished flowering. Suited to a mixture of planting styles, they look fantastic when planted in bold drifts or among ornamental grasses.
Flowers in summer
Fully hardy
Grows to 75cm tall
Moist but well-drained or well-drained soil
Full sun
Exposed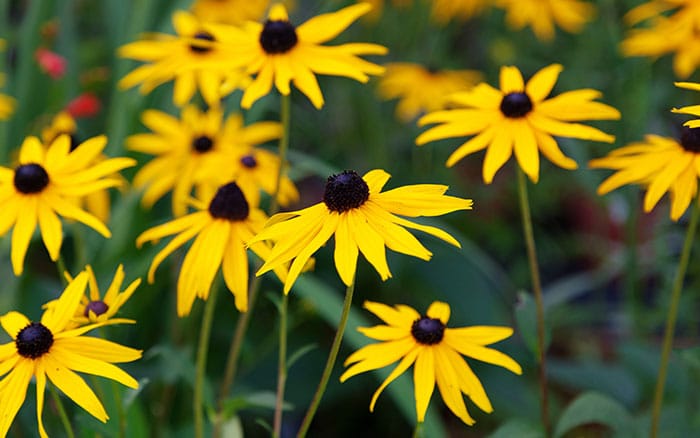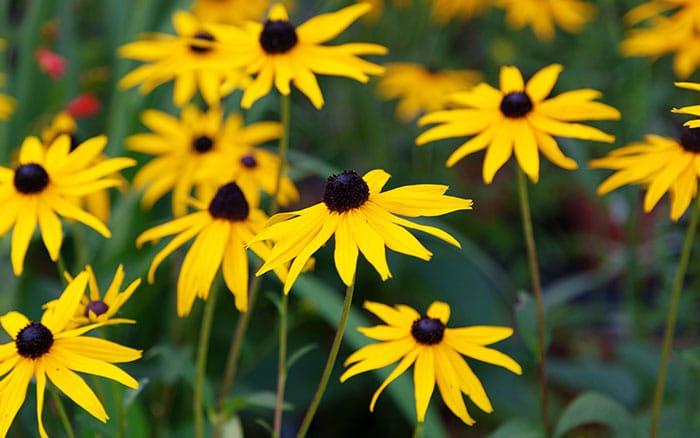 2. Phlomis russeliana (Turkish sage)
An evergreen perennial with large scalloped edged leaves and upright flower stalks covered in whorls of soft yellow flowers. The flowers grow all the way up the stem during summer months, which turn dark brown as they age. During the winter months, especially when covered in snow, these plants truly look delightful.
Flowers in summer
Fully hardy
Grows to 90cm tall
Moist but well-drained or well-drained soil
Full sun
Exposed or sheltered

3. Achillea millefolium (yarrow) 'Red Velvet'
The broad heads of achillea flowers make a great contrast to upright flower spikes of other flowering plants. This neat, mound-forming variety has rich-red coloured flowers and soft grey-green leaves. Cut back the untidy foliage in spring, and these will make a pretty addition to coastal, cottage, and courtyard gardens.
Flowers in summer
Fully hardy
Grows to 75cm tall
Moist but well-drained or well-drained soil
Full sun
Exposed

Biennials have a two-year life cycle, forming their leaves in year one and flowering, setting seed and dying in year two. Honesty and wallflowers are good examples, both producing lots of seeds to ensure their continued survival. But here are a couple more to consider growing…
4. Digitalis ferruginea (rusty foxglove)
This tall, skinny foxglove produces unusual honey colour flowers veined with brown all the way up its long flower stems. At the base are rosettes of shiny, dark green leaves. Plants of this variety look fantastic when grown in the middle of borders, as well as giving great vertical winter interest.
Flowers in summer
Fully hardy
Grows to 90cm tall
Moist but well-drained or well-drained soil
Full shade, full sun, or partial shade
Exposed or sheltered

5. Oenothera (evening primrose) 'Summer Sun'
Although the flowers on this upright plant only last one day, the plant produces masses of yellow flowers opening from red buds during the summer. The flowers leave behind very attractive tall seed heads that have a tendency to lean forward creating a more informal feel to the border.
Flowers in summer
Hardy
Grows to 60cm tall
Moist but well-drained or well-drained soil
Full sun
Exposed or sheltered

Annuals are plants that do all their growing, flowering, setting seed and dying in one growing season. They can either be hardy or tender plants – the hardy ones have the ability to withstand mild frost, for example cornflowers, poppies and love-in-a-mist
6. Nigella damascena (love-in-a-mist)
This plant will happily self-seed around the garden once established. When in flower they produce pretty, dainty, soft blue flowers followed by spherical, light brown seed heads with little tufty tops. The tufted seed heads look spectacular in winter. It's a hardy annual and very easy to sow from seed.
Flowers in summer
Hardy in coastal and relatively mild parts of the UK
Grows to 40cm tall
Well-drained soil
Full sun
Sheltered

Shrubs are plants that develop a permanent woody, multi branched structure and several leave behind attractive seed heads such as Buddleja and Ceratostigma. Here are some other options…
7. Hydrangea macrophylla (hydrangea) 'Madame Emile Moullière'
This is a white flowered mophead cultivar whose flowers look great left on the plant over winter and also give frost protection to delicate new shoots forming below them. Remove the seed heads in mid-spring, cutting just above the plump new buds forming below.
The flowers of this cultivar can turn pink around the edges if grown in sun, but if planted in shade the flowers remain pure white.
Flowers in summer
Hardy
Grows to 2.5m tall
Moist but well-drained, or well-drained soil
Full sun or partial shade
Exposed or sheltered

8. Rosa glauca (red-leaved rose)
A very elegant shape rose with grey green leaves producing deep magenta and white flowers on arching stems. The flowers are followed by pretty, orange hips that last most of the winter. A great rose to choose if you want a wild, informal look to the flower border.
Flowers in summer
Fully hardy
Grows to 1.8m tall
Moist but well-drained or well-drained soil
Full sun
Exposed or sheltered

9. Rhus typhina (stag's horn sumach)
As these statuesque trees age their branches naturally bend into shapes resembling stags' horns, giving them their common name. By this time of the year, they produce elongate, deep maroon red fruits the shape of fir cones, with a velvety texture.
An added bonus is that in autumn, the leaves change to shades of orange, red and golden yellow making this a wonderful tree to add to your garden. Be careful though, they do have a tendency to sucker but these are easily dealt with by digging out when spotted.
Flowers in summer and foliage interest in autumn
Fully hardy
Can grow up to 4m tall
Moist but well-drained soil
Full sun
Exposed or sheltered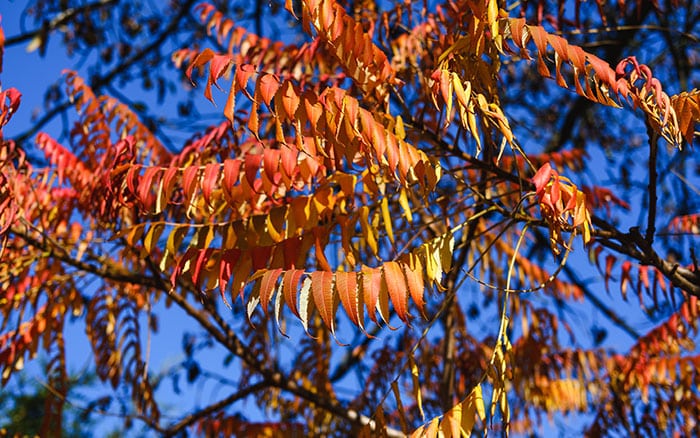 Most ornamental grasses look wonderful during the winter months with their stems and seed heads turning varying tones of buff, brown and, in some cases orange and purple. If you have any space to grow them in drifts, the light airy stems move gracefully in the wind to enhance any late-flowering plants. On a cold winter's morning, they look striking when covered in frost.
Plants aren't just about pretty flowers and foliage. These top picks with their attractive seed heads will extend the season of interest and bring something special to your garden.

David Domoney is a Chartered Horticulturalist, Broadcaster, and Author. David has worked with a number of the UK's leading garden retailers as a plant buyer and strategic consultant. With more than 30 years experience, in horticulture, David is as passionate about plants now as he was when he bought his first plant at a village fete.