An intimate, outdoor place where we can set up an outside office, enjoy a relaxing cuppa or entertain the kids…
Large or small, I like to think of gardens as an extra room in your home – and during lockdown the patio has been a key component, providing somewhere to play, cook or just enjoy being outdoors. Getting your patio space into tip-top condition isn't difficult. And, with the weather about to change again for the better, there's lots you can do to make it even more welcoming.
Despite their pure functionality – often used as the setting for barbecues and the like – patios can also make brilliant garden features.
By adding some decorative paving and planters, perhaps a water feature, some furniture and even outdoor speakers, you can create a totally tranquil space that will give you the feeling of being on holiday right outside your back door.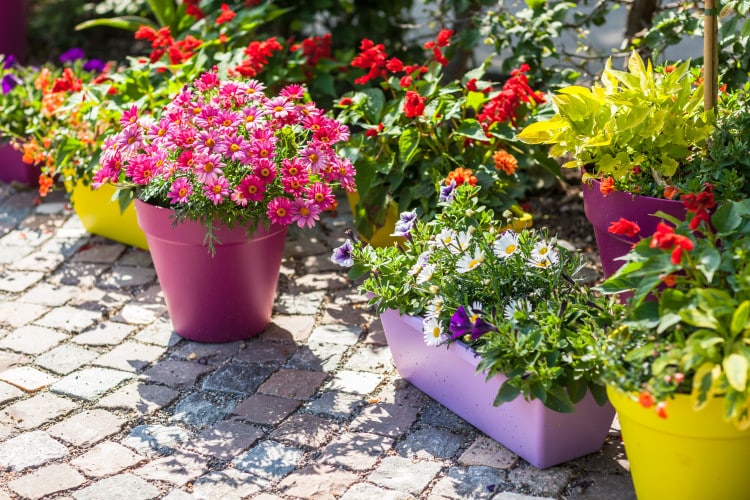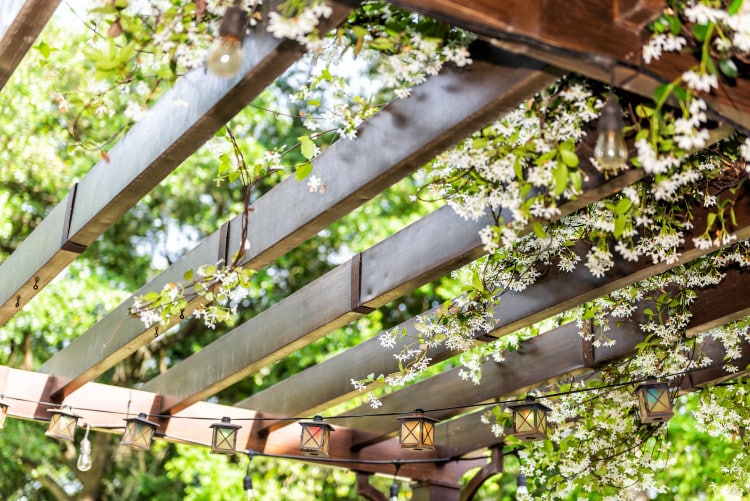 There are plenty of easy and inexpensive ways to make your patio more welcoming and inviting.
Firstly, add fragrance. Surround the seating areas with perfumed plants to connect you with nature.
Then add some height. Pergolas, fencing and walls trailed with aromatic climbers, such as jasmine, honeysuckle or roses, will look fantastic and their divine aromas will tempt you outside.
All three plants are easy to grow in a sunny or lightly- shaded spot. They are inexpensive to buy. And once they are established, they'll produce bigger and better blooms and foliage every year with minimal maintenance. Just give a little support – trellis, wiring or netting – to hold them in position and they're ready to grow.
Branch out and add small trees to your patio. Pop up a slab to form a planting pocket in the paving and plant straight into the ground for instant and fantastic impact. If you don't want to plant directly into the soil, opt for a large container or raised bed.
Reconditioned whisky barrels can be bought online and cut it in half to form two decent-sized planters that are practical and appealing. Whatever the container, ensure holes are drilled into the bottom for drainage or you'll risk waterlogging.

Think about your shrub or tree in a couple of years' time when it will be significantly larger before deciding where to plant it.
Large containers are perfect for trees such as the Kilmarnock willow, which has a lovely weeping habit and marvellous silver catkins that turn yellow as the season goes on. It's a hardy tree but it will need regular watering in dry spells.
Japanese maples are compact and also grow particularly well in containers, providing they are well watered. Most prefer a slightly shaded and sheltered spot. There are so many varieties to choose from – with foliage in green, gold and deep purple and spectacular autumn colour – that you'll be spoiled for choice.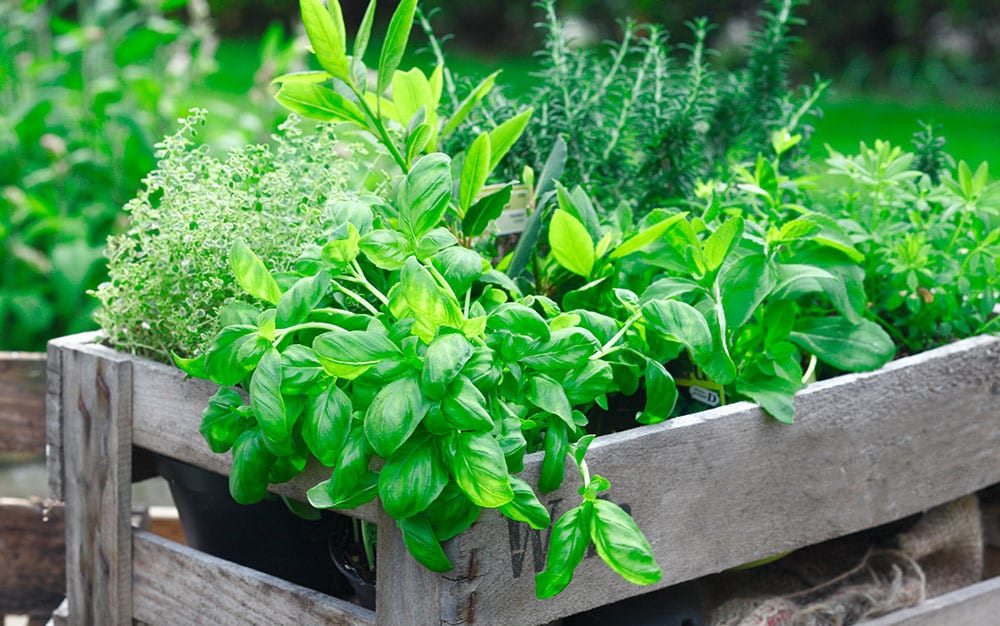 Patios are the perfect place for a potted herb garden.
Most back doors lead onto a patio, so these tasty plants can be picked fresh and taken straight to the kitchen to add flavour to all your dishes. Chives, basil, sage, thyme and oregano are all great plants for your patio. Give them plenty of sunlight and well-drained soil.
Whether they're in pots, hanging baskets or window boxes, the fragranced foliage will add functionality and form to the space.
For an exotic escape, transform your patio into a paradise by introducing some tropical plants. If they are grown in containers they can easily be moved into a sheltered spot during the winter months and enjoyed in prime position during the summer.
Palm trees, such as cordylines, have lovely large tufts of spiky foliage that will enhance any patio.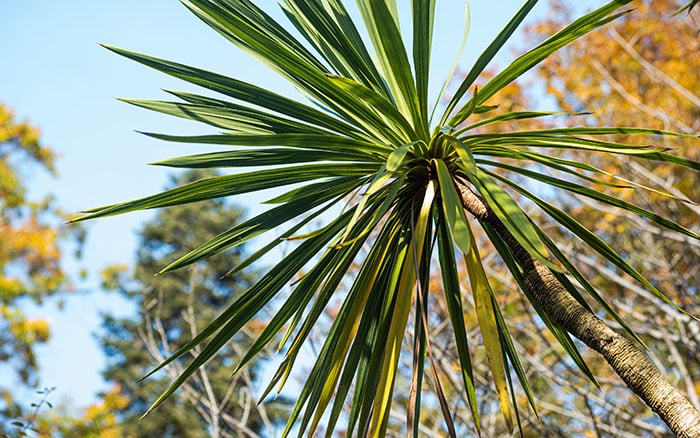 Try 'Torbay Red' – a small evergreen with bronze-red, sword-shaped leaves – to give a real fiery appearance to a sheltered spot in sun or partial shade.
Another favourite tropical plant is Trachycarpus fortunei (Chusan palm) which has huge fan-shaped leaves that will thrive in a well-drained soil. And don't forget to add some fiery flowers, such as a container full of striking tall canna lillies, to add a bit of exciting colour to the exotic effect.

A stiff brush and some garden detergent will keep moss and lichen at bay and your patio clean. But if your paving is really heavily weathered, hire or borrow a powerful jet wash to blast away the grime and make it look as good as new.
Of course, you can't forget the main event. If your patio is still looking a little tired, you can give it a makeover. Concrete paving used to be the big thing, then it was natural stone.
But now the durability of porcelain has made it a perfect patio contender. For a warm and welcoming effect, you can even get porcelain paving that resembles decking.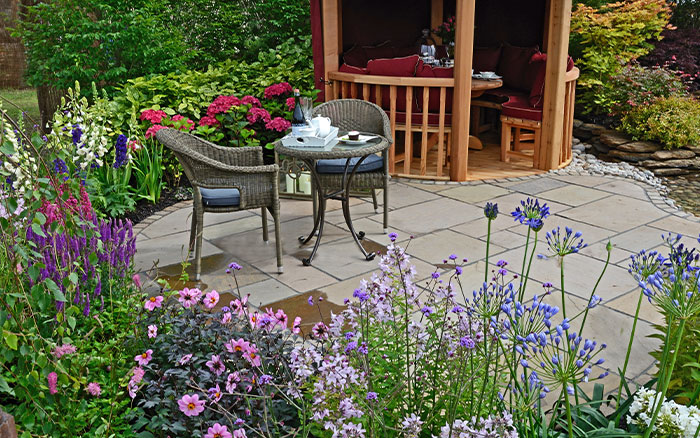 Pavestone's Crosswood Porcelain has the appearance of natural woodgrain but it is low maintenance, the colour won't fade and it won't become a slip hazard. For more inspirational ideas visit pavestone.co.uk.
Tip:
Use scrunched-up newspaper on the glass
panes of greenhouses to get the worst of the
dirt off.
So what are you waiting for? Give your patio a makeover with potted plants, tropical trees, fascinating foliage and fragranced flowers. And you'll be paving the way to a succesful beauty spot in your garden all summer long.
Happy gardening everyone!
Once I have harvested all of the fruit from my strawberry plant, what should I do with it?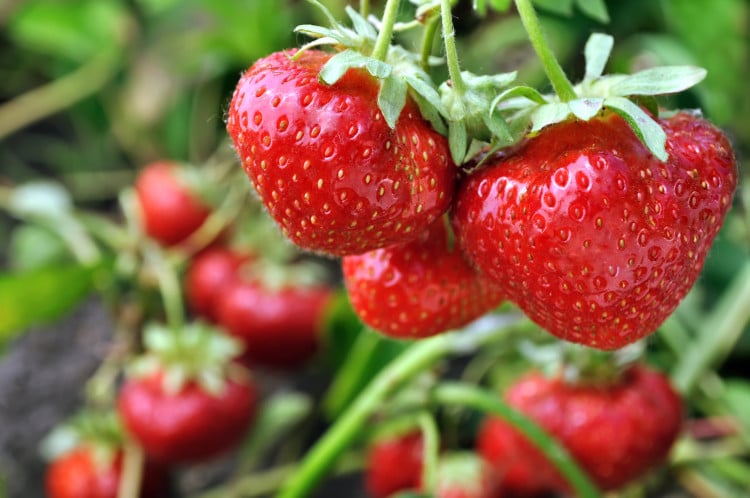 Remove any straw or matting used to protect the fruit and leaves but new foliage should be left untouched. Feed and water well and remove netting so birds can pick off pests. Strawberry plants send out runners which can eventually be removed and potted on as individual plants.
Why are my dahlias green, leafy and bushy but don't have any flowers?

It could be you have used a nitrogen-rich fertiliser that is aimed at stem and leaf growth rather than blooms? Try feeding with a specific additive for flowering plants, or a high-potassium feed like tomato fertiliser. If your dahlias are in a sunny, well- drained spot and watered often they should flower soon.
David Domoney is a Chartered Horticulturalist, Broadcaster, and Author. David has worked with a number of the UK's leading garden retailers as a plant buyer and strategic consultant. With more than 30 years experience, in horticulture, David is as passionate about plants now as he was when he bought his first plant at a village fete.