Having a limited garden needn't hold you back, there's so much you can do; using gardening methods and thrifty tricks to tackle small spaces.
Everyone can tap into an abundance of gardening greatness—even if your home only has a balcony, courtyard, corner or wall to hand.
Many of us wish we could do more with our garden space and design is key when hoping to maximise the green space you've got. It's all about working around obstacles and highlighting the best bits.
Urban plots may suffer with noise pollution, but they also tend to be warmer and protected microclimates and so give an opportunity to grow more tender vegetation—take the best of what you've got and focus on that.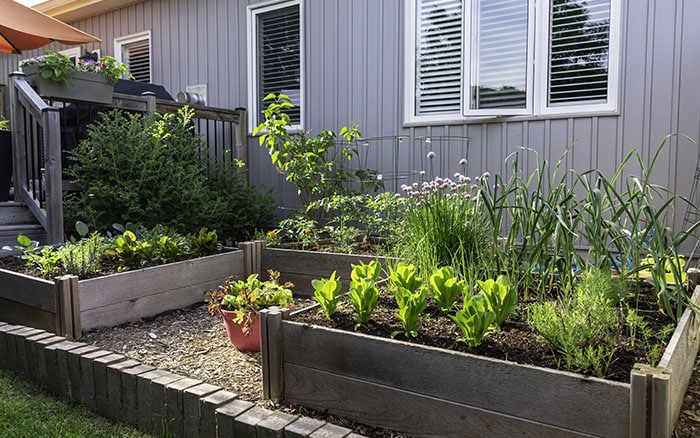 A small garden can still have big interest. Even the most modest of garden setups can be laid out in a way that really makes use of the area and there are some useful industry tips I'm going to share with you to get you started:
Built-in storage and seating is the best way to find functionality alongside form—both are vital to create a useable garden space.
Stick with neutral tones so that your field of view isn't distracted by a large number of busy tones or contrasting colours.
As well as interest, add in some negative space (unoccupied areas) like a small lawn, plain paving or bare wall.
Avoid clutter. Instead of using lots of small or detailed decoration peppered here, there and everywhere, opt for clean lines and surfaces.
Too many boundaries limit the space. Remove growth that boxes you in and extend the view where possible; using mirrors or murals if needed.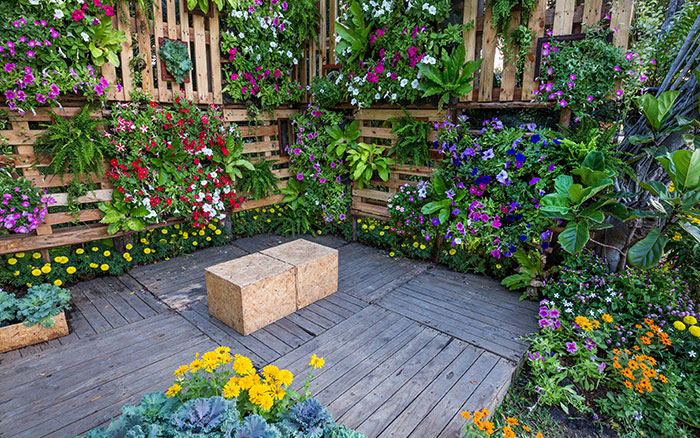 Think of your garden like an open box. Fold-down the sides to see how much more space you can use with vertical gardening. Where possible, you want to restrict growing above head height so that the space doesn't feel too crowded.
Climbers are really great vertical growth. They add in some interest but don't overtake the space.
I especially like climbers with a habit that gently winds up the growing surface without becoming too dense. Clematis 'Frances Rivis' and Trachelospermum (star jasmine) can offer interest in the form of small ornamental foliage that isn't too opposing.
The Hedera helix 'Ceridwen' variety has variegated leaves that display green and buttery cream shades instead of blanket colour.
As well as decorative climbers, you might consider planting some productive crops like cucumbers, climbing beans, peas and vine tomato. These look really striking and deliver fresh harvests throughout the season.
Or go for tree trained against walls, like fan cherries, espalier apples, or cordon pear specimens. With limited space, you add height using raised beds—these offer more planting space because the soil is mounded in an arc.
Most gardens have a disused corner that's left to house the odds and ends we can't find a place for, but this can look really unsightly in small spaces.
Typically, it happens because the corner doesn't receive a lot of direct sunlight and so it's disregarded as useful growing space, becoming filled with clutter instead. But you can utilise shady parts of your plot really effectively if you just incorporate the right plants.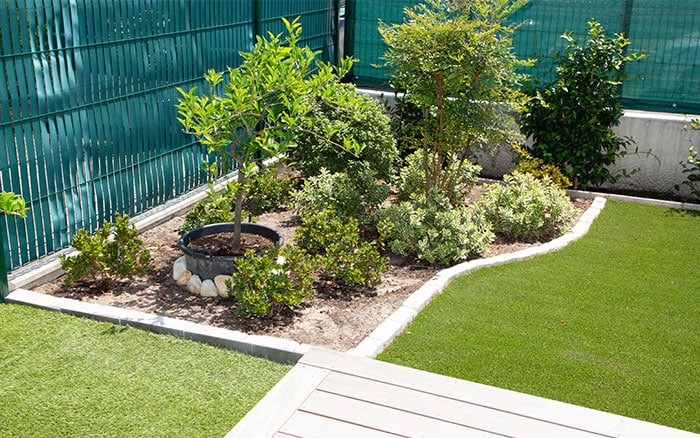 In dark areas, colour can be used to lift the look of it. You might want to add in perky pastel shelving to walled corners or a statement pot or planter to bring some cheer. Couple this with Heuchera and spectacular Dicentra spectabilis (bleeding heart) for something to brighten any barren spots. Using every available space like this will really pack petite plots to the maximum and make it feel twice the size.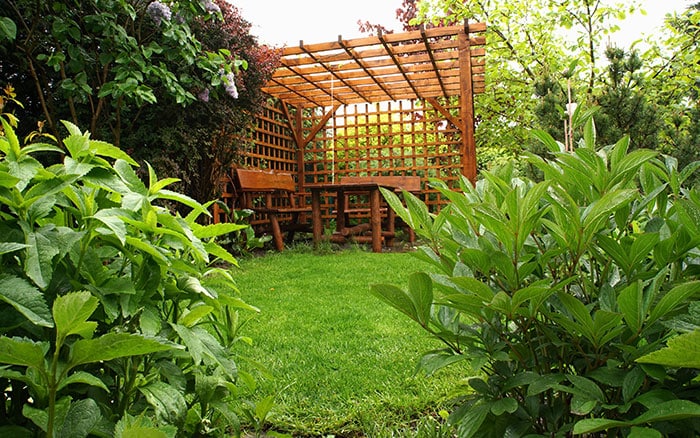 One of the things we tend to avoid when space is at a premium is structure. The concern is that bringing structure into a limited area will restrict each section, but this isn't the case. Done right, hidden areas and cosy hideaways work really well here.
As compact gardens tend to be overlooked, you instantly add privacy too. Go for partially-screened options instead of block surfaces if you're worried about losing the light—boundaries in the form of ornamental grasses, hedging or interwoven wooden partitions.
Trees give gardens structure too and offer naturally dappled views through the canopy. Though trees may not be the first choice when plot size in an issue, one tree can make your garden look well-established.
You can buy dwarf, compact or columnar cultivars to make sure it fits— Prunus 'Amanogawa', Salix caprea 'Pendula' and Acer palmatum 'Dissectum' are all suitable. There's so much to be gained in having a tree in that it attracts wildlife, protects from wind in winter, and provides mottled shade during summer.
Tip:
Lycopene from a tomato fruit
may actually help protect your skin from
sun damage.
Follow these garden hacks and you'll find it's all you need to make small gardens a success.
Happy gardening everyone!
How do I know if my tomatoes are ready to pot on?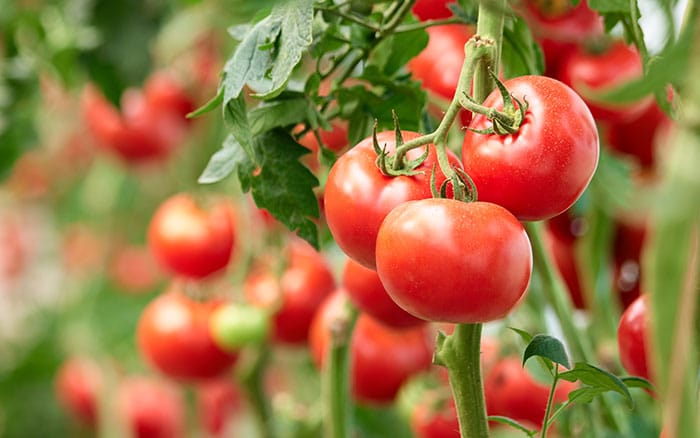 As soon as you spot the roots are visible through the drainage hole of your seedling tray, it's time for them to be potted on. Tomato seedlings need plenty of food and space; provide them a few more centimetres each time. Whilst potting on, pinch off any low-growing seed leaves which may rot in damp soil.
Is there a way I can prevent my pond from filling up with leaves?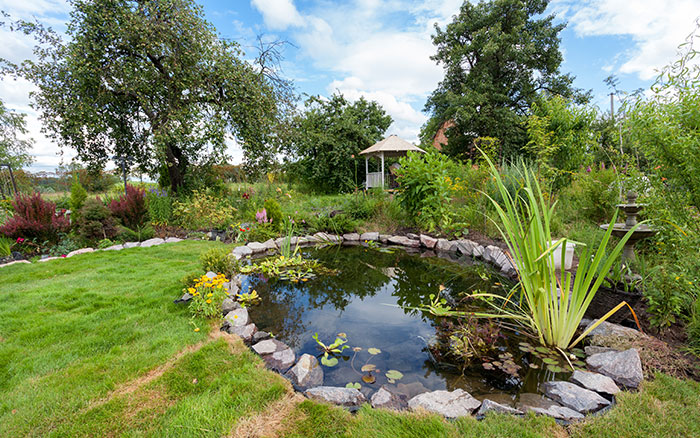 You should scoop out any debris or leaves that have fallen into your pond so that they don't reduce light levels. Any mush at the bottom of your pond can be dug into the garden for nutrients. Netting placed over ponds during autumn will help catch debris and should be removed in spring to give pondlife access.
David Domoney is a Chartered Horticulturalist, Broadcaster, and Author. David has worked with a number of the UK's leading garden retailers as a plant buyer and strategic consultant. With more than 30 years experience, in horticulture, David is as passionate about plants now as he was when he bought his first plant at a village fete.