The cold is creeping in and the trees are losing their leaves, but this is no time to let your garden go dormant—keep calm and carry on cropping. Winter crops are a fantastic way to breathe some life into your outdoor spaces at this time of year. Plus, they ensure a fresh supply of vegetables during cold season.
So wrap up, it's time to get down n' dirty and grow-your-own.
Crops thrive in rich soil when there's plenty of organic matter mixed in, so begin by removing any nutrient-leaching weeds. Use a fork to turn the soil over, improving structure through aeration and reducing compaction.
If not planting immediately, you can cover with a tarp to ensure the soil remains warm when receiving the seeds later and this will also prevent weeds from germinating in your chosen spot. To create a crumbly layer of top soil, into which delicate young roots can grow, rake the earth before beginning.
Soil preparation is key for a healthy harvest and can really work up a sweat, so it's a great way to keep fit and get you out into the great outdoors. To reduce injury, it's best to warm up first so that your muscles aren't cold when you get going. You can also use long-handled tools to reduce strain and promote better posture when propagating.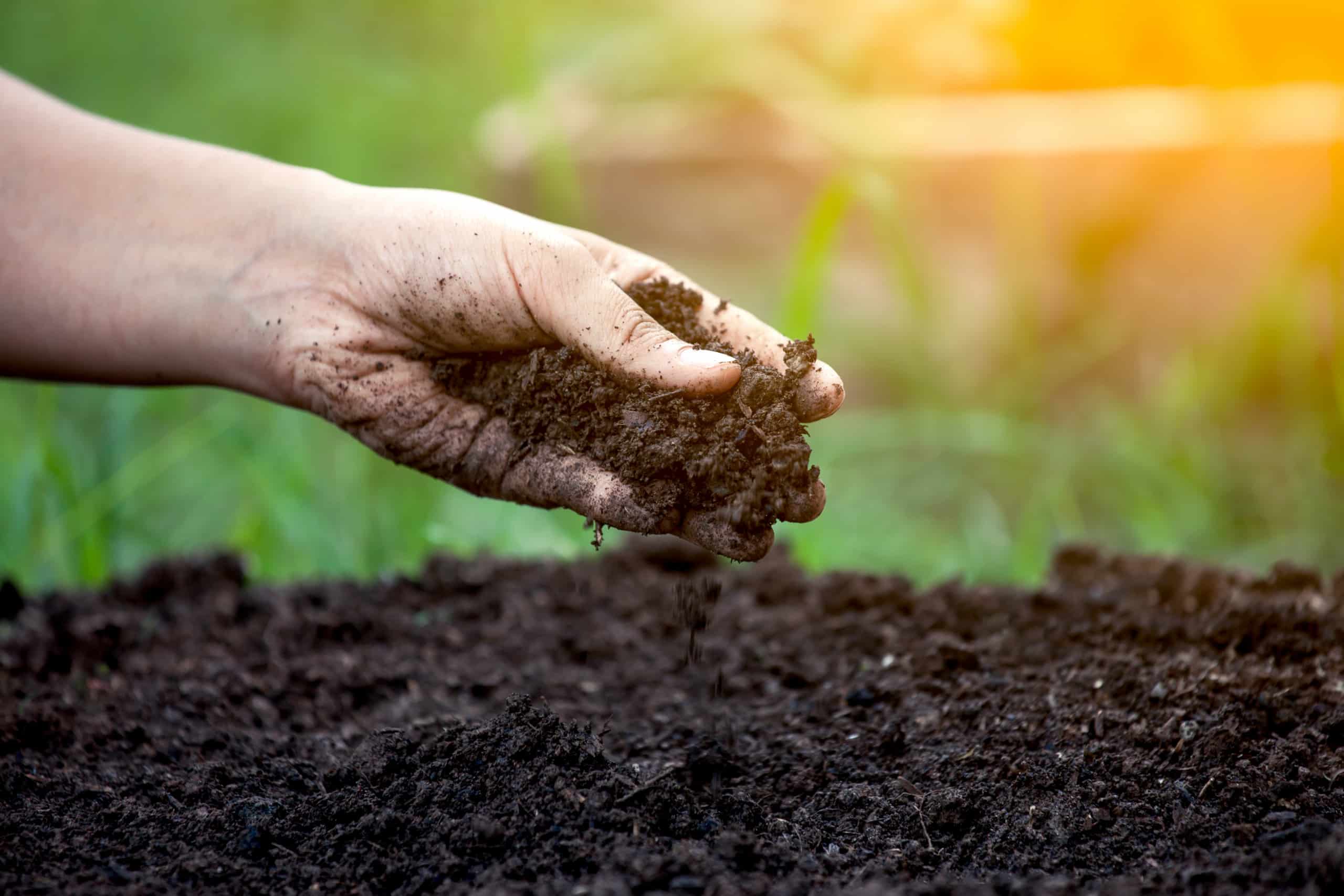 My winter winner of 'top of the crops' has got to be the ever-hardy garlic and now's the time to plant them. Allium ampeloprasum 'Elephant' garlic is often sold as garlic but is actually closer related to leeks. Nevertheless, the incredibly rich flavour makes it a mouth-watering ingredient to cook with and it's so simple to grow for yourself.
To plant, put the individual cloves at least 2.5cm below the surface with space to give the bulbs room to swell. Provide your garlic with full sun, well-drained soil and a netted defence from hungry birds and you'll have delicious bulbs ready to crop in early summer.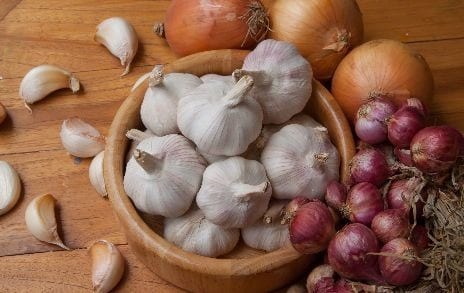 Available from your local garden store, 'Germidour' is a late-maturing variety producing purple skinned cloves. Or, for a well-rounded taste, try the hardneck garlic variety 'Lautrec Wight'—these will produce a flower stem that can be used in salads and stir fries.
Douse crushed cloves in olive oil and smother onto crusty bread to toast your own garlic bread. This indulgent treat will also boost your immune system with garlic providing antibacterial, antivirus and antioxidant properties.
Another wonderful overwintering crop is onion. And again, it's the right time to get it in the ground.
Varieties such as 'Setton' will produce excellent yields of dark-skinned bulbs that store well. Alternatively, varieties of shallots such as 'Pikant' boast smaller bulbs with reddish skins and have good bolting resistance.
Grown from baby onions called 'sets', start planting onions by removing the loose skin at the top so that the birds can't grab them. A sheltered spot, with well-drained soil, will do best as damp soil can cause rot.
Plant each set 3cm deep with a good layer of mulch on top. Once watered in, your tasty onions should be ready to crop in late spring.
Finally, spinach is an excellent source of vitamin C, K and A, which is vital for bone health. This clever crop, with varieties like 'Palco' or the winter-hardy 'Atlanta', will give optimal winter growth. Good air circulation will prevent mildew and a fleece covering will provide protection after October.
If the soil dries out the spinach will go to seed too quickly and turn bitter, so be generous when watering. With adequate protection from slugs and snails, you will have tasty leaves form this perpetual grower in about six weeks and, once you've ample supply, these versatile veggies will make a great addition to your homecooked meals—throw in salads or cook into curries, pastas and casseroles.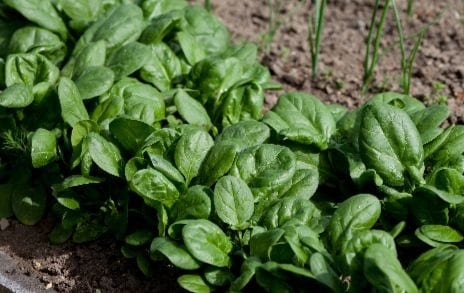 Now's the perfect time to be planting container-grown fruit trees in your garden, enabling them to mature over winter and provide a healthy crop when summer arrives. Opt for early cropping varieties of raspberries such as 'Glen Moy' which bears heavy crops of medium to large berries with a good flavour.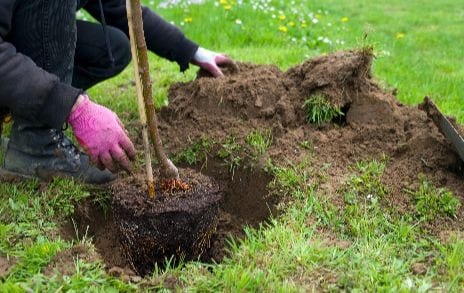 Other fruit bushes to plant now include my favourites red currents and gooseberries, which will display a succulent spring harvest. To plant fruit trees, begin by thoroughly soaking the root ball so it's well-hydrated before planting out.
Next, use a spade to dig a hole that is about three times as wide as the tree's root system.
Loosening the roots will encourage them to grow further, rather than circling around the base. Finally, water thoroughly and, for best results, apply a mulch on top to keep soil moist and roots protected.
If your tree is top-heavy or planted in a windy location, stake it with a short stake leaning into the prevailing breeze at a 45-degree angle.
Winter cropping is a rewarding past-time, providing you with a winter workout and an abundance of nutrient-rich yield to devour.
Another fantastic reason to crop 'til you pop this winter, is that veggies will be fresher than those bought from the supermarket.
As store-bought produce is not usually seasonal, it can be stored for months at a time—reducing its nutritional value.
Comparatively, once homegrown crops are ripe, they can be on your dinner plate within minutes.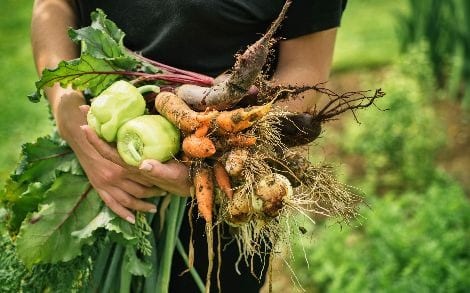 Tip:
To keep a steady supply
of lettuces, you can stagger the sowing
by a couple of weeks at a time.
It's worth noting that, generally, if you leave your produce on the plant until it's ripe it will have more nutrients than if it's picked early and allowed to ripen off the vine. That's why it's always best to harvest at the last possible moment if you're growing at home.
So, there you have it—plant now and you'll have buckets of delicious fruits and vegetables to enjoy in the new year.
Happy planting!
How can I organise my veggie patch?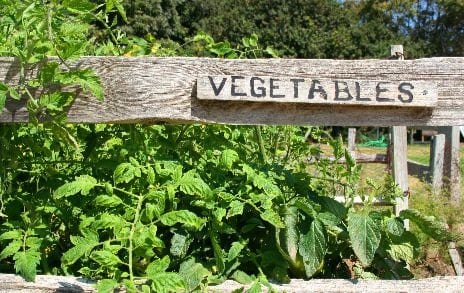 Make the most use out of the space you've got by sowing in sections. Plant each section into a straight line by tying string between two pegs and running a stick or cane along it to mark out drills. Labelling will help keep everything ordered.
How can I stop vegetables from root splitting?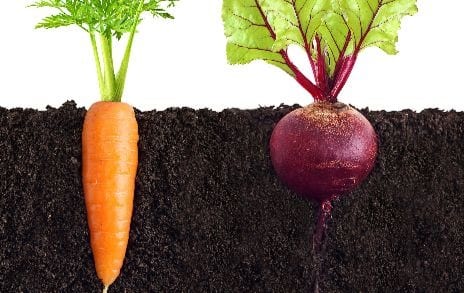 Root splitting is caused by fluctuating levels of soil moisture so digging in plenty of well-rotted organic matter is the best way to prevent it. Beetroot, carrots, and other root vegetables are affected and sufficient covering from shifting temperatures will reduce risk.
David Domoney is a Chartered Horticulturalist, Broadcaster, and Author. David has worked with a number of the UK's leading garden retailers as a plant buyer and strategic consultant. With more than 30 years experience, in horticulture, David is as passionate about plants now as he was when he bought his first plant at a village fete.