April brings a vibrant eruption of flowers to our outdoor spaces, alongside an abundance of lively garden wildlife getting back to work. This month we can expect a huge variety of weather, from late frosts to early summer sun. It's a real transition period for the garden, with most plants enjoying the shift into longer days and plentiful rain. There are so many April flowering plants to choose from, and they all bring a great boost of colour.
So, with that in mind, here are a few of my April garden colour favourites.
Nothing shouts spring like the daffodil. Their much-anticipated bursts of yellow brighten up any area and are often spotted on woodland floors throughout March and April. There are a variety of colours, ranging from the classic yellow through to pink and white so there's a daffodil out there for every taste and situation—they're even great for enhancing containers and lawns.
Bulbs became cheaper in Victorian times, but there were exceptions. The new 'King Alfred' daffodil in 1900 cost the equivalent of a month's salary for a single bulb!
Growing your daffodils is very similar to other garden bulbs—check out my expert guide to planting bulbs to get started!
Daffodils should be planted in autumn, in a position of full or partial shade. Plant in a fertile and moist but well-drained soil that is neutral to acidic.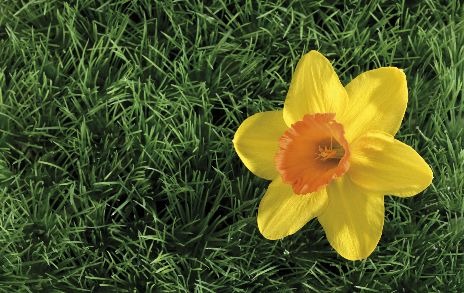 Ranunculus acris (Meadow buttercup)
Ranunculus acris are beautiful, glossy golden bowl-shaped flowers that have long stalked, divided leaves. They are an upright perennial with an ultimate height of approximately 1 metre and widely grown around the world. The Ranunculus acris is often seen in clusters, as it has a habit for clump-forming. They provide an excellent burst of spring colour and will shine amongst a wildflower meadow all the way into summer.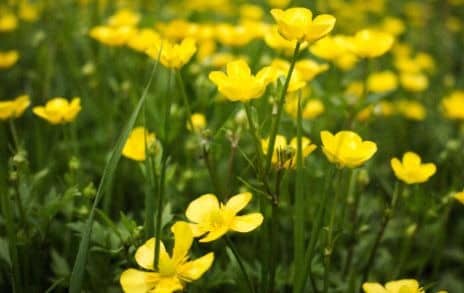 This plant takes its name from the word rana which is Latin word for frog and Ranunculus actually means 'little frog'. This is a perfect fit for the meadow buttercup, as they have a preference for moist soil and often grow close to bogs or marshes.
Grow your Ranunculus in a rich, fertile soil that is moist but well-drained.
This plant is generally low maintenance, so it's great for beginner gardeners and will give your garden a bold yellow boost that dazzles in sunlight. Full sun or partial shade will enable this plant to thrive.
Rhododendrons have remarkable flowers through the spring time. Their glossy dark green leaves stand back to showcase the beautiful bell-shaped flowers. They typically bloom in clusters, providing you with striking interest in your garden. Spring flowering varieties include, Rhododendron barbatum, Rhododendron calophytum and Rhododendron grande.
They mainly originate from the Himalayas and there are approximately 600 different Rhododendron species that can be found there—thriving in conditions as high as 3500 metres above sea level.
There are currently at least a whopping 20,000 registered varieties of this plant, so take your pick!
Rhododendrons flourish in well drained, acidic soil between pH 5 and 6, and container-grown plants will require an ericaceous compost, which is available at garden centres and is perfect for plants that need an acidic soil.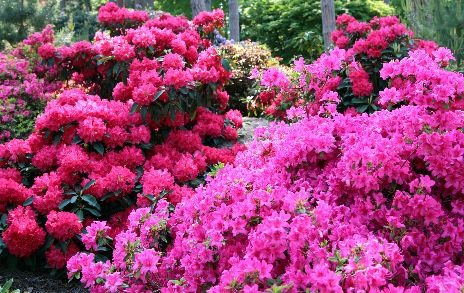 Water Rhododendrons well as they grow best in areas of high rainfall. Avoid using tap water as hard water containing calcium can harm the roots, instead opting for rainwater.

David Domoney is a Chartered Horticulturalist, Broadcaster, and Author. David has worked with a number of the UK's leading garden retailers as a plant buyer and strategic consultant. With more than 30 years experience, in horticulture, David is as passionate about plants now as he was when he bought his first plant at a village fete.