Christmas has a wonderful connection with plants. And it has long been tradition to bring the delights of evergreens into our homes at this time of year. With so much festive colour to choose from, let's look at my top plants for Christmas colour.
Don't forget that even deciduous growth out in the garden can be illuminated with illustrious outdoor lighting to add that finishing touch to the garden this season.
Poinsettias are always a welcome and beautiful sight at Christmas. They brighten up the house with deep, seasonal reds and are a must-have for any indoor flower display in December. It is the brightly coloured bracts that stand upon darker foliage that gives this plant its seasonal reputation.
Christmas
Poinsettias became synonymous with Christmas, through a 16th century legend.  A young Mexican girl, who was too poor to provide a present for Jesus on his birthday, was told by an angel that she should gather weeds from the roadside and plant them at the altar. After planting them, they sprouted red foliage and became poinsettias.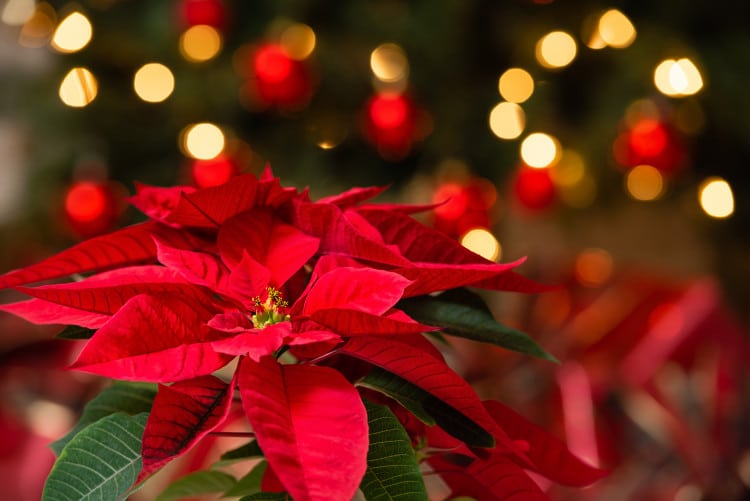 Where to buy
Available from most garden centres throughout December, they should be wrapped up to protect them from cold draughts when transporting home. And keep them in temperatures between 16C and 22C, with indirect light for at least 6 hours per day.
Water carefully and check the soil often to ensure it is not waterlogged. Specialised poinsettia feed is available and can be applied to maximise the life of your plant.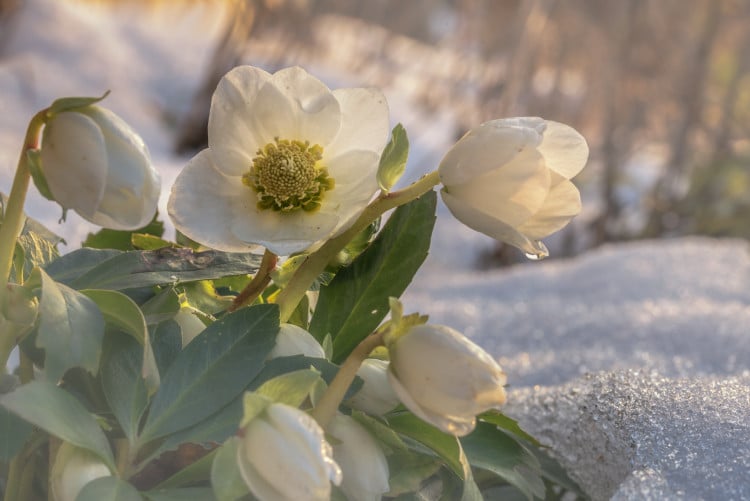 The Helleborus niger is an evergreen perennial that can be found growing naturally in the European Alps. It has leathery, dark green leaves and beautiful bowl-shaped flowers that come in white or light pink.
What's in a name
Despite its name, the Christmas rose does'nt belong to the rose family and is part of the buttercup family.
The Christmas rose can be embedded in plant borders to create amazing seasonal beauty. And can also be used in cut flower arrangements around the house.
Best results
For the best results when growing, plant in a non-acidic soil that is moist and fertile. It should be in a position of partial shade and protected from strong and or cold winds.
Apply an organic mulch and remove any faded or damaged foliage as flowers begin to appear.
Mistletoe is a plant that is synonymous with Christmas. Bearing snow white berries throughout the season. Though fantastically festive to have growing in your garden this time of year, mistletoe is actually a parasitic plant. It survives on the water and nutrients from a host tree—in the UK, this is most commonly an apple tree.
December
In December, we can usually purchase harvested Mistletoe from garden centres. Here it is sold in bunches that can be hung indoors. While the berries are poisonous to humans, they are a nutritious treat for most birds and animals. They discard the seeds after eating the berries by wiping their beaks on the branches of trees.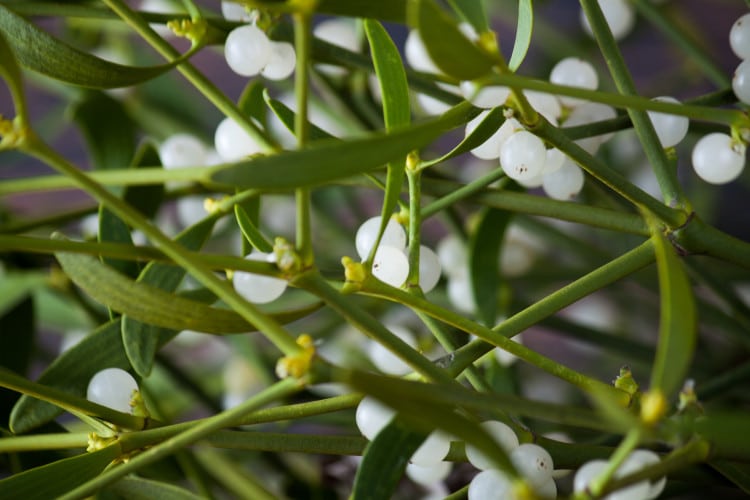 If you are buying mistletoe, look for plants that have been freshly harvested and ask if you are unsure.
Store your mistletoe in a cool place if you wish to keep it this natural decoration for up to two to three weeks. If you are harvesting mistletoe yourself, avoid plants without berries—these are the male plants. Only female plants bear berries and will look much better in the festive setting.

David Domoney is a Chartered Horticulturalist, Broadcaster, and Author. David has worked with a number of the UK's leading garden retailers as a plant buyer and strategic consultant. With more than 30 years experience, in horticulture, David is as passionate about plants now as he was when he bought his first plant at a village fete.