With the first fixtures on the horizon, we'll all be preparing to celebrate the World Cup and football fever will be well and truly setting in across the country.
This annual national celebration is a rite of passage for many, so why not make it special this year with a party in your garden?
It makes the perfect setting to watch that all important game and play a little footie of your own.
All you need to do is set up a little outdoor lounge area, prepare the pitch (your lawn) for action and ensure your plants are ready to take a thrashing.
You'll be all set for kick off in no time at all.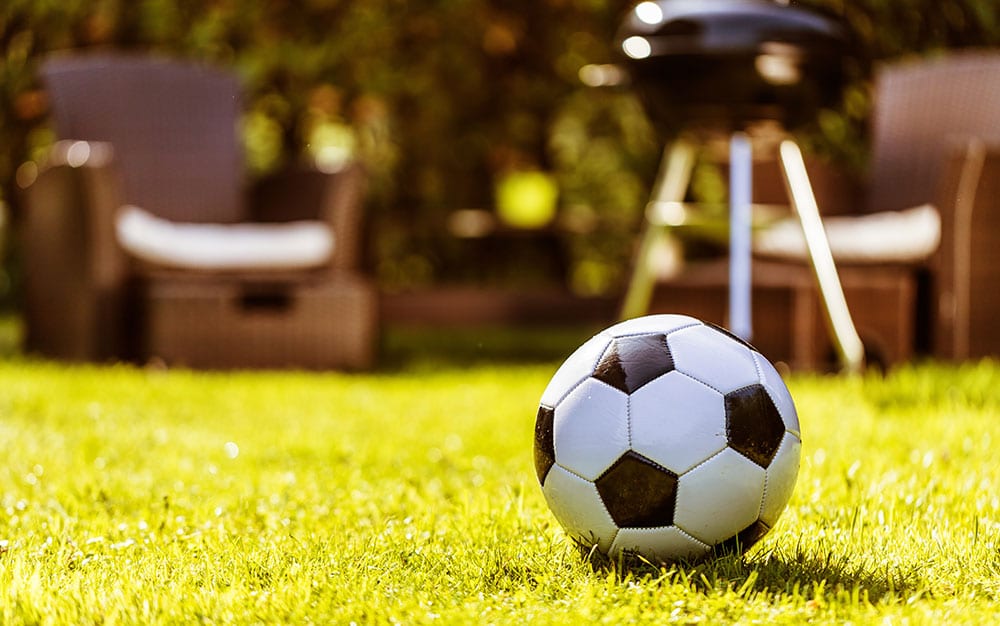 After watching the pros, there's sure to be a few guests who fancy a kick about themselves.

Ensure your lawn is prepared by mowing the grass beforehand and setting up some makeshift goalposts at either end. During dry spells always ensure you are watering your lawn thoroughly, for that fantastic green colour. Don't forget to pop out and buy a couple of footballs if you don't already have them.
Your pitch is likely to be surrounded by some very fragile spectators – your plants. To prevent your more tender plants from taking a bashing, set up makeshift fencing or cover the plants with a large plastic box. Just be sure to remove the box once the game is over.
Alternatively, if you're planting anything new, why not choose the following plants that are a little tougher and will survive the odd header;
Lavender – a famously tough and sweet-smelling plant that will thrive in any moderately poor soil, providing it has plenty of sun.

Hebes – Hebes are evergreen shrubs that, alongside having distinctive colourful flowers, will also make a great natural goal keeper.

Rosemary – Rosemary is also drought-resistant and will thrive when exposed to plenty of sun.

Bamboo – Bamboos are excellent woody perennials that make perfect natural goalposts or fencing. Once established, they require very little maintenance.

Viburnum – Viburnum is a hardy plant that is both easy to grow and tolerant of most conditions and will grow in partial shade or full sun.

Festuca 'Elijah Blue' – Festuca is an herbaceous, ornamental grass, that needs full sun and will thrive in poor or moderately poor soil that is well-drained


Oriental Poppies – Oriental Poppies are the ideal spectators to a garden football match and need to be grown in a location with plenty of sun.
Creating an Outdoor Lounge
The other important aspect of your world cup garden party is sure to be the big game itself.
Make sure your patio is in tip top condition by giving it a quick wash and removing any rogue weeds.
If the weather is fine you'll be able to move your TV outdoors for the event – just ensure you have a sturdy base for the TV and extension aerials can be purchased from most electrical goods stores or online if your lead isn't long enough.
Alternatively, you can even purchase projectors and large outdoor screens to really re-create that match day atmosphere.


Bear in mind that projectors only bring a clear picture in low light, so these may only work for evening kick offs.
Garden furniture will go some way in creating the outdoor lounge, but hard or plastic seats aren't the comfiest for a 90-minute match.
Outdoor sofas and armchairs are fantastic alternatives that will keep your guests comfy and can then be a fantastic addition to your garden for the rest of the summer.
If the evening turns a little chilly, you'll want to ensure your guests stay cosy.
A patio heater or chimnea will kick out a lot of heat in a small area, and fire pits are a fantastic addition to any garden, which you can continue to use all summer long. Alternatively provide lots of old blankets for people to wrap up in and stay warm.
A pop-up gazebo is
always a good idea
in case of rain.


Keep the catering simple and fill large bowls with crisp packets and snacks or fire up the BBQ for some laid-back hot dogs and burgers that can be handed round in napkins. Don't forget to fill a large cooler box with ices to stash all your drinks out on the patio –  save you from having to keep popping back indoors and missing that spectacular penalty kick!
Want to impress your guests by serving your Pimms with homegrown mint and strawberries? Check out this blog:
Or take a look at my Pinterest board for more ideas:

David Domoney is a Chartered Horticulturalist, Broadcaster, and Author. David has worked with a number of the UK's leading garden retailers as a plant buyer and strategic consultant. With more than 30 years experience, in horticulture, David is as passionate about plants now as he was when he bought his first plant at a village fete.