Outdoor Christmas lights are a wonderful way to add some sparkle to the short dark winter days, as well as a festive decorative touch to your home and garden.
If you're new to outdoor Christmas lights, or want to update your old ones, then there are a few things to consider before you start.
Picking up any old set could mean you end up with lights that are expensive to run, the wrong colour or length, or even dangerous to use outside.
Here's a few tips to help you choose the perfect outdoor Christmas lights this December.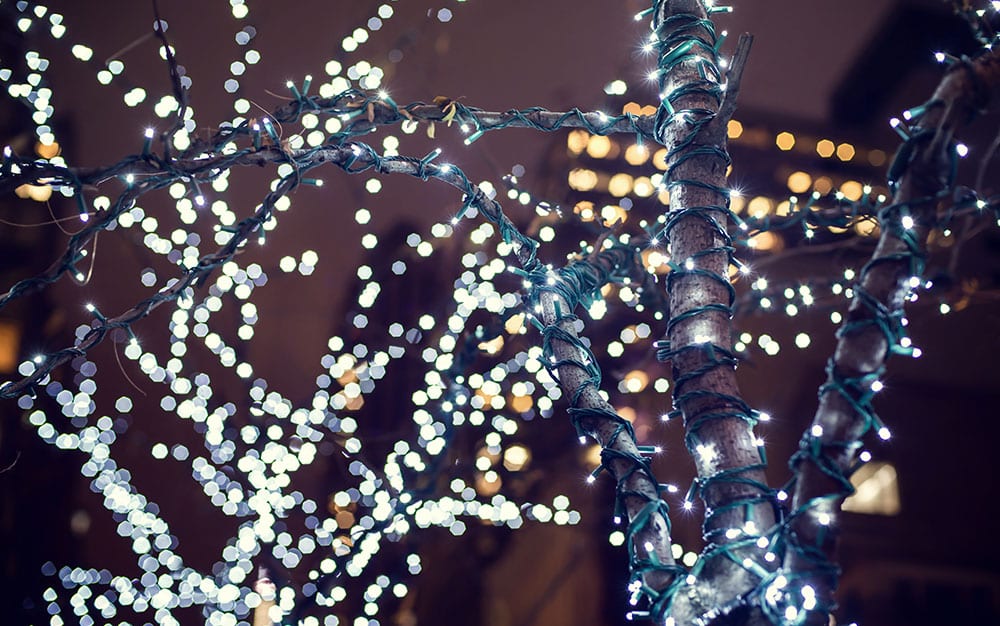 Power Supply
The most important thing to check when buying your lights is that they are suitable for outdoor or external use. Indoor lights could easily blow a fuse when used outside.
The second thing to watch out for is the power supply. If you have a safe, waterproof, outdoor socket near enough to the place you want your lights to be, then you can buy mains supply lights. Make sure your sockets are covered properly from weather.
You also need to buy a safety RCD adaptor to act as a circuit breaker which will cut the supply in the event of an electrical surge. If you don't have any outdoor sockets then you need to get battery operated; make sure to stock up on the correct battery type for your lights.
You may also want to purchase an electrical timer to make sure your lights turn on and off when you want them to. Some lights come with these, but some don't so this is another thing to check when buying.
Type of Bulb
Most outdoor Christmas lights sold today will have LED lights, which are more energy efficient and generally last longer that traditional incandescent bulbs. They are also lower voltage and won't overheat which makes them the safest option as well.
LED lights come in a huge variety of colours and shapes, whereas incandescent bulbs are limited to a more classic warm-glow style, so really LED lights seem like the best overall option here.
Lighting Style and Placement
While this bit is ultimately up to personal preference, it's good to bear a few things in mind when buying the lights to make sure you don't waste time and money on lights that don't end up looking how you wanted them to.
Style
There are two main categories that outdoor Christmas lights fall into: string lights that can be used on trees, eaves, hedges and around doorways and windows, or novelty lights that come in shapes such as reindeers or Santa Claus.
If you have a larger house with a big front garden, a couple of reindeer on the front lawn is a nice touch. If your house is smaller I would recommend sticking with string lights to keep things simple and elegant. You can also get netted lights which are great for giving a front garden hedge even coverage.
Outdoor Christmas lights come in a huge range of colours. For that classic golden glow, look for lights marked 'warm white' – the ordinary white is usually blue-toned.
Also remember if you're buying more than one set to ensure all the sets are the same colour, especially the same shade of white.
A mish mash of yellow and blue toned lights will ruin the look and feel of your display.
If using coloured lights I would suggest going for a classic retro look with larger multi-coloured bulbs, and just one string around a prominent front garden tree, or lining the front porch will keep it from becoming too busy.
Again, mixing a lot of different colours together will most likely look a little chaotic. You want to aim for a warm inviting glow to your home rather than a blinding frenzy of colour.
Placement
String lights will look great wrapped around tree trunks and lining door arches or windows.
You can also use shorter, battery powered sets sets to wrap around your front door wreath, or pepper into your window box.
Large glass lanterns filled with sets of string lights are a lovely touch placed outside the front door.
To cover large hedges, use
icicle lights to get lots of
coverage without using
having to buy too
many sets.
Rope lights have the bulbs encased in a plastic tube and are perfect for lining pathways. You could also zig zag them up a wall or door to create a simple Christmas tree shape with a star shaped light at the top.
If you're covering a tree or hedge, make sure you have enough lights to ensure an even coverage, and try to keep the amount of lights on each side symmetrical – if using more than one set make sure you also check the bulb spacing is the same to help with this.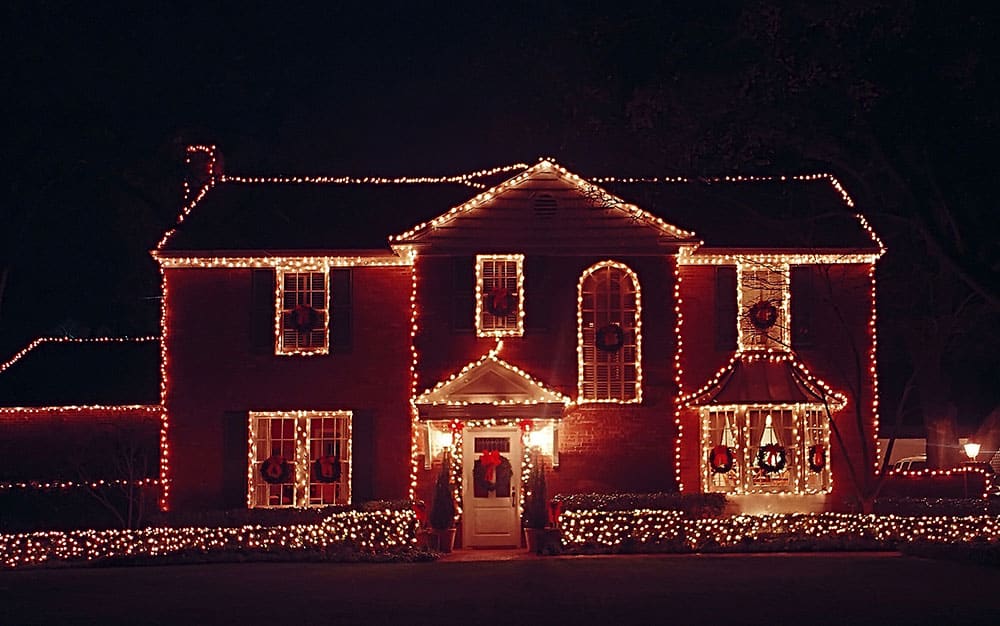 Head back to the advent calendar page tomorrow for more great content:
Or check out my Christmas Pinterest board for more ideas: