There are some plants that are true showstoppers.
They catch your eye and you are immediately drawn to their shape, colour or multicoloured displays.
How to draw the eye
In garden design terms, we tend to think of these as focal points; an area of the garden to which a visitor is automatically drawn due to its decorative nature. For instance, evergreen Laurus nobilis (bay laurel) will offer green foliage all year round and, if you are feeling creative, you can look to create topiary using Buxus sempervirens (common box) which when close-clipped it will form intricate shapes and sculptures.
Garden focal favourites
The following are 10 of my favourites. Let me know yours in the comments below or via social media.
Araucaria araucana (monkey puzzle)
An evergreen conifer with an interesting and instantly striking branches. It'll start growing slowly at first but once it's established it can grow up to 25m or 80ft in height. Happy in full sun or partial shade in a sheltered spot. Likes most soils, though it's not a fan of clay.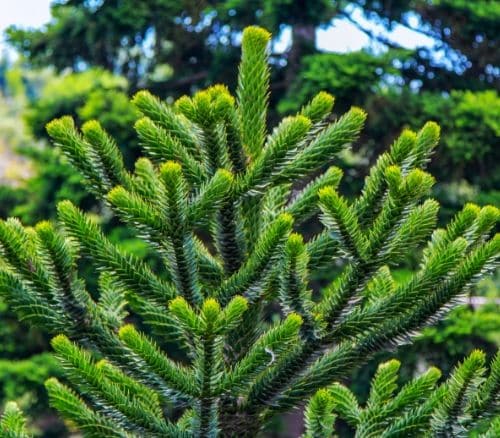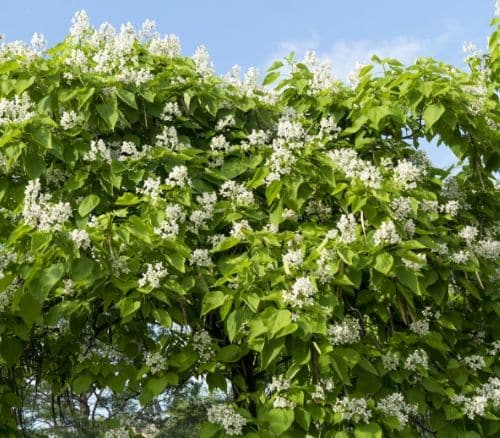 Catalpa speciosa (bois chavanon)
This exotic flowering tree has clusters of white flowers that appear in summer. Happy in any soil type, it likes to be situated in sunny position that also provides some shelter. Growing up to 15m or 50ft in height, it's deciduous so you'll need to handy with a rake or have a garden vac.
Cornus kousa (dogwood)
With its early summer flowering leaves, this small tree catches your eye with its white bracts and pink/red fruit clusters—it'll look great in summer and autumn. Growing to around 7m or 22ft it's happy in all soil types which is moist and well drained.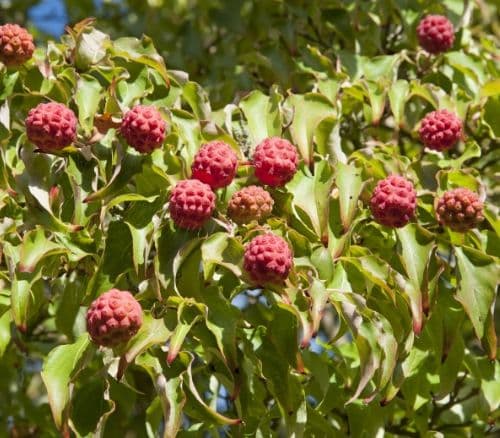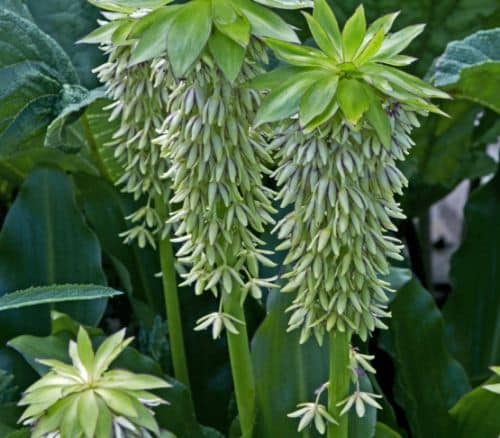 Eucomis bicolor (pineapple lily)
Plant into patio containers and this late flowering summer bulb will wow with its incredible flower head, which looks like a pineapple. If you are planting into a border, avoid clay soils. It likes to be in sheltered but sunny spot and will grow to 50cm or 20 inches in height.
Eucryphia glutinosa (brush bush)
Available as either an evergreen or deciduous shrub or tree, its flower heads in summer will stun with an array of white flowers and, in autumn, its leaves will transform into warm orange and red colours. Growing to around 10m or 30ft tall, it likes a sheltered but sunny or partially sunny spot. Fine in all soil types except clay. Although it's reasonably hardy, keep an eye on it in very cold temperatures.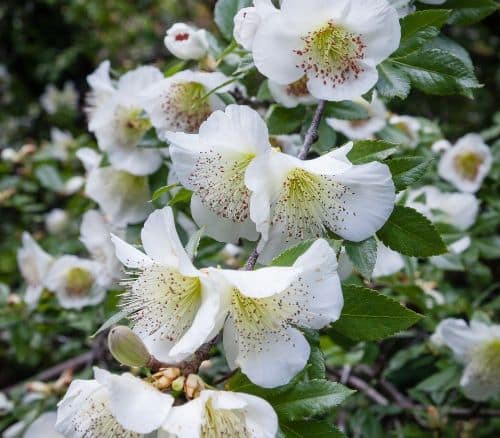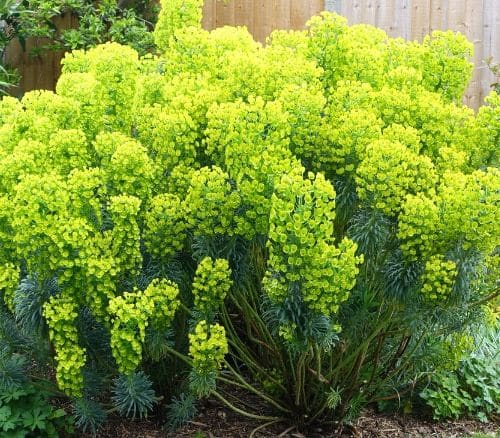 Euphorbia characias subsp. Wulfenii (Mediterranean spurge)
Euphorbia can be an annual, perennial, shrub or succulent. This variety is a subshrub sharing similar characteristics as a perennial. Its greenish yellow flowers will appear in spring to summer and it'll grow to 1.2m or 4ft in height. Avoid planting in clay soil and provide a sunny, but sheltered, spot in which it can flourish.
Kniphofia caulescens (red hot poker)
Suitable for loam or sandy soils, plant in sheltered or sunny spot. Kniphofia can be either evergreen or herbaceous perennials. Its stunning tall flowers add a red and yellow display to your garden focal point. In flower during summer, its green foliage will be visible throughout the rest of the year. Growing to 1.2m or 4ft in height, it's a great plant for your garden.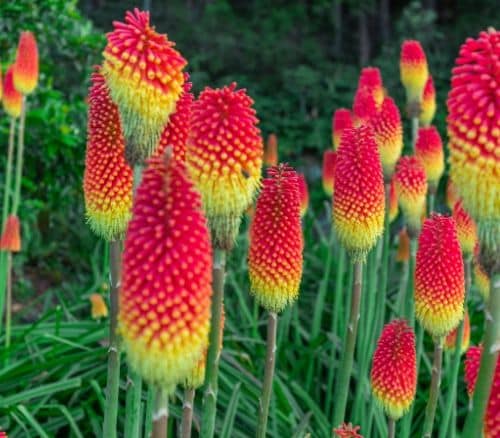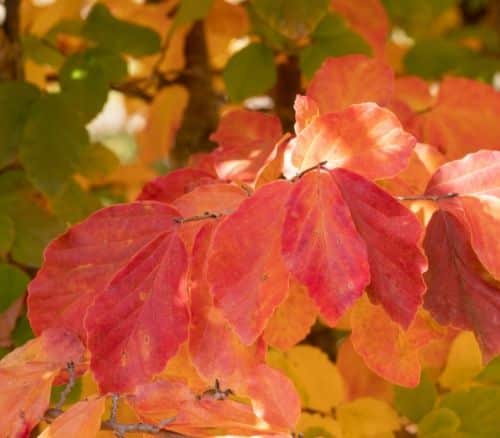 Parrotia persica (Persian ironwood)
A small deciduous tree that always delights. In summer a display of green leaves, gives way to mix of orange and red leave in autumn. After the leaves have fallen away in winter, the branches will reveal interestingly shaped patterns; flecked with peeling bark that reveals greys, green and white colours. In spring, the yellow foliage appears with red flowers. Growing to 8m or 25ft, it's happy in all soil types and enjoys a sunny spot that is either sheltered or exposed.
Phormium 'Sundowner'
These evergreen perennials have sword shaped leaves which fan out arching upward. Thanks to its structure, it offers a great contrast your other plants. It can grow up to 1.5m or 4ft and will thrive in either partial or full sun and in sheltered or exposed positions but is only suitable for loam or sandy soils.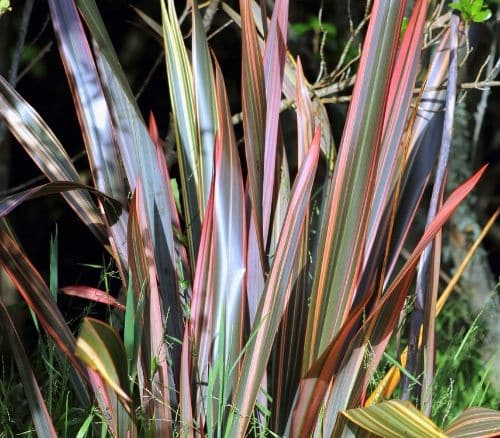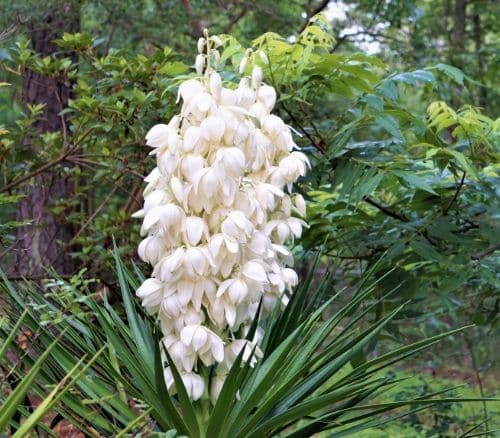 Yucca filamentosa (needle palm)
This medium sized shrub is a great accent plant for gravel gardens. Happy in pot, if you do plant in the ground it's not a fan of clay soil. Preferring a sunny spot, this clump forming evergreen will produce a fan of green leaves all year round and, if you are fortunate, white flowers in the summer—it can grow up to 2m or 6ft in height.
For more garden planting ideas, check out my blog:
Or check out my Pinterest board for more ideas: