Gardening in November is all about getting to grips with our outdoor spaces and as the weather cools, having them in order will stow us in good stead for a bright, but well-maintained, winter season. Before we know it, Christmas and the first frosts, will be upon us, so, it's time to think about how we want to liven up our garden during these colder months.
This month I would like to invite you to embrace some of the livelier tones of the season. We needn't surrender our gardens to unkempt dead foliage and dormancy. Instead, welcome in a spectrum of seasonal colour and dramatic displays.
With the right plant variations, you can rejuvenate your outdoor space into a flourishing winter wonderland.
Cyclamen hederifolium naturally flourishes in areas of woodland, scrub, and rocky areas.
With its ivy-shaped leaves, this autumn flower does well through the beginning winter months and, with the right frost care, the incredible ice-pink blooms grow through to January—creating a glorious carpet of colour in those shaded areas of your garden.
Native to the Mediterranean region, this plant grows wild in the UK around October time—typically in shades of rose pink. Unique varieties such as 'Red Sky' will provide flower beds with a splash of darker magenta pink, for something a bit different.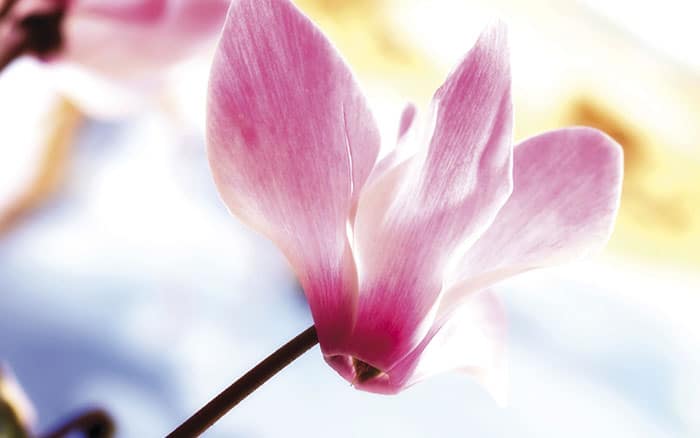 This woodland wonder is hardy down to temperatures of -15 degrees. Top-dress with grit or mulch to keep down liverwort and moss and don't confuse our Cyclamen hederifolium with the closely-rated Cyclamen coum (eastern cyclamen) which is a better addition for late winter / spring time gardens.
Leucadendron 'Safari Sunset'
As the season begins to shift, and we're limited with the amount of daylight we have, a low maintenance addition to your outdoor space would be Leucadendron 'Safari Sunset' This small evergreen, with cone-like clusters of flushed red flowers, will radiate a warm fire-like glow to any arrangement.
Leucadendron is native to South Africa and is a large group of plants related to Protea.
With a medium frost tolerance, this sassy shrub will survive temperatures down to -5 degrees, provided it has full sun to soak up. Once you have found the perfect sheltered spot, this plant will provide excellent yellow and red tones to the garden all year round.
It's best to trim back in early spring to rejuvenate it for the following year. I would also suggest putting mulch around the shrub to conserve moisture, keep roots cool and stop weed growth.
Bellis perennis 'Tasso Mixed'
For a sprinkle of snow-drop white or bold berry-red early in the season, look to the Bellis perennis with varieties such as 'Tasso Mixed' to help mix things up.
This perennial boasts a rosette shaped bloom and, as a clump-forming bedding daisy, they will continue to flower whilst temperatures remain mild; filling any gaps of colour in your beds this time of year.
The plants are a perennial, usually grown as a biennial, lasting through one season but self-seeding to provide future generations.
Shades of colour include hues of red, pink and white.
Why not try incorporating a crisp white to beautifully contrast the warm auburn tones of the season.
Or, to make an impact, choose the wine-red of the 'Tasso Red' variety to bolster your sensational seasonal spread.
Make no mistake though, Bellis are not hardy-full and need frost cover, but they will last through to the new year in a sheltered, well-drained location with sufficient sunlight.
Previous November plants for colour
Just in case you are still yearning for more colour inspiration, here are two of my favourite plants from last year's Novemeber selection. Planting these in your winter garden will bring a fabulous explosion of warm colour and you will see why I decided to include them again this year!
Skimmia Japonica 'Rubella'
Cornus alba Sibirica (scarlet dogwood)
Skimmia is a medium-sized evergreen shrub which is fully hardy through the winter. It bears emerald green foliage and dark pink clusters of flowers. Skimmia is low-maintenance to grow and tolerant of most soils. It also thrives in partial shade, making it a perfect plant for winter colour on dark November days.
Female plants will also produce red berries well into spring, with highly scented red blossom flowers.
This plant is at its best in November as the leaves fall to reveal striking red branches. The stunning colour will jazz up any fading winter borders. The plant is tolerant of most soil types but the red bark will give the strongest colour when planted in full sun.
Remember to prune about one third of the stems back to ground level in spring. This will ensure a good display of colourful bark the following winter.
Discover the top three gardening jobs for November:
Or check out my Pinterest board for more ideas: