Before we know it, Christmas and the first frosts, will be upon us. So, it's time to think about how we want to liven up our garden during these colder months.
The tones of the month shift over from warm glows to cool and crisp winter hues for a spectrum of seasonal colour. With so much on offer during this remarkable month, let's explore my top three plants to keep your garden looking great.
Tough as old boots, tolerant of deep shade and damp soil should be good enough reasons to grow Sarcococca (sweet box or Christmas box).
But, if you need one more, what about its tiny white flowers, which have a powerfully delicious almost honey scent?
This 'impossible to kill' suckering shrub tolerates atmospheric pollution, dry shade and neglect.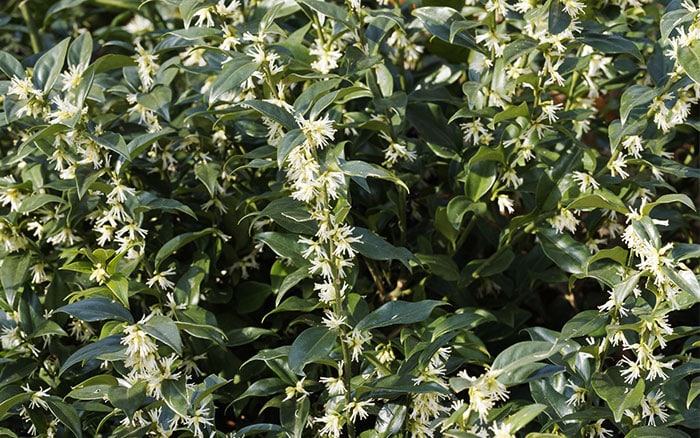 Winter
In winter, the creamy white flowers mean that this addition also makes a brilliant weed suppressing ground cover. And is useful for edging borders and for adding green ornamental interest to 'no-mow' banks and slopes.
The variety 'Purple Stem' will eventually grow to no more than 60cm tall. And has narrow, lanceolate leaves held alternatively on attractive purple stems during the spring.
These are followed by blue, black or red berries which the birds will love.
The dwarf variety humilis is claiming the crown as a replacement for disease-ridden box or buxus. Traditionally used to edge borders and create classic-style parterres and knot gardens. It produces small clusters of creamy-white flowers with cherry anthers that are fragranced during winter.

Just as most shrubs are dying back for winter the Mahonia × media, also known as Oregon grape, 'Charity' erupts into plumes of lemon-yellow flowers that release a delicate, lily-of-the-valley fragrance. Its stiff architectural stature grows up to 5m tall with bold spiky evergreen leaves, composed of up to 21 lance-shaped leaflets, makes it ideal for giving the garden an almost exotic feel throughout the year.
The variety 'Winter Sun' produces more erect racemes of scented blooms, which emerge slightly later than those of 'Charity' varieties and is also well worth growing if you have space for the spreading leaves.
Evergreen
The evergreen holly-like leaves of Mahonia aquifolia make this a striking plant for the winter garden whose leaves take on reddish/purplish tones at this time of year.
Birds find the blue-black autumn berries that follow the Mahonia summer flowers irresistible. These tough plants survive pollution, freezing temperatures and drought and are also a good choice for shady and exposed gardens—the perfect choice for a woodland garden or even a sheltered sunny border.
Winter-flowering Viburnum x bodnantense 'Dawn' is excellent for waking up your senses. With its clusters of almond-pink blooms that have a distinct hyacinth fragrance with strong vanilla overtones. The long-lasting blooms appear along the branches and are a sight to behold. Especially, when encrusted with a glistening, diamond-like rind of frost. The flowers fade gradually as the season progresses, ending up white by late spring.
Wear to plant
It will grow happily in any type of garden soil including chalk, and performs best in a sunny spot. Young plants however, may take a couple of years to give a worthwhile display so you will need to have patience.

Plant
Plant it close to paths, doors and windows to enjoy its scent until March. And give it the darkest backdrop, such as and evergreen or conifer hedge. Even a brick wall will complement its autumn foliage.
Whilst it grows into a substantial shrub, it can be kept compact by thinning and every three or so years. Simply cut out a third of the old stems down to ground level to encourage replacement shoots from the base.
Incorporate this incredible colours into your display and you'll have all you need to give some impressive garden interest as we head into winter.

David Domoney is a Chartered Horticulturalist, Broadcaster, and Author. David has worked with a number of the UK's leading garden retailers as a plant buyer and strategic consultant. With more than 30 years experience, in horticulture, David is as passionate about plants now as he was when he bought his first plant at a village fete.