A garden picnic will get your summer started in style. These summer essentials are sure to set you up for a spectacularly successful day.
Your garden is the perfect place to host a garden picnic and just because you're dining outside doesn't mean you can't be just as comfortable. Some go-to grabs for ultimate comfort are:
If you're tableless for your tête-à-tête, you might consider bringing a tray with you. This means you can serve up drinks without them tipping over on an uneven surface.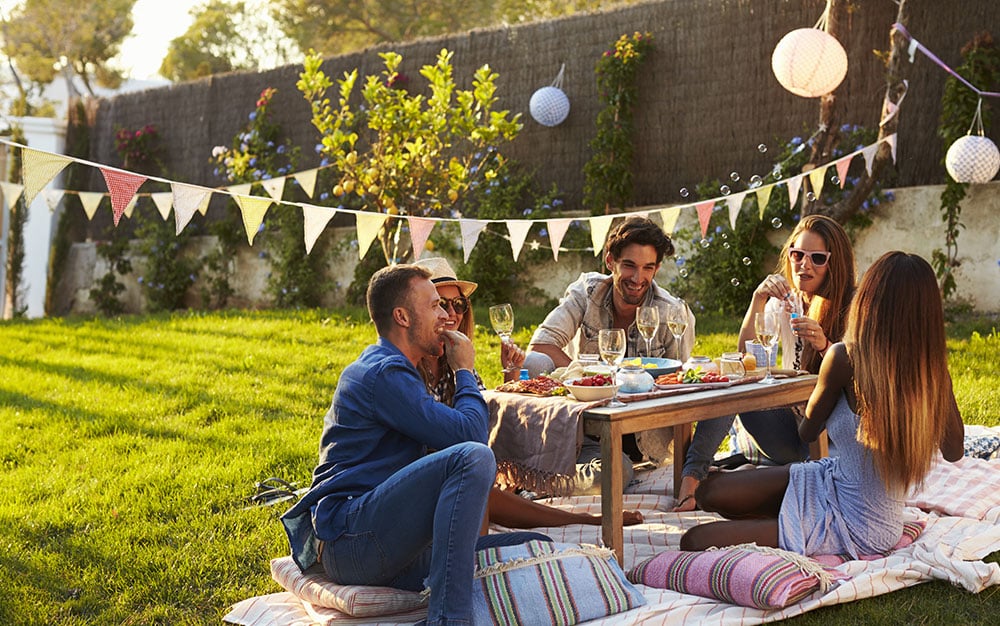 Avoid bringing any food that's sticky or covered in sugar. Not only do these become sticky without hand washing facilities but they can attract wasps. To keep hands clean, just pop some baby wipes in the bag and remember to pack an extra bag for the rubbish clean up at the end.
Insects can become a problem unless you pack accordingly. Ensure you pack insect repellent, or you can make your own with essential oils put into a spare spray bottle. Go for citronella, peppermint, tea tree and vinegar mixed in with water. Give it a shake before use and you're good to go.

A large golf umbrella will protect you and your loved ones from unpredictable British weather. With this in stow, you'll be ready for anything from a light drizzle to scorching sun.
Equally, if you've got one, position your parasol to provide shade by digging the handle into the middle of a large garden planter. Pack in the soil around it and this will anchor the parasol in place.
If you need a waterproof way to sit on the lawn, why not unhook your shower curtain and lay it out under the soft blanket you want to sit on.
Many picnic blankets have a waterproof bottom, so this is always something to keep an eye out for when purchasing one as it makes them season-proof for any outdoor excursions.
If you've got the space, set up an outdoor dining room table on your lawn using wooden pallets as the table surface. Then, around the edge, dot your garden furniture cushions or blankets on the ground for people to sit on.
Sitting cross-legged, your family can gather around your inventive table and enjoy a garden picnic in style. Plus, there's the added benefit that you can easily add seating if you need it.

As the day draws on, it's always great to have lighting out in the garden so that people can keep socialising if the weather is fair.
An inexpensive way of providing ambient lighting is with outdoor fairly lights. Many of these come battery-powered but I prefer the solar-powered ones because they automatically come on when the sunsets.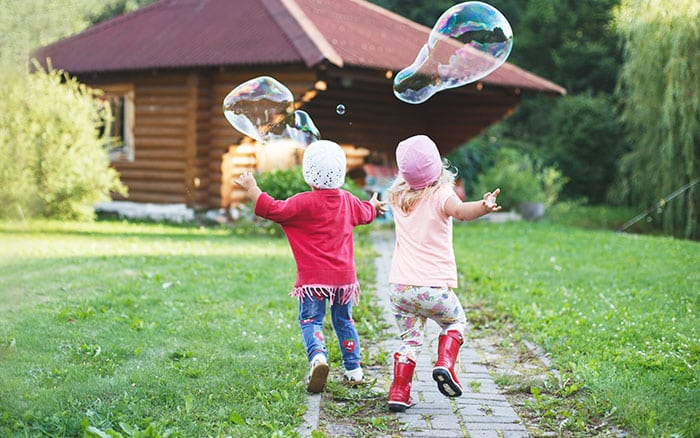 An easy addition to your picnic that's also inexpensive is a bottle or two of bubbles. This will keep kids (and dogs) amused for ages. You can make your own at home once you've got the gear. It's just as case of refilling the bottles with water and dish soap at 6:1 with 1 tablespoon of glycerin or 1/4 cup of corn syrup.
Just remember to close the lids tight, pack them separately from the food, and possibly even wrap them in a bag, as an unexpected spillage will ruin your picnic treats.
The perfect picnic is all about the food. Bread is a quick way to fill up guests, so sandwiches are safe, but you can also include a lot of summer produce that you may have cropping now.
The general rule of thumb is that finger food is always best. Your tomatoes are perfect for picking at, and your harvested blueberries are a great dessert option and work better than strawberries when trying to avoid sugar-seeking wasps.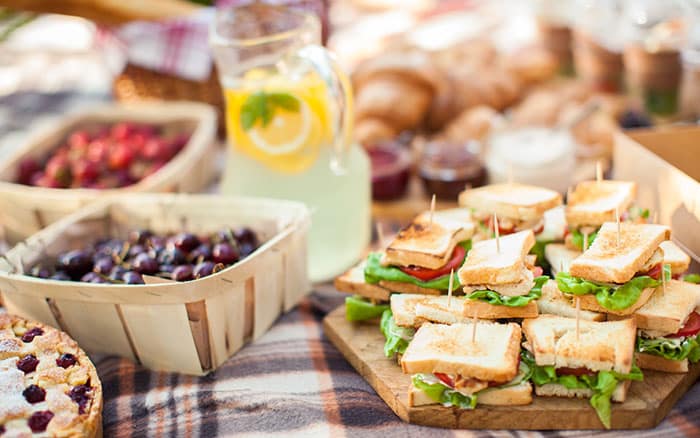 However you enjoy your garden space for a family picnic, come prepared and you're sure to make the most of the day.

David Domoney is a Chartered Horticulturalist, Broadcaster, and Author. David has worked with a number of the UK's leading garden retailers as a plant buyer and strategic consultant. With more than 30 years experience, in horticulture, David is as passionate about plants now as he was when he bought his first plant at a village fete.