Fruit is one of the best things you can plant in your garden and allotment or on your patio.
It ticks many boxes: beautiful foliage, stunning flowers and, of course, delicious fresh fruit. It enriches the senses – taste, touch and smell, plus that beautiful sight. And it couldn't be easier to grow, whatever your circumstances.
If you are new to growing, currants are a great starting point. They are easy to grow and once they are established, you don't need to do much at all. While being beautiful flowering plants, currants also have fragranced foliage.
The multitude of redcurrants, white currants, and blackcurrants mean there will be something to suit every taste. Eat them freshly picked or dropped into natural yoghurt as a fruity breakfast. Alternatively, bake pies and desserts or place them on the side of a cheese board with a nice glass of wine.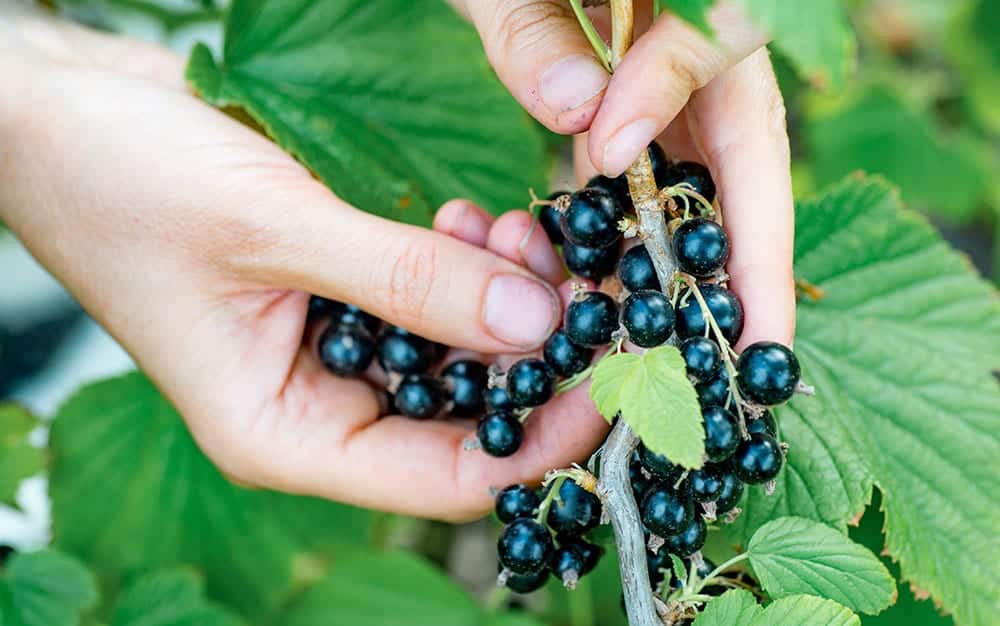 They are a great source of fibre and antioxidants and actually contain four times the amount of vitamin C as oranges.
If you're short on space, they can be grown in tubs and containers. Look for a reasonably sheltered spot with as much sun as possible to get the best results.
No matter if you are looking to fill a bare border or some pots for your patio, currants have got you covered

Blueberries are extremely good for our bodies and are another excellent source of vitamin C, which helps protect cells against damage.
They like ericaceous soil, meaning they don't like too much lime. So if you can successfully grow things in your garden such as heather, rhododendrons, camellias and azaleas, you know you can also grow blueberries pretty well.
If you can't rely on your garden, grow them in tubs using ericaceous compost from a garden centre, feeding regularly with sequestered iron. You could also put some rusty nails in the bottom of planting holes, as the iron will help them grow. Grab yourself a big oak half-barrel online or even a half-cut dustbin.
Their spectacular flowers bloom early in the season – delicate white bells or lanterns complement the fantastic foliage, which has superb autumn colour.
Apples are another winner on the fruit front. High in vitamin C and fibre, they are a classic fruit to grow. If you are planting during the summer, ensure they are well watered and they will establish themselves pretty quickly.
There are many bush or dwarf varieties available, which are suitable for small gardens. If you have only space for one, choose a variety that is self-fertile, meaning it pollinates alone to produce fruit.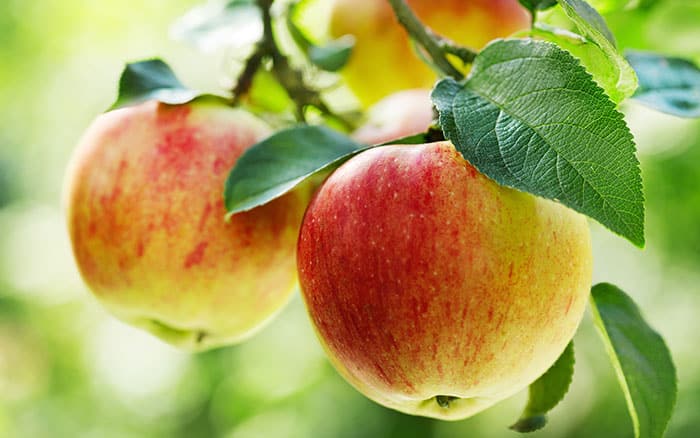 Many other varieties need to cross-pollinate with another apple tree to produce fruit. It makes sense to speak to someone at a garden centre who can suggest two trees that will do the job or point you in the direction of a self-fertile one.
And apple trees are glorious in the garden. Not only are they loved by birds, they are also fantastic for flower colour.
At the beginning of the season, the beautiful blossom blooms with pink and white tones. The fruit is a huge plus at the end of the season, to be eaten straight from the tree or turned into a fresh apple juice or cider.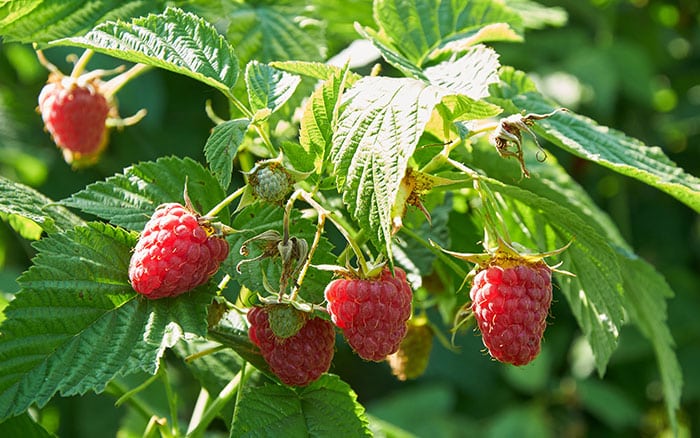 Raspberries are another brilliant berry to grow yourself. As a kid, my dad grew raspberries in the garden and now we have raspberries at home too, and our kids love them. You can pick them and eat them fresh from your garden, and they will provide your body with nutrients such as vitamin C, manganese and vitamin K, which supports strong bones.
There are summer-fruiting and autumn-fruiting raspberries, so choosing a good selection means you will be picking raspberries throughout the summer and into autumn.
They grow tall, so make sure you have support in place. They will need pruning at the end of the season, leaving the new growth to be the basis of next year's crop.
They like slightly acidic, well-drained but fertile soils. If you can, site them in rows running north to south so they can maximum sunshine without shading each other.
If you have flying friends visiting your garden, you are lucky, but you might want to protect the fruit from aerial attacks using netting to cover those currants and berries.
For another easy garden win, try strawberries. They are easy to grow in pots, growbags, borders or containers. Children will love to help with them too, because fruits are produced so quickly.
And not many kids can resist nicking a juicy red strawberry. Once the fruit has been harvested, cut off the old leaves to allow fresh leaves to grow and you can crop several times a season.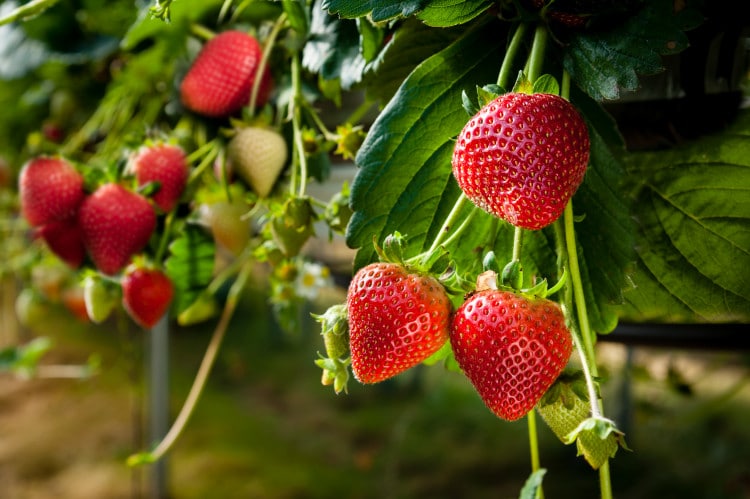 They are popular for good reason. This fruit delivers vitamin C and folate as well as potassium, which is involved with many vital functions, such as regulating blood pressure.
Tip:
Cheap as chips from old car boot sales, old
crockery makes ideal ground-feeding plants for birds and can
be used to give wildlife fresh water.
You will have seen my garden fruit area on ITV's Grow Your Own at Home with Alan Titchmarsh, and now you know my top fruits to plant in yours for spectacular sight and taste.
Happy gardening everyone!
Should I stain my fence now or wait until autumn?

I'd definitely recommend doing it now. Ensure there has been no rain for at least 48  hours before staining your fence. They dry quicker during the warmer, longer days and it's easier to coat in spring and summer. If you wait until autumn, it will be more difficult due to the wind and the rain.
I have weeds in the patio between my paving slabs, what should I do?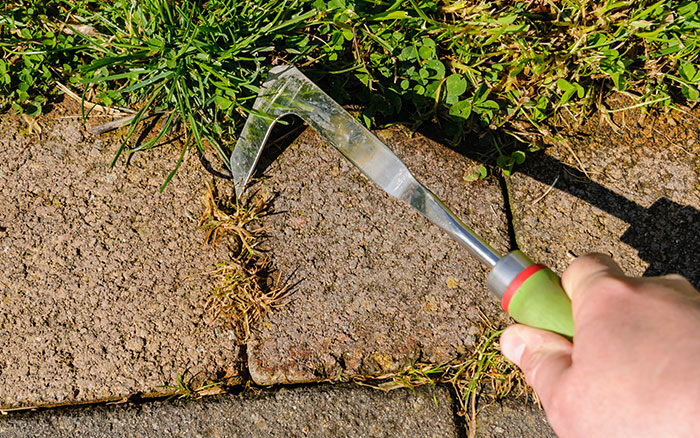 To tidy up your patio pavers, get hold of an old kitchen knife and scrape in between the nooks to dig out any weeds popping up. Removing them properly by the roots reduces the likelihood of them regrowing. You can also use this as a way to get out any roots, grass, stones or unwanted items that have found themselves in the narrow space.
David Domoney is a Chartered Horticulturalist, Broadcaster, and Author. David has worked with a number of the UK's leading garden retailers as a plant buyer and strategic consultant. With more than 30 years experience, in horticulture, David is as passionate about plants now as he was when he bought his first plant at a village fete.