Gardens have the power to bring people together, giving us a sense of community spirit as a joint venture and passion for plants. They give the people a sense of purpose and civic pride.
For this transformation, it was essential to make the space accessible as well as functional, this garden is also a place for fun.
You can get the look by going for wonderful water features, woodland wonderlands and social spaces.
For a truly warm welcome into the garden, it needed to be an accessible space for all its users. We achieved this with wide pathways and resin bound gravel—which is a practical solution because even when it rains, it won't become a slippery surface.
Alongside the meandering paths were raised beds, each with a different purpose. One of the larger beds was the perfect space for an edible garden where chillies, rosemary, sage and lettuce were all planted.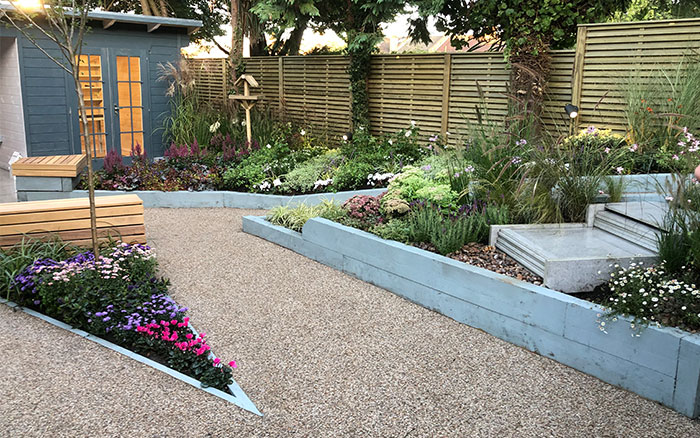 The opportunity to grow your own encourages involvement and a sense of purpose whilst feeling joy when seeing your plants grow into food that you can harvest and eat. And, of course, because of their raised heights, these beds can be cultivated by the whole community, giving access them without having to bend down.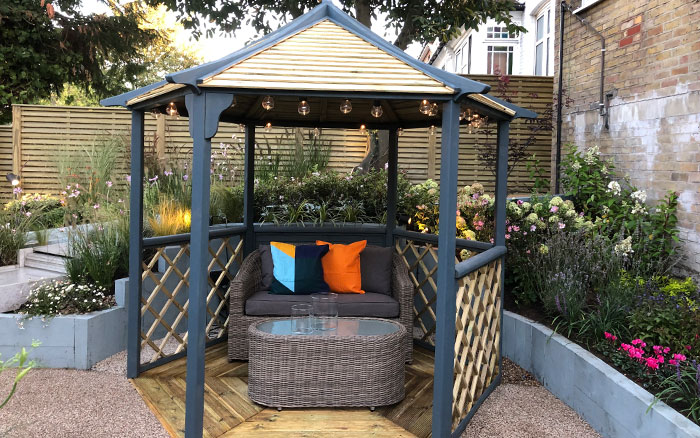 Seating is essential in a community garden, to provide a space for old friends to catch up and new friendships to blossom. A wooden gazebo structure was a brilliant shelter to accommodate a comfy outdoor sofa. To envelope the structure, it was cocooned with plants like fragranced lavender, evergreen Euonymus, textured Liriope muscari and colourful Cyclamen.
Adding a focal point by inserting a hawthorn tree ticked all the boxes, as it offers beautiful spring blossom, glossy leaves and autumn fruits which are a firm favourite for the birds. Surrounding the tree were a selection of plants that would add interest through different seasons.
Evergreen shrub, Hebe provided good autumn colour, alongside Callistemon (bottlebrush) which added textured interest with its truly striking bottlebrush-like flower spikes.
Shaded areas can still be bright and beautiful. Pittosporum offers variegated leaves all year round and prefer a partially shaded and sheltered spot, whilst the delicate, pink flowers of Japanese anemone give a dash of colour to the shade in autumn and summer.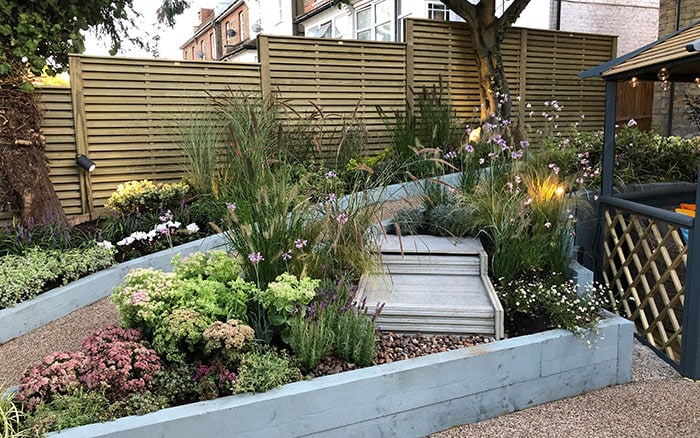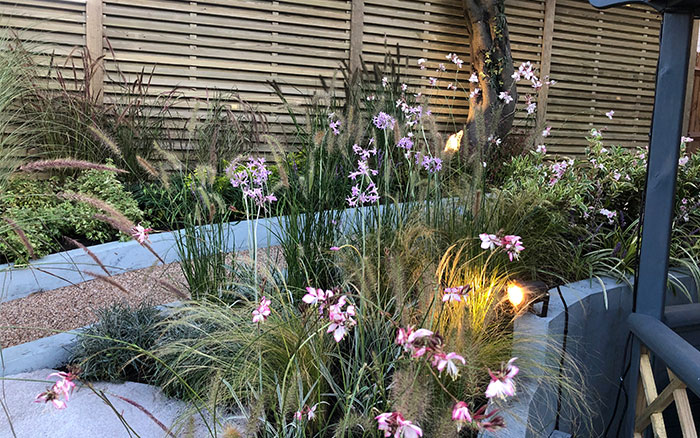 Water has the wonderful ability to transform any space to a tranquil and calm environment. A water feature guarantees a soothing sound of gentle trickling water—this works particularly well in urban settings where you want to drown out the sounds of traffic with those of nature, and the reflection of the cascading water on the surrounding plants added a magical touch.
To make a bespoke water feature, use an ornamental plant pot, a metal trough or upcycled materials with no holes in to form a piece that's one of a kind.
Bespoke features dotted around your plot will make it really feel like home. In this garden we had a 'man shed' that was a workshop and place for hobbies to be established and continued. An area to escape and work on something in the garden, surrounded by greenery is an inspiring place to be.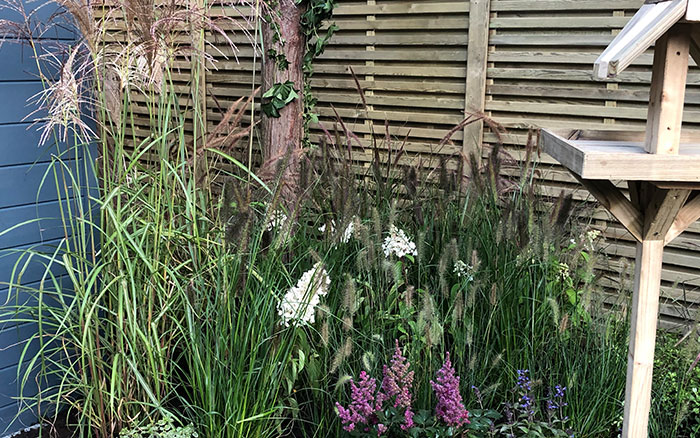 To tie the garden and the building together, different heights of plants were incorporated to soften the divide, including tall Miscanthus grasses which are tolerant of most soil types but like plenty of sun. The plume-like panicles of Astilbe complemented the grasses, increasing the feathered texture to the front of the workshop.
Gardens are the perfect space to bring people together. Having a hub for socialising as well as being productive for a sense of purpose is possible in any space.

David Domoney is a Chartered Horticulturalist, Broadcaster, and Author. David has worked with a number of the UK's leading garden retailers as a plant buyer and strategic consultant. With more than 30 years experience, in horticulture, David is as passionate about plants now as he was when he bought his first plant at a village fete.