Christmas time is the season of goodwill and happiness and we know that our connection with nature plays a key part. Plants are so important at Christmas time; whether it's a holly wreath on the door, a simple Christmas tree or mistletoe at the office party—each play a significant part in the celebrations.
While we're all spending more time at home during the festive season, buying that all-important pot plant to sit by the television or on the table for the Christmas feast really adds to the festivities.
Here are my magnificent seven, the top houseplants to bring colour, cheer and joy into our homes this yuletide.
The poinsettia is synonymous with Christmas. Originating from Mexico and named after the first United States Minister, Joel Roberts Poinsett, this plant has found its heart in our homes throughout the Christmas months. Traditionally, these have bright red displays that are not flower petals, but in fact bracts. The little yellow centres are actually the flowers.
You can buy these in a whole vast array of colours; white, pinks and multicoloured as well. As they're a bit sensitive to the cold, if you are buying these from a garden centre make sure to wrap it up in a protective sleeve while you carry it to your car and never leave it on a cold draughty windowsill and they also don't like being positioned above a radiators, so the perfect spot is key to keeping them alive. They're great kitchen and bathroom plants—where the humidity is quite high and the rooms typically remain warm.
These have beautiful marbled silver and green foliage with erect almost flag-like, swept-back flowers.
It gives a whole amount of colour and seasonal lift. You can buy them in purples, pinks and warming reds in either indoor or outdoor varieties.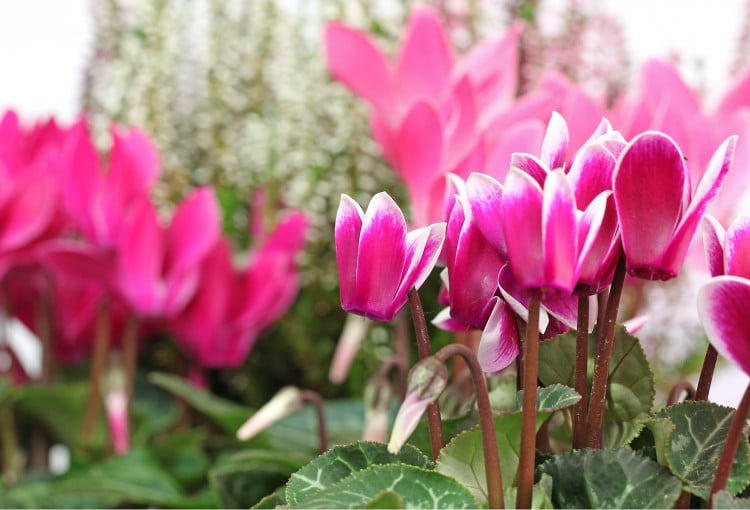 You can generally tell these apart by going into the garden centre; if they're in the home pot plant section, they're best suited to indoor conditions. Those in the outdoor plant section will be hardier. Typically, only being a houseplant, cyclamen have played a great part sat on windowsills in many homes.
You can buy small ones in 9cm pots, or larger 13cm ones which are easier to care for as they're less likely to dry out. Outdoor tubs bursting with cyclamens are equally as charming to greet you with a little colour by the front door as you get home.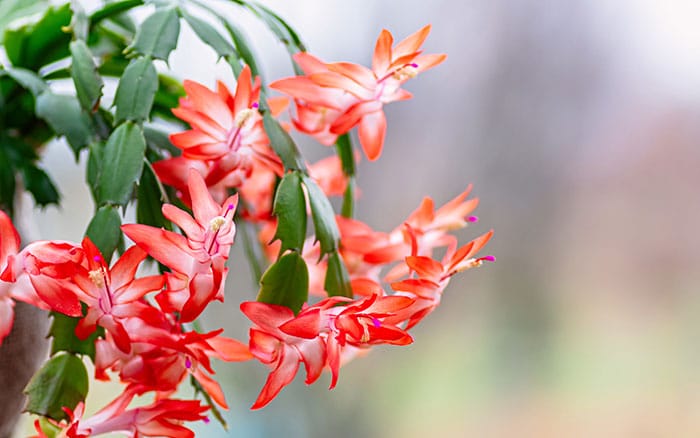 These are a little bit different from the normal spiky ones that we know.
There are two types, dessert cactus and forest cactus—which have a tendency to grow in more humid climbs.
There are few plants to give such spectacular vibrant colour of the flower. It's one of the longest-lasting plants you can get your hands on.
Place them in a cool area in a porch or conservatory and this plant will just keep on growing year in and year out and the flowers become more prolific as they go.
This isn't actually a cherry at all but has these perfect marble-sized bright orange berries—they're not edible but they are extremely ornamental.
Place them where kids or pets can't get hold of them, they work particularly well in basket arrangements decorated with tinsel and holly. They don't last too long, but the berries do give a certain amount of cheer of Christmas, somewhat akin to Rudolph's red nose.
Usually, these are grown for houseplants as they're out of season out in the garden, but they give colour indoors to great effect now.
They can be forced into flower for Mother's Day, but the red varieties look great for Christmas.

They're marvellous plants but extremely thirsty so it's best to leave them in a saucer of water, as they're so fibrous in the root system, they need a regular supply.
Potted specimens really make brilliant gifts at this time of year as well.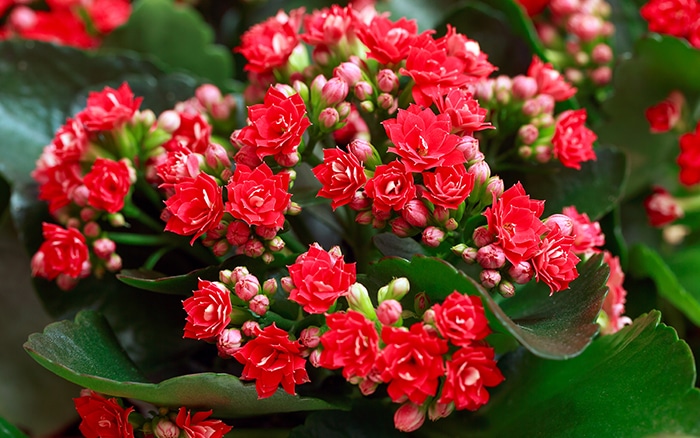 Also known as flaming Katy, this little plant comes in a whole host of colours and it's great for kids as they're safe.
Slightly bushy in habit, they work well on a windowsill and they'll just keep flowering!
They are fairly low maintenance too; the fleshy leaf gives it a high tolerance if you forget to water it.
The final favourite of mine is the orchid—one of Christmas' biggest growth markets is orchids inside the home.
The moth orchid, Phalaenopsis (which means "moth-like" in Greek), has these disc flowers which run up a single flower stem with leaves underneath, they're truly stunning.
You can buy them in a whole array of colours to suit your Christmas displays and are best suited to kitchens or bathrooms as they do love a bit of humidity.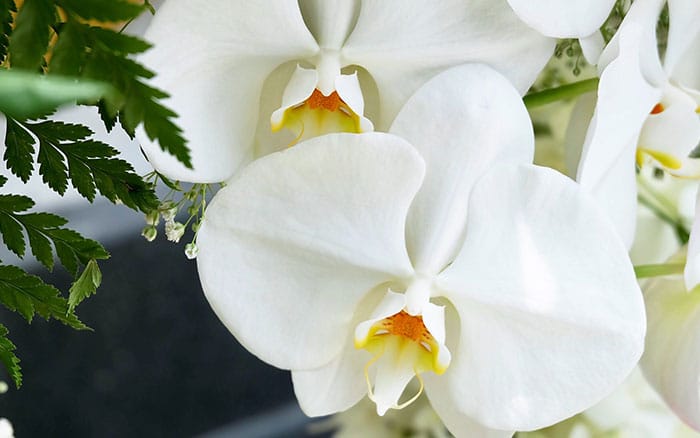 To read more about projects for the kids at Christmas, including growing bulbs and a newly-launched Christmas competition, visit illuminationstreet.com.
There you have it— seven magnificent houseplants to bring some joy into your home at Christmas.
Happy gardening everyone!
Tip:
The Oncidium 'Sharry Baby'
orchid has the wonderful aroma of chocolate,
perfect for the festive season.
How can I care for my wormery over winter?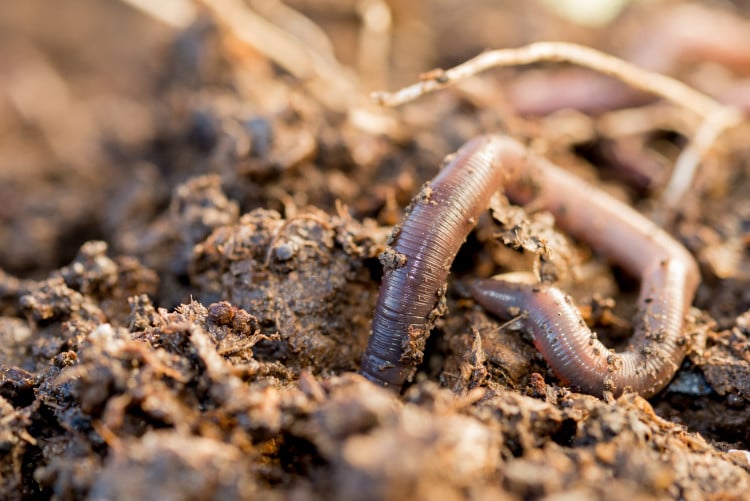 The key is to keep the wormery dry and warm. If the weather turns wet, move the wormery out of the rain under cover but within an outside location, like a shed or greenhouse. The worms need to stay warm, so use bubble wrap or old carpet to keep them cosy and this will boost their composting activity too.
My rose plant has yellowing leaves & black spots; what's wrong?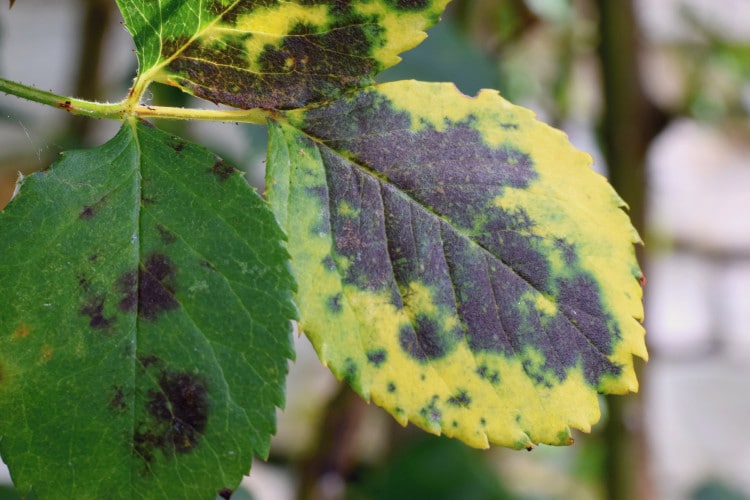 Rose rust can begin to take hold during the summer when the heat is present to support fungal growth. This shows in orange pustules but as we head into autumn, they begin to turn black. Prune out infected growth and collect up fallen leaves to reduce number of resting spores over the winter period.
David Domoney is a Chartered Horticulturalist, Broadcaster, and Author. David has worked with a number of the UK's leading garden retailers as a plant buyer and strategic consultant. With more than 30 years experience, in horticulture, David is as passionate about plants now as he was when he bought his first plant at a village fete.