Christmas is now only a few weeks away—how exciting! But wait, does your house still look bare and undecorated? Well fear not, because I have a list of natural decorations that you can find in your own garden.
So, forget about shopping for the same old plastic decorations and get outdoors with a pair of trusty secateurs. You'll be amazed to discover what festive foliage you can bring into your house this Christmas.
Here are my favourite Christmas decorations that can easily be gathered for free and used to add a wonderful yule-tide touch to your home this year.
Holly is the archetypal Christmas decoration, adorning everything from festive wreaths to our traditional Christmas pud. Fortunately, you won't have to look too hard to find a holly bush, as they are widespread across the country. There are many different varieties to look for, with some having that deep dark glossy foliage like the 'Argentea Marginata' and others, like 'Silver Mermaid' and 'Silver Queen', having delicate gold or silver edges.
The best sprigs to cut can be found on a female holly bush, which should be decorated with beautiful red berries at this time of year.
Simply cut a few branches at different lengths, depending on what type of decoration you want to make and don't forget to save a small sprig for Christmas pudding!
If you want to go the extra mile, why not purchase a holly bush from a garden centre or other supplier, that way you can ensure you have a fresh supply year after year.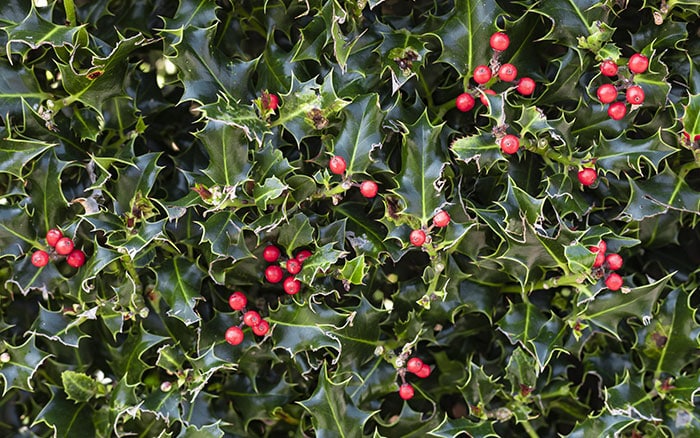 This trailing soft-leaved common garden plant is perfect for draping over the mantelpiece or winding up the stair banister for a soft and subtle touch of green.
Like holly, there are some lovely gold and silver varieties of ivy, like 'Ceridwen' and 'Dentata Variegata', as well as traditional green ivies which works tremendously well in a festive setting. Often, you can find ivy climbing up the side of trees, or attached to a garden fence or wall.

Try to cut tendrils that will be long enough for your purpose, or wind shorter vines around your wreath or table centrepiece.
You could even wrap presents with brown paper and tie them together with some red ribbon and a little ivy, creating a spectacular natural twist to your festive gifts and presents.
Although Hedera helix is unrelated to poison ivy which is only found in North America, it can on rare occasions cause an allergic reaction, so it is best to always wear gloves when gathering for your Christmas decorations.
Wood cuttings make great Christmas decorations and there are plenty of different and fun ways you can use them. You can prune the branches from your Christmas tree, or indeed any evergreen or fir branches from your garden, to use as extra decoration.  Spruce, pine and juniper are all suitable candidates and have delightful fragrances that will tantalize the seasonal senses.
Use them for the base of your wreath and centrepiece, or tie branches together with colourful ribbon for a festive doorway display. Bare twigs and branches make delightful decorations too: find a large branch, spray it silver or gold and put it in a vase and then hang baubles off the stems for a space-saving Christmas tree.
You can also arrange branches in length order to create a Christmas tree which, when tied together with string, can be hung on your wall. You can find instructions on how to make one of these hanging Christmas trees here.

For fantastic Christmas decorations that are so versatile, look to pine cones. I love to spray them silver or gold spray paint and then arrange them in large bowls or use them to fill gaps in the Christmas tree.
They also look great when frosted with pretend snow, or even just as they are, arranged alongside sprigs of holly or mistletoe. If you can't find them in the garden, then take a walk in a wooded area and it is likely you will see them dotted around on the forest floor.

Large pinecones are excellent for small spaces, as they can be decorated to resemble delightful little Christmas trees. To make miniature Christmas trees, paint them green and stand them upright in a little red container.
You can even use glue to add glitter if you are feeling extra crafty! If your pine cones haven't opened yet, let them dry out near a radiator or fire.
Mistletoe can be found growing from high branches and most commonly grows on apple trees. If you are lucky enough to have mistletoe growing in your garden, or nearby, then you can carefully cut off a few springs for your festive decoration. The most popular way to festoon your home with mistletoe is to take a couple of sprigs, preferably with berries, and tie them together using a red or colourful ribbon.
These can then be hung over doorways, so that lovers can snatch a special kiss when walking beneath them.
Traditionally, every time a couple kisses beneath the mistletoe they take a berry and once all the berries are gone, the kissing ceases. If you want your mistletoe to keep all its berries, why not incorporate your sprigs into a festive wreath or table centrepiece.
Mistletoe makes a delightful addition to these decorations and will certainly contribute to that fun festive feeling that we get throughout the Christmas season.


David Domoney is a Chartered Horticulturalist, Broadcaster, and Author. David has worked with a number of the UK's leading garden retailers as a plant buyer and strategic consultant. With more than 30 years experience, in horticulture, David is as passionate about plants now as he was when he bought his first plant at a village fete.