In a garden, it's fun and useful to plant everywhere you can. I like to use lots of different surfaces, and planting on walls and creating green walls is a great way to add an extra dimension to the garden.
Planting on walls is also a great way for those with small gardens to make the most use of the space.
Benefits of planting on walls
Saving space
Providing habitats for insects and wildlife
Look great
Improve air quality
Provides extra layer of insulation on your house
There are so many different types of climbers and shrubs to choose from, in this article I'll explain what you need to consider and which plant is best suited to your surface.
How to choose a climber or wall shrub
When choosing a climber, you have a few factors to consider
Aspect – is your wall facing the sun, or is it in the shade? You need to choose climbers that will thrive in the location
Size – consider how large the plants will grow relevant to how much space you have on the wall, you don't want to have a large climber that will grow so big you'll have to continually trim it back
Habit – how do you want the climbers to climb? You may need supports or trellises to help some of them, while others will cling to the wall completely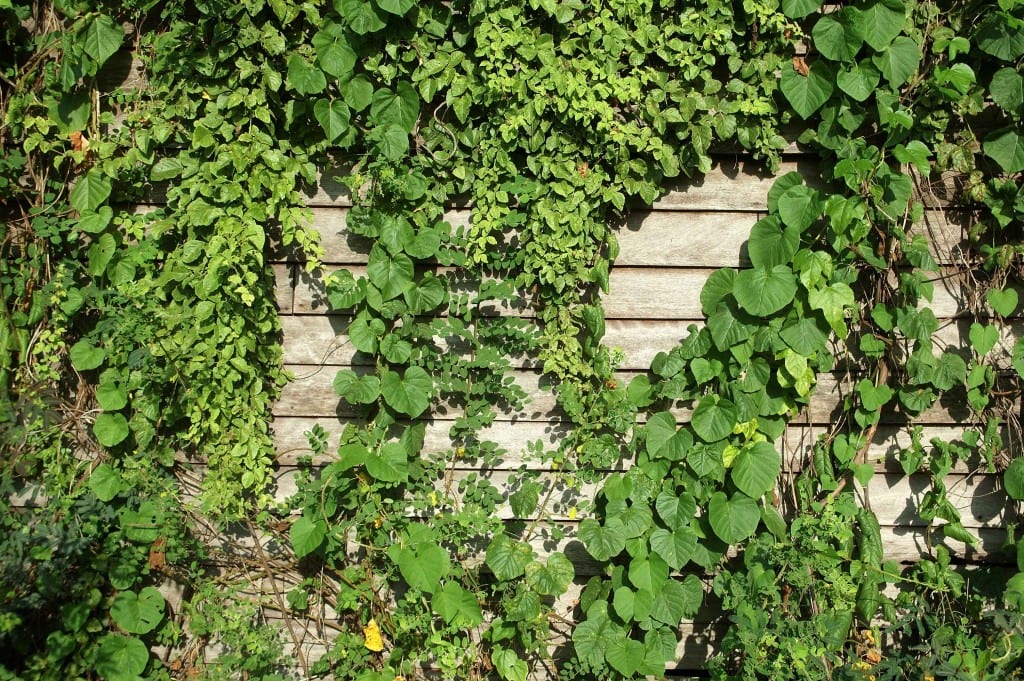 Different plants need different aspects, some are more suited to shady walls, while others deal really well in full sun. Listed below are climbers suitable for a sun-facing walls.
Jasminum officinale
Jasminum officinale can grow to between 4-8m high and spread 1.5-2.5m wide so make sure you have loads of space for this one! The beautifully scented white flowers bring some wonderful fragrance to the garden.
Campsis
Otherwise known as a trumpet vine or creeper, campsis is a self-clinging climber that requires no support. It has beautiful bright orange trumpet like flowers and deals with frost very well too!
Rose
There are lots of different types of climbing roses. Try a Shropshire Lass or Altissimo. I'm a big fan of Paul's Scarlet Climber which grows some gorgeous deep red flowers and purple fruits. It grows to around 3m tall and is very good with full exposure to sun.
Wisteria
This is the perfect climber for a traditionally English garden. The gorgeous purple and white flowers look fantastic and are easier to look after than you think. They will be ok on their own for a while but will eventually require some support.




If you want to grow climbers on north or east facing walls, you need to choose plants that deal with little, or no sun very well. The following wall shrubs and climbers are great in the shade, but they'll need moist, woodland-type soil to thrive fully.
Clematis
There are lots of different types of Clematis, and they are a very robust, spring-flowering climbers that require little pruning. The Frances Rivis is one of my favourites, the violet-blue flowers bring some fantastic colour! It grows very well in partial shade too.
Honeysuckle
Honeysuckle is one of my favourite climbers for shade and will twist itself around a support as it grows up the wall. A Lonicera provides a lovely pink and yellow flower that will certainly add a fantastic splash of colour to a shady part of the garden.
Hydrangea petiolaris
Otherwise known as a climbing hydrangea, this plant grows very well in the shade and shelter. It is self-clinging so won't need much support and the flowers offer great colours throughout autumn.
Pyracantha 'Firethorn'
A firethorn makes a wonderful evergreen climbing plant. It has orange and red berries that show in autumn and winter and grows well in partial shade. It grows to be around 1.5m high and is relatively easy to look after.


Vertical gardens and green walls
Green walls, or living walls, are self-sufficient vertical gardens. If you live in the middle of a city with a small garden or balcony, or have an apartment with a roof garden, take advantage of the walls outside your property by creating a green wall. The plants on a living wall receive water and nutrients from within the vertical support as opposed to from the ground.
Green walls are used across walls in lots of urban districts. There are living walls across London, such as in Westminster against the City Hall's wall, and M&S's across the country have created green walls in urban centres too. They also have benefits within office buildings
While a green wall requires a lot of work, you can create something similar at home by developing a vertical garden.

How to make a vertical garden
Use a fence, trellis, garden arch or obelisk to grow climbing plants and vines on. There are other alternatives to this such as using plant pots attached to a wall with wire or using pallets to grow. Check out my Pinterest for more inspiration.
As well as the above climbing plants, try out these vines on vertical walls:
Annual vines:
Cardinal climber
Cypress vine
Moonflower
Morning glory
Scarlet runner bean
Hyacinth bean
Perennial vines:
Chocolate vine
Dutchman's pipe
American bittersweet
Ivy



David Domoney is a Chartered Horticulturalist, Broadcaster, and Author. David has worked with a number of the UK's leading garden retailers as a plant buyer and strategic consultant. With more than 30 years experience, in horticulture, David is as passionate about plants now as he was when he bought his first plant at a village fete.