August is usually one of the hottest months of the year, and if the soaring temperatures of the last two months are anything to go by, this month will be just as hot, if not hotter! The warmth and summer spirit always combine to make august one of the most enjoyable months of the year and where better to enjoy it than in the garden.
Read on to find out my top plants to bring great seasonal colour to your garden this august.
Zinnia elegans (Common zinnias)
Zinnia elegans (Common zinnias), also known as youth-and-old-age, is a delightfully colourful, bushy annual in the Asteraceae family, whose close cousins include Sunflowers, Asters and Daisies.
They bloom from early summer right through to early autumn, making them fantastic for summer colour throughout August.
Native to Mexico, but widely grown around the world, Zinnias enjoy moist but well-drained soil in full sun and, if these conditions are met, will reward you beautiful long-lasting blooms all summer long.
Zinnias are available in a huge variety of colours, from delicate daisy white through to firecracker yellow and lipstick pink. Their flowers work beautifully in borders, pots or even in a vase as a cut flower arrangement. They look especially good alongside warm-coloured plants, such as Dahlias, and will bring a Central American summer spirit to any garden.
Clematis viticella, also known as Purple Clematis, or Virgin's bower, is a climbing plant that has been as popular throughout history as it is today.
While it is originally native to southern Europe, Queen Elizabeth I's apothecary, Hugh Morgan, was growing the plant in the Queen's garden before 1569. Legend has it that its common name comes as a result of its being named after Queen Elizabeth I, the Virgin Queen, although other sources say it was named for the Virgin Mary.
It's beautifully rich purple, deep blue and mesmerising white flowers renew themselves, time after time, continuing to bloom throughout the season and providing a wealth of colour all the way into autumn. The bell-shaped flowers will often become tinged with a dainty green and white as they age.
Clematis viticella is incredibly hardy, enduring hot summers and cool winters with ease. For best results, these Clematis should be planted in full sun or partial shade, in moist but well-drained soil of any type. Be careful with the pH though, as this plant does not like very acidic soils.
Cosmos bipinnatus 'Rubenza'
Cosmos bipinnatus 'Rubenza' is another plant in the Asteraceae family and there is a definite family resemblance between its large, open flowers, with petals splayed out from a tightly clustered, yellow central disc, and those of the familiar Daisy. These flowers, which are at their best in August, are known for having rich, ruby-coloured petals which will fade into a warm pink as each bloom ages.
Like their Zinnia cousins, Cosmos are best grown in moist but well-drained soil, either exposed or sheltered. They work magnificently as part of an August border and will continue to radiate warmth as the month goes on.
Achillea filipendulina 'Cloth of Gold'
This stunning Achillea is hardy, aromatic and bursting with bright colour. Able to withstand temperatures of down to -20 degrees, it saves its beautiful flat-topped flowers for the summer and will continue to shine into autumn. It is the perfect golden addition to any herbaceous border or colourful flower-bed.
'Cloth of Gold' will thrive in a sunny position and should be planted in fertile, moist but well drained soil. It is also popular with garden wildlife, attracting bees and butterflies that will buzz and flutter around with glee at the sight of it. The plant will thrive is all soil types and soil pHs, except for heavy clay, where it suffers, especially in winter. Staking may be also necessary in wet weather.
This handsomely devilish perennial is easy to grow and will add fiery intrigue into almost any garden. Crocosmia's profuse, orangey-red flowers make a vivid contrast against its green sword-like leaves and the plant is perfect for adding colour and structure to the border. It also gives your garden a welcome burst of late summer colour just as other plants may be starting to fade.
It is a clump-forming plant that does not require any pruning and is generally disease free. Crocosmia 'Lucifer' will thrive in a humus-rich soil that is moist but well-drained. It is extremely hardy and prefers a position in full sun or partial shade.
Agapanthus 'Regal Beauty'
Agapanthus 'Regal Beauty', also known as African Blue Lily, is a truly mesmerising plant. Throughout August and late summer, it exhibits dramatic violet-blue flower heads measuring up to 30cm in diameter. They grow on upright stems above the strappy evergreen foliage and are perfect for perennial borders or as potted plants.
Agapanthus is not fully hardy and will need moving into a sheltered spot over winter. Use loam-based compost with added grit for drainage and keep the soil fairly moist. Grow in a sunny, sheltered spot for best results.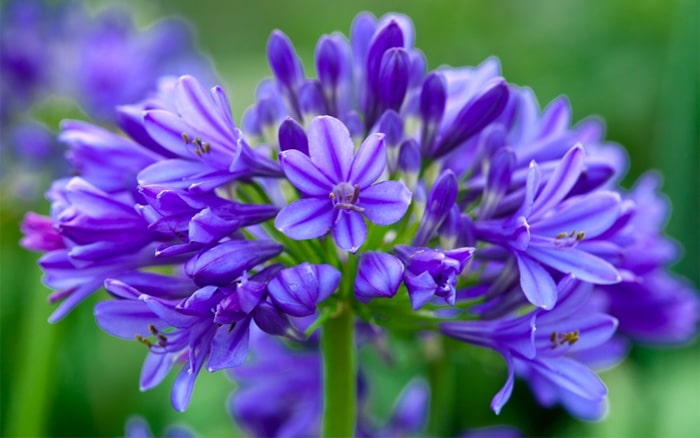 For great summer ideas for kids, check out my latest blog:
Or check out my Pinterest board for more ideas: